A nearly-19 carat rare pink diamond jewel once known as "Fancy Vivid Pink" sold this week at a Christie's auction house in Geneva for a record-breaking, bank account-busting $50 million.
"The saturation, the intensity of this stone is as good as it gets in a colored diamond," Rahul Kadakia, Christie's international Head of Jewelry said in the statement.
"To find a diamond of this size with this color is pretty much unreal," Kadakia said in the statement. "You may see this color in a pink diamond of less than one carat. But this is almost 19 carats and it's as pink as can be. It's unbelievable."
The pretty pink diamond, an extraordinary 18.96 carat Fancy Vivid Pink Diamond, was auctioned off during the Magnificent Jewels auction in Switzerland this week.
"Pink diamonds of any size and depth of color have always had a special allure," Tom Moses, executive vice president of Gemological Institute of America said in a statement. "This 18.96 carat emerald cut pink diamond is amongst the rarest of all gemstones."
The "Fancy Vivid Pink" diamond was sold to jeweler Harry Winston, who re-named it "The Winston Pink Legacy" diamond.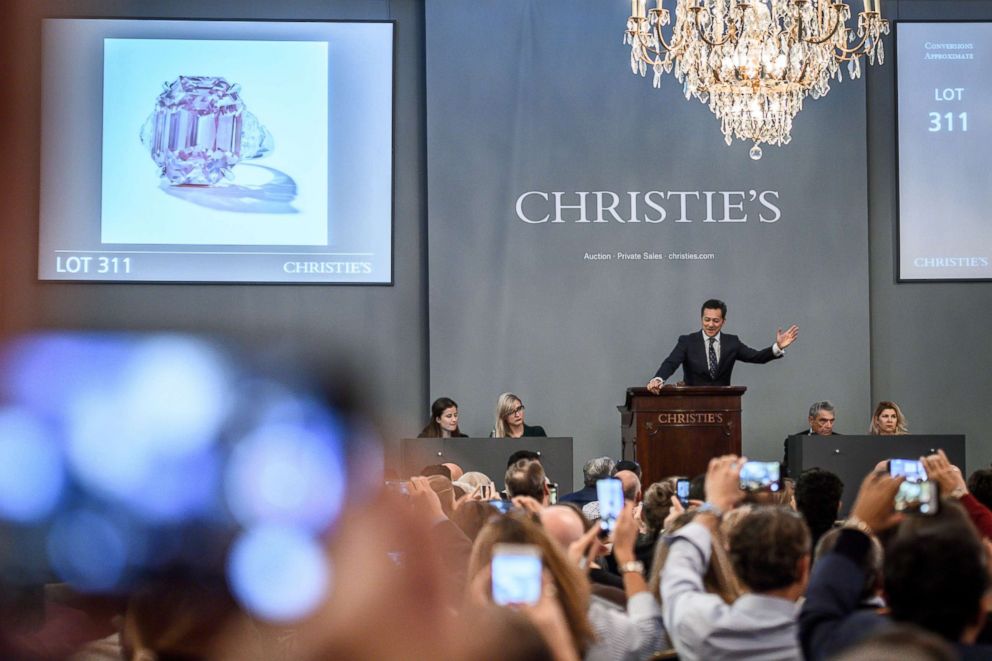 Gemologists categorize diamonds into two types: Type I and Type II, with Type II being rarer -- with a homogeneous color.
"Pink diamonds fall under the rare Type II a category of diamonds," Kadakia said. "These are stones that have little if any trace of nitrogen, and make up less than two percent of all gem diamonds. Type IIa stones are some of the most chemically pure diamonds often with exceptional transparency and brilliance."
"Only one in 100,000 diamonds possess a color deep enough to qualify as 'Fancy Vivid', and the Winston Legacy set a new record price per carat for a pink diamond," according to Christie's.
Only about 10 percent of pink diamonds weigh more than one-fifth of a carat, and Fancy Vivid Pink diamonds are rarely bigger than five or six carats.
Fancy Vivid Pink diamonds which weigh more than 10 carats are "virtually unheard of," according to a Christie's statement, which notes that only four times in the auction house's 250-year history have such precious gems appeared for sale.