FERGUSON, Missouri — -- The Ferguson police officer who shot and killed an unarmed teenager suffered "a serious facial injury" in the altercation before firing the fatal shots, according to a source close to the officer who spoke to ABC News today.
The characterization about Officer Darren Wilson being injured in his confrontation with Michael Brown emerged on the day that a grand jury was expected to begin hearing evidence in the shooting. Attorney General Eric Holder also visited Ferguson today, meeting with Brown's family and telling them the federal investigation would be a "fair and independent inquiry."
Before meeting with Holder, Brown's mother viewed her son's body at a local morgue for the first time since the shooting.
Brown, 18, was shot and killed by Wilson on Aug.9, and protesters have been angrily calling for Wilson's arrest and indictment since that day. Brown's mother
A source close to Wilson told ABC News that during the struggle at the patrol car, Wilson suffered "a serious facial injury."
The injury was not described, but last week Ferguson Police Chief Tom Jackson said that Wilson had swelling to the side of his face.
The hospital photo of the office's facial injury is expected to be shown to the grand jury, the source said.
St. Louis County Prosecutor Robert McCulloch cautioned today that a decision on whether the officer would be indicted will not come quickly. He told ABC News "our target date is the middle of October" for wrapping up the evidence and asking the jury to decide whether to charge Wilson. Grand juries typically meet one day a week.
McCulloch said the grand jury investigation will be thorough.
"They will have absolutely everything there is, every piece of paper, every photograph, every bit of physical evidence, all of the forensic information," the district attorney said.
Supporters of Wilson, however, point to a videotape taken by a Ferguson resident showing Brown's body lying in the street. In the background of the video a man's voice can be heard saying, "Police got out and ran after him. The next thing I know he's coming back towards the officer. The police had his gun drawn on him."
That would conflict with witnesses who said Brown was standing still with his hands raised when Wilson shot him.
Antonio French, an alderman in St. Louis, reacted with skepticism to McCullough's announcement that it could be another two weeks before there is a decision on whether to prosecute the police officer.
"He could have used his own authority to press charges," French said. "I mean given the evidence, at least from the witnesses that have come forward and talked to the media, I think there's enough at least for an arrest and an indictment, and then let the jury decide by trial."
"The governor needs to come in and appoint a special prosecutor in the name of public safety. It's going to be hard to keep the peace here in Ferguson for another eight weeks," French said.
b>Read More: Brown Could Have Survived First 5 Shots, Last Shot Killed Him: Autopsy
Read More: 'State of Emergency' in Ferguson, Missouri
Those developments came today as protesters and police faced off again in Ferguson overnight, with a thrown water bottle briefly re-igniting the turmoil, but authorities are hopeful the unrest in the St. Louis suburb is reaching a turning point.
Missouri Highway Patrol Capt. Ron Johnson, speaking at an early-morning news conference, thanked volunteers, clergy and community activists for helping to quell the discontent that has lingered since the Aug. 9 police shooting of unarmed teen Michael Brown.
"They had a calming influence on the younger people," Johnson said. "Tonight, we saw a different dynamic."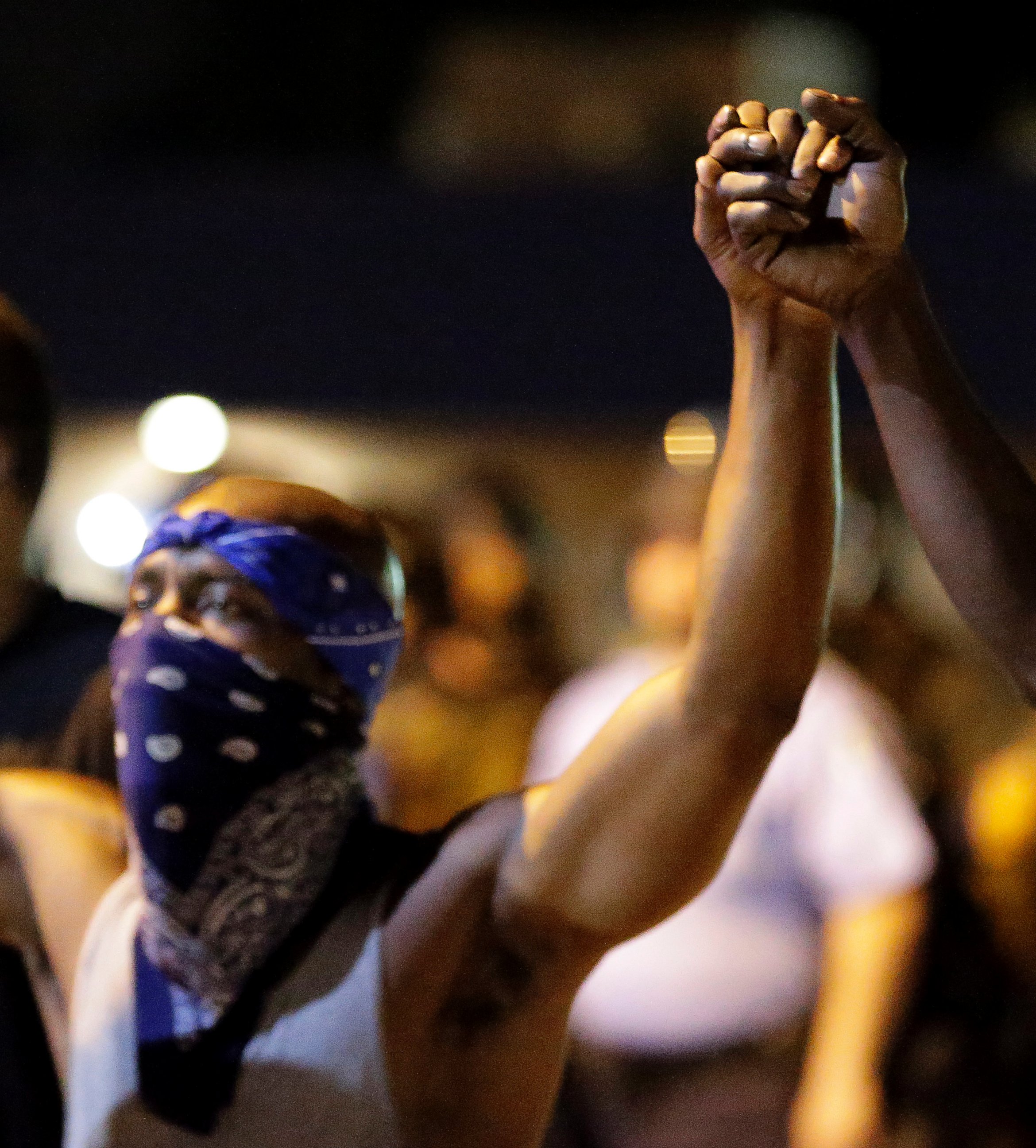 Authorities arrested 47 people overnight, including one person for the third time, Johnson said. Some of those arrested had made threats to kill a police officer, Johnson said, but the clashes didn't feature some of the heightened measures of previous nights. No Molotov cocktails or shootings from protesters, no smoke bombs or tear gas from police.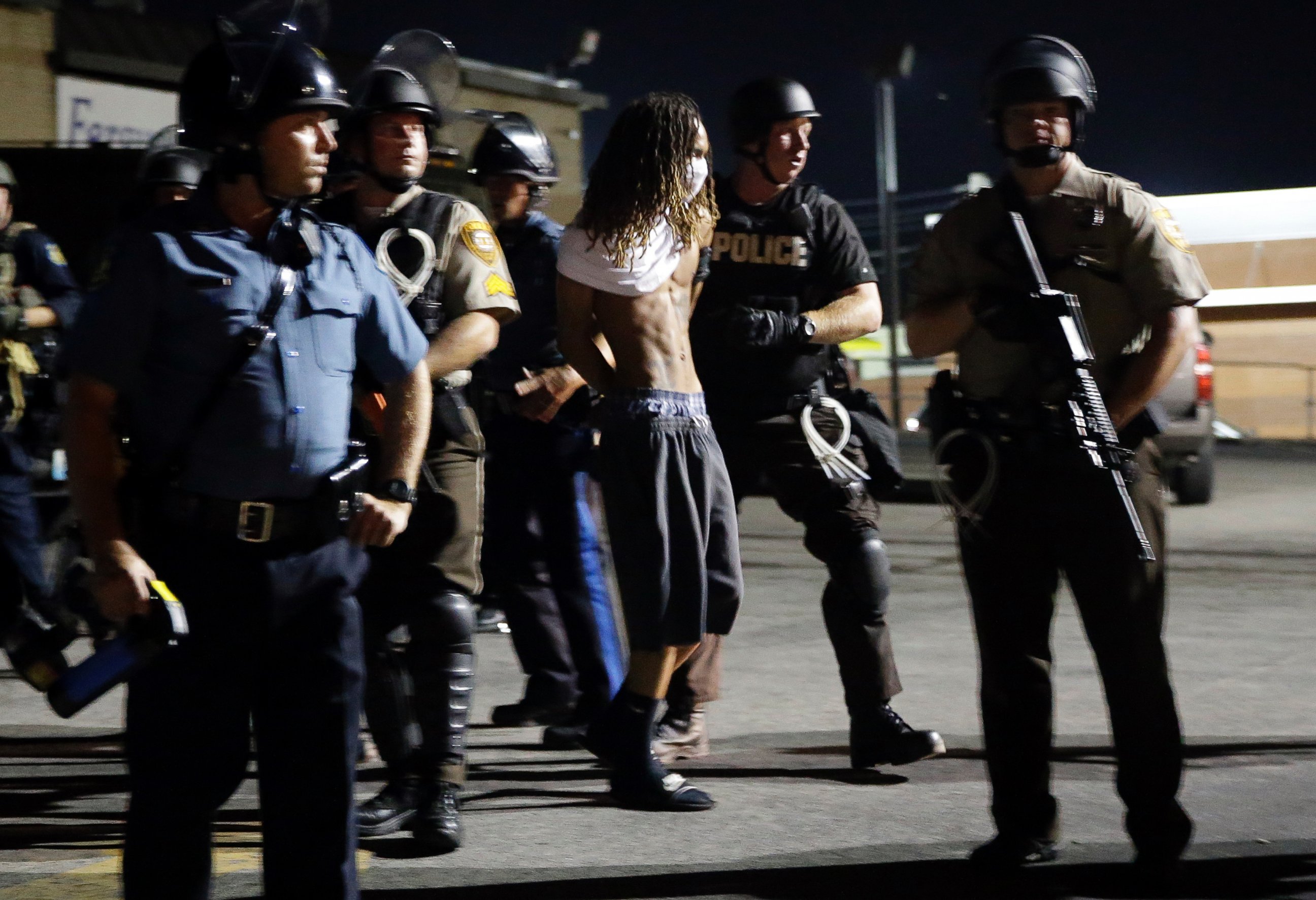 Before arriving in Ferguson today, Holder addressed the situation in an editorial for the St. Louis Post-Dispatch.
The overnight unrest followed the Tuesday St. Louis police shooting of a 23-year-old black man after he charged at officers with a knife. After the fatal shooting, onlookers began chanting "Hands up, don't shoot" and "no justice, no peace." The chants have been a hallmark of the protests in nearby Ferguson.
The Associated Press contributed to this report.
Get real-time updates as this story unfolds. To start, just "star" this story in ABC News' phone app. Download ABC News for iPhone here or ABC News for Android here.