The Mississippi River is cresting in the north to dangerous levels, while the water continues to rise downriver in the Midwest.
Flooding has threatened communities along the upper Mississippi River this week due to the rapid melting of a giant snowpack in Minnesota.
As of Friday morning, 32 gauged locations along the Mississippi River are in, or forecast to be in, a major flood stage across four states -- Minnesota, Wisconsin, Iowa and Illinois. The river has risen to its highest levels in decades in some areas.
In La Crosse, Wisconsin, the river crested Wednesday at 15.89 feet -- the highest since 2001. In St. Paul, Minnesota, the river crested on Wednesday at 18.24 feet, the highest since 2019, and is receding now.
The river is continuing to rise downriver; in Davenport, Iowa, the river is forecast to crest Monday into Tuesday at 21.6 feet, which would be the highest level since 2019.
The flooding is halting shipping along portions of the river for several weeks. The U.S. Department of Agriculture said in a report Thursday that no freight access is being accepted along the Twin Cities and Mid-Mississippi portions of the river, and that all locks and dams north of Lock 17 -- near New Boston, Illinois -- are expected to remain closed for the next three weeks.
The report also indicates that other portions of the river may be closed as far south as Lock 22, near Saverton, Missouri, for approximately two weeks "because of possible high water."
The halt will likely force shipments of grain and fertilizer to be diverted to alternative shipping means, such as rail or automotive.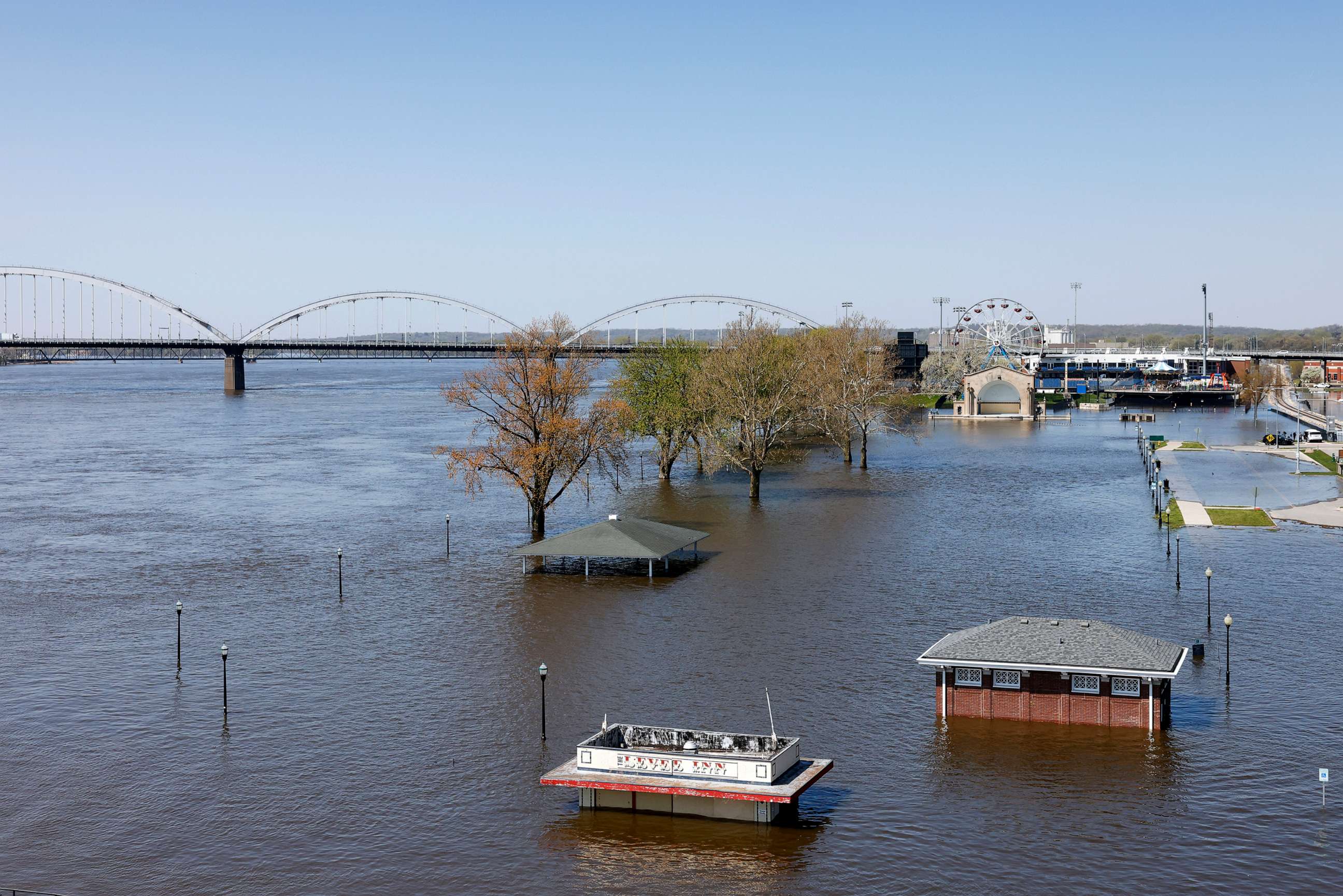 The swelling river has also forced some to leave their homes in Wisconsin, while in Iowa, those who live along the river have been stockpiling sandbags, pumping out water or evacuating amid the rising waters.
Amy Phelps told Cedar Rapids ABC affiliate KCRG she and her family evacuated their home a week ago and have been monitoring the water levels through apps and cameras on their property in the river community of Abel Island, Iowa.
"We take on water by 17 [feet], so we're sitting around 4 feet of water," Phelps told the station.
The family made improvements to limit damage from water after experiencing flooding in 2019. Phelps said they still plan to be gone for at least a month amid the latest flooding.
"It's a little overwhelming sometimes," Phelps told KCRG. "We miss our home probably the most."
Dottie Reimer, who lives on nearby Esmann Island, has decided to wait out the rising waters while hoping they continue to have electricity. The water hasn't reached her home yet, but she's currently only able to leave her home by boat, KCRG reported.
"Last week we knew that it was coming up, we didn't realize that it was gonna come up this high," Reiman told KCRG.
Iowa Gov. Kim Reynolds has issued disaster proclamations for 15 counties to provide residents with resources in response to the Mississippi River flooding.
ABC News' Tracy Wholf contributed to this report.