Tropical Storm Florence was upgraded to a hurricane on Sunday morning by the National Hurricane Center.
Florence is now classified as a Category 1 hurricane, and is currently expected to hit the southeastern coast of the U.S.
Governors in Virginia, North Carolina and South Carolina have all declared states of emergency over the past two days in anticipation of the storm.
At a press conference on Sunday afternoon, South Carolina Governor Henry McMaster said Florence is expected to become a Category 4 hurricane with winds that could reach up to speeds of 150 mph.
"Assume, presume that a major hurricane is going to hit right smack dab in the middle of South Carolina," said McMaster, urging South Carolinians to prepare for the worst. Eight hundred members of the National Guard have been activated in the state.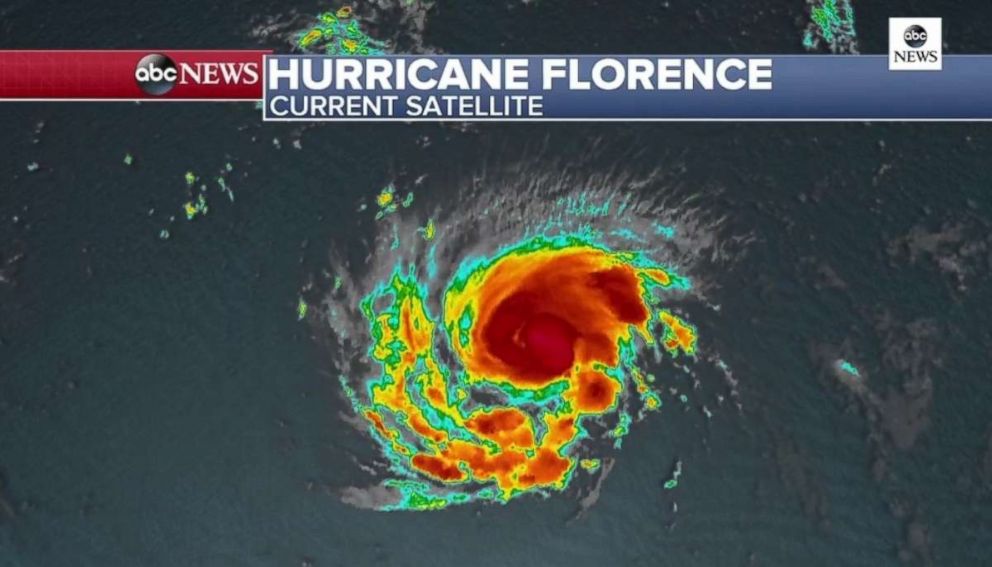 Hurricane Florence has maximum sustained winds of 90 mph as of 11 p.m. Sunday, and is 685 miles southeast of Bermuda, moving west at 7 mph.
The current forecast track predicts that Florence will approach the southeast U.S. coast on Thursday.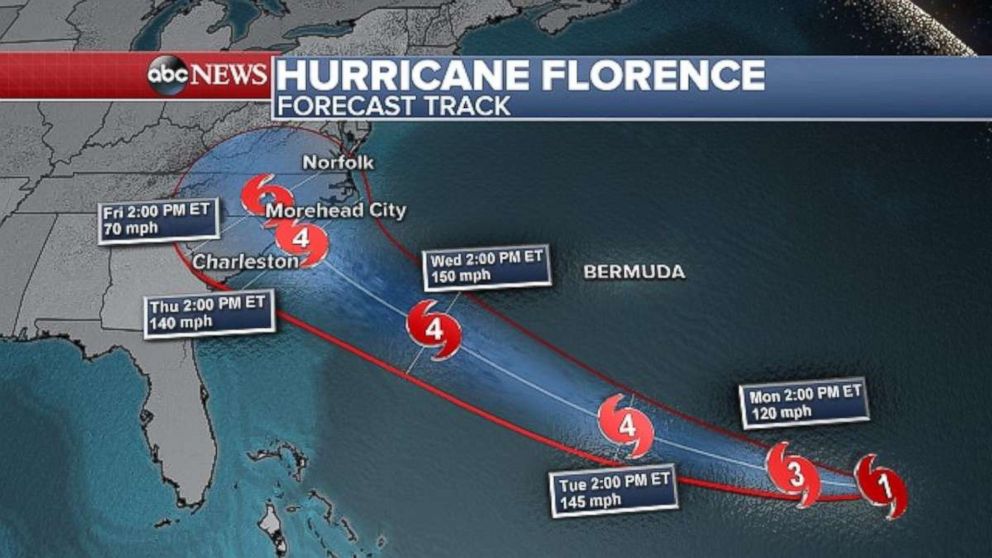 The National Hurricane Center is now saying that there is an increasing risk of storm surge on the coast, and inland flooding due to heavy rainfall. Both are life-threatening impacts.
They are advising "interests along the U.S. East Coast, particularly from North Florida through North Carolina, should closely monitor the progress of Florence, ensure they have their hurricane plan in place and follow any advice given by local officials."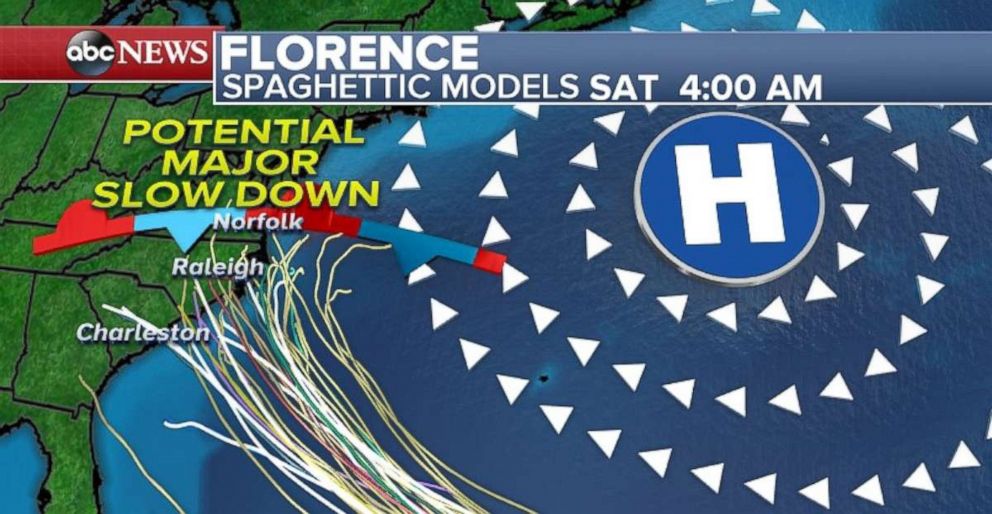 Isaac becomes hurricane
Moving south in the Atlantic, Isaac strengthened into a hurricane late Sunday with winds of 75 mph and is moving west at 14 mph. The storm is 1,305 miles east of the Windward Islands.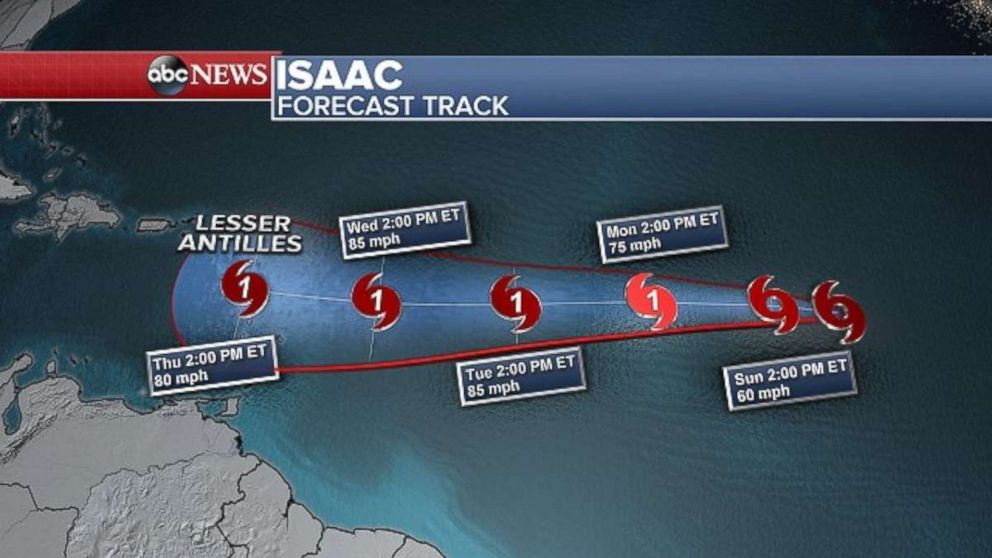 The storm is expected to continue moving west in the next few days and become a hurricane by Monday.
Isaac will be near the Lesser Antilles later this week and could bring impacts to parts of the Caribbean Islands during this time frame.
Olivia aiming for Hawaii
In the Pacific, Hurricane Olivia is currently a Category 1 storm with winds of 75 mph, and is approximately 595 miles east-northeast of Hilo, Hawaii, as of 5 p.m. local time Sunday.
A tropical storm watch was issued in the latest update across much of Hawaii, including Oahu, Maui, Hawaii counties.
Olivia is expected to move west through Monday before turning west-southwest late Monday and early Tuesday local time. On the current track, Olivia may be near the Hawaiian Islands by late Tuesday.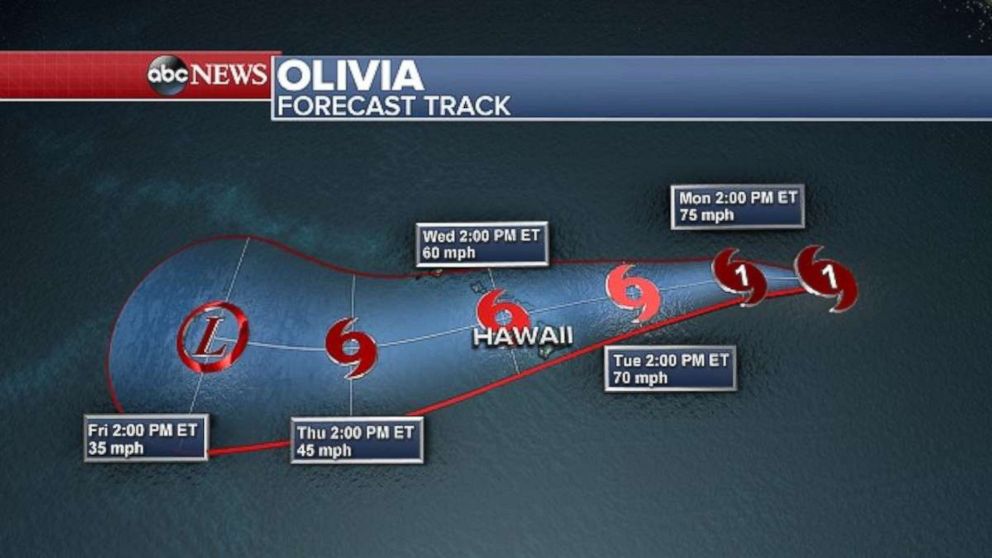 Even though Olivia is expected to weaken, it could still bring impacts to the Hawaiian Islands by midweek.
Regardless of forecast track, significant effects from Olivia are possible in Hawaii, which could be enhanced due to the unique terrain of Hawaii.
Heavy rain and potential flooding and mudslides are a growing concern, more so than winds. Rainfall of 10 to 15 inches is possible in some areas, particularly on the Big Island, which has already seen significant rainfall in recent weeks.