— -- Fire officials and Samsung have launched investigations after members of a St. Petersburg, Florida, family claimed a Samsung Galaxy Note7 phone exploded in their Jeep and ignited a fire that destroyed the vehicle.
Nathan Dornacher said the incident took place on Labor Day, after he and his wife, Lydia Dornacher, returned home from a garage sale.
It came just days after the tech giant announced that it was suspending sales of and recalling its Galaxy Note7 smartphone after reports of fires while charging.
While unloading the car, Nathan Dornacher left the air conditioning running to keep the car cool, since he was planning to use it again to take his dog to a local pet supply store, according to his Facebook post. He said he left his cellphone, a Samsung Galaxy Note7, charging in the Jeep.
When he went back outside, his car was "engulfed" in flames, he said. Several photos on Nathan's Facebook page show the Jeep on fire.
"Not the barbecue I wanted on my day off," Dornacher wrote on Facebook.
Firefighters quickly responded and were able to put the flames out, but not before the vehicle's interior was irreversibly damaged, according to Lt. Steve Lawrence, the public information officer for St. Petersburg Fire Rescue.
"The vehicle was a total loss," he told ABC News today. "But fortunately, no one was hurt or injured."
Lawrence added that the fire department is still investigating the cause of the fire.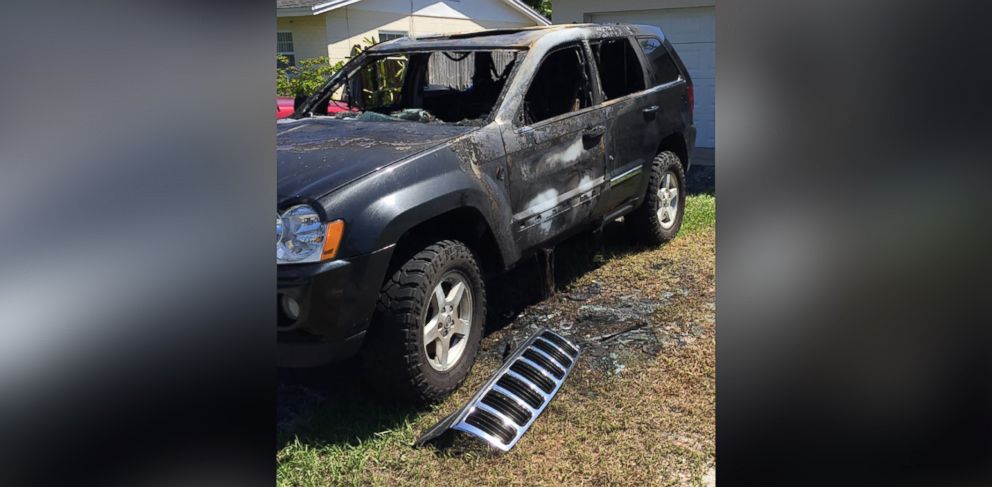 A Samsung representative told ABC News today that the company was "aware of the incident" and that it was "working with Mr. Dornacher to investigate his case and ensure" the company was doing everything it could for him.
"Consumer safety is Samsung's highest priority," the representative said. "With regard to the Galaxy Note7, we are asking owners to take advantage of the product exchange program announced on Friday of last week. The program offers Note7 owners the opportunity to exchange the phone for a new one."
More details on the program can be found on Samsung's website, the representative added.
The South Korean tech giant said in a statement on Sept. 2 that it was recalling and suspending sales of its Galaxy Note7. This, after a number of the smartphones were reported to have exploded while charging. Samsung's announcement came just two weeks after the debut of the new phone.
Samsung said there were 35 reported cases of phones with "a battery cell issue" and it would replace purchased devices.
Dornacher wrote on Facebook today that Samsung "has been in contact with us since last night and is being very helpful."
"We are not and have not asked for anything, we are not getting a lawyer [and] we will replace [the vehicle] in time when we can afford it," he added. "All I want out of this is for everyone to take this recall seriously."
Dornacher did not immediately respond to ABC News' requests for further comment.
ABC News' Paul Blake contributed to this report.