— -- Witnesses described the scene of panic and terror that unfolded at Fort Lauderdale-Hollywood International Airport today when a gunman opened fire at a baggage claim area of the airport.
Mark Lea told ABC News today he heard "what sounded like firecrackers" before people began yelling and "frantically running."
Lea said he then saw a gunman "randomly shooting people" with "no rhyme, no reason."
The shooter "went through a couple dozen rounds" before throwing the gun on the ground away from him and then "lying face down and spread eagle," waiting for officers to approach him, according to Lea.
Lea added that he helped some people run to safety and consoled several people at the scene.
Diane Haggerty, a woman who said she works at a cruise line's kiosk at the airport, told ABC News today she also heard what she thought was firecrackers but turned out to be gunfire.
Haggerty said she saw a gunman "walking up and down shooting people" and dived behind the kiosk for safety.
"I watched him, and I can't believe I watched him," she said.
Mike Starobinksy, another witness, told ABC News today that he had been sitting with his family in Terminal 2 when he heard a "popping noise" and realized that shots had been fired. He said he immediately grabbed his kids and ran.
Starobinsky was able to capture a photo of what appears to be a bloodied victim outside the baggage claim where the shooting occurred.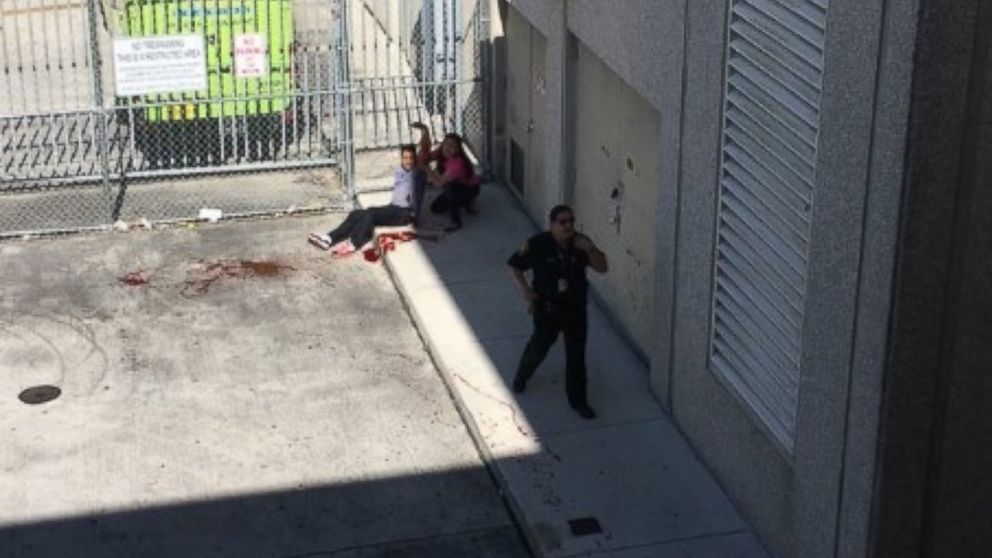 "I was looking down at a trail of blood," Starobinsky said. He added that he saw "puddles of blood" where victims had sat waiting for help.
Another woman, Stephanie Auclair, told ABC News today that she had been in a food court at the airport when she saw "a wave of people running toward me, screaming, 'Shooter! Shooter!'"
Auclair said that she hid in the kitchen of a restaurant, where she stayed for few minutes before being led outside to the airport tarmac.
Lisa Kapler, a makeup artist who works with ABC, said that she had just landed at the airport and was walking toward the baggage area when she suddenly saw people running.
They "were screaming, 'Shooting! Shooting!'" Kapler said. "We were just stunned."
Kapler said she was able to run away from the commotion and make it safely to a car rental area.
Five people were killed and multiple people were injured in the shooting, according to the Broward County Sheriff's Office. A suspect is in custody, a senior federal official said.
The suspected shooter was apprehended in possession of a military ID with the name Esteban Santiago, law enforcement sources said. It has not been confirmed if the gunman is Santiago or if the suspect was simply carrying Santiago's ID.