A full jury has been seated in the murder trial of Derek Chauvin, the white former Minneapolis police officer charged in the death of 46-year-old Black man George Floyd during a May 2020 arrest that ignited protests nationwide.
The panel of 12 jurors and three alternates was finalized on Tuesday morning after defense attorneys, prosecutors and the judge presiding over the case in Minneapolis spent 11 days questioning a pool of potential jurors on everything from their thoughts about racial inequalities of the justice system, the Black Lives Matter movement and whether they had formed any preconceived opinion about Chauvin's guilt or innocence.
Hennepin County District Court Judge Peter Cahill decided last Friday not to move the trial's location nor delay the proceedings.
"I think the pre-trial publicity will continue no matter how long we continue it," he said, adding, "I don't think there is any place in the state of Minnesota that has not been subjected to an extreme amount of publicity in this case."
Cahill said one of the jurors will likely be dismissed on Monday because there is only room in the courtroom for 14 members of the panel.
"The whole point of this 15th juror was to make sure that we have 14 people show up on Monday," Cahill said.
The latest juror picked is a married accountant in his 20s who self-identified as a white man.
With the complete jury selected, there are nine jurors who self-identify as white and six who self-identify as people of color, including four who self-identify as Black. They include a nurse, a route driver, a social worker, a client advocate in a commercial insurance business, an internet technology specialist, a retired grandmother with an undergraduate degree in childhood psychology and a woman who said she is "super excited" to be on the case.
Civil rights attorneys Ben Crump and Antonio Romanucci, who are representing Floyd's family, released a following statement following the jury announcement, saying, "We are pleased that the jury has been seated and the Chauvin trial can proceed. After hearing the facts, we hope and expect the jury to deliver a just verdict."
They cited the prosecution's key piece of evidence -- a bystander video showing Chauvin with his knee on the back of Floyd's neck for a prolonged amount of time as three other officers held the handcuffed 46-year-old Floyd prone on the ground as he cried out, "I can't breathe."
"This is not a hard case. George Floyd had more witnesses to his death than any other person ever -- white or Black," their statement said. "We all saw the same thing, the indisputable and unjustified torture and murder by a police officer of a Black man who was handcuffed, restrained and posed no harm. If George Floyd had been white, the facts would be undisputed and justice would be swift. We expect the same for George."
During the jury selection, two jurors that had been chosen for the panel were removed from the case after inadvertently seeing or hearing about news reports that the city of Minneapolis had reached a $27 million settlement with Floyd's family. The two dismissed jurors said the announcement affected their ability to remain impartial and decide the case based solely on the trial evidence.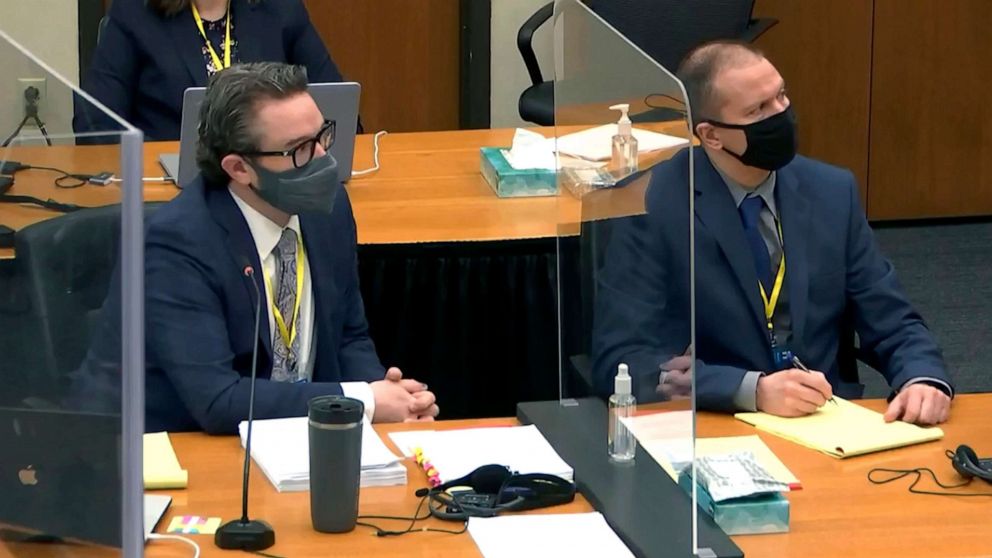 Cahill also said Friday he did not believe pretrial publicity in the case will cease and upped the number of juror alternates from two to three.
Cahill noted that of the 326 people selected to be part of the prospective jury pool, more than 60 were individually interviewed in person during the process.
The opening statements in the trial, which is being televised on Court TV and streamed online, are scheduled for March 29. The evidentiary portion of the trial is expected to last up to four weeks and could include nearly 400 witnesses.
Chauvin is charged with second-degree unintentional murder and second-degree manslaughter. A third-degree murder charged was reinstated against him during the jury selection process after the Minnesota Court of Appeals ruled that Judge Cahill erred when he dismissed the count in October and instructed him to reconsider his decision.
Chauvin has pleaded not guilty to the charges.
The 45-year-old Chauvin is being tried separately from the other former officers involved in Floyd's May 25 death.
J. Alexander Kueng, Thomas Lane and Tou Thao are charged with aiding and abetting second-degree murder and manslaughter and are scheduled to go on trial in August. They have all pleaded not guilty and will not be called to testify against Chauvin, according to a statement made during jury selection by Chauvin's attorney Eric Nelson.
The officers attempted to place Floyd under arrest after he was accused of trying to use a counterfeit $20 bill to buy cigarettes.
Floyd was taken later taken to a hospital, where he was pronounced dead.
Only one of the jurors seated on the panel said during jury selection that he had not seen any of the bystander video.
The Hennepin County Medical Examiner's autopsy report found that Floyd died of a combination of causes including "cardiopulmonary arrest complicating law enforcement subdual, restraint, and neck compression'' and that his system showed "fentanyl intoxication; recent methamphetamine use.'' Although the medical examiner called the manner of death "homicide," the autopsy report states this "is not a legal determination of culpability or intent."
If convicted, Chauvin faces maximum penalties of 40 years for second-degree murder, 25 years for third-degree and 10 years for the manslaughter charge.
Judge Cahill is required by Minnesota law to follow sentencing guidelines. Under these, the penalty for both second-degree unintentional murder and third-degree is about 10 to 15 years. For the manslaughter charge, the common sentence under the guidelines is four years.
In the immediate aftermath of Floyd's death and through the summer of 2020, protests erupted in all 50 states and in several countries. While most of the protests were peaceful, some were accompanied by looting, vandalism and destruction.
Minneapolis city officials told ABC News that an estimate on the cost of damages from the unrest in their city is $250 million to $350 million, based on a property reassessment the City Assessor's Office conducted this past summer and data on estimated insurance losses from the Minnesota Department of Commerce.
Fears of more violence occurring as the Chauvin trial commences has prompted city officials to ramp up security at the Hennepin County Government Center where the trial is being held and erect tall fencing, concrete barricades and barbed wire around the facility. Up to 2,000 National Guard troops will be deployed to the city by the time a verdict in the trial is rendered, according to city officials.
Precautions have also been taken inside the courtroom to guard against COVID-19 and ensure social distancing. Plexiglass shields have been erected around the judge's bench, witness box, stenographer's seat and at the defense and prosecution tables. Jurors and other trial participants are also required to wear face masks during the proceedings and stay six feet apart.
ABC News' Andy Fies and Whitney Lloyd contributed to this report.