— -- Officials combed the waters off the coast of Palos Verdes, California, today, in search of a blue whale entangled in fishing line.
Whale watchers spotted the animal around 1 p.m. Friday, and officials from the U.S. Coast Guard and the National Oceanic and Atmospheric Administration responded to help, according to ABC station KABC-TV in Los Angeles.
The search effort was unsuccessful Friday, and after being halted overnight it was picked up again today.
There have been no sightings of the whale yet today, NOAA Public Affairs Officer Jim Milbury told ABC News this afternoon.
The whale is trailing "a long line with an attached red buoy," NOAA said in a statement. The length of the fishing line was estimated around 400 feet, according to Milbury.
The line is a dangerous because it cuts into the whale's skin, according to Milbury.
"If the line runs across its mouth, it can keep the animal from from eating or cut deep into the mouth. If entangled on the fluke or dorsal or pectoral fins, it could eventually cause infection, cut or even sever the appendage. We still don't have a clear picture of how or where it is entangled," Milbury said.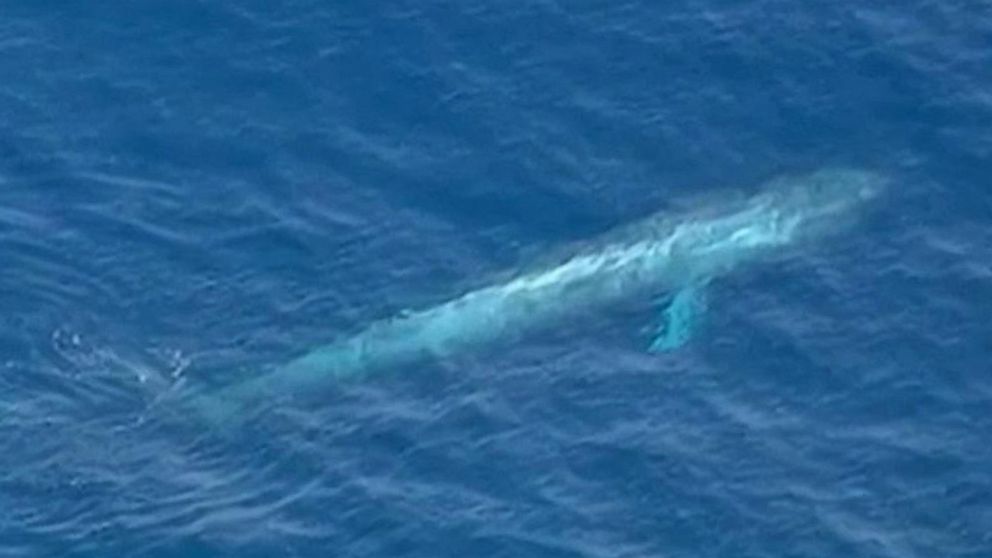 Blue whales are earth's largest animals; they can be up to nearly 110 feet long and weigh up to 330,000 pounds. While the weight of this whale is unknown, Milbury said, it is approximately 75 feet in length.
Captain Dan Salas with Harbor Breeze Cruises first spotted the whale on Friday in San Pedro near Catalina Island.
"This whale was staying right up on the surface and swimming real gentle, so we feel that the whale knows that it has a line on it," Salas said. "Hopefully the whale understood that help is on the way."