The chairman of the new Republican-led House Oversight Committee has issued a flurry of letters as part of the panel's first formal steps toward a long-promised investigation targeting President Joe Biden, his son Hunter Biden, and social media companies that they allege sought to suppress negative stories about the president's son that they claim could have impacted the 2020 presidential election.
The letters, issued by Oversight Committee Chairman James Comer and obtained by ABC News, request testimony from multiple former Twitter executives who were involved in the company's handling of news reporting that surfaced from leaked data obtained from a laptop reportedly belonging to Hunter Biden.
The panel is also requesting financial information from the Department of Treasury regarding Hunter Biden and his associates.
In a letter sent to Treasury Secretary Janet Yellen, Comer requested records related to potential suspicious activity reports, or SARs, on Hunter Biden and other members of the president's family, as well as multiple businesses and business partners. SARs are reports filed by financial institutions to flag questionable banking transactions, but do not amount to allegations of crimes.
In response to the letters, a White House spokesperson told ABC News, "In their first week as a governing majority, House Republicans have not taken any meaningful action to address inflation and lower Americans' costs, yet they're jumping out of the gate with political stunts driven by the most extreme MAGA members of their caucus in an effort to get attention on Fox News."
"The President is going to continue focusing on the important issues the American people want their leaders to work together on, and we hope House Republicans will join him," the statement said.
A representative for the Treasury Department declined to comment when contacted by ABC News, and representatives for Hunter Biden did not immediately respond to a request for comment.
Beyond their interest in Hunter Biden and his business endeavors, the panel's primary focus is finding out whether his father, President Biden, was more involved in those dealings than previously known.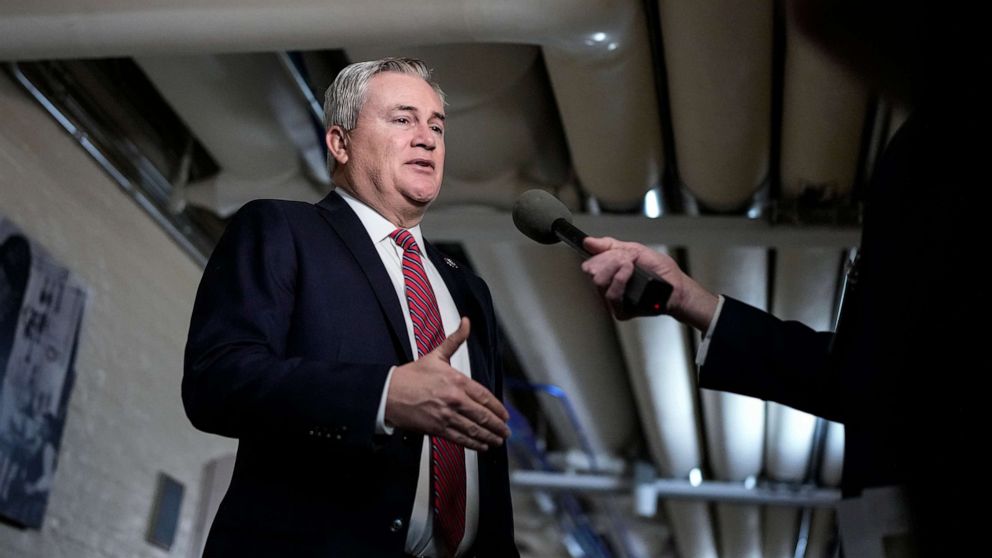 "The Committee on Oversight and Accountability is investigating President Biden's involvement in his family's foreign business practices and international influence peddling schemes," Comer wrote in the letter to Yellen.
Comer has previously claimed that the Treasury Department was providing "cover for the Biden family" after the department rejected Comer's request last year for the same information when Republicans were in the minority. Noting in his letter to Yellen that the agency previously told him it would only respond to requests from committee chairs, Comer wrote, "I now make these requests pursuant to my authority as Chairman of the Committee on Oversight and Accountability."
Comer sent letters to former top Twitter employees including former Twitter lawyer Vijaya Gadde, former head of trust and safety Yoel Roth, and former deputy general counsel James Baker, requesting that they testify at a public hearing during the week of Feb. 6.
"Your attendance is necessary because of your role in suppressing Americans' access to information about the Biden family on Twitter shortly before the 2020 election," Comer wrote to the former employees.
Baker declined to comment when contacted by ABC News, while Gadde and Roth did not immediately respond to a request for comment.
The letters come about a month after a series of document releases authorized by new Twitter CEO Elon Musk, who has sought to bolster claims that the social media giant, under previous management, suppressed or otherwise aimed to influence discourse around controversial political subjects to advantage of Democrats. Critics, in turn, have accused Musk of employing prominent media figures masquerading as independent journalists in order to advance a narrative that takes many of the private messages out of context.
The Justice Department, meanwhile, has been examining whether Hunter Biden paid adequate taxes on millions of dollars of personal income, including money he made during business pursuits in China and Ukraine.
Hunter Biden has repeatedly denied any wrongdoing, ethically or criminally, but has acknowledged that his family ties likely bolstered his career. He has not been charged with any crimes.
Republicans have long signaled that investigating President Biden and his family would be a main priority in the new Congress. The day after clinching the majority in the House, Republicans held a press conference announcing they would be ramping up the probe into the Biden family.
In a statement to ABC News, Comer called the Biden probe a "top priority for House Republicans during the 118th Congress."
"The American people must know the extent of Joe Biden's involvement in his family's shady business deals and if these deals threaten national security and his decision-making as president," Comer said.
The committee also plans to hold a hearing on COVID-19 pandemic spending fraud, according to a source familiar with the panel's thinking.
Ranking Oversight Committee member Jamie Raskin, D-Md., lauded those plans but blasted Comer for seeking to probe the president and his family.
"Two days ago, Chairman Comer said the Committee's first hearing would continue our work from the 117th Congress to examine the waste, fraud, and abuse of COVID relief funds, but that was then and this is now," Raskin said in a statement. "Conspiracy theories and disinformation are already at a fever pitch in the new Congress. Committee Democrats stand ready to work with our Republican colleagues when they get serious about tackling the problems that affect the American people."