— -- Donald Trump made his mark both producing and starring in TV reality shows, but the production planned for Friday does not compare – it is poised to be more historic, more grand, and without a doubt much more expensive.
The price tag could surpass $200 million for an oath of office that takes about a minute, and a grand array of festivities that follow. And much as he has with his beauty pageants and his NBC program The Apprentice, the President-elect is reported to be personally involved in the tiniest of details for the Inaugural events.
"He looks like he's just an average guy. But he's a brilliant man," said Phil Ruffin, an Inaugural Committee vice chair.
As they have for generations, American taxpayers will pay for the official part of the program – more than $115 million in recent years for the platform in front of the Capitol, the parade viewing boxes, and a dragnet of security along the 1.2 miles up Pennsylvania Avenue to the White House.
But another $90 million to $100 million will come from corporations and big money donors.
Six- and seven-figure donors will be offered elaborate inauguration packages, including exclusive dinners, tickets, concerts and inaugural balls. Eight years ago, the Obama inaugural committee raised less about half of that much, and still put on a much more expansive and glamorous inaugural weekend.
While Trump appears poised to raise far more money, a side-by-side comparison of the week's agenda suggests this year's inaugural festivities will be significantly less glitzy.
Obama held 10 separate inaugural balls. Trump will have three.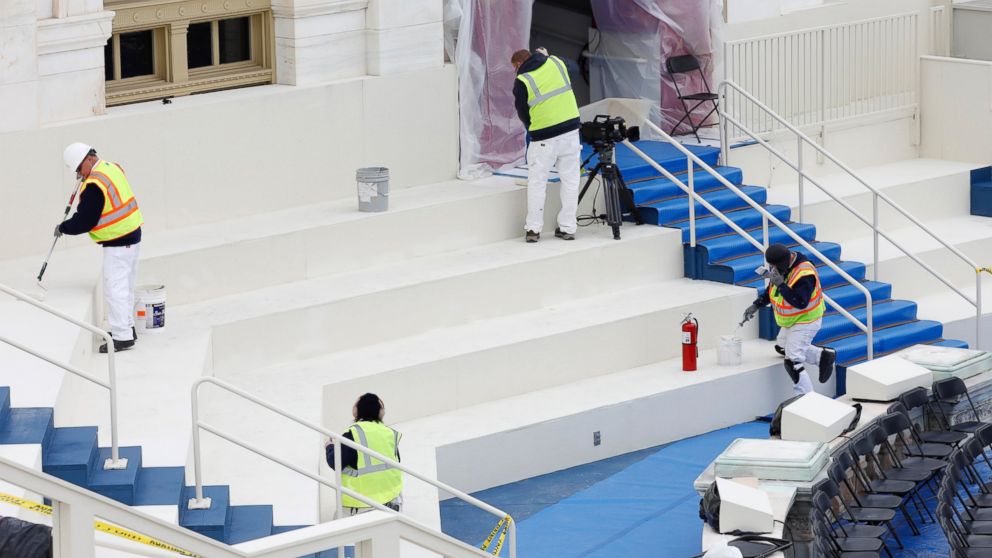 Obama's events were star-studded with such A-list performers as Beyoncé, Springsteen, John Legend. This year, committee officials have said Donald Trump won't need any A-list celebrities.
"We're fortunate we have the greatest celebrity in the world, which is the President elect," said Thomas Barrack, who is chairing inaugural fundraising efforts.
Stephen Kerrigan, who oversaw the Obama festivities in 2013, said he can't imagine how Trump will spend all the extra money he is raising.
Boris Epshteyn, a spokesman for the Trump Presidential Inaugural Committee, told ABC News that the president elect hopes to use private funds to offset public costs.
And, he added, "any and all funds raised above amounts needed to fund the Inaugural events will be donated to charitable organizations."
How the private donations are raised and spent are all eventually going to be made public. Donations for inaugural events have no legal limits, according to Sheila Krumholz of the Center for Responsive Politics. But they must be reported 90 days after the new president takes office.
The fundraising effort is a turnabout from early in Trump's campaign, when he pledged to finance his march to the White House with his own wealth.
"I don't need anybody's money," he said at his campaign announcement. "I am using my own money, I'm not using lobbyists, I'm not using donors. I don't care. I'm really rich."
But now Trump's inaugural committee is pulling in huge contributions from some of the biggest corporations that will want a good relationship with the new President.
Reportedly among them: big banks and large corporations seeking to limit government red tape. And many individual donors to Trump's festivities have backgrounds similar to Ruffin's – wealthy business executives who have history with Trump, but few ties to old Washington.
Ruffin, the billionaire casino executive who owns Treasure Island, partnered with Trump on the New York tycoon's Las Vegas hotel. Later, Trump stood as best man at Ruffin's wedding.
"They wanted a million dollars for these eight tickets," Ruffin explained. "For half a million you can get four tickets but I needed eight. So I had to send a million dollars."
"So of the ninety million dollars [raised], I am a million dollars of that," he said.
ABC News' Randy Kreider, Cho Park, Alex Hosenball, Alexandra Dukakis and James Gordon Meek contributed to this report.