Two people were killed and another injured this morning when a helicopter crashed in Seattle just yards away from the iconic Space Needle.
The helicopter was a news chopper owned by ABC News affiliate KOMO.
The chopper crashed moments after lift-off and quickly became engulfed in flames, killing two and sending a third victim to the hospital in critical condition, according to the Seattle Fire Department.
WATCH: KOMO-TV News Helicopter Crash Kills 2
The two people that were killed were pilot Gary Pfitzner and photographer Bill Strothman, a recently-retired staffer who now works part-time, the station said.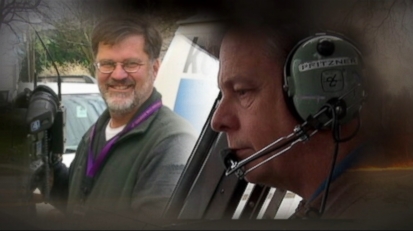 The other person who was injured was only identified as a 38-year-old man who was inside a car at the time.
The crash site was just 50 feet away from the Space Needle, authorities said.
The helicopter did not hit the landmark.
The news station said the helicopter was lifting off from its roof when it hit the side of the building and crashed into several cars. Two cars were also on fire when firefighters arrived to douse the flames.
Plumes of smoke quickly filled the skies near Space Needle shortly after the crash.
The Seattle Fire Department said they do not know what caused the crash. The National Transportation Safety Board is en route to the scene to investigate the crash.