— -- Transit officials said human error, not a track defect, is to blame for a subway train derailment in New York City on Tuesday morning that injured nearly three dozen people and caused major delays.
The incident occurred just before 10 a.m. ET Tuesday as a southbound A train approached the 125th Street station in Harlem. The eight-car train suddenly came to a grinding halt just 200 feet from the station, causing the train to jerk violently and toss passengers to the floor. Two of the train's cars derailed and scraped the side of the subway tunnel, according to the Metropolitan Transportation Authority.
That A train was evacuated, as were three other trains in the same tunnel.
A preliminary investigation indicates the derailment was caused by "an improperly secured piece of replacement rail that was stored on the tracks," Metropolitan Transportation Authority chairman Joe Lhota and interim executive director Ronnie Hakim said in a joint statement late Tuesday night.
"Storing equipment in between tracks is a common practice employed by railroads across the country to accelerate rail repairs," Lhota and Hakin said in the joint statement. "The key to this being an effective and safe practice is making sure that the extra equipment is properly bolted down, which does not appear to have happened in this case."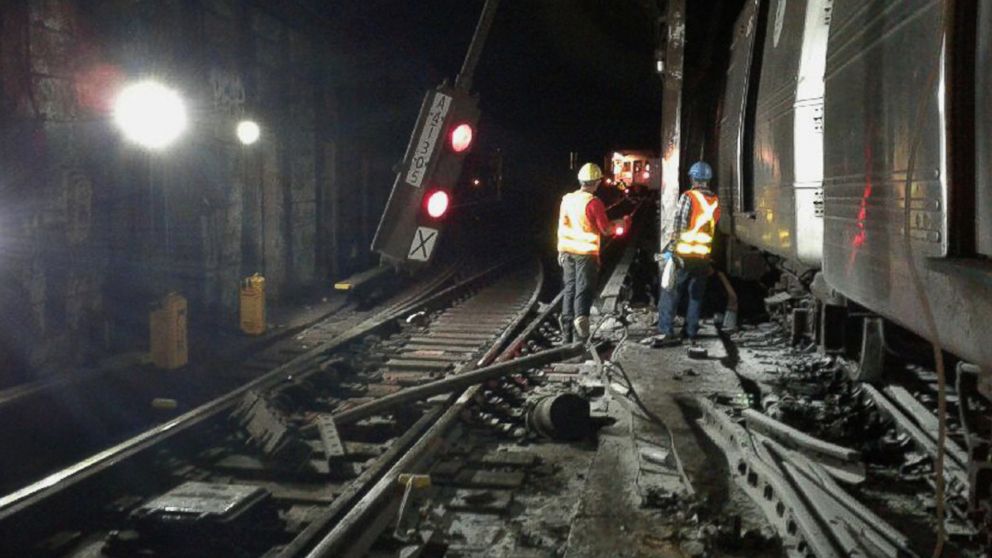 New York City Transit crews are inspecting "every inch of rail to ensure that each and every replacement part is properly stored and secured," Lhota and Hakin said, adding that the investigation is ongoing.
At least 34 people were injured in the incident, according to the Metropolitan Transportation Authority. Lhota said most of the injuries involved smoke inhalation and none were life-threatening. The smoke was caused by sparks and the garbage and sanitation along the subway tracks.
The incident, described by the New York City Emergency Management Department as a partial derailment, also triggered a power outage affecting all six tracks from West 119th Street to West 125th Street.
ABC News' Aaron Katersky, Joshua Hoyos and Emily Shapiro contributed to this report.