— -- More than 1,300 people gathered in Costa Mesa, Calif., to honor Blaze Bernstein, the 19-year-old University of Pennsylvania student who was fatally stabbed and found in a shallow grave in an Orange County park last month.
"Nothing you ever did was ever average, it was always profoundly good and unique, just like you," Jeanne Pepper Bernstein, Blaze's mother, read from a letter she penned to him when he graduated from the Orange County School of the Arts.
Bernstein's family said their goal for the Sunday event, called #BlazeItForward, was to kick off a larger movement for communal kindness and respect for others.
"[The event] is a tribute to Blaze and an opportunity to galvanize the community to do acts of kindness, one good act a time," Gideon Bernstein, Blaze's father, told "20/20." "Every act of kindness in his name is the spark that keeps his soul alive."
The Bernstein family said they also wanted to host the event to thank the many volunteers who helped search for their son in the six days after he went missing from his family's home, and continued to help the family after his body was found.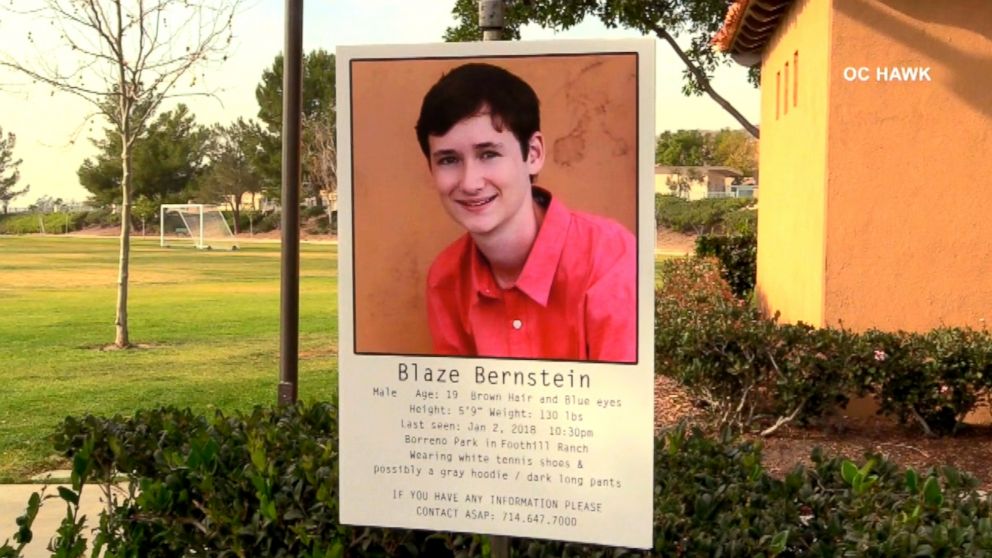 Blaze Bernstein was at home in Southern California for winter break when he went missing on Jan. 2. After an extensive search, his body was found on Jan. 9 in the brush surrounding Borrego Park in Foothill Ranch, the Orange County Sheriff's Department said.
Police charged Bernstein's former high school classmate, Samuel Woodward, with his alleged murder.
Prosecutors haven't ruled out hate crime charges. Last month Orange County District Attorney Tony Rackauckas said they would amend the charges against Woodward should they find proof of a hate crime motive during their investigation. Bernstein identified as a gay man, according to his family.
Despite their son's brutal death, the Bernsteins said they focused on their son's accomplishments and kind character during the tribute. The family plans to host communal acts of kindness events every year on Martin Luther King Day, which will be the anniversary of Bernstein's burial.
The event included musical and spoken word presentations from current students and alumni of Bernstein's former high school, recollections from his friend Maisy Menzies, and a reading of Bernstein's poetry.
Two video presentations were shown: one focusing on Bernstein's life, and the other containing testimonials from people who have performed acts of kindness in Bernstein's honor and encouraging others to do the same.
Gideon Bernstein spoke on transforming the tragedy "from a moment to a movement," and continuing a culture of kindness in the wake of his son's tragic death.
Two years ago, Bernstein witnessed his son, dressed in a suit and delivering a senior year performance, announce to a full house that he was Ivy League-bound to study molecular sciences.
"The irony is that here I stand, two years later, in the same spot, same stage our son stood, and I grieve the loss of God's greatest creation," he said. "A child, a future, a living evolving piece of artwork stopped in its tracks [and] stolen from us."
"I don't know what happened to all of the hopes and dreams from that proud parent moment," he added.
Event attendees were invited to donate to the Blaze Bernstein Memorial Fund or to bring with them a canned food donation.
The call for kindness is a step forward in healing after his son's death, Gideon Bernstein said. Earlier this month, his family visited the University of Pennsylvania to clear out Blaze's one-bedroom apartment near the campus and meet with Blaze's friends.
"That's the thing that pulls people through this, I think, is remembering how funny Blaze was and remembering his sense of humor –- that's irreplaceable," college friend Grayson Honan shared during the Bernstein family's visit. "His wry sense of humor is something that was so unique and you can't separate the sense of humor from Blaze."
At the University of Pennsylvania, Bernstein was taking pre-med courses and was the newly-appointed managing editor of the campus culinary magazine, "Penn Appétit."
"He was always so involved in 'Penn Appétit' and he absolutely loved food," classmate and culinary magazine colleague Rachel Prokupek told "20/20." "He always got super passionate and in-depth into whatever he was writing about."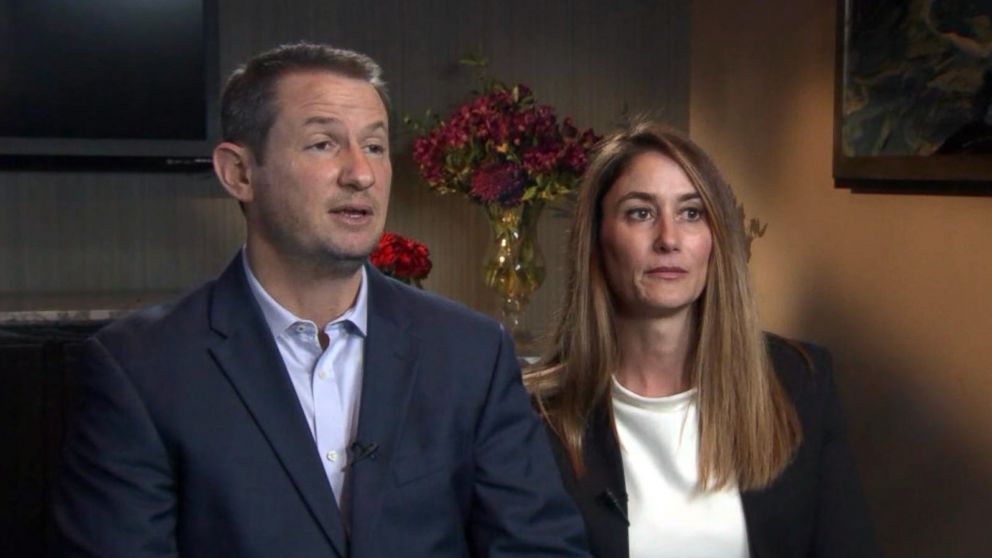 Blaze Bernstein was remembered as a bright student, loyal friend and passionate culinary aficionado. His father said he had hoped to see his son's dreams come fully to fruition.
"He was the renaissance man," Gideon Bernstein told "20/20" at his son's apartment. "This person that developed over the last 19 years had so many different dimensions to him."
"I wish that we could have seen it go all the way through for a full life," he said.
ABC News' Duan Perrin, Chris Kilmer, Elissa Stohler, Emily Shapiro and M.L. Nestel contributed to this report.