It started the week as a Category 4 hurricane and made landfall as a Category 1 storm, but Florence has now been downgraded to a tropical storm.
Florence pummeled North Carolina Friday, battering the state with torrential rain, life-threatening flooding and punishing winds. The storm could hover over parts of North and South Carolina for days, drenching the area with record rainfall.
Here's the latest forecast:
-- There have been eight storm-related fatalities in North Carolina so far.
-- The storm made landfall in Wrightsville Beach, North Carolina, shortly after 7 a.m. Friday, with 90 mph winds.
-- Wilmington, North Carolina, got whacked with a 105 mph wind gust Friday morning -- the first time since 1958.
-- Oriental, North Carolina, has seen over 20 inches of rain, and 23.04 inches of rain have fallen so far in Newport and Morehead City, about an inch shy of the all-time rain record of 24.06 inches in the state set by Hurricane Floyd in 1999.
-- Florence, with winds of 70 mph, is moving inland very slowly at just 3 mph Friday afternoon. The storm was about 25 miles northeast of Myrtle Beach, South Carolina, shortly before 5 p.m. The massive storm stretches 450 miles wide.
-- Major flash flooding is expected in the Carolinas through the weekend as heavy rain continues to dump water onto already hard-hit areas. Rain totals could climb to 40 inches in southeast North Carolina and northeast South Carolina. A flash flood emergency remains in effect for several counties in North Carolina.
-- Seven to 15 more inches of rain will fall Friday along the North Carolina/South Carolina border.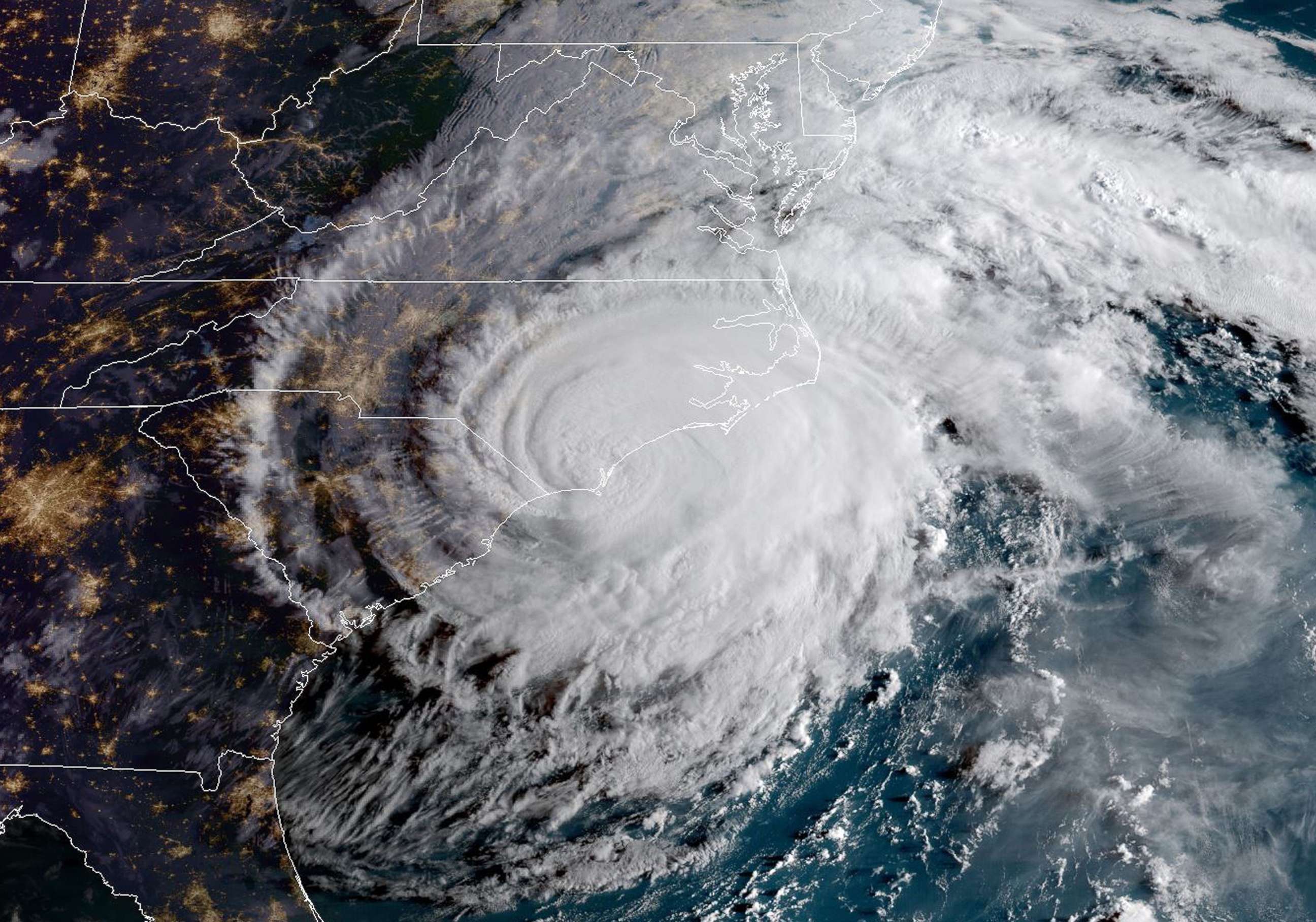 -- On Saturday 7 to 10 inches of rain is expected closer to the inland North Carolina/South Carolina border.
Cleanup begins in the areas damaged by Hurricane Florence
A volunteer pries wood flooring from the storm damaged home of Tonja Dais in Pollocksville, N.C., Sept. 28, 2018. Davis' home was flooded with several feet of water from Hurricane Florence.
Gray Whitley/Sun Journal via AP
-- As Florence makes its way inland, Charlotte, Columbia and Fayetteville could all see extreme flooding.
-- On Sunday, 4 to 8 inches of rain is expected in the Appalachians of North Carolina and southern Virginia.
-- Storm surge is also a major concern, potentially reaching 11 feet in parts of North Carolina. The storm surge threat is greatest between Cape Fear and Cape Hatteras, North Carolina. "People do not live and survive to tell the tale about what their experience is like with storm surge," FEMA administrator Brock Long told "Good Morning America."