— -- Ikea agreed to immediately stop selling dressers that can too easily tip over onto children after at least six children have been crushed to death, the Consumer Product Safety Commission announced.
Millions of customers who bought chests and dressers sold by the popular Swedish furniture retailer could receive a refund after Ikea said Monday that it would immediately stop selling the wobbly products. If consumers do not want to return the dresser, the company will provide an anchor kit to secure the item.
An additional 36 children have been injured by Ikea chests and dressers, which are prone to tip over when they are not secured to a wall. The six deaths -- all children under the age of 4 -- date back to 1989 and are as recent as this February, the CPSC said.
Ikea has acknowledged the problems with its Malm line of dressers.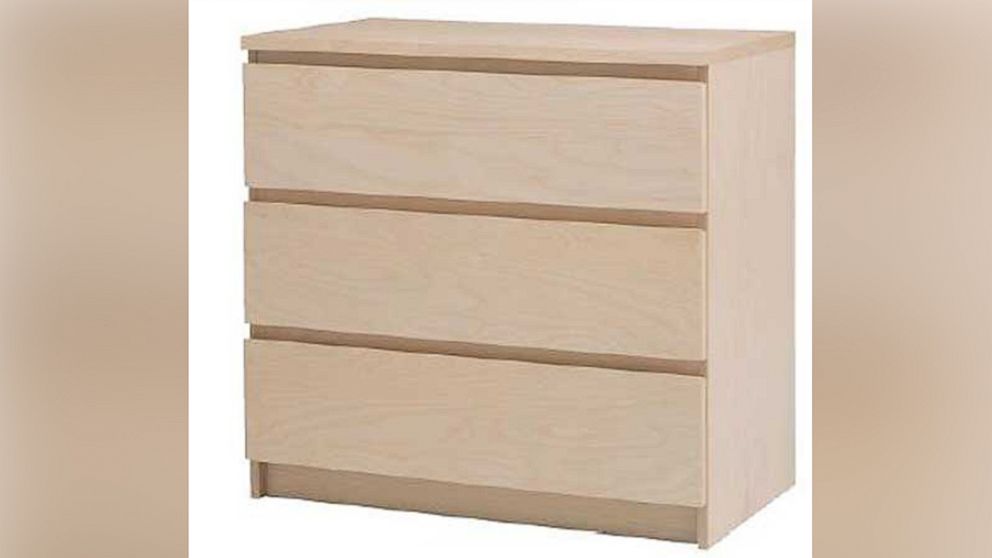 What is the full scope of the recall?
The Ikea recall applies to at least 29 million chests and dresser products.
The company said that its Malm products will be discontinued because of the associated dangers, according to a statement from Ikea.
Last year, Ikea began offering anchoring kits to customers who purchased the dressers after regulators called them unsafe. The company stressed that the repair program helped to "communicate the importance of wall attachment, which resulted in the distribution of 300,000 kits to consumers who had not used their original hardware."
What should consumers do if they own an Ikea dresser?
Ikea will offer full refunds or partial store credit, depending on the manufacturing year, to anyone who returns of its dressers and chests from its Malm line and other recalled lines. Free anchoring kits are also available.
The recall applies to the products addressed by the 2015 program for repairs and anchoring kits, plus some other units. The recalled MALM chests were sold from 2002 through June 2016 for between $70 and $200.
Consumers have three options to receive a free wall anchoring kit: visit an IKEA retail store, go to www.IKEA-USA.com/saferhomestogether, or call (888) 966-4532. According to the CPSC, "Consumers can install the kit themselves or IKEA will provide a one-time, free in-home installation service, upon request."
Why are these dressers and chests dangerous?
The CPSC said two boys under the age of 3 were killed in 2014 after Malm chests that had not been secured to walls tipped over and fell on them. A 22-month-old boy from Minnesota also died this February when a Malm 6-drawer chest fell on top of him, according to the CPSC.
In addition to these deaths, Ikea said it received reports of 41 tip-over incidents involving the Malm chests and dressers, resulting in 17 injuries to children between the ages of 19 months and 10 years old.
Furthermore, Ikea said it had received 41 reports of tip-overs involving non-Malm chests and dressers, which resulted in the deaths of three children and 19 injuries.
"It is clear that there are still unsecured products in customers' homes," Ikea said in a statement. "We believe that taking further action is the right thing to do."
Sen. Bob Casey, D-Pennsylvania, said he would press for legislation that enforces a mandatory safety standard.
"While this is a positive development this battle is by no means over. The facts are clear: far too many children are exposed to unsafe furniture that can easily tip over. What is needed is a strong federal safety standard that can give parents the peace of mind they deserve," Casey said in a statement.
A child dies every two weeks and a child is injured every 24 minutes in the U.S. from furniture or televisions tipping over, according to CPSC data.
Editor's note: This story has been updated to reflect the number of known injuries and deaths from Ikea chests and dressers as reported by Ikea and the CPSC.