— -- The past week of protests and outrage stemming from the deadly shooting at a Florida high school produced a day of stirring moments.
The emotions of many Marjory Stoneman Douglas students who survived last week's shooting have ranged from grief to anger, followed by activism.
The student survivors and the victims' parents have shared their thoughts and stories in a host of different settings in the past 24 hours. Here are some of the notably impassioned moments that unfolded.
1. The student whom police thought might be the gunman
Lorenzo Prado, 17, was one of the Marjory Stoneman Douglas High School students who spoke in the Florida state capital Wednesday.
He described his experience during the shooting a week earlier, saying he faced off with six officers who pointed guns at him because, he later realized, they thought he might have been the shooter.
"I was scared, and I ran to the safest place possible, which was the sound booth ... I start to pace back and forth because I did not know what was going on, and the people in the audience [of the school's auditorium below] saw me," the eleventh-grader said at a Wednesday conference in Tallahassee. "They saw me, and they panicked because I was matching the same description of [suspect] Nikolas Cruz. I had the same clothes, same hair color, same facial structure somewhat. ... And they reported me.
"I go down the stairs and they tell me to put my hands up and I, being the fool that I am, tried putting my phone back in my pocket," he said. "They demanded again, and I, not trying to be one of those news stories of someone dying wrongfully because they refused to put their hands up, I just dropped my phone at that moment and kept going."
When he went out the door, he said, "I had six SWAT members pointing their guns at me."
Prado said they tossed him to the ground, handcuffed him and held him at gunpoint because of the "degrading and depreciating action of the disturbed individual Nikolas Cruz."
2. The heartbroken father calling for action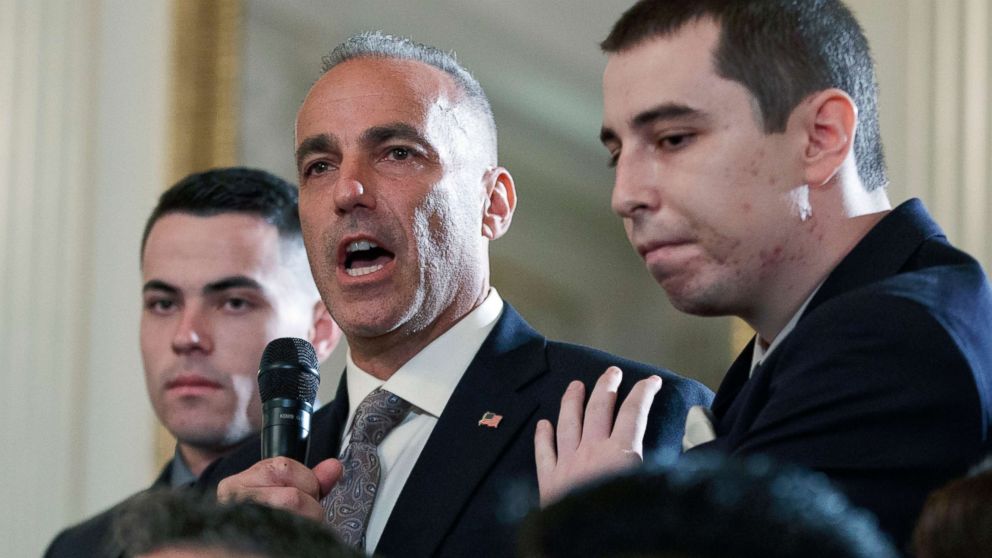 President Donald Trump held a listening session Wednesday with students and parents connected not only to the Parkland, Florida, shooting but also other deadly school shootings like those in Newtown, Connecticut, in 2012 and Columbine, Colorado, in 1999, as well as educators and students from nearby Washington, D.C., schools.
Andrew Pollack, the father of 18-year-old Meadow Pollack, who died in last week's shooting, spoke during the session and made an impassioned plea for action.
"All these school shootings, it doesn't make sense," Pollack said. "Fix it."
"We should have fixed it. And I'm pissed. Because my daughter ... She's not here. She's not here. She's in Fort Lauderdale King David Cemetery; that is where I go to see my kid now."
Prior to the White House event, Pollack had previously made comments supportive of Trump online and was pictured in a Trump 2020 T-shirt in the immediate aftermath of the Parkland shooting.
His three sons stood alongside him Wednesday as he made his plea to the president and others gathered for the event.
"It is not about gun laws," Pollack said. "That is another fight, another battle. Let's fix the schools and then you guys can battle it out whatever you want. But we need our children safe."
3. The teen grappling with the loss of his friend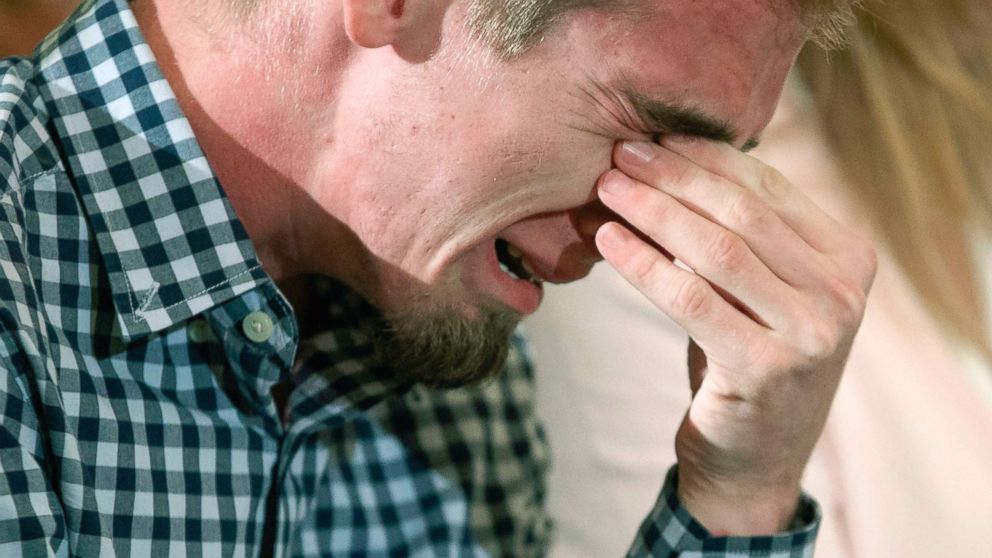 Sam Zeif was in the building when the shooting unfolded at Marjory Stoneman Douglas, texting his brother, who was on the floor above.
He shared his story at the White House listening session Wednesday, saying how he later learned that "a best friend, practically a brother," died in the attack.
The day after the shooting was Zeif's 18th birthday.
"I don't understand why I can still go in a store and buy a weapon of war," he said, sobbing, a reference to the AR-15-style semiautomatic rifle the suspect allegedly used last week.
Zeif sat next to Nicole Hockley, the mother of Dylan Hockley, a 6-year-old killed during a mass shooting at Sandy Hook Elementary School in 2012.
4. A grieving father faces off with Sen. Marco Rubio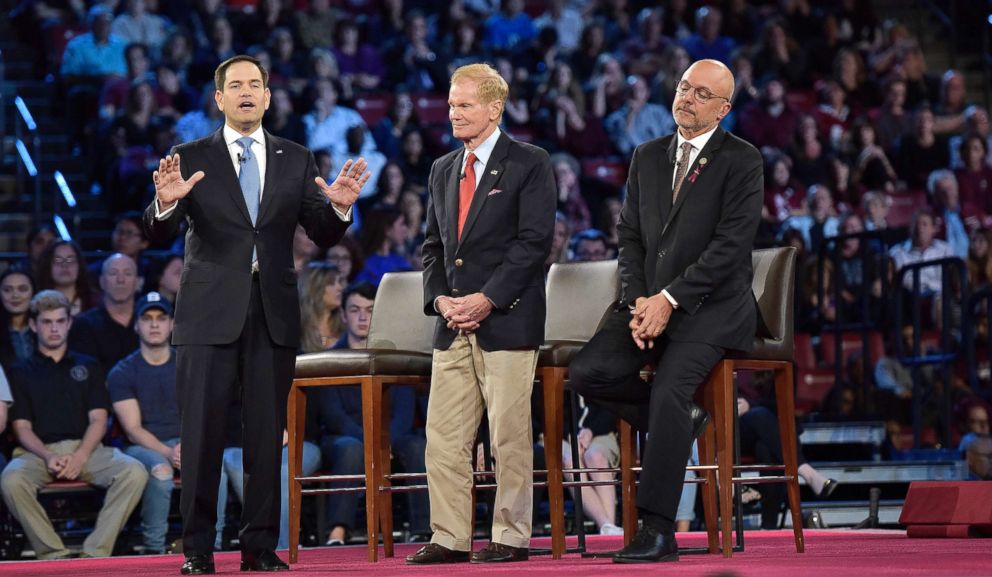 CNN hosted a town hall event in Florida Wednesday night, gathering Marjory Stoneman Douglas students, parents, a National Rifle Association spokeswoman and state politicians.
One of the most dramatic moments unfolded when Fred Guttenberg, the father of slain student Jaime Guttenberg, spoke directly to Sen. Marco Rubio, R-Fla.
"Look at me and tell me: guns were the factor in the hunting of our kids in this school this week. And look at me and tell me you accept it and you will work with us to do something about guns," Guttenberg said.
Rubio initially started by repeating what he had said earlier this week, "the problems that we are facing here today cannot be solved by gun laws alone."
When Guttenberg asked the question again, Rubio said of guns as a factor in the shooting, "absolutely, of course they were."
The exchange went on for about five more minutes and included Rubio's saying that he would support increasing the minimum age for rifle purchases, banning of bump stocks and strengthening background checks. From there, Rubio said that he does not support an assault weapons ban.
"If I believed that that law would have prevented this from happening, I would support it," Rubio said. "But I want to explain to you why it would not."
Rubio went on to say that he thinks it's better to focus on making sure criminals and the mentally ill cannot buy guns, "rather than continue to try and chase every loophole that's created."
The town hall appearance was not the first time Guttenberg has spoken publicly since the shooting. He also shared an emotional statement during the vigil for the victims last week, saying how he was struggling because he couldn't remember whether he had told his daughter he loved her the morning of the shooting.
5. A student questions Rubio's NRA contributions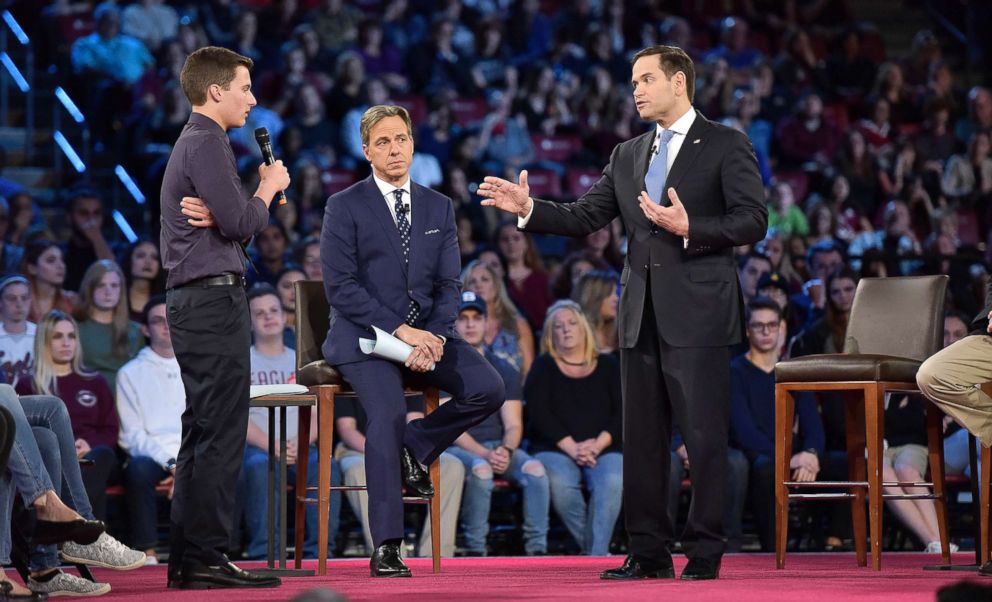 Another heated moment occurred at the town hall when Parkland student Cameron Kasky asked Rubio about political donations he accepts from the NRA.
"Can you tell me right now that you will not accept a single donation from the NRA?" Kasky asked, as the audience broke into applause.
Rubio defended his long-held positions on gun rights, before more directly addressing the donations he has received from the NRA.
"People buy into my agenda, and I do support the Second Amendment [right to bear arms], and I also support the right of you and everyone here to go to school and be safe," Rubio said.
Rubio continued to speak about the topic, but never said he would stop taking the group's money.
"The influence of these groups comes not from money," the Florida senator said. "The influence comes from the millions of people who agree with the agenda."
ABC News' Bill Hutchinson and Halimah Abdullah contributed to this report.