— -- Winter may have arrived late this season, but photos out of Buffalo, N.Y. area show that it's now in full force.
Incredible images show the remnants of an arctic blast that rocked the city Sunday night and Monday morning.
Yesterday, wind gusts of up to 47 mph produced huge waves on Lake Erie near Buffalo, causing the water to spill over and freeze onto parked cars.
ABC affiliate WKBW showed a car with a thin sheet of ice frozen over it near New York State Route 5.
"I don't even know if pictures do it justice of just how insane this image is," WKBW reporter, Matt Bove said. "It seems like there are several inches of…thick ice around the car."
Officials kept Route 5 open, despite the icy conditions, WKBW reported.
Another photo shows waters from Lake Erie frozen after spilling over the deck of Hoak's Lakeshore Restaurant in Hamburg, N.Y, just south of Buffalo.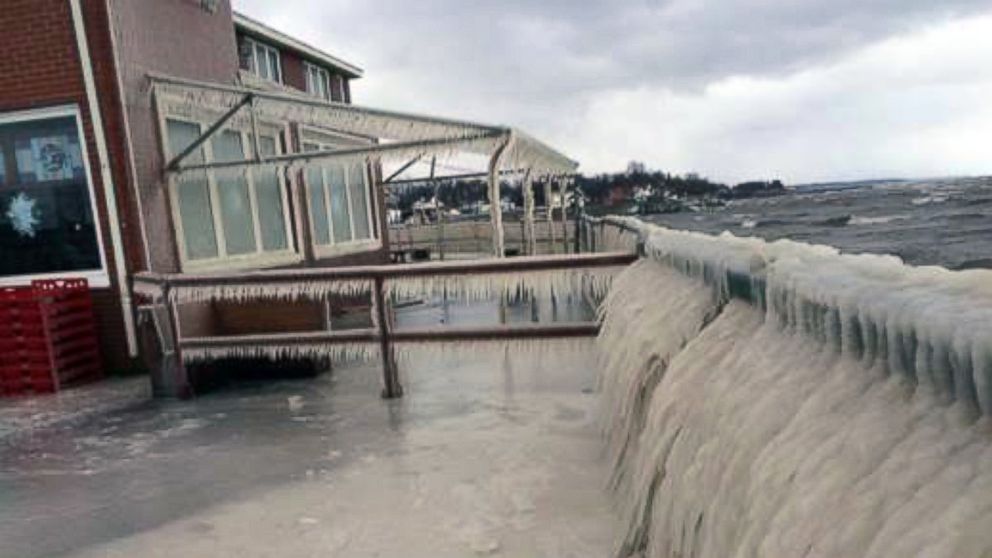 Although winds have subsided to about 20 to 25 mph, arctic air will continue to flow over the Great Lakes during the next few days.
The area south of Buffalo will get the most snow in the coming days, up to 3 feet. The city got so much snow last winter season that a 12-foot pile still hadn't melted by the end of July.
The same frozen effect is happening in areas around Lake Ontario, where cities like Oswego and Mexico, N.Y. will see 2 to 3 inches of snow.
Some cities will see snow today.
An Alberta Clipper-type system from the Midwest will bring some light snow from Chicago to Cincinnati today and move to the Northeast by tomorrow, bringing some light snow and snow showers to Boston and New York City.
On Tuesday evening, the same system will redevelop off the Maine coast and will dump as much as a foot of snow from New Hampshire to Maine, where a Winter Storm Watch has been issued.