Inmates at South Carolina prison in evacuation zone not being moved ahead of Florence
This comes after the governor said they didn't want to risk any lives.
Some South Carolina residents are staying in evacuation zones by choice, but that's not the case for everyone.
A spokesperson for the state's department of corrections confirmed that a prison located in the evacuation zone has not been evacuated ahead of Hurricane Florence.
MacDougall Correctional Institution is a level 2 security facility near Ridgeville that was opened in 1966 and is used to house male inmates, according to the Department of Corrections website. The department spokesperson said it is the only prison in an evacaution zone.
When asked by ABC News why it had not been evacuated in spite of being included in the zone, spokesperson Dexter Lee cited the location of the prison.
"MacDougall is 700 yards inside the northern and western side of the evacuation zone and 80 feet above sea level and at least 35 miles from the coast," Lee said. He did not immediately return requests for further comment.
Cleanup begins in the areas damaged by Hurricane Florence
A volunteer pries wood flooring from the storm damaged home of Tonja Dais in Pollocksville, N.C., Sept. 28, 2018. Davis' home was flooded with several feet of water from Hurricane Florence.
Gray Whitley/Sun Journal via AP
Lee said at a news conference earlier this week that 651 inmates are housed at MacDougall, according to The State newspaper.
By contrast, Indian Creek Correctional Center was evacuated on Monday ahead of the storm, ABC affiliate WJLA reported. ABC News' could not immediately reach the North Carolina Department of Public Safety, but a communications officer for prisons at North Carolina's Department of Public Safety told Vice News that they were moving inmates and staff "away from the storm."
The American Civil Liberties Union of South Carolina released a statement slamming the decision, citing the words of Gov. Henry McMaster in earlier statements warning people to evacuate ahead of the storm.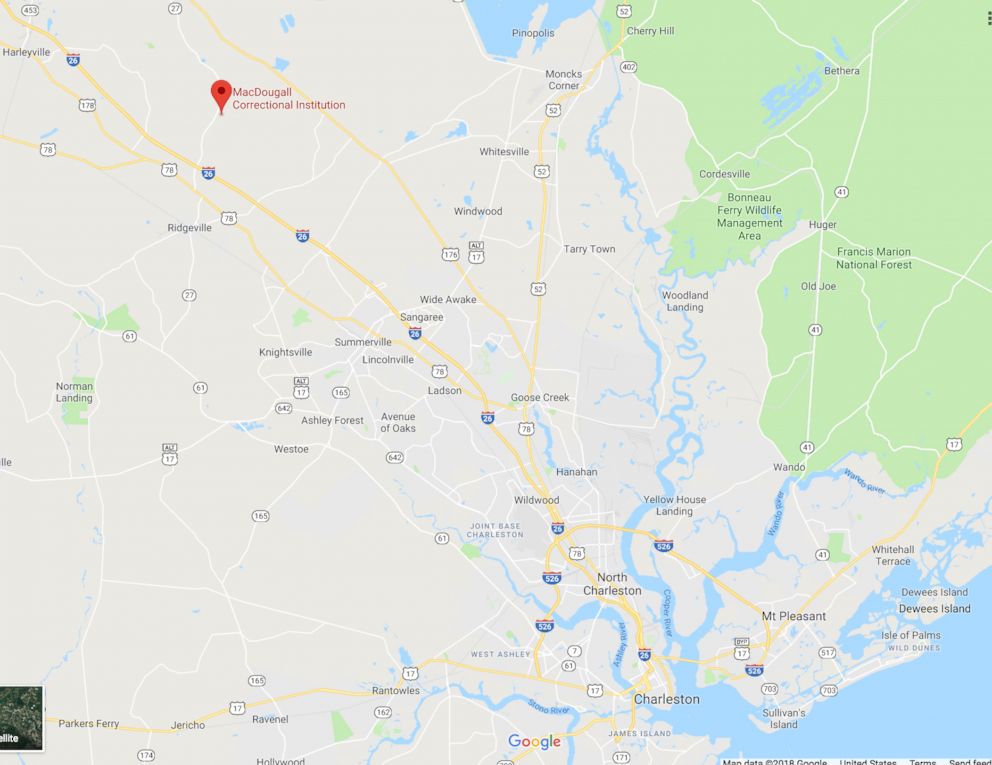 "This storm is slated to be one of the worst we have ever seen, and if Gov. McMaster truly does not want to 'gamble with the lives of the people of South Carolina,' he needs to make sure that the prison system is up to par, or evacuate the inmates just as he has ordered the rest of us to do.," ACLU SC executive director Shaundra Y. Scott said in a statement released Thursday.
Lee said that the department and the correctional facilities are prepared for Florence.
"All SCDC institutions have food, water, and other essential supplies for the storm duration. All institutions have generators with the ability to operate for 10 days without refueling. Correctional officers, medical staff and maintenance staff are operating on an emergency schedule to ensure staff coverages," Lee said in an email.
The department will monitor conditions "to determine if evacuating other prisons is necessary," but any evacuations will not be announced in advance "due to security reasons," Lee said.