How investigators say they connected the dots that led to Gilgo Beach murder arrest
Discarded pizza, cellphones and dogged detective work were key, prosecutors say.
After nearly 13 years, New York investigators arrested the man they allege is responsible for the deaths of three sex workers that were among several corpses found in Gilgo Beach in Long Island, New York.
And all it took was extra sleuthing based on newly discovered evidence and ultimately a discarded pizza crust, according to investigators.
Court documents detailed the 16 months of surveillance and investigation into Rex A. Heuermann, a Long Island architect and married father of two, who has now been charged with the murders of Melissa Barthelemy, Megan Waterman and Amber Costello, whose bodies were found covered in burlap along Ocean Parkway on Long Island's South Shore in December 2010.
Ten bodies were found in the area between 2010 and 2011. The investigation is ongoing.
Although he is not charged in the death of another victim who was found on the beach, Maureen Brainard-Barnes, who went missing in 2007, Heuermann was named the "prime suspect" in her death, prosecutors said.
Heuermann was held on no bail after his attorney entered a plea of not guilty on his behalf in Suffolk County Friday.
Suffolk County prosecutors assembled an "experienced team of investigators, analysts, and prosecutors," in January 2022 with local police and FBI to try and solve the cold case, court documents said. Their efforts led them on the path to Heuermann's arrest Thursday.
Police: Heuermann connection identified through car
On March 14, 2022, two months into the renewed joint investigation, investigators said they discovered a Chevrolet Avalanche that was registered to the suspect and seen by a witness during Costello's disappearance, according to court documents.
"This discovery led to a comprehensive investigation of Defendant Heuermann which consisted of over 300 subpoenas, search warrants and other legal processes to obtain evidence," prosecutors said in the court documents.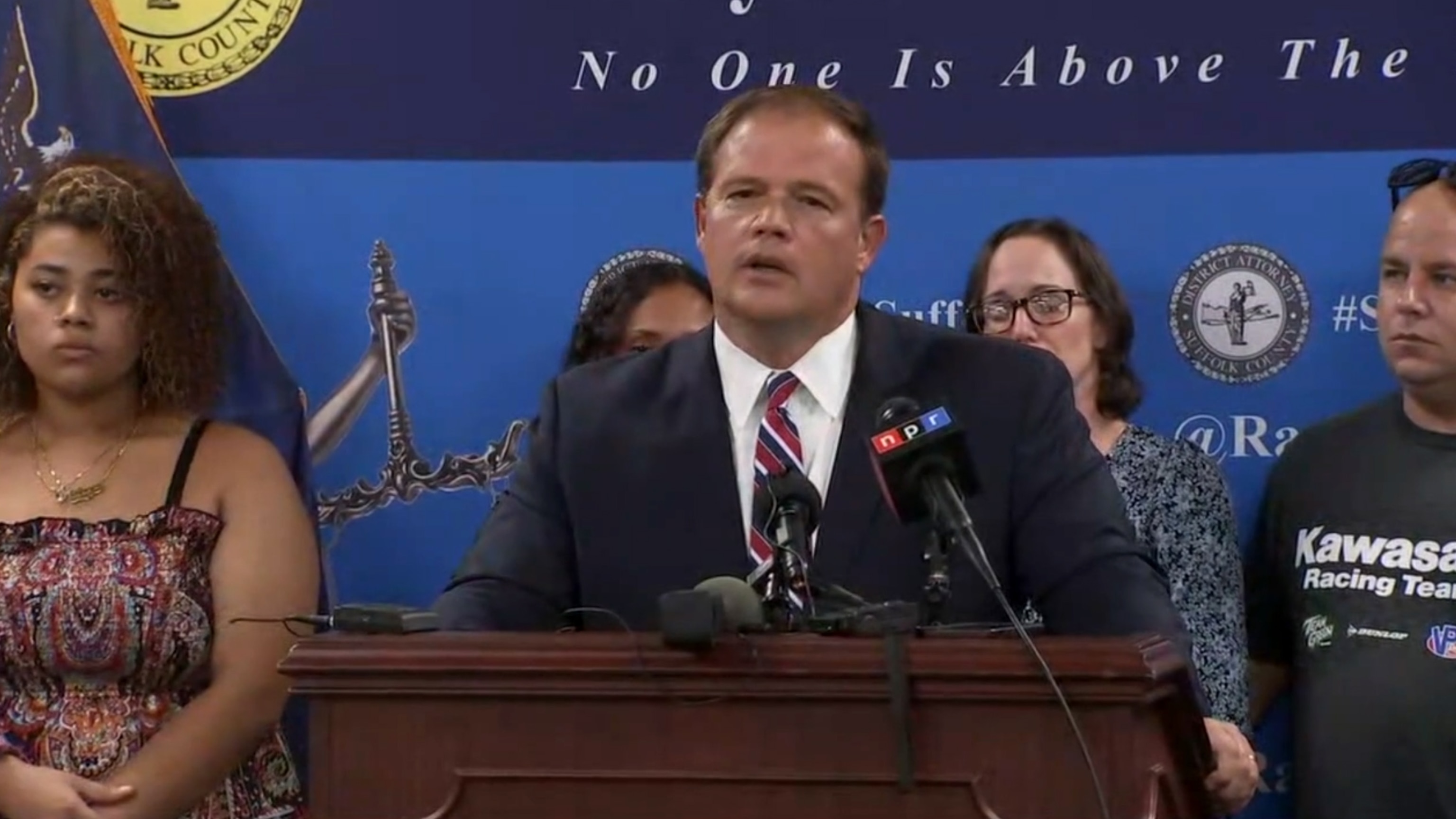 The Chevy Avalanche has been impounded for evidence according to Suffolk County District Attorney Ray Tierney.
Authorities: Cell phone records connect suspect to victims
Among the evidence authorities said they collected from the subpoenas and search warrants were Heuermann's cell phone records.
Investigators said the suspect used burner phones to contact the three women during the time they were reported missing between 2007 and 2010. The suspect allegedly used Barthelemy's phone to make "taunting phone calls to Ms. Barthelemy's family members" and allegedly used Brainard-Barnes' cellphone to check her voicemail, according to court documents.
Authorities said cell tower records for Heuermann's personal cell phone and cell phone site locations showed that his personal phone and the burner phones were connected allegedly to the murders traveled between Massapequa, Long Island and Midtown Manhattan, near where Heuermann worked, at the same times of the victims' disappearances.
"Investigators could find no instance where Heuermann was in a separate location from these other cellphones when such a communication event occurred," prosecutors alleged in the court documents.
Prosecutors alleged that after each of the murders, the suspect got rid of the burner phones.
Authorities said cell phone records and travel records showed that Heuermann's wife and children were away from New York state on vacation during the time of the victims' disappearances, according to court documents.
Alleged secret online life
Authorities said further digging found that Heuermann had several other burner cell phones and email accounts, according to court documents.
The suspect allegedly signed up for the accounts using fictitious names to search for sex workers, court documents said. In the years after the bodies of the victims were found at the beach, the suspect allegedly created a Tinder account that looked for "dates" or "hookups," according to court documents.
"Our heartfelt support goes out to the families and friends of the victims. Given that Tinder launched years after the Gilgo Four murders, it is clear that Heuermann could not have met these women on the app," Tinder said in a statement to ABC News.
Internet search records from the burner phones showed that between March 2022 and June 2023 indicated the suspect searched for sites "related to active and known serial killers, the specific disappearances and murders of Maureen Brainard-Barnes, Melissa Barthelemy, Megan Waterman, and Amber Costello, and the investigation into their murders," as well as "sex workers, sadistic, torture-related pornography and child pornography," prosecutors alleged.
"This supported our decision to keep our investigative focus secret and we didn't want to give him any insight into what we were doing," Tierney said at a news conference Friday afternoon.
Prosecutors said they discovered selfies of Heuermann that he sent to other persons using one of his burner e-mail accounts to allegedly solicit sex.
When the suspect was arrested, Thursday, one of the burner phones allegedly linked to the suspicious searches, was in his possession, court documents said.
Investigators: Pizza crust cracks DNA puzzle
Hair samples were found on the bodies of Barthelemy, Waterman and Costello, however, authorities said could not get a DNA match to a suspect at the time they were discovered.
A new analysis was done in 2020 on a hair sample found on Waterman's body using more advanced DNA and was able to determine that it came from a man and got more genetic information, according to Tierney.
"Because it was out there for so long those hairs were degraded, so you couldn't use traditional DNA analysis on it," Tierney said. "The investigation proceeded but technology proceeded as well."
After investigators said they linked the Chevy Avalanche in early 2022 to Heuermann, he was under surveillance, according to the court documents.
On Jan. 26, investigators saw Heuermann throw a pizza box into a trash can in Midtown Manhattan, according to authorities.
A swab of leftover crust in the box was taken by crime lab specialists and sent for DNA testing, shortly after, investigators said.
On June 12, authorities say the results came back showing that Heuermann's DNA was a match to the male hair found on Waterman's body.