— -- Millions of Floridians, especially in the southern part of the state, were given evacuation orders in advance of Hurricane Irma's arrival, but Miami financial adviser Zak Mann decided to stay put.
Mann, 37, has lived in Miami his "whole life" and he's seen hurricanes before. Even though his apartment in Miami Beach's Brickell neighborhood was in the mandatory evacuation zone but he chose to stay put.
He told ABC News that he balked at evacuating because he was concerned that Irma would move north through Florida along the same route that evacuees were taking to flee. He also wasn't too enthused about the return to South Florida following an evacuation because of the gridlock that would undoubtedly clog freeways across the state.
His friend Loni Paige is staying with him at his apartment because the buildings there are newly constructed so he presumes they would fare well during a monster storm like Irma, he said.
The management of his building "relayed the message of the mandatory evacuation but did not go door to door kicking people out," Mann said. Some of the utilities like hot water and air conditioning and the elevator services were turned off protectively.
Armed with supplies for a couple weeks, including coolers filled with ice and a small generator, Mann and Paige said they were ready to take on Irma.
Below, Mann documents his stay for ABC News. His diary will be continually updated.
Saturday, 12 p.m.
This is the pseudo-calm before the storm. Wind gusts have started picking up. You can see the trees swaying. Very few people are left.
Saturday, 3 p.m.
Conditions have improved. Hasn't rained in 30 to 45 minutes and wind gusts have lightened up.
Saturday, 4:30 p.m.
Heavy rains and wind gusts pummel Miami.
Saturday, 7:30 p.m.
Conditions have gotten exponentially worse. Very strong gusts of wind, a lot more rain. You hear cracking of some trees and you see everything swaying around the street level. Be safe everyone!
Sunday, 8:30 a.m.
Mann said eating, Netflix and Jenga are keeping him occupied.
Very strong gusts of wind. Can occasionally hear something cracking or breaking off a building. The streets are pretty empty, but there's no major flooding, just a lot of rain and heavy winds.
Sunday, 11:45 a.m.
Irma is showing her strength now. Very strong gusts of wind. The streets are flooded up to the newspaper stands. You have a broken window at the JW Marriott with the curtains flying out of it. There is small pieces of debris flying through the air....
Sunday, 2 p.m.
On Sunday in Miami, winds whipped around high-rise buildings at speeds approaching 100 mph, the National Weather Service said. A 94 mph wind gust was recorded at Miami International Airport.
The powerful winds are shaking glass window panes, Mann said.
The wind has really picked up. ... The pressure is forcing water in through the balcony doors and they are rattling every so often with the bigger gusts. It is still very flooded outside ... can barely see out these windows anymore. We're getting the brunt of it now, it seems. Stay safe everyone!
Sunday, 5 p.m.
We're out of the thick of it. We've had a few small bands of rain and wind but nothing like [it was at] 11 a.m. to 2:30 p.m.
My floor-to-ceiling windows made a few creaking sounds and one did leak a little but no major damage. No loss of power.
Sunday, 6:30 p.m.
Reflecting on what it was like being in Miami during the worst portion of the weather today, Mann thought back to one of the worst storms that Florida has ever experienced.
I went through Andrew in '92 in a hard-hit area. We were lucky to dodge the direct path of the storm. Had it been a direct hit to Miami we would have much more damage.
Monday, 11 a.m.
Mann said he could hear chainsaws working on the cleanup and generators running for buildings that probably didn't have power.
Mann said it looks like people are assessing the damage and getting back to their normal routines; he said he saw more cars on the road today than he had seen in several days.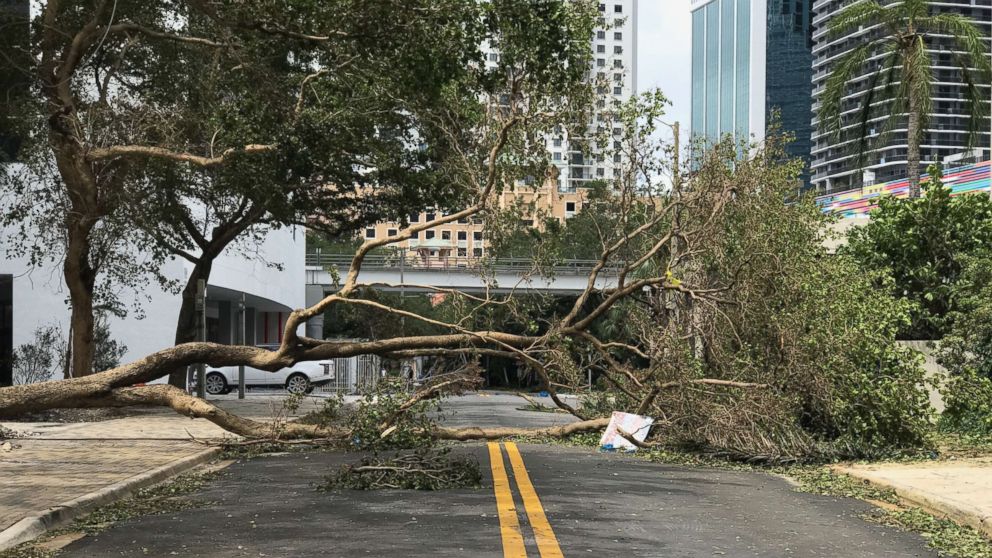 The waters have receded and it looks like Brickell should be back up and running pretty soon. So that's something we look forward to!
Final reflections: 'We've rebuilt Miami before ... we will do it again'
They always say prepare for the worst and hope for the best. We got lucky we didn't get a direct hit. My calculated decision to stay paid off -- our power stayed on the entire time and we were able to keep in touch with our families and friends.
Everyone is OK, my parents still don't have power but are making the best of it. I'm heading down there soon to help with the minor restoration and to make sure we identify any damage and mitigate any further issues. I have an SUV full of supplies that I'll drop off to other friends that have lost power and need them more than I.
Miami has a lot of work to do to make the city safe and restore basic services. They're already hard at work clearing the roadways of debris and preparing for the return of all those that evacuated. We've rebuilt Miami before and with the help of our communities and volunteers we will do it again.