ATLANTA— -- Former President Jimmy Carter today said he'll start treatment this afternoon for melanoma on his brain.
Carter, 90, discussed details of his cancer diagnosis, which he revealed last week, during a news conference this morning at the Carter Center in Atlanta.
He said he found out about the melanoma after having surgery earlier this year to remove a tumor on his liver. Doctors then did a biopsy, found melanoma and, after further treatment, discovered four "small" spots of melanoma in his brain, he said.
Carter said he will receive his first radiation treatment today, for a total of four treatments scheduled in three-week intervals.
He said he had already made peace with the news, and called himself "surprisingly at ease," although he added that when he first learned of the cancer in his brain, he thought he had just a few weeks left to live.
"This is in the hands of God," Carter said. "I'll be prepared for anything that comes."
The 39th president added that he was not in much pain, saying "I feel good" and that he hasn't been weak, save some pain in his right shoulder, which his doctors said would be a natural occurrence for someone having liver surgery.
Carter said he found out toward the end of May about the liver spot, but did not tell his wife, Rosalynn, until mid-June.
"As quickly as I could, I told the public and my family the things about which I was absolutely certain," he said.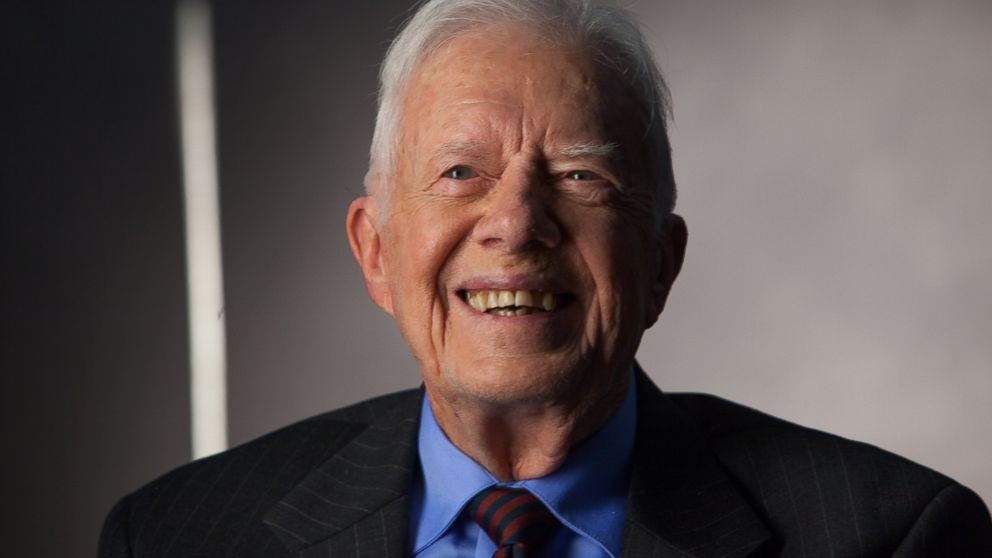 Carter was seen in his hometown of Plains, Georgia, Sunday at his church, where he speaks regularly and leads bible study. He said Plains has been a "haven" for him and his family.
The peanut farmer-turned-president, whose four years in office were marred by an energy shortage and the Iranian hostage crisis, has redefined what it means to be a former president. He and wife Rosslyn, married for 69 years, have dedicated the past three decades to humanitarian work around the globe.
"I'm just as active now as I was 25 or 30, 40 years ago," Carter told ABC News' George Stephanopoulos in an interview earlier this year. "I'll be 91 in October. My travel capability and my vigor, physical vigor, is going to die down. And then I'll have more time with Rosalynn at home."
But Carter joked today that the former first lady, 88, was finally now getting him to slow down.
"For a number of years, Rosalynn and I we had planned to dramatically reducing our work at the center, but we haven't done it yet," Carter said with a chuckle.
Asked today whether, at this point of reflection on his long and full live, he would have done anything differently, he answered with the kind of self-deprecation and humor that was a hallmark of this unique news conference.
"I wish I had sent in one more helicopter to rescue the hostages" in Iran, he said. "Maybe I would have been re-elected," he said, laughing as the room erupted as well.
Carter says he plans to teach at his church's Sunday school this weekend and through the fall, as he has done for more than 25 years. He has also told the CEO of Habitat for Humanity he still hopes to travel to Nepal in November with the group, but that now depends on whether he can postpone the last of his radiation treatments.
ABC News' Ali Weinberg contributed to this report.