A college coach, his wife and daughter who all died in a helicopter crash alongside Kobe Bryant were honored at an emotional memorial service where friends and family shared tears and stories.
Orange Coast College baseball coach John Altobelli and his wife, Keri Altobelli, were onboard the helicopter with their 14-year-old daughter, Alyssa Altobelli, who was a basketball teammate of the NBA legend's daughter Gianna.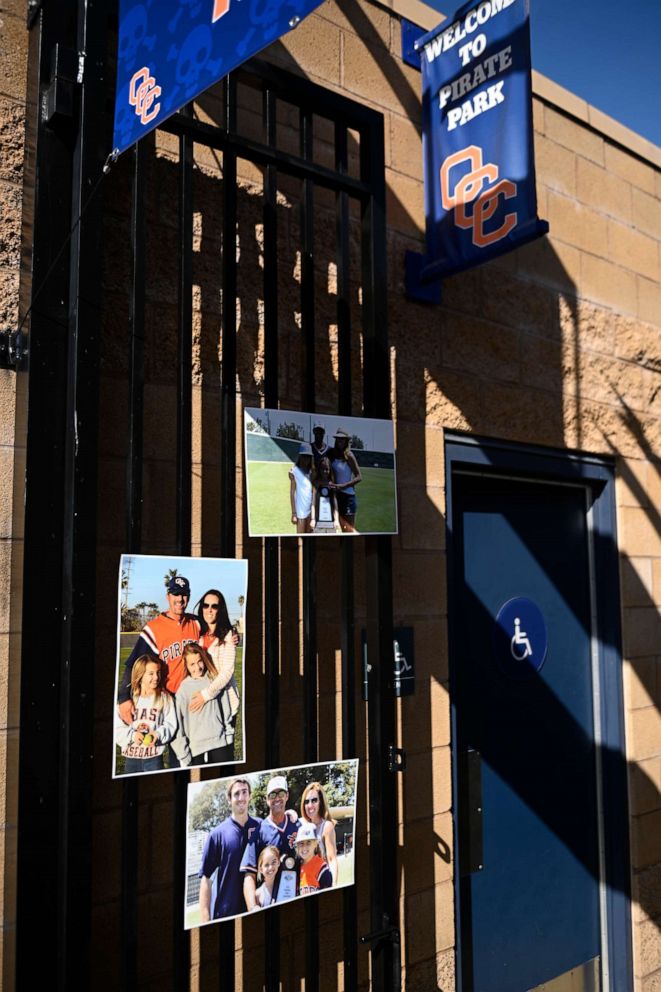 All nine people onboard died in the Jan. 26 crash in California while en route to Bryant's Mamba Sports Academy.
John and Keri Altobelli are survived by two other children, son J.J. Altobelli -- John Altobelli's son from a previous marriage -- and the couple's 16-year-old daughter, Alexis Altobelli.
In a video played at Monday's service, J.J. Altobelli, with tears in his eyes, said the values he learned from his father are "really important to who I've become as a person, as a man. How I'm gonna be as a husband. And the role I'm gonna serve for Lexi going forward."
Keri Altobelli's "devastated" brother, Derek Sanders, was choked up as he spoke to the mourners at Angel Stadium of Anaheim, saying, "My life was forever changed when Alexis and Alyssa were born. ... I was completely smitten, my heart was taken."
"They were everything to me, and I'm so grateful I got to spend time with them," Sanders said, crying. "My remaining's life devotion will be to Lexi."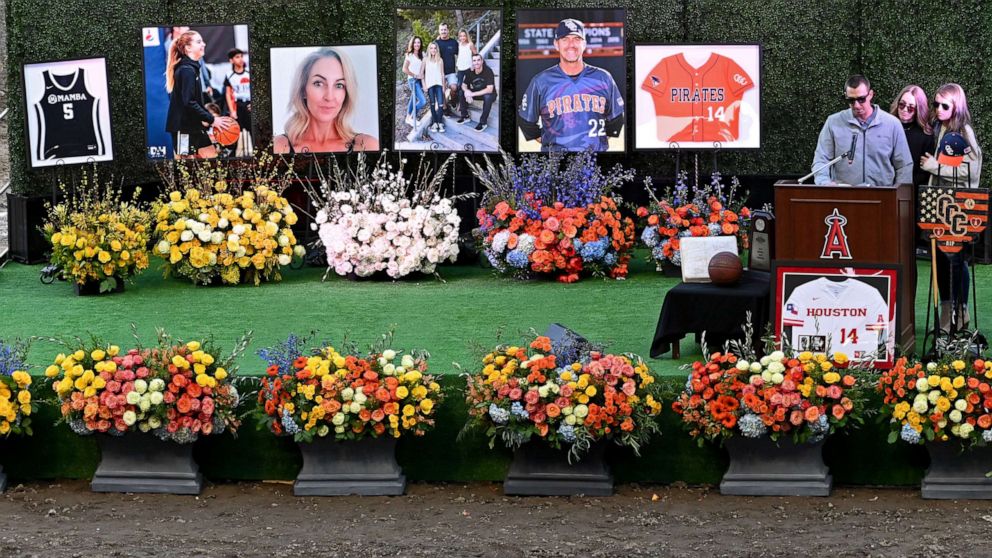 John Altobelli was a coach at Orange Coast College for 27 years and was known to be a mentor to players, whom he "treated them like family," according to the school.
He had a "continuous commitment to make a difference in young people's lives," his best friend of over 45 years, Clarke Smith, said at Monday's service.
He was also a dedicated family man, and would work out at 6 a.m. so he wouldn't miss any time he could be spending with his daughters, said a co-worker.
"Alto [John Altobelli] was nothing short of a saint," said Sanders. "I saw a man who sacrificed tremendously because of the love and devotion he had for his family ... we all idolized him."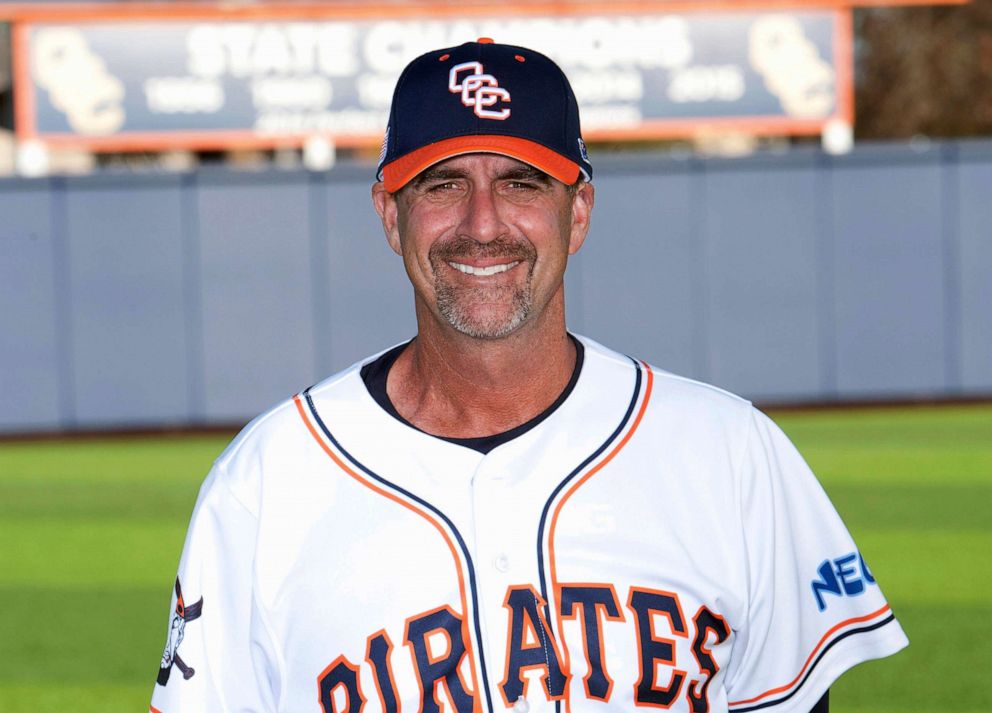 Jeff Piaskowski Sr., a friend since childhood who went on to coach with John Altobelli, was overcome with emotion at the service as he recounted the last day he saw him, on the baseball field the day before the crash.
"Please remember Alto for all the special moments he gave us," he said. "He always treated me as if I was his brother. He embraced my family as if they were his. Thank you, Alto, for the opportunity. I love you, my friend."
His wife, Keri Altobelli, was strong, direct and bold, but also "loving and extremely loyal" and "embraced everything her family did," said her friend, Lori Lever.
"As the girls grew up, their personal passions became Keri's passions. Managing the family schedule with baseball commitments for Alto, basketball for Lyssa, tennis and academics for Lexi, supporting J.J. as he pursued a career in baseball like his dad," Lever said. "And the demands of Keri's own business left little time of anything else."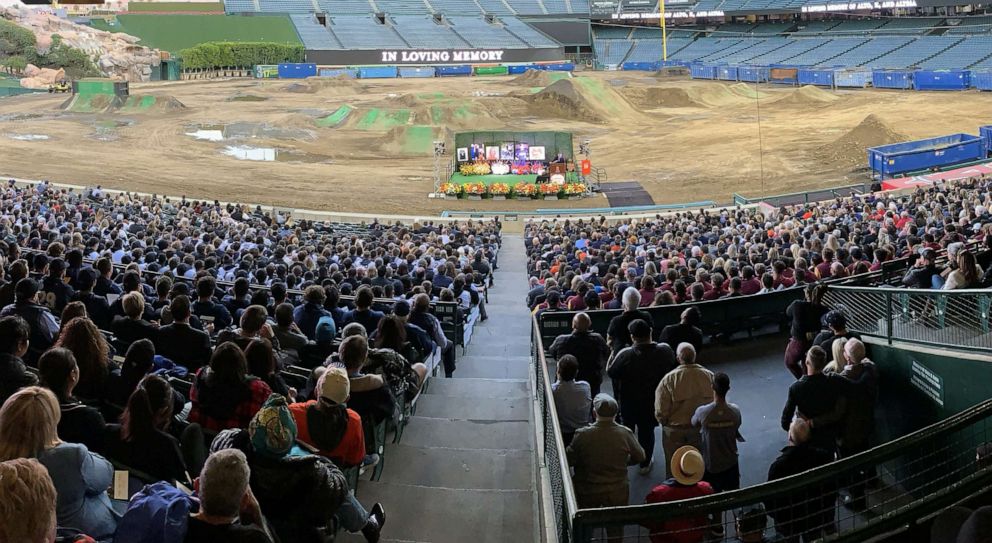 "Watching her do this effortlessly was nothing short of amazing," Lever said.
Alyssa Altobelli was a "devoted basketball player" with a hard work ethic, but she also "always had my back," her friend Sammy Forbath said at the service.
She recalled when they played on the same basketball team and Alyssa, and instead of shooting for her 12th basket of the game, would pass to her, "so I could make my first."
"And when I'd miss, she'd look at me with a smile and say, 'Good try, you'll get the next one,'" Forbath said. "She always was doing her best to make people happy and make them feel good."
"There is no way for me to put what they mean to me into words," J.J. Altobelli said at the service. "The legacy they left will continue to live on through all of us."