First lady Jill Biden has cancerous lesion removed from near her right eye
The skin lesion was confirmed to be basal cell carcinoma.
First lady Jill Biden underwent an outpatient procedure at Walter Reed National Military Medical Center on Wednesday to remove a small lesion above her right eye that was found to be cancerous.
"All cancerous tissue was successfully removed, and the margins were clear of any residual skin cancer cells," White House Physician Dr. Kevin O'Connor said in a memo to the first lady's press secretary Vanessa Valdivia released Wednesday afternoon. "We will monitor the area closely as it heals, but do not anticipate any more procedures will be needed."
The physician also noted that during her pre-op examination, an "additional area of concern" was identified on the left side of her chest, which was "consistent with potential basal cell carcinoma" and also removed using Mohs surgery. O'Connor said basal carcinoma cells don't tend to metastasize, as other skin cancers do.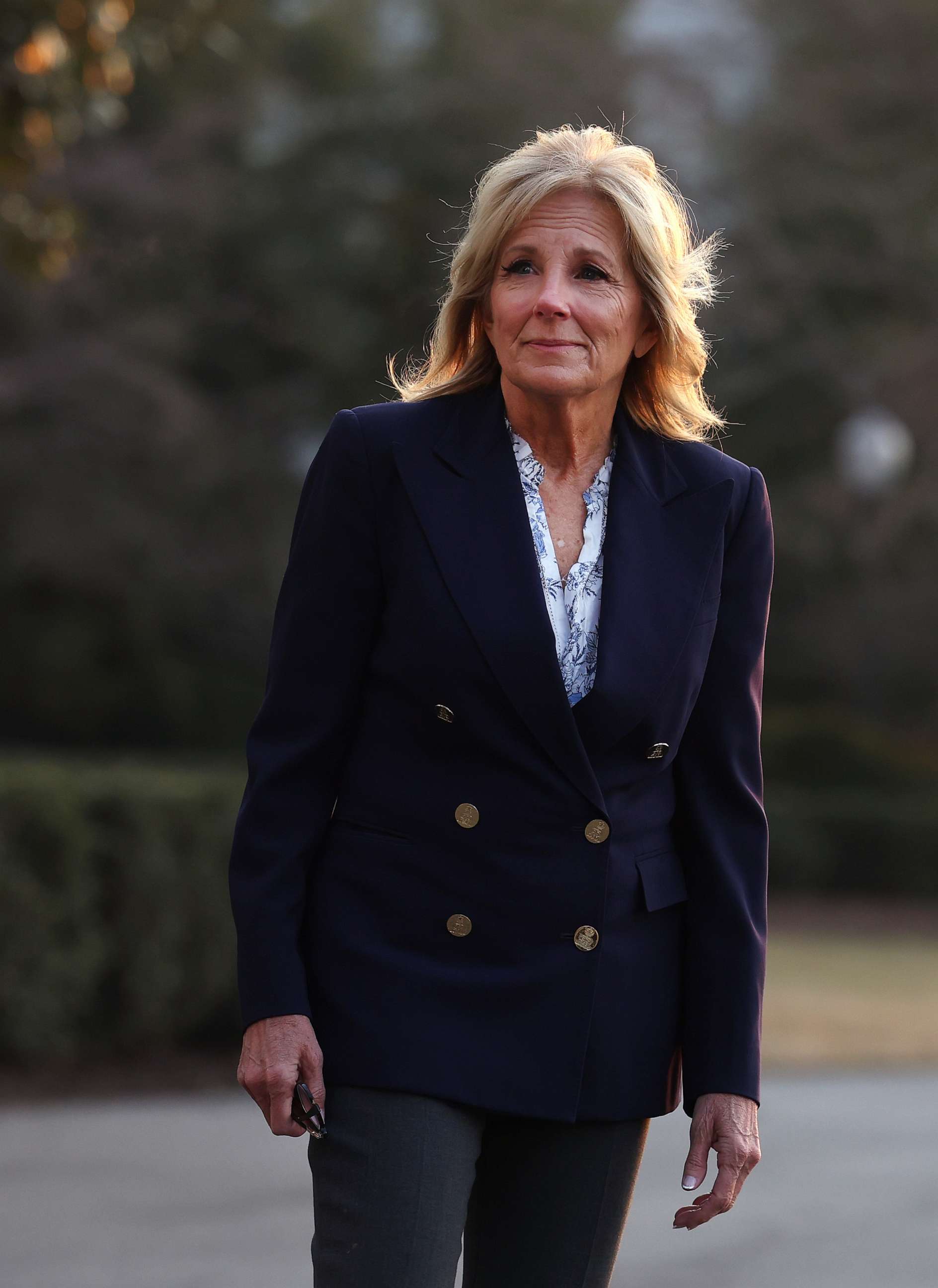 "As anticipated, the First Lady is experiencing some facial swelling and bruising but is in good spirits and feeling well," O'Connor said.
The lesion was discovered during a routine skin cancer screening and doctors had recommended it protectively be removed and analyzed for any signs of cancer through a procedure called Mohs surgery.
"Mohs surgery is considered the most effective technique for treating many basal cell carcinomas (BCCs) and squamous cell carcinomas (SCCs), the two most common types of skin cancer," according to the Skin Cancer Foundation. "Sometimes called Mohs micrographic surgery, the procedure is done in stages, including lab work, while the patient waits. This allows the removal of all cancerous cells for the highest cure rate while sparing healthy tissue and leaving the smallest possible scar."
President Joe Biden accompanied the first lady for the procedure. The two left the White House together on Wednesday morning and boarded Marine One en route to Walter Reed.
Just after 2 p.m., the East Wing reported that Biden's procedure had started and was "proceeding well."
ABC News' Alexandra Hutzler and Meredith Deliso contributed to this report.