First lady Jill Biden has recovered from a "rebound" case of COVID-19 and will return to Washington nearly a week after again testing positive for the virus, her office said.
Biden, who has been isolating in Rehoboth Beach, Delaware, has now tested negative, her spokeswoman Elizabeth Alexander said in a statement. She plans to travel back to the capital on Tuesday.
The first lady -- who first tested positive on Aug. 15 -- then came out of her first isolation period from that infection in South Carolina on Aug. 21.
She subsequently tested positive for a rebound case last week after being treated with the antiviral Paxlovid.
President Biden tested separately negative for COVID-19 last Wednesday, according to the White House.
"The First Lady has experienced no reemergence of symptoms, and will remain in Delaware where she has reinitiated isolation procedures," a spokeswoman said in a statement on Wednesday. "The White House Medical Unit has conducted contact tracing and close contacts have been notified."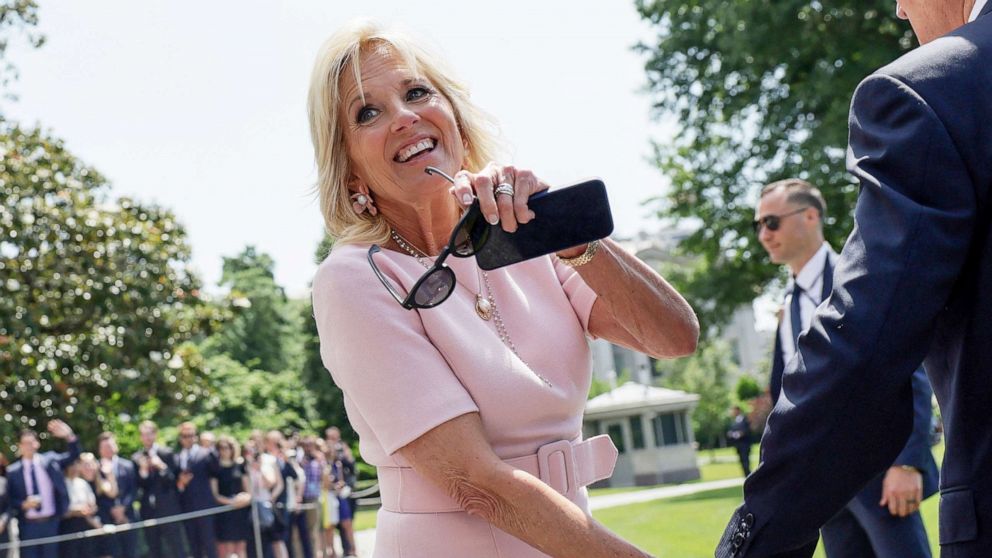 The president had returned to the White House from Delaware on Wednesday morning. The first lady was supposed to accompany her husband to a Democratic National Committee event in Maryland on Thursday but instead remained isolated in Delaware.
The president planned to "mask for 10 days when indoors and in close proximity to others," a White House official said at the time. "We will also keep the President's testing cadence increased and continue to report those results."
Jill Biden, who is double vaccinated and twice boosted, was prescribed Paxlovid, which President Biden also took after testing positive last month. Like his wife, the president also suffered a so-called "rebound" COVID-19 case.
Paxlovid is authorized under emergency use by the Food and Drug Administration for Americans ages 12 and older who are at high-risk for severe illness from COVID-19. Preliminary estimates suggested that the drug provided an 89% reduction in virus-related hospitalizations and deaths.
However, in recent months, as use of the drug ramped up, there was an increasing number of anecdotal reports of rebound cases, where individuals test positive for COVID-19, after testing negative, following completion of the treatment course. According to the Centers for Disease Control and Prevention, a COVID-19 rebound has been reported to occur between two and eight days after initial recovery.
Although experts say preliminary estimates of Paxlovid rebounds are likely undercounted, White House COVID-19 Response Coordinator Dr. Ashish Jha had suggested after President Biden's Paxlovid rebound that the phenomenon may happen in 5% to 8% of patients.
Federal officials report that a rebound infection can also occur in patients receiving no treatment or in patients receiving other COVID-19 therapeutics.
ABC's Karen Travers reports:
ABC News' Justin Gomez, Sarah Kolinovsky, Arielle Mitropoulos and Molly Nagle contributed to this report.