Dr. Anthony Fauci to step down from his role as NIAID director in December
"While I am moving on from my current positions, I am not retiring," Fauci said.
Dr. Anthony Fauci will step down from his roles of director of the National Institute of Allergy and Infectious Diseases and chief medical adviser to President Joe Biden this December, he announced Monday.
"While I am moving on from my current positions, I am not retiring," Fauci said in a statement. "After more than 50 years of government service, I plan to pursue the next phase of my career while I still have so much energy and passion for my field."
Fauci, who turns 82 in December, has said for months that he plans to step away from his public role as a national leader on the pandemic once COVID-19 reaches a "steady state."
Biden, commending Fauci's work not just on the current pandemic, but for the six presidents before him, said in a statement Monday that Fauci's "commitment to the work is unwavering, and he does it with an unparalleled spirit, energy, and scientific integrity."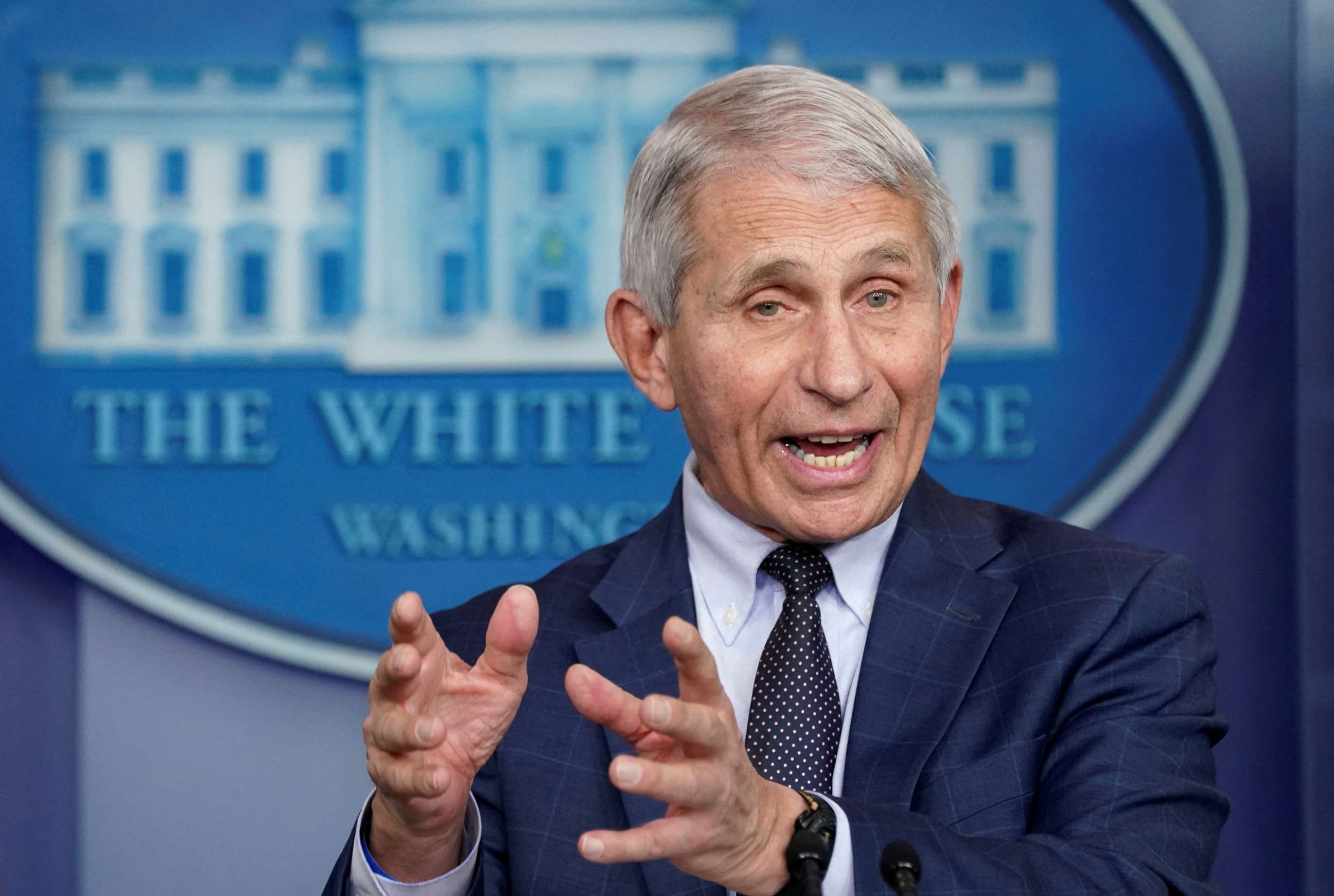 "As he leaves his position in the U.S. Government, I know the American people and the entire world will continue to benefit from Dr. Fauci's expertise in whatever he does next," Biden said. "The United States of America is stronger, more resilient, and healthier because of him."
Fauci has been director of the NIAID for 38 years, beginning his tenure under President Ronald Reagan.
Before the COVID-19 pandemic, Fauci was famous for his work on HIV and AIDS, as well as Ebola and Zika, among other threats like West Nile Virus and the anthrax attacks in 2001.
"It has been the honor of a lifetime to have led the NIAID, an extraordinary institution, for so many years and through so many scientific and public health challenges. I am very proud of our many accomplishments," Fauci said in a statement.
Health and Human Services Secretary Xavier Becerra, who oversees Fauci's department, said Fauci's decision is one "we all knew would eventually come but hoped never would."
"When I arrived at HHS, the world was one year into the COVID-19 pandemic. I quickly came to rely on Dr. Fauci's wisdom and counsel in our response, and along with his scientific acumen, I treasure his ability to break down complex science in simple terms to the American people to save lives," Becerra said.
Back in July, Fauci explained that he didn't intend to leave the public health field for a while, but that he wanted to conserve his remaining years to work on personal projects, teaching and writing.
"Obviously, you can't go on forever. I do want to do other things in my career. Even though I'm at a rather advanced age, I have the energy and the passion to continue to want to pursue other aspects of my professional career. And I'm going to do that sometime. I'm not exactly sure when, but I don't see myself being in this job to the point where I can't do anything else after that," Fauci said on CNN at the time.
"So that's the reason. It has nothing to do with pressures, nothing to do with all the other nonsense that you hear about, that has no influence on me," Fauci said in the same interview.
In a Washington Post interview published on Monday, shortly after Fauci announced his imminent role change, Fauci said he was interested in teaching higher education and lecturing about the lessons he's learned throughout his career. In the past, he's also mentioned an interest in writing a memoir about growing up in Brooklyn in the 1940s and '50s.
"I love everything about this place. ... But even with that, I said I'm going to have to leave some time," Fauci told The Washington Post. "I don't want to be here so long that I get to the point where I lose a step."
ABC News' Emily Shapiro contributed to this report.