A dog breeder has been accused of selling untrained puppies for $25,000 and posing them as service dogs, according to a lawsuit filed by Virginia Attorney General Mark Herring.
The company, Service Dogs by Warren Retrievers, "represents itself as a nonprofit organization devoted to raising, training and placing service dogs with individuals who have 'invisible disabilities,'" such as diabetes, autism, post-traumatic stress disorder and seizure disorders, according to the lawsuit, filed in a Madison County circuit court on Monday. Service Dogs by Warren Retrievers hadn't responded to the complaint as of Wednesday evening, according to online Madison County court records.
Families seeking service dogs from the company are told that if they raise $25,000 for the nonprofit, they will receive a trained diabetic alert dog that will "save their or their family members' lives by identifying and alerting them to blood sugar fluctuations that could become life threatening," according to the lawsuit.
The suit alleges violations of the Virginia Consumer Protection Act and the Virginia Solicitation of Contributions Law. Herring seeks a permanent injunction against further violations by the company and its owner, reimbursement to consumers, along with civil fines and penalties.
The dogs are advertised to be able to detect high and low blood sugar, get help in the form of "third party support," retrieve food and medication and dial 911 on a special device, according to the lawsuit.
Instead, "hopeful and vulnerable consumers" actually received dogs that were poorly trained, ill-behaved and "not equipped to help them manage a life-threatening disability," the lawsuit states, describing the dogs as "little more than expensive pets."
Customers were supposed to receive dogs that were housebroken and had undergone obedience training and some scent training, but they actually received untrained puppies that needed basic obedience training for walking on a leash, inappropriate chewing and responding to their name, according to the lawsuit.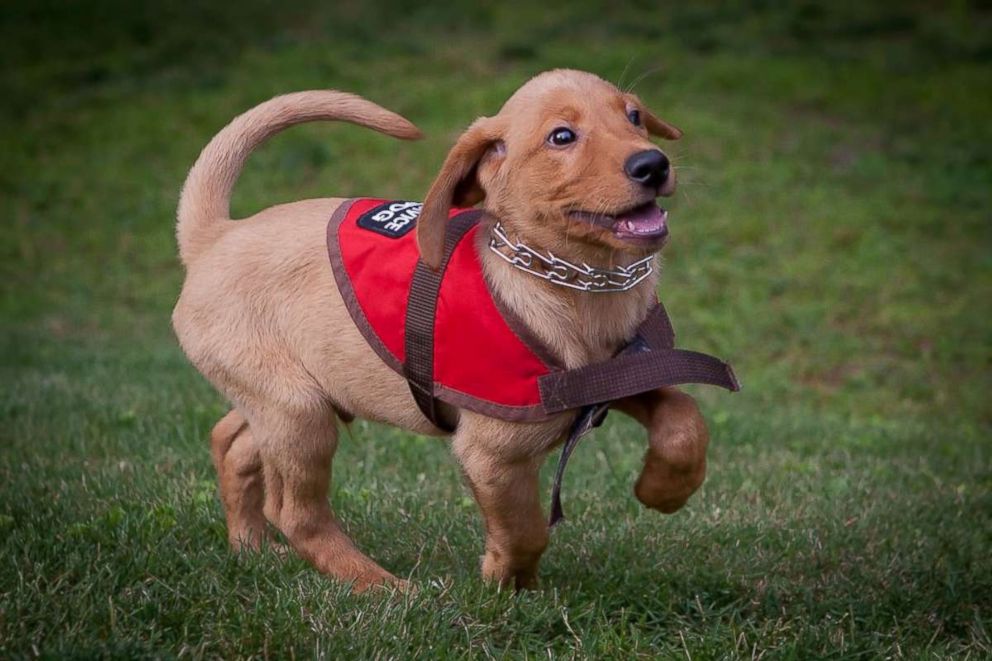 The dogs that customers received would also frequently bark or whine, jump on people or other dogs, strain against the leash or show "significant fear" at loud noises, such as storms, fireworks or cars backfiring, the lawsuit states.
Named in the lawsuit is the founder of the company, Culpepper, Virginia, resident Charles Warren. The company was incorporated in October 2010 with the company name of Guardian Angel Service Dogs, but it changed its named to Service Dogs by Warren Retrievers in 2012, the lawsuit states. It started promoting its diabetic alert dog services in 2011, which purports to offer dogs with "proven scent ability" to aid in detecting high or low blood sugar levels, according to the lawsuit.
The company claims that all litters are "temperament tested" when puppies are 7 weeks old and that only puppies "from the best in the litter" are trained to be a diabetic alert dog, the lawsuit states. It also offered a money-back guarantee on its website on the scent-training portion of the program, according to the lawsuit. The company's website touts its nonprofit status and seeks donations as well as legacy gifts. The site also includes glowing testimonials amidst slogans such as "Hope Is Good" and "Until there's a cure, there's a dog."
Pawcatuck, Connecticut, resident Heather Hudson said she received her service dog from the company -- a 6-year-old red fox Labrador Retriever named Malachi -- in July 2012 after they paid a $1,000 deposit to Service Dogs by Warren Retrievers. Her son, who was 6 at the time, has type 1 diabetes, she said.
Hudson, who has a degree in animal science and had been working with veterinarians for about six years at that point, said Malachi's health ailments were so bad that she was convinced he had come from a puppy mill.
She noticed upon Malachi's arrival that he had bald spots on his head -- likely from rubbing his head repeatedly in a kennel. He had worms and other parasites, had trouble crate training and began developing skin allergies, she said.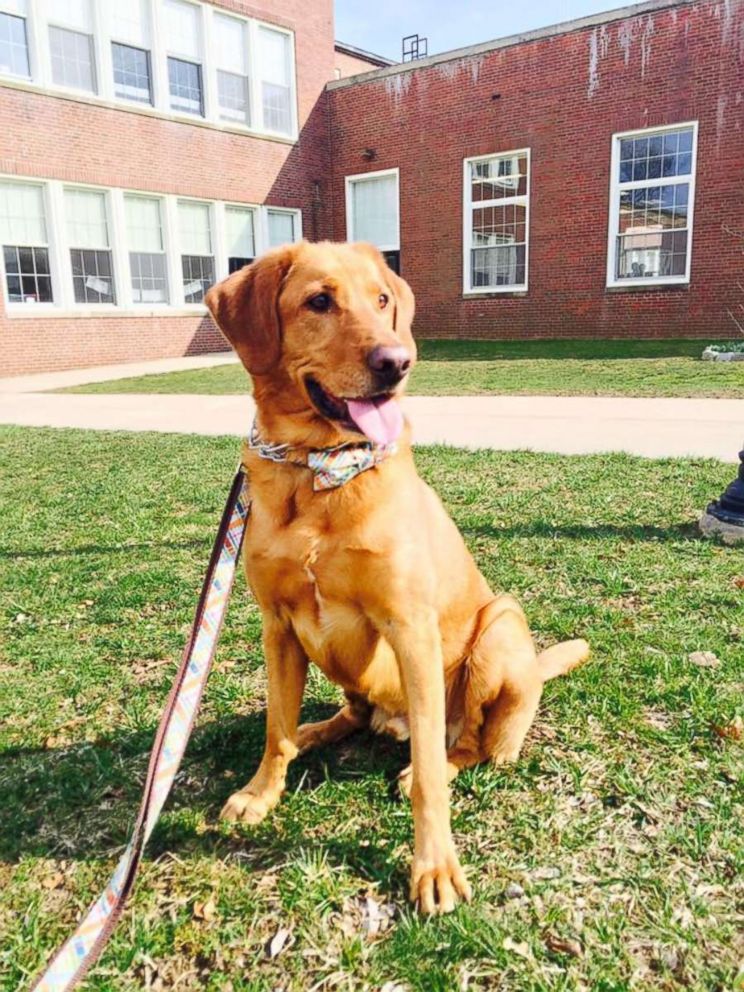 During Malachi's first encounter with Hudson's son, the puppy placed his paw on his new owner, and the trainer told Hudson that Malachi was "alerting."
"'He's telling us that your son's blood sugar is high,'" Hudson said the trainer told her. "I am such an idiot, but I believed him."
Hudson had found out about the company from a Facebook ad, she said. While Warren claimed that all of the dogs were born on a farm in Virginia, she later found out Warren had bought Malachi from a breeder in North Dakota for $1,100. She ended up fundraising more than $20,000 to keep Malachi, she said. The company refused to reimburse any of the funds, she said.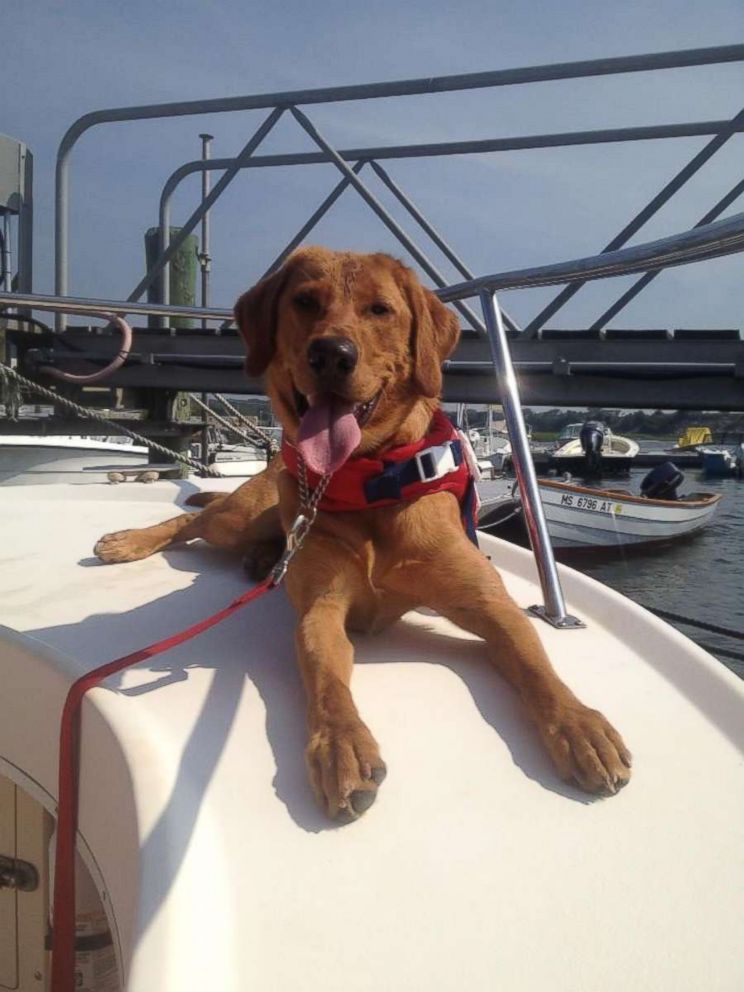 Almost six years later, Malachi is just a family dog, and hasn't kicked some of his bad habits, Hudson said. "Still to this day," if they encounter another dog while on a walk, the family's "sweetheart" lab pulls on the leash to "get at every dog that goes by," she said.
Glasgow, Kentucky resident Melinda Colon was looking to get a service dog for her son, who has type 1 diabetes, in 2012, when she contacted Service Dogs by Warren Retrievers, she told ABC News.
A few months into the process, Colon found out that the company wanted her to a sign a 30-page contract without letting her view the document first, which she saw as a red flag, she said. When she questioned Warren about it, she said she was booted from the organization and blocked from all of its groups. She was also told she couldn't get her $1,000 deposit back because the organization is a nonprofit, she said.
After doing her research, Colon said she spoke to several unhappy customers who received their service dogs from the company, who complained that their dogs were displaying typical puppy behavior such as excessive whining and chewing, she said.
Colon then decided to start a Facebook group called Stop the Scammers to expose the organization's wrongdoings. The group now has more than 2,500 members.
Scarred from the experience, neither Hudson nor Colon ever ended up getting a service dog, they said.
An attorney for Warren did not return ABC News' request for comment.
ABC News' Katie Conway contributed to this report.