DOJ announces finding of civil rights probe after Breonna Taylor's killing
"This conduct is unacceptable and it is heartbreaking," Merrick Garland said.
A nearly two-year civil rights investigation into the Louisville, Kentucky, police department and Louisville Metro Government, touched off by the killing of Breonna Taylor, found the city and law enforcement engaged in a pattern of unlawful and discriminatory conduct, depriving people of their constitutional liberties, the Department of Justice announced on Wednesday.
"This conduct is unacceptable and it is heartbreaking," Attorney General Merrick Garland said at a press conference, outlining a damning portrait of the Louisville police as he announced the findings of the civil rights investigation.
"It erodes the community trust necessary for effective policing. It is an affront to the vast majority of officers who put their lives on the line every day to serve Louisville with honor and it is an affront to the people of Louisville who deserve better," Garland said.
He said that Louisville has signed an agreement in principle with the DOJ to negotiate toward a legally binding consent decree that will include the appointment of an independent monitor to oversee a series of reforms to address the problems that investigators uncovered.
The DOJ plans to hold a virtual community meeting on Wednesday night to discuss their findings with Louisville residents.
The department launched its pattern or practice investigation into the Louisville police in April 2021, more than a year after the botched raid that resulted in Taylor's shooting death in her home, which spurred nationwide protests along with the murder of George Floyd in Minnesota.
According to the DOJ's report released Wednesday, one police leader told investigators that Taylor's death "was a symptom of problems that we have had for years."
The DOJ's review, based on hundreds of interviews, thousands of documents and thousands of hours of body-worn camera footage, found Louisville officers routinely used excessive force in arrests, including unjustified neck restraints and wrongful use of police dogs and tasers.
The police department also conducted searches based on "invalid warrants," the review found, and officers unlawfully executed search warrants without knocking and announcing.
"For years, [the Louisville police department] has practiced an aggressive style of policing that it deploys selectively, especially against Black people, but also against vulnerable people throughout the city," the report stated. "Some officers have videotaped themselves throwing drinks at pedestrians from their cars; insulted people with disabilities; and called Black people 'monkeys,' 'animal,' and 'boy.'"
The federal review found police officers conducted unlawful stops and arrests of suspects and that the department routinely discriminated against Black people in their enforcement actions. The department and city also were found to have discriminated against people who had behavioral health disabilities when they were in crisis, the report stated.
Investigators singled out members of a specialized group in the department that was once called the "Viper Unit." Those officers were found to have routinely made dubious traffic stops in Black neighborhoods and violated residents' Fourth Amendment rights, according to the report.
"The unit's activities were part of an overall enforcement approach that resulted in significant and unlawful racial disparities," Garland said at the press conference.
The DOJ investigation further found that Louisville police leaders "endorsed and defended" unlawful conduct by their officers, with some supervisors accused of defending instances of obviously excessive force or search warrants that lacked probable cause.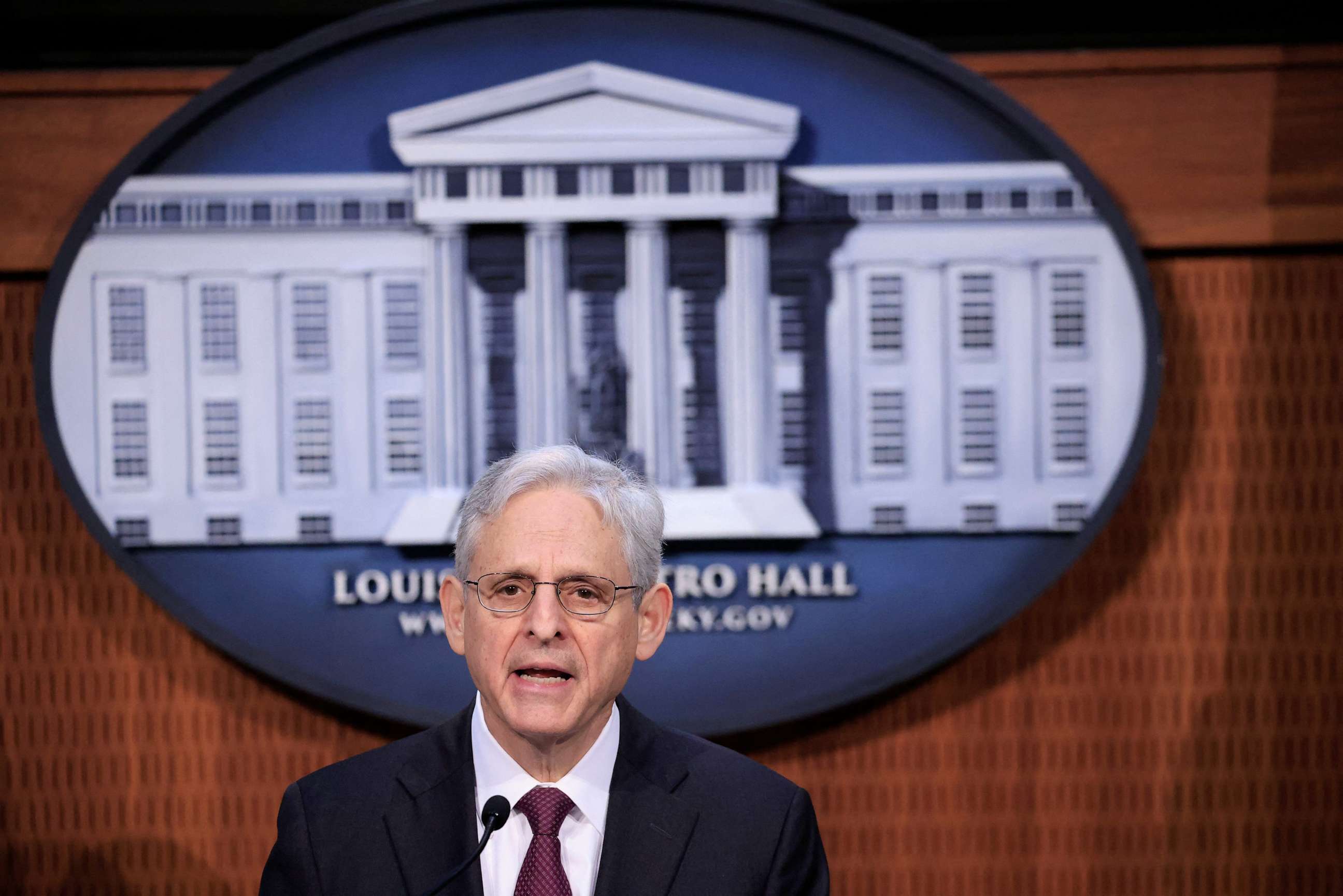 Last August, Garland announced civil rights charges against four Louisville police officers for a range of alleged offenses in connection with Taylor's death, including unlawful conspiracies, unconstitutional use of force and obstruction.
One of those officers, former Louisville Detective Kelly Goodlett, has pleaded guilty to one count of conspiring to violate Taylor's civil rights while the others, Sgt. Kyle Meany and Joshua Jaynes and Brett Hankison, both former detectives, have pleaded not guilty.
The DOJ's Civil Rights Division head, Assistant Attorney General Kristen Clarke, said at Wednesday's press conference that their investigation found disturbing disparities in how Black residents were treated by police in comparison with white residents.
Black drivers were nearly four times as likely as white drivers to be cited for improperly tinted windows and nearly five times as likely as white drivers to be cited for improper tags, with Black drivers almost 50% more likely to be searched when stopped by police in their cars than white people, Clarke said.
Louisville police brought charges against Black people at higher rates than white people for the same misdemeanor offenses, she said.
"For example, [the Louisville police department] charges Black people for loitering more than four times the rate of white people, for disorderly conduct two-and-a-half times the rate of white people and for littering at three times the rate of white people," Clarke said. "This pattern of racial discrimination fuels distrust and impedes the community's confidence in the [police] and their law enforcement operations."
The DOJ expects to continue working with Louisville police and the city government on a host of reforms to their law enforcement practices, including some that have already been implemented in the years following Taylor's killing.
The newly released report outlines more than 30 recommendations for the department and city to implement, including structural changes to its use-of-force policies and reporting and an overhaul of their training protocols.