A California man was in FBI custody on Monday after allegedly pouring bleach on food items at several grocery stores in California.
David Lohr, 48, was arrested in Northern California on Feb. 6 on suspicion of adding harmful substances to grocery store items in the Los Angeles area, FBI officials said in a statement released Monday.
FBI investigators described Lohr as a transient who may have been involved in similar tampering incidents in other areas including Orange County, California, and Phoenix.
Deputies with the Santa Clara County Sheriff's Office arrested Lohr at a bus stop in Sunnyvale, California, about 12 miles northwest of San Jose, after receiving complaints about a man spreading white powder, later determined to be salt, and hydrogen peroxide on a public bus, the FBI said.
Deputies later determined that Lohr had allegedly "poured hydrogen peroxide on or near rotisserie chickens" at a nearby grocery store, the statement said. He's also accused of pouring bleach into supermarket refrigerators and freezers.
The alleged multi-day crime spree began Dec. 14 at a supermarket in Manhattan Beach, California, where surveillance footage shows a man emptying a bottle of bleach into a refrigerator with cases of beer, according to a criminal complaint. He allegedly poured bleach on a bag of ice at another grocery store two days later.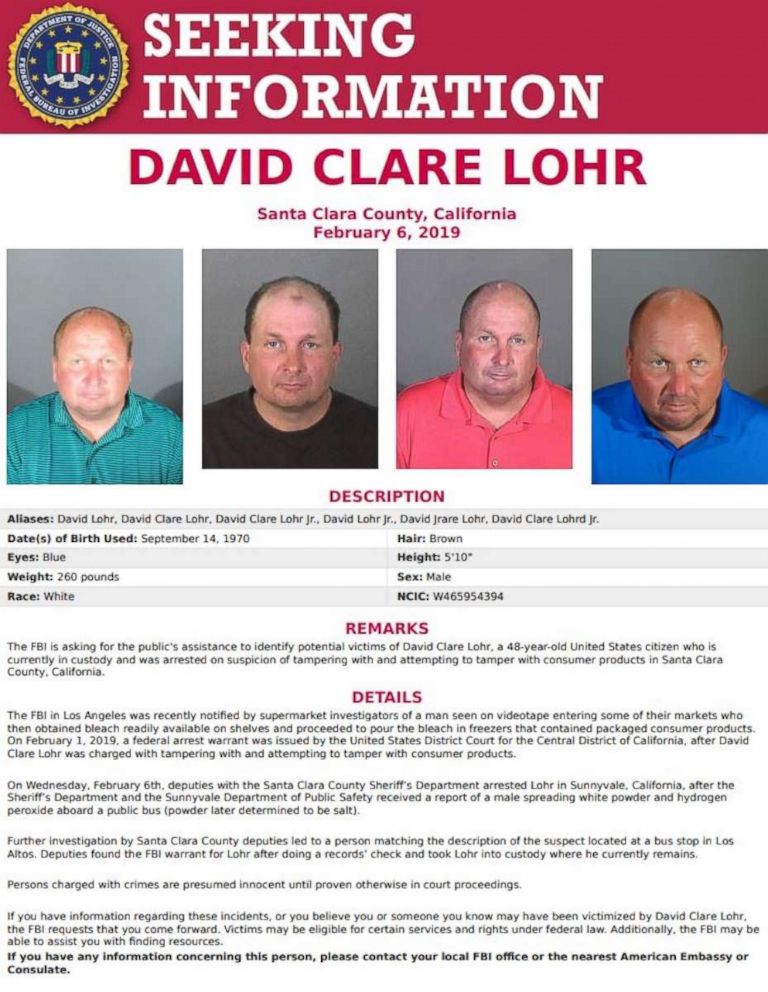 "The federal complaint filed in Los Angeles alleges that in December 2018 and January 2019, Lohr was seen on surveillance videos pouring bleach into refrigerators and freezers containing packaged consumer products (such as ice, alcoholic beverages, and packaged frozen seafood) at supermarket locations in multiple cities," the FBI statement said. "Some customers reported smelling bleach on products. Tampered packages were subsequently destroyed."
"To date," the statement continued, "there have been no known reports of individuals sickened by Lohr's actions; however, further investigation has determined that Lohr has done this in a variety of stores, and the extent of his actions are currently under investigation."
Lohr is being held at Santa Clara County Jail in San Jose on federal tampering charges and is expected to appear in U.S. District Court on Friday.
It's unclear if he's retained an attorney.