— -- Volunteer rescuers in northwest Houston saved a man who had been clinging to a road sign since Monday afternoon to avoid being swept away in swift-moving floodwaters.
The man was holding onto the sign in waist-deep waters, ABC Houston station KTRK reported.
Multiple attempts had been made to rescue the man, KTRK reported. First, energy workers repairing power lines in Harris County tried to rescue him today but couldn't get to him, even though the man jumped away from the sign in an attempt to swim toward them.
Then, a National Guard helicopter lowered a rescuer toward the man but had to bring the rescuer back up due to the windy conditions.
When the National Guard came back to try to retrieve the man, volunteer rescuers who had seen the stranded man on KTRK coverage used their boat to make their way toward him and reached him at the same time as the National Guard, KTRK reported.
Another stranded victim, who had been clinging to the top of a truck, had also attempted to save the man holding on to the sign, KTRK reported.
"I heard someone yelling for help, and I barely saw his hand," the man told KTRK. "He was holding onto that white sign down there. He's been there since yesterday afternoon."
The man on the truck was rescued on the boat as well, KTRK reported.
Thousands of people in Houston have been rescued after record flooding from Hurricane Harvey, which made landfall in Texas late Friday night. Nine people have died as a result of the storm, officials said Tuesday.
One rescuer, a native Houston resident named Trey, said that despite the devastation, "It's heartwarming to see all these Houstonians and people from all over ... coming together to help these people out."
On Tuesday, Trey boated near Interstate 10 and Barker Cypress Road to neighborhoods that had flooding up to the taillights of cars, asking residents if they needed help. He told KTRK that the destruction was "shocking."
North Houston resident Karen Spencer was rescued from her home on a jet ski.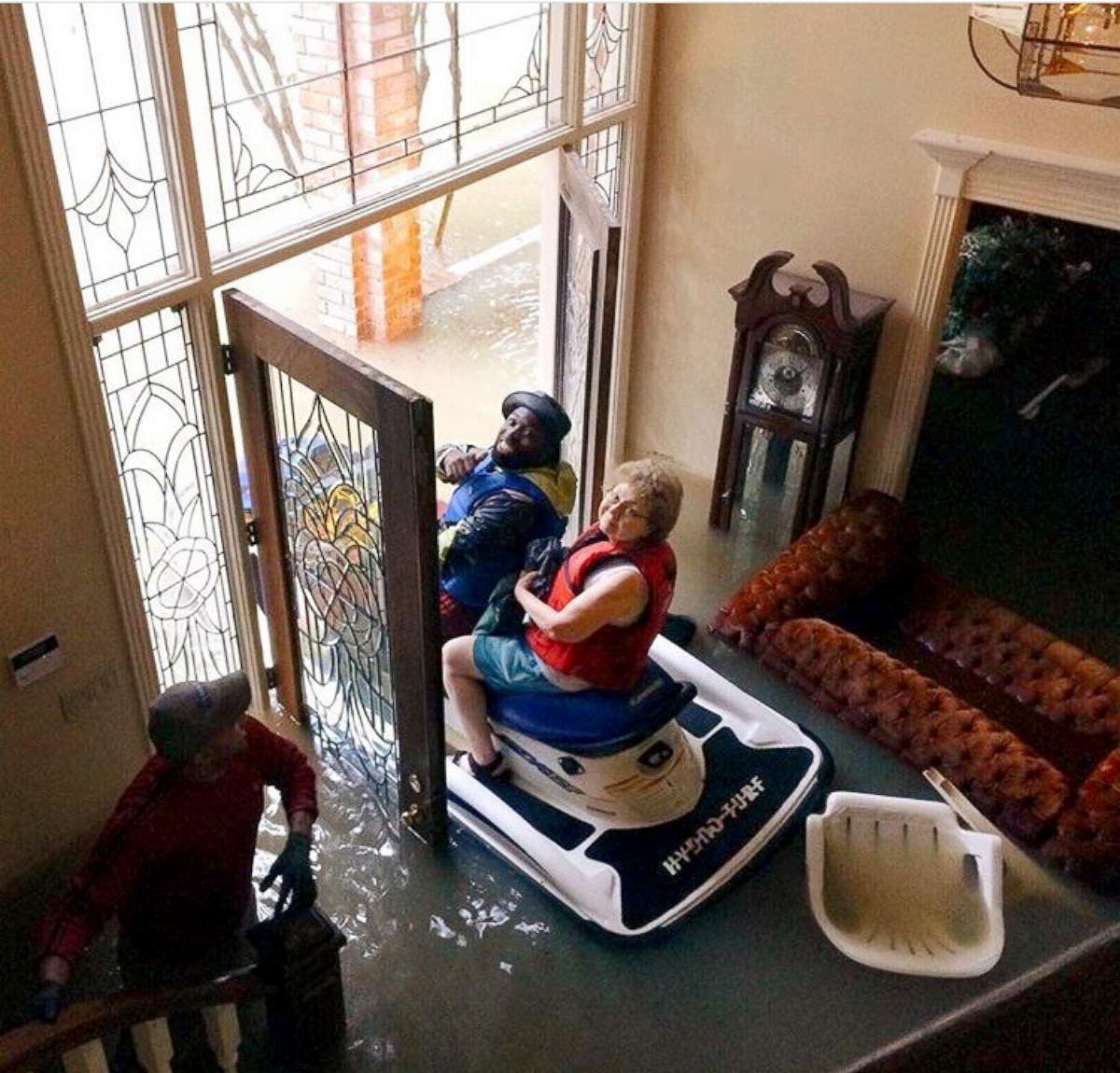 A man and woman in Pearland, Texas, chased cattle around in flooded water in an attempt to round them up and get them back to their pasture, KTRK reported.
The woman, a veterinarian, said the cows had been "out on the road" so they had been feeding them.
"We're trying to get them to our property right over here, which is dry ground," she said.
The woman advised fellow Texas to keep their animals dry and fed in the wake of the storm.