The woman suspected of aiding an escaped convict who has been on the lam for weeks was once a drug mule for a white supremacy group, according to law enforcement authorities.
Casslyn Welch, the accomplice and fiancee of escaped convict John McCluskey, told authorities she was paid by members or associates of supremacists to smuggle heroin into the Arizona State Prison, Mohave County sheriff's spokeswoman Trish Carter told the Associated Press.
McCluskey and two other inmates, Daniel Renwick and Tracy Province, escaped from that very prison on July 31.
Carter said that authorities found marijuana, heroin and drug paraphernalia during a random search of Welch and her car in June. Afterwards, Welch said she had sucessfully smuggled the items into the prison on three prior occasions, according to the AP.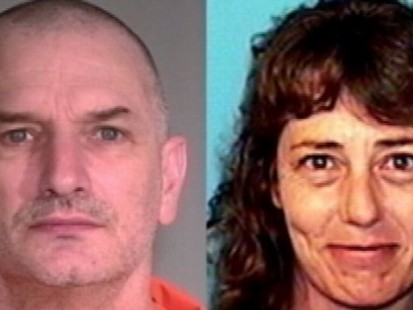 Welch and McCluskey, last seen in Montana near the Canadian border, have led authorities on a more than two-week cross-country manhunt, leaving in their wake a string of robberies and two suspected murders but few clues as to their current whereabouts.
The search for the most wanted couple in America, a 21st-century Bonnie and Clyde, has baffled authorities who have crisscrossed the country from Arizona to Arkansas and points north looking for the duo.
Law enforcement officials scoured the area around Gentry, Arkansas after a beauty shop owner said she had been robbed at gunpoint by a couple Wednesday morning.
By evening, authorities said there was "no reason to believe" the couple had held up the Kut & Kurl salon and could be virtually anywhere.
"They could be in Las Vegas, Nevada, they could be in Akron, Ohio," Benton County Sheriff's Office spokesman Doug Gay told the Associated Press, giving voice to the frustration of federal, state and local authorities around the country whom the couple have eluded again and again.
The couple, believed to be white supremacists, are considered by law enforcment officials to be extremely dangerous. They have been on the lam since Welch helped McCluskey and two other men escape from a medium security prison in Arizona on June 30.
McCluskey was serving a 15-year sentence for attempted murder and other charges.
"Based on information we're receiving from interviews, we believe they have no intention of being taken alive, information that indicates that they're willing to commit suicide," U.S. Marshal Chief Deputy Fidencio Rivera told "Good Morning America" Tuesday. "So we are extremely concerned for public safety and for the safety of our law enforcement personnel."
Authorities said the couple was last spotted in Montana and was believed to be heading towards Canada.
They are suspects in the murders last week of a New Mexico couple in their 60's.
Manhunt is "Serious Business"
"Desperate people take desperate actions, and based upon that we are concerned," Rivera said. "They've demonstrated their willingness and callousness to commit violent crimes based on their prior convictions and the current allegations of double-homicide."
The couple, authorities said, has taken to seeing themselves as a true-life Bonnie and Clyde, a moniker picked up by the media.
"I think they've taken the persona that this is some type of movie and this is some kind of a joke that they are living, but it is not," said David Gonzalez, a spokesman for the U.S. Marshals. "This is a very, very serious business."
On Monday, the second of the three escaped inmates, Tracy Province, a convicted murder was arrested outside a church in Meeteetse, Wyo. Province had previously been spotted with McCluskey and Welch the week before in the area around Yellowstone Park.
Convicted murderer Daniel Renwick, who also escaped with the two men, was arrested Aug 1 in Rifle, Co.
The Associated Press contributed to this report.