The alleged gunman accused of fatally shooting five people inside a Maryland newsroom may have been nursing a longstanding grudge against the newspaper.
Jarrod Ramos, a 38-year-old resident of Laurel, Maryland, has been charged with five counts of first-degree murder, court records show. A judge ordered on Thursday that Ramos be held without bond because he has reasons to believe the man "is a danger to another person and community."
Four journalists and a sales assistant were killed and two others were injured Thursday after Ramos allegedly opened fire on employees inside the office building of the Capital Gazette, a local daily newspaper in Annapolis. Police said they aren't looking for additional suspects and believe Ramos acted alone.
Tom Marquardt, a former editor and publisher of the Capital Gazette, told ABC News that Ramos had previously filed a defamation lawsuit in 2012 against the newspaper following a story about a harassment case in which Ramos was the defendant.
"He represented himself and took advantage of the legal system to keep the case alive for a long period of time during which he sued lawyers, judges, anybody who crossed his path and disagreed with him," Marquardt said. "Because of that grudge, innocent people died."
Marquardt, who worked at the newspaper for 35 years before retiring in 2014, told ABC News he once received a death threat from Ramos and alerted authorities. Police investigated but didn't have enough evidence to file any charges against Ramos, according to Marquardt.
"We had actually contacted the police to pursue one particular comment in which he wished I would be dead and the police looked into it," he added. "Beside that, there wasn't a strong enough case to take to court and our strategy really at that point was to lay low and to not infuriate him more than necessary because we just didn't want the argument to escalate into something worse."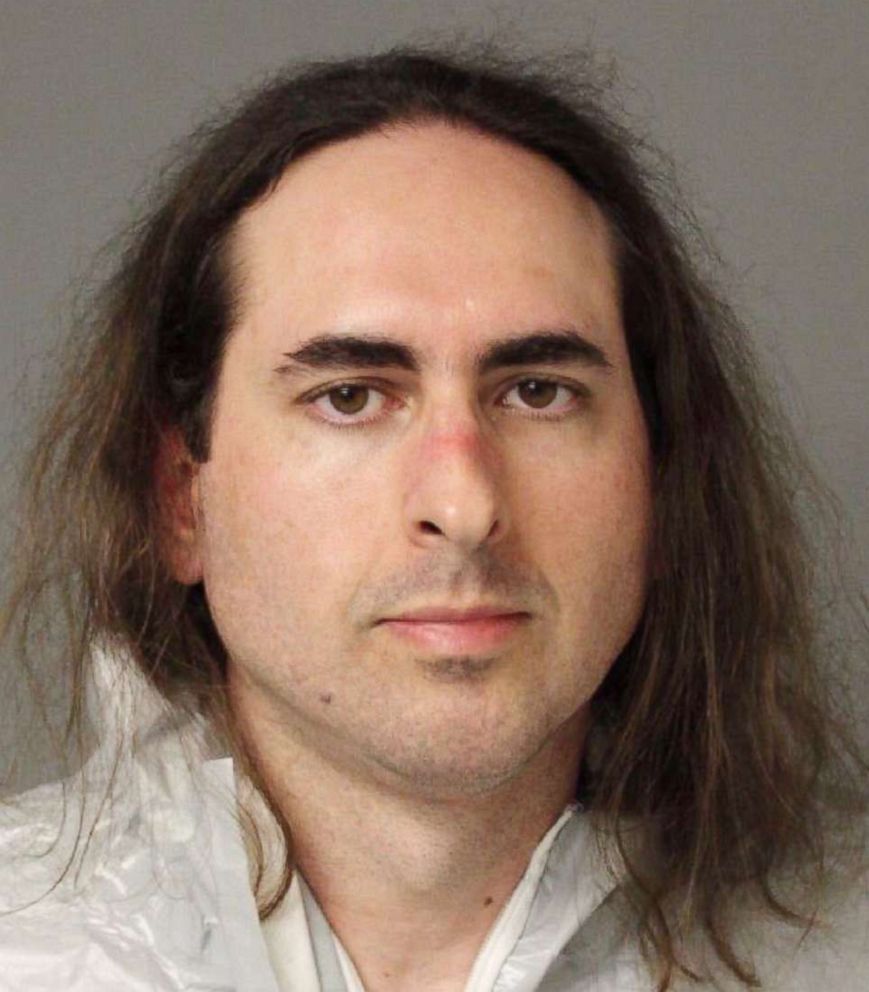 Court documents show that Ramos pleaded guilty to a criminal harassment charge in the District Court of Maryland in Anne Arundel County nearly seven years ago. An article about the case was published in the Capital Gazette five days later, written by then-staffer Eric Thomas Hartley.
According to the 2011 article, Ramos reached out to a former high school classmate on Facebook, saying he was having some issues and asked her for help. The woman, who was not named in the story, tried to help and suggested he seek counseling.
"That sparked months of emails in which Ramos alternately asked for help, called her vulgar names and told her to kill herself. He emailed her company and tried to get her fired," the article said.
Court documents show a judge placed Ramos on 18 months of supervised probation and ordered him to continue therapy and refrain from any further contact with the woman or her family.
A year after the story ran, Ramos filed an initial complaint against Hartley, Marquardt and Capital Gazette Communications, claiming he was defamed in the newspaper article. A few months later, Ramos filed another complaint that added a charge of invasion of privacy.
The case was ultimately dismissed.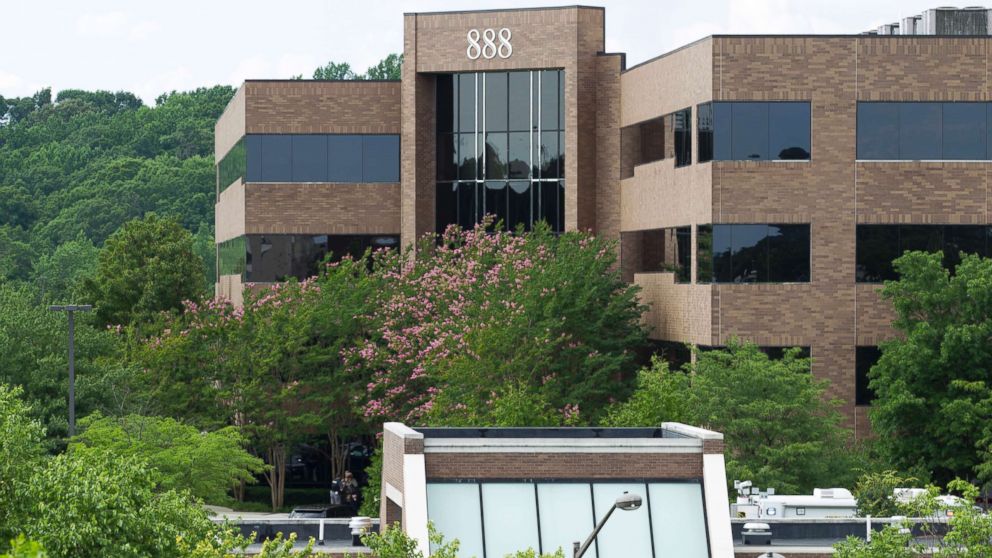 A Twitter account with Ramos' name under the handle @EricHartleyFrnd has tweeted several times about Hartley and the Capital Gazette. The account's profile description says, "Dear reader: I created this page to defend myself. Now I'm suing the s--- out of half of AA County and making corpses of corrupt careers and corporate entities."
One tweet in November 2015 includes a screenshot of a Google search of pianist Jarrod Radnich, with Ramos' name appearing above Radnich's in the search bar. The tweet's caption says, "In anticipation of forthcoming rape and murder, I am now officially more famous than Jarrod Radnich. Thanks JabbaTH."
Then there was this tweet in December 2015: "Eric Thomas Hartley knows from experience, but doesn't appreciate how bad it can get. Journalist Hell awaits."
The Twitter account has since been suspended.
"There's clearly a history there," Anne Arundel County Police Chief Timothy Altomare told reporters Friday morning, responding to questions about Ramos' connection to the newspaper. "We were not aware of that history until last night."
Altomare said investigators had secured Ramos' residence and conducted a search warrant there Thursday night, finding evidence that shows "the origination of planning."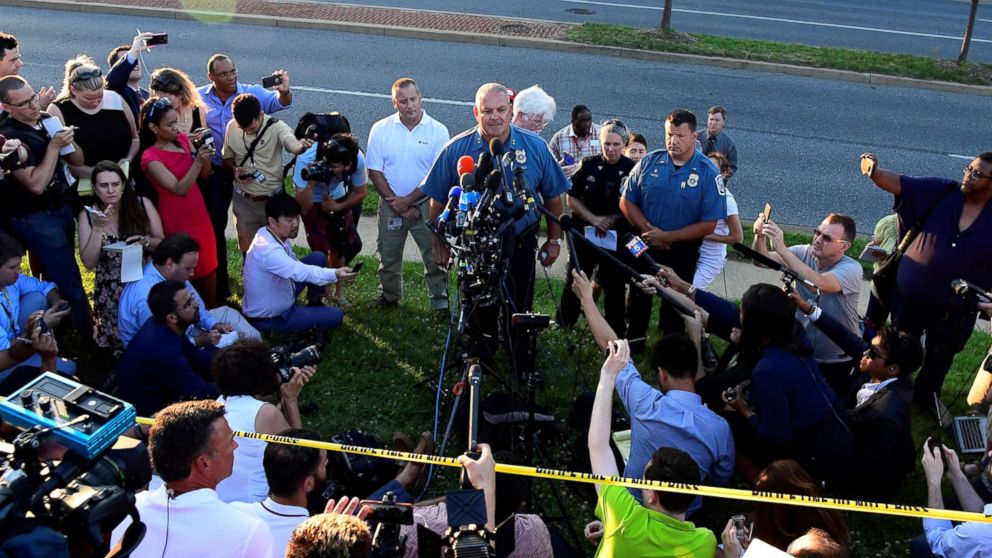 Authorities have described the shooting as a "targeted attack," saying the gunman "looked for his victims as he walked through the lower level" of the office building where the newsroom is located.
"This person was prepared today to come in," Anne Arundel Police Department Deputy Chief Bill Krampf said at a press conference Thursday night. "This person was prepared to shoot people. His intent was to cause harm."
Anne Arundel County State's Attorney Wes Adams said Ramos "hunted" his victims, including those who tried to flee. He even barricaded the back exit of the newsroom so employees couldn't escape, according to Adams.
Ramos allegedly wielded a pump-action shotgun that was legally purchased about a year ago, according to Altomare.
Police arrived at the scene of the shooting within a minute and apprehended Ramos within two minutes. No gunfire was exchanged between the suspect and police.
Anne Arundel County Executive Steve Schuh told ABC News that police found him hiding under a desk in the newsroom before taking him into custody.
Police have identified the victims who died as Gerald Fischman, Robert Hiaasen, John McNamara, Rebecca Smith and Wendi Winters.
Two other employees, Janet Cooley and Rachel Pacella, were treated for minor injuries and released from Anne Arundel Medical Center on Thursday night, according to a hospital spokesperson.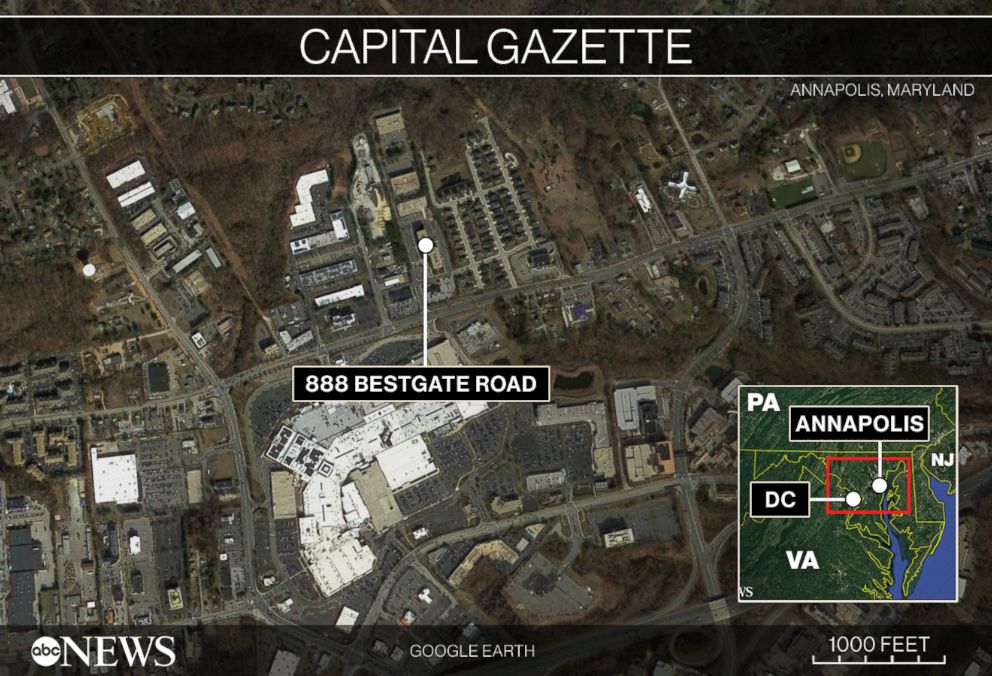 Ramos did not have a wallet or ID on him when he was taken into custody and refused to cooperate with authorities during an initial interview, according to the Anne Arundel Police Department.
Investigators were unable to identify the suspect using his fingerprints due to a problem with a machine, law enforcement sources told ABC News. So they used facial recognition software instead, though it's unclear whether it was from a photograph or a witness, the source said.
Court officials told ABC News that when Ramos arrived for an initial appearance around 1:30 a.m. local time Friday, the judge asked if he wanted an attorney. Ramos apparently responded, "I'm not going to cooperate." A public defender represented Ramos during his bail hearing Friday morning.
The chiefs of the Anne Arundel County Police Department and the Annapolis Police Department told ABC News in an interview Friday morning that Ramos was still not talking.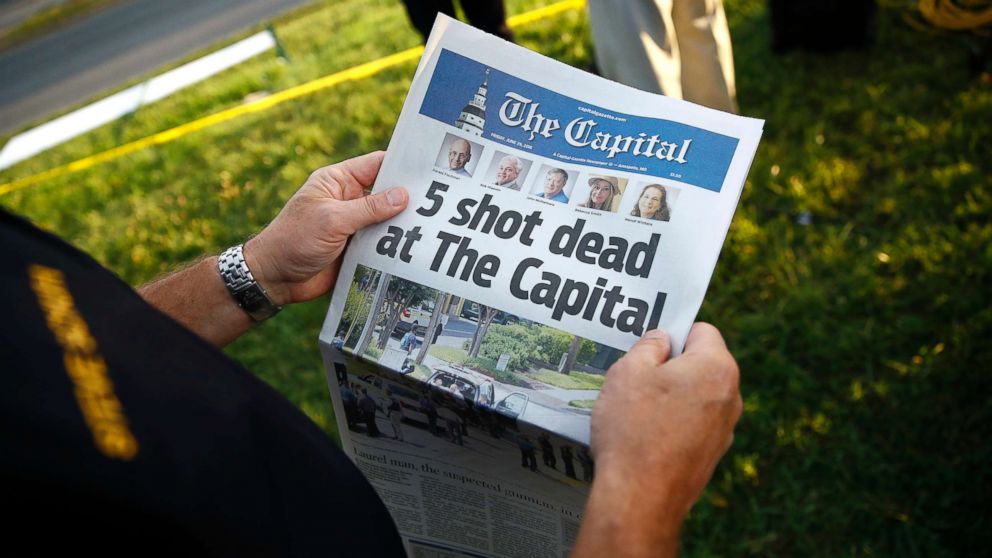 Phil Davis, a courts and crime reporter for the Capital Gazette, wrote on Twitter that the gunman shot through a glass door and into the newsroom, which is located on the first floor of a multi-office building.
He said he hid under his desk as the gunman fired at employees, at one point stopping to reload.
"There is nothing more terrifying than hearing multiple people get shot while you're under your desk and then hear the gunman reload," Davis tweeted after he was safe.
Ismael Reyes lives with his wife and children two floors above the apartment where Ramos resides in Laurel, about 25 miles from Annapolis. Reyes told ABC News he has lived in the building for seven years and hardly ever saw Ramos.
Reyes said he never saw Ramos carrying any guns or ammunition.
Reyes also told ABC News he never saw any visitors coming or going from Ramos' apartment, and Ramos himself rarely left the residence or moved his car, a black Honda Fit. He always kept the blinds on his windows closed, Reyes said.
"Like a hermit, really quiet," he said of Ramos.
Reyes said he was coming home from grocery shopping on Thursday when he saw police outside the building. He and his family were ordered to evacuate and weren't allowed back inside until early Friday morning.
"I couldn't believe it," Reyes told upon hearing that Ramos was the alleged gunman in Thursday's shooting.
ABC News' Gio Benitez, Katie Conway, Jeff Cook, Aaron Katersky, Josh Margolin, Matthew Mosk and Becky Perlow contributed to this report.
Editor's Note: An earlier version of this story stated that law enforcement sources said the suspect had mutilated his fingers in an apparent attempt to avoid recognition. A law enforcement source clarified that statement, saying that it was actually a problem with the machine that made it difficult for his fingerprint to be read. The story has been corrected to reflect that change.