Two people died overnight in upstate New York and hundreds were stuck for hours on an interstate in Kentucky on Saturday morning before an evacuation. The incidents marked the latest emergencies prompted by a massive winter storm that disrupted travel and forced people into their homes nationwide ahead of Christmas.
Buffalo slammed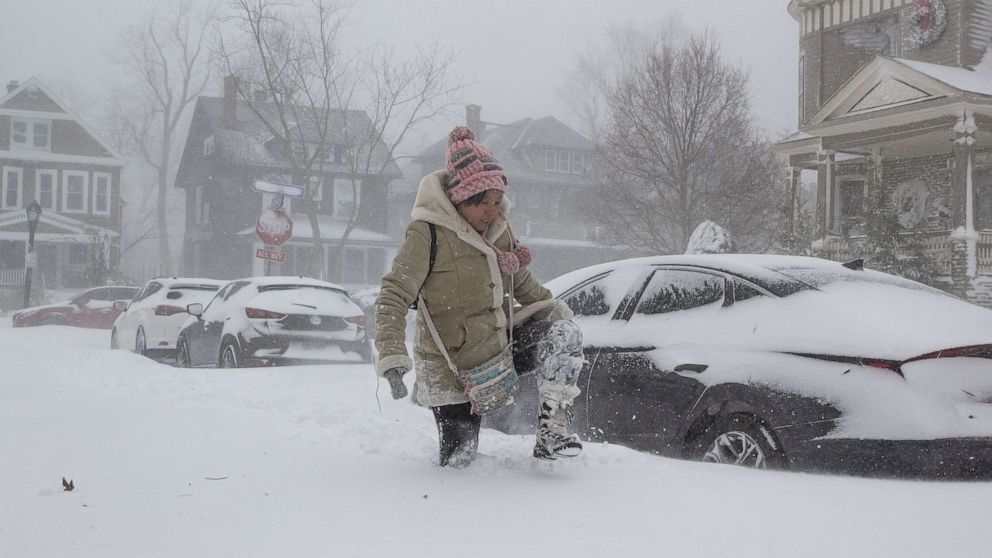 Two people died on Friday night in Cheektowaga, New York -- a Buffalo-area suburb -- when emergency medical personnel could not reach their homes due to the weather conditions, Poloncarz said. It was not immediately clear which health ailments had prompted the need for medical support.
The incidents brought the number of deaths associated with the storm to at least eight.
"This was a very, very bad night in our community," said Mark C. Poloncarz, Erie County Executive.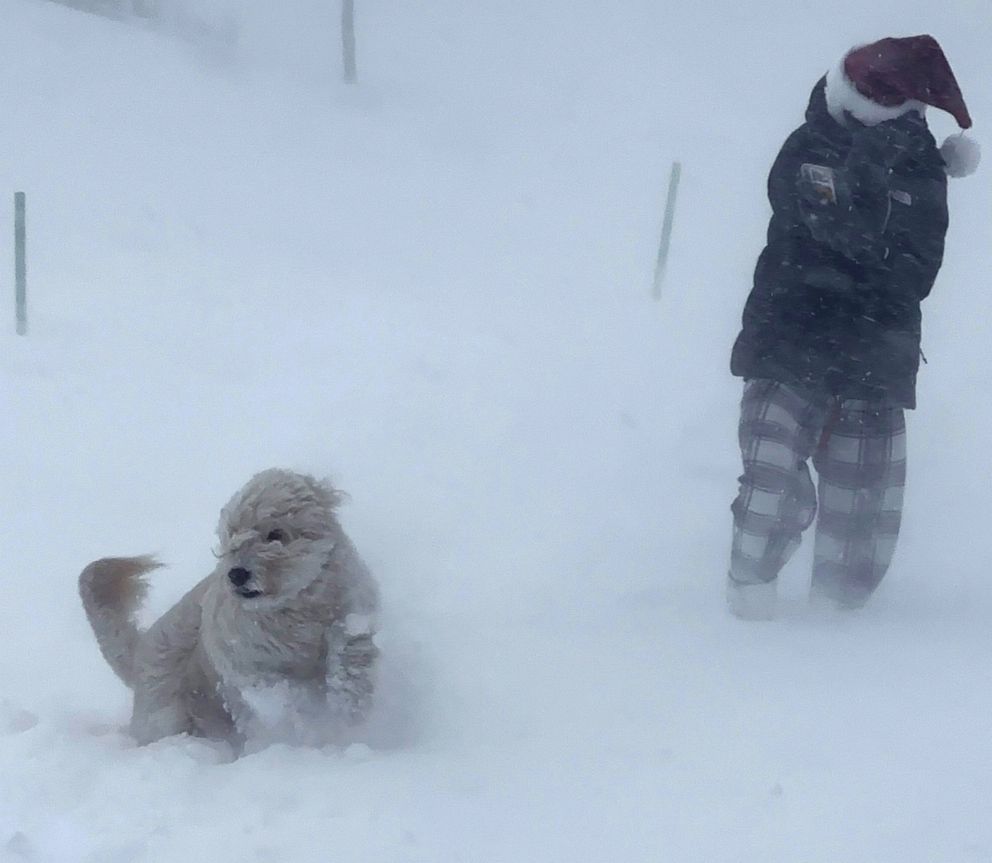 Rescue crews are working to free people trapped in their vehicles, with at least 50 rescues conducted so far, Erie County officials said Saturday afternoon. A driving ban remains in place.
At a press conference on Saturday, New York Gov. Kathy Hochul said 73,000 homes in the region were without power, adding that she planned to ask the federal government for a declaration of emergency.
"It is life-threatening what is going on as we speak in Buffalo," Hochul said at a press conference on Saturday.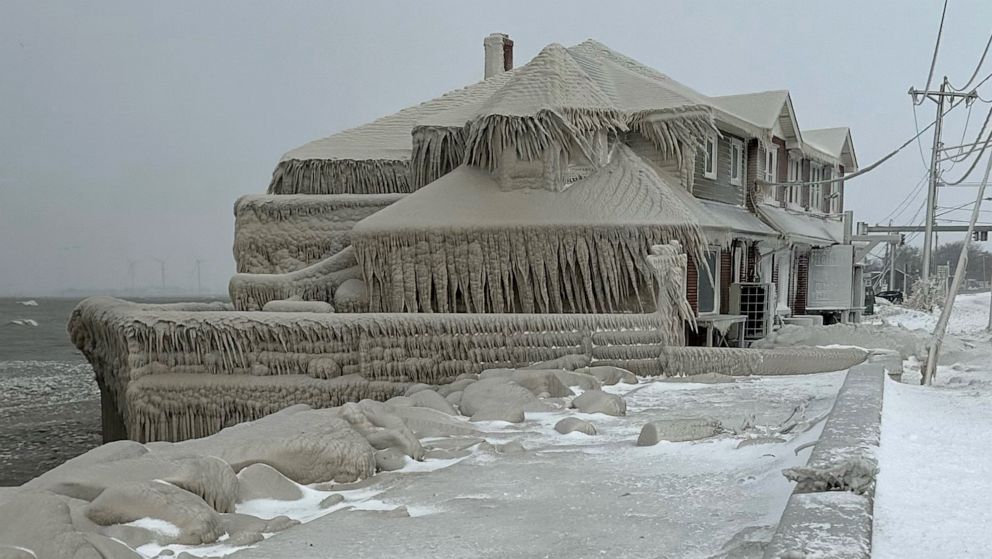 Hochul declared the storm a state emergency on Thursday and the following day deployed 54 members of the National Guard to Erie County in support of the ongoing emergency response.
Stranded in Kentucky
Meanwhile, on Saturday morning more than 700 vehicles were stranded for hours in Kentucky on a 14-mile stretch of interstate as emergency responders struggled to clear the roadway, Kentucky Gov. Andy Beshear said. Later in the morning, most of the individuals had been evacuated, Beshear added.
"Roadways are treacherous," Beshear said. "We are urging Kentuckians to stay home to ensure their safety and to help our first responders and our road crews so they can do their work."
Meredith and Matthew Mikesell – a married couple from Louisville, Kentucky – previously told a local ABC News affiliate on Saturday morning that they had been stuck on the interstate for nearly 12 hours.
The couple, who were traveling to Matthew's parents' home in Columbus, Ohio for Christmas, have run the car engine for heat but lack food and water, they said.
A truck driver nearby gave them water, sandwiches and a granola bar, they added.
"We would be really hurting if it wasn't for him," Matthew said.
Cancellations, delayed deliveries and outages
As millions of Americans were traveling ahead of Christmas amid a massive winter storm, Friday, Dec. 23 set the record for most flight cancellations of the calendar year.
Nearly 6,000 flights -- 5,930 in all -- were canceled within, into or out of the United States on Friday, according to the tracking site FlightAware.
The previous record for the year was set on Feb. 3, when 5,247 flights were canceled.
The massive storm is bringing blizzard conditions and icy roads to the U.S. right as the holiday travel rush gets underway.
FedEx and UPS warned that customers could see delays on Christmas deliveries due to the weather's impact on major shipping hubs.
Mike Bryson, senior vice president of operations for Pennsylvania-based PJM Interconnection, thanked customers for reducing energy usage in an afternoon video update Saturday.
"We think your efforts at conserving electricity helped us get through the morning peak," Bryson said and urged customers to continue those efforts "as we go into Christmas Day," due to the forecasted cold temperatures.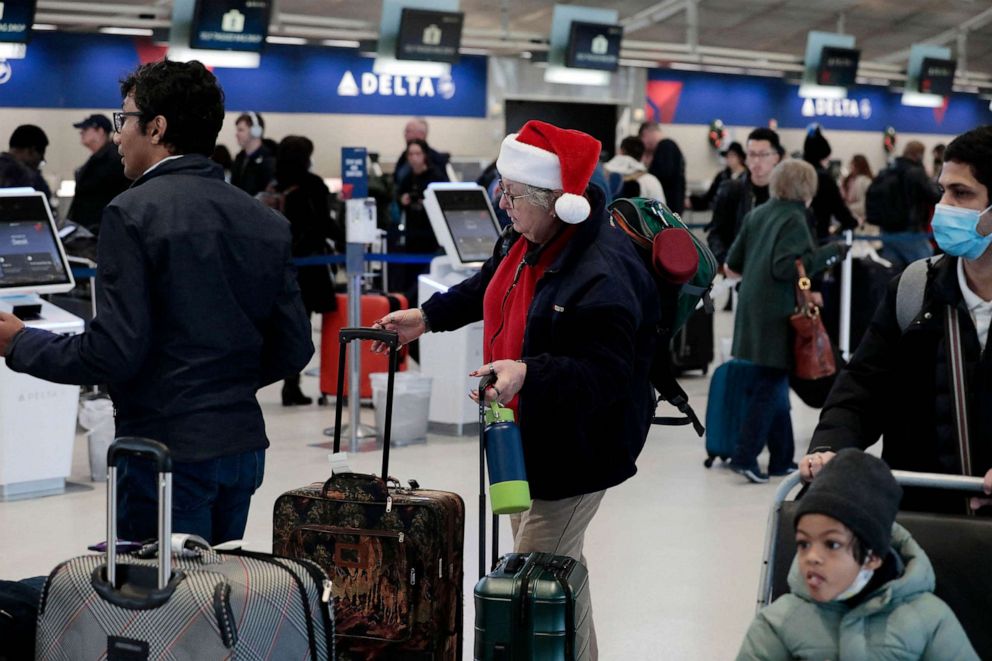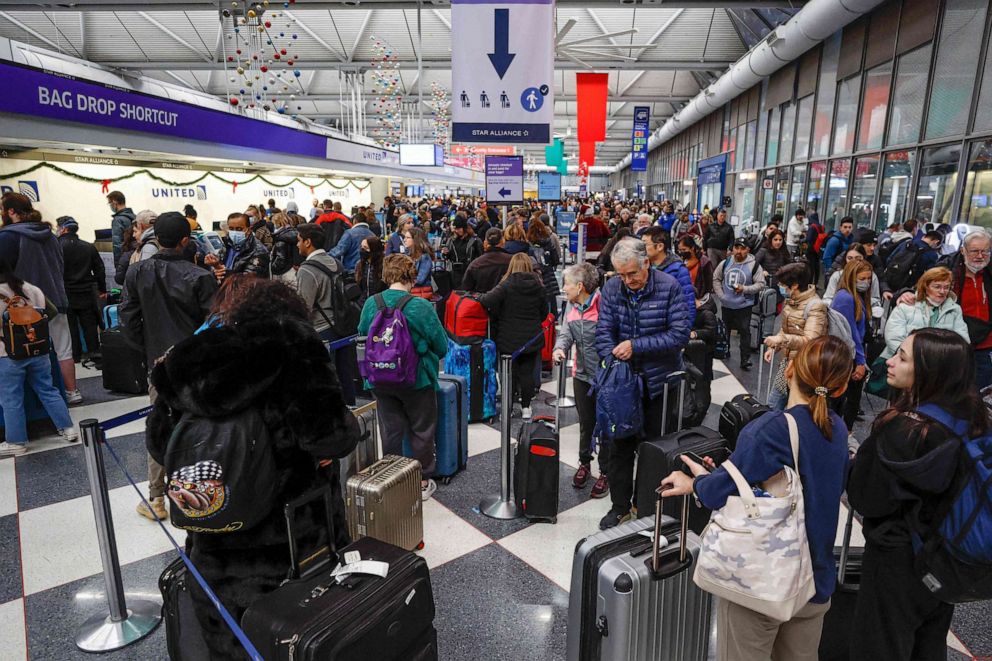 States of emergency have been declared from South Dakota to New York.
"This is really a very serious weather alert," President Joe Biden warned Thursday. "Please take this storm extremely seriously."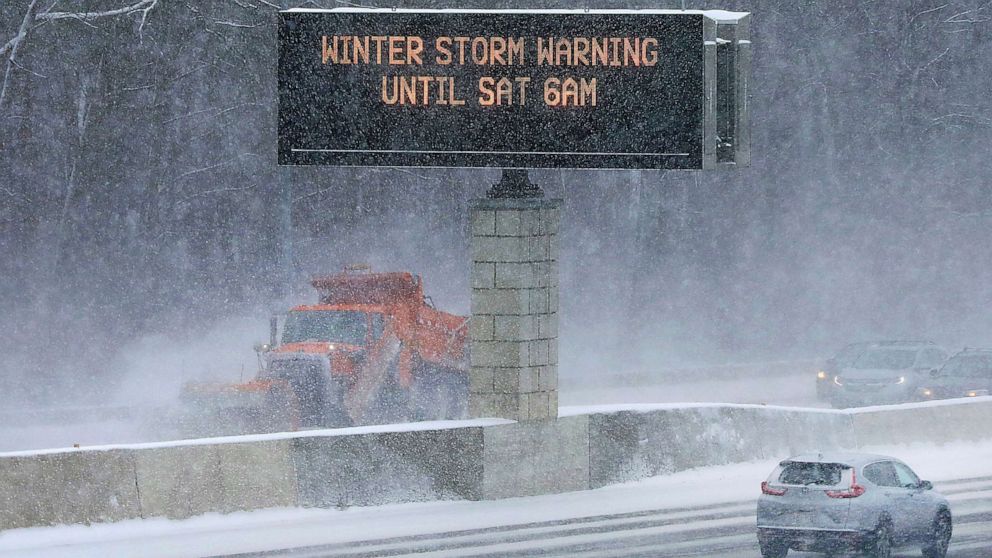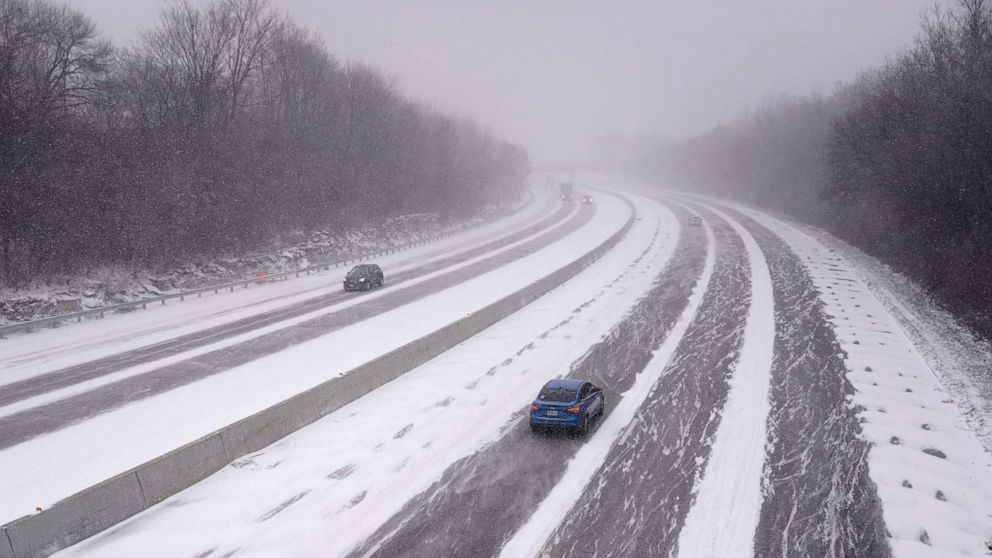 Danger on the roads
Four people are dead after a crash midday Friday on the Ohio Turnpike that involved at least 46 vehicles, according to the Ohio State Highway Patrol.
State police, including in New York, Illinois and Michigan, are urging people to stay off the roads.
The Michigan State Police said nine semi-tractor trailers crashed Friday on Interstate 94 in Berrien County, where "visibility is near zero." A seven-car pileup was reported in the same area, according to police.
"There are thousands of our first responders, emergency management personnel and utility crews out working in the elements to keep New Yorkers safe today," Hochul said in a statement Friday. "I'm asking everyone to stay off the roads this evening as conditions will worsen when temperatures drop across the state later today. Bundle up, stay indoors, and stay safe this weekend."
More than 2,000 miles of Minnesota highways were closed or no travel advised, the state Department of Transportation updated Friday afternoon, with whiteout conditions, drifting snow and extreme temperatures making travel dangerous.
ABC News' Matt J. Foster contributed to this report.