Maui wildfire missed signals stoke outrage as officials point fingers
At least 97 people have died and 22 are unaccounted for.
An ABC News investigation looks at allegations that local agencies and a local company missed opportunities to prepare for fire danger and could have mitigated the scope of the damage on the Hawaii island of Maui before the Aug. 8 wildfire.
Questions continue to be raised by residents and legislators about who is at fault and what could have been done to prevent the deadly tragedy that left at least 97 people dead and 22 others unaccounted for.
Hawaiian Electric under scrutiny
Lahaina resident Jennifer Potter spent more than four years as a commissioner on the Hawaii Public Utilities Commission, the state agency that regulates the electrical utility. She told ABC News that the power should have been turned off to the west side of Maui ahead of the dangerous wind conditions.
"We know that the infrastructure over here just was not capable of withstanding it," said Potter.
On Thursday, when the House Energy and Commerce Committee was questioned on the company's actions before and during the fires on Maui, President & CEO of Hawaiian Electric Shelee Kimura said they did not preemptively shut off the power despite warnings of high winds.
"We, like many utilities, do not have a power shutoff program," the company told ABC News. "Preemptive, short-notice power shutoffs have to be coordinated with first responders and in Lahaina, electricity powers the pumps that provide the water needed for firefighting. Notifications also need to be made to customers with special medical needs who use specialized equipment."
The company previously acknowledged the frailty of its electrical grid, saying in company documents after a 2018 hurricane that it was aware of the "extreme vulnerability" of its infrastructure and of the escalating risk of wildfires and hurricanes.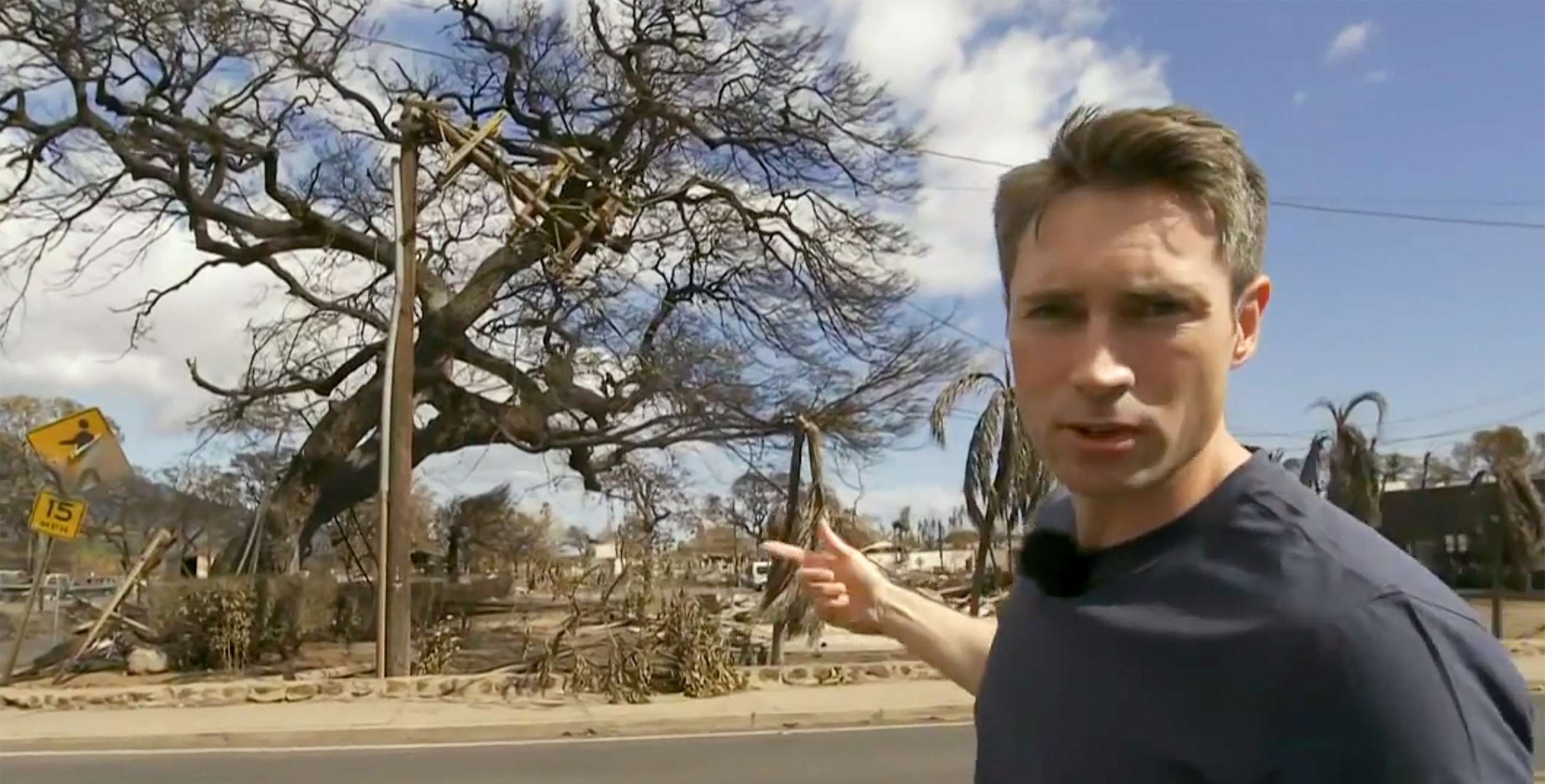 Company documents show that a 2018 hurricane also downed power lines on Maui and ignited brush fires on the island.
"In total, from 2018 to 2022, we have spent approximately $950 million on grid improvements that enhance resilience and approximately $110 million on vegetation management efforts," Hawaiian Electric told ABC News this week. "This work included replacing more than 12,500 poles and structures and trimming and removing trees along approximately 2,500 line miles every year on average."
Company filings show that Hawaiian Electric reviewed California utilities' mandatory fire mitigation plans. In 2022, the company submitted a plan to strengthen its infrastructure and invest in tools to gather real time weather information.
In those plans, Hawaiian Electric acknowledged that shutting off the power could be used to mitigate fire risk until "more robust preventive measures" were in place.
But there was no mention of an official shut-off plan.
"It's worth noting that even in places where this has been used, it is controversial and it's not universally accepted," said Kimura in an Aug. 14 press conference concerning the blazes. "It can be seen as creating a hardship for those customers that have medical needs that are at higher risk."
She continued, "It would require coordination with first responders. And as you have probably seen and maybe even reported that in Lahaina, the electricity powers the pumps that provide the water -- and so that was also a critical need during that time."
In the days before the Aug. 8 wildfire, the Hawaii Emergency Management Agency issued a red flag warning of "gusty winds and dry fuels" creating a risk of "extreme fire."
According to Kimura, a fire at 6:30 a.m. was likely caused by power lines that fell in high winds.
The Maui County Fire Department responded to the fire, reporting it shortly before 9 a.m. as "100% contained" and leaving the scene to battle other fires. A fire began once again burning in the same area shortly after.
Maui officials have said the blazes spread rapidly due to very dry conditions such as dry brush stemming from a drought combined with the powerful winds.
Kimura said all of Hawaiian Electric's power lines in West Maui had been de-energized for more than six hours when a second fire began in the same area around 3 p.m. The cause of this fire, which grew into the blaze that devastated the historic town of Lahaina, has not yet been determined.
Maui County is suing Hawaiian Electric alleging that its inaction in the days before the fire caused the destruction.
A spokesperson for Hawaiian Electric Media Relations told ABC News: "Our primary focus in the wake of this unimaginable tragedy has been to do everything we can to support not just the people of Maui, but also Maui County. We are very disappointed that Maui County chose this litigious path while the investigation is still unfolding."
The company is fighting back against claims that it is at fault for the deadly blaze, instead blaming the firefighting response for the devastation that followed.
Fingers pointed at the fire department
The fire department on Maui is often spread thin, with fewer than 70 firefighters working at one time while also being responsible for three islands. And the day of the Lahaina fire, there were two other fires.
West Maui has two fire stations covering 28,000 people.
An ABC News investigation reviewed Maui County budgets dating back 15 years and found that the county acknowledged the region needed more firefighting resources.
In the mid-2000s, the county committed $6.7 million to building a fire station in Olowalu, a town near Lahaina. Response times in that area were deemed "inadequate" and adding 15 "personnel" for the planned station was proposed.
But by the end of the decade, none of that money had been spent.
Fueling the fire
Clay Trauernicht, a specialist in fire ecology at the University of Hawaii, called dry brush from "abandoned agricultural landscapes" as the "primary threat" in wildfire risk.
A quarter of Hawaii is covered by dry grasses, including West Maui. The area's landowners have said they manage their lands, and cited limited access to water as one reason the fields are so dry.
There is no specific fire marshal in Hawaii responsible for overseeing the threat of dry brush. The state instead relies on a fire council made up of already busy county fire chiefs.
"We have very little investment in all these actions that make their job safer," said Trauernicht.
Some of the West Maui large landowners have said they do manage their lands, and cited limited access to water as one reason the fields are so dry.
"The role that's been missing is elected officials learning and action," said Elizabeth Pickett, co-director of Hawaii Wildfire Management Organization. Her non-profit has pushed for better land management.
Water runs dry at height of fires
Reports found that hydrants began to run dry during the height of the blaze as water pressure dipped amid the destruction.
The water supply of Lahaina, where the fire's destruction was centered, comes from a system operated by Maui County that is managed separately from the West Maui Land Company's operations.
"Why wasn't there a plan in place that basically stated, if we're going to shut off power, we're gonna be able to get power to water pumps?" said Potter.
She continued, "There's always opportunity for us to prepare, but we didn't, we didn't prepare."
Hawaiian Electric told ABC News that the county is responsible for providing backup power for the pumps.
"Maui County has told the media that it did not maintain backup power supplies for all its water pumping facilities prior to Aug. 8," said Hawaiian Electric, pointing to local reporting.
A county water official acknowledged there weren't enough generators to power the whole system. Still, they faulted fire damage to pipes for the weakened water pressure.
Now, residents across the Hawaiian Islands hope to see change to avoid a future tragedy.
"We need to make sure that what happened in Lahaina doesn't happen anywhere else," said Oahu resident Georgette Stevens.