— -- The mayor and City Council of Edina, Minnesota, have publicly apologized for a videotaped altercation between a white police officer and a black man that circulated heavily on social media, after hearing emotional testimony from the audience about race relations there.
Speakers of different races testified Tuesday one-by-one before the council about the quality of race relations in Edina, a wealthy Minneapolis suburb that is 15 minutes south of the city, and has a population that is 88 percent white and 3 percent black, according to Census figures.
The scheduled council meeting set aside its regular agenda in order to address the audience's frustrations, according to ABC St. Paul affiliate KSTP-TV.
A white woman testified that Edina needed to "confess its sins."
"As Lutherans, the very first thing we do in services is confess our sins," she said, her voice shaking with emotion.
"The DNA in my body said that that man is next," suggesting that Larnie Thomas, the man in the video, could have been shot by police were it not for someone's filming the interaction.
A black man testified Tuesday about how he travels to Edina to go shopping, and feels conscious of his clothing and appearance when he is there.
An Indian man told the council Tuesday that racism "is a problem" in the city. Another man said Thomas was "treated like an animal."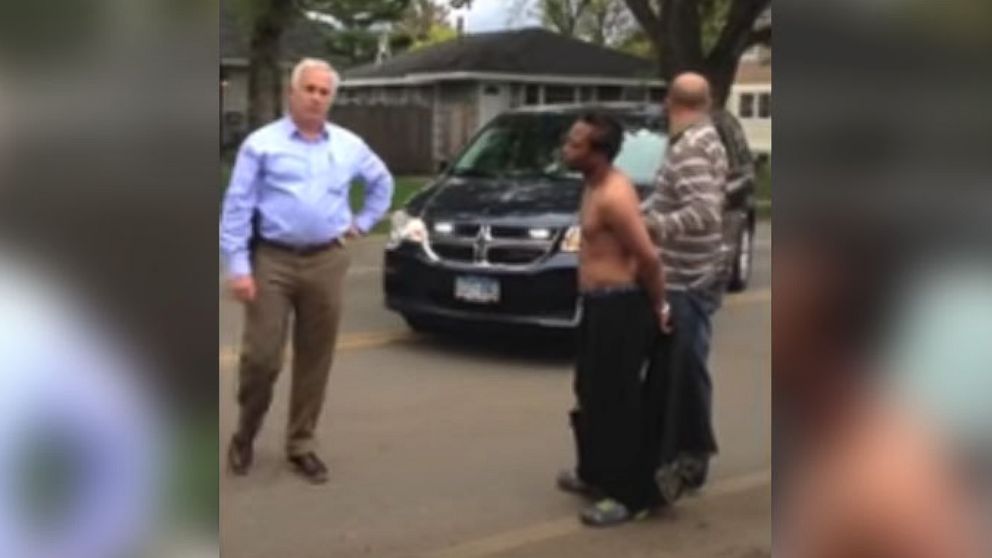 The video from last Wednesday showed Thomas' being held back by his jacket by a plainclothes police officer who refused Thomas' demands that he be released. In it, the officer told Thomas that he was walking in the middle of the street.
Thomas responded that he was avoiding sidewalk construction. Throughout the video, Thomas' frustration was apparent, and at one point Janet Rowle, a bystander who filmed the altercation, told the officer that Thomas was "scared."
Thomas removed his jacket, then his shirt to escape the officer's grasp. A second officer arrived and arrested Thomas.
The disturbing the peace charge against him has been dropped.
The Minnesota NAACP told the Minneapolis Star Tribune that it is still awaiting a formal written apology, beyond the city's response that it is investigating the arrest and the verbal regrets officials expressed at Tuesday's meeting.
Councilmember Bob Stewart said, "I think we can do better."
He said he would contact Thomas to try to make sure an incident like this didn't happen again.
"For Mr. Larnie Thomas, I'm going to meet him face-to-face," Edina Mayor James Hovland said at Tuesday's hearing. "It's one thing for me to sit up here and apologize, it's another to meet him face-to-face."
As for the charges against Thomas being dropped, the Minnesota NAACP wrote on its Facebook page that "this is not justice, but it is a step in the right direction."