Monkey Bites Woman Outside California Pizzeria
Good Samaritan chasing one monkey gets bitten by another.
— -- A California woman was helping a distraught owner recover her escaped monkey outside of a local pizzeria, she said, when she was bitten another one of the owner's monkeys.
"It felt like a razor cut and like a snap at the same time," Tricia Moreno, the 38-year-old victim and Cherry Valley, California, resident, told ABC News station KABC in Los Angeles.
It all happened around 3:30 p.m. on Sunday outside of Antonious Pizza on Beaumont Avenue, where a local woman named Wendelin Ringel was sitting a table outside with two capuchins and one tamarin, three monkeys she told Moreno were her therapy pets, according to KABC.
Suddenly, one monkey darted away from its owner, as seen on a surveillance video of the event.
Read More: Cheeky Monkey Steals Camera, Videos Self
Read More: Chimps Attend 'Dawn of the Planet of the Apes' Screening
"The smaller one that was on her right shoulder went and ran underneath the car," said Moreno, who told KABC she offered to help the visibly distraught monkey owner.
"I tried to help her get [the monkey]. She told me it wouldn't bite me," said Moreno, "The one that I got was one that was about the size of my palm, so I grabbed it, and when I grabbed it, it started screaming."
Moreno was able to contain the monkey and bring it back to its owner, she told KABC. But then one of the other monkeys, which she believed was a capuchin named "Baby G.," bit her forearm, she said.
Surveillance footage showed the owner of the monkeys leaving quickly after Moreno was bitten.
Moreno was treated at the hospital and was expected to recover, she told KABC.
ABC News and KABC were unable to reach Wendelin Ringel, but John Welsh, an official with Riverside Animal Services, said he was not surprised.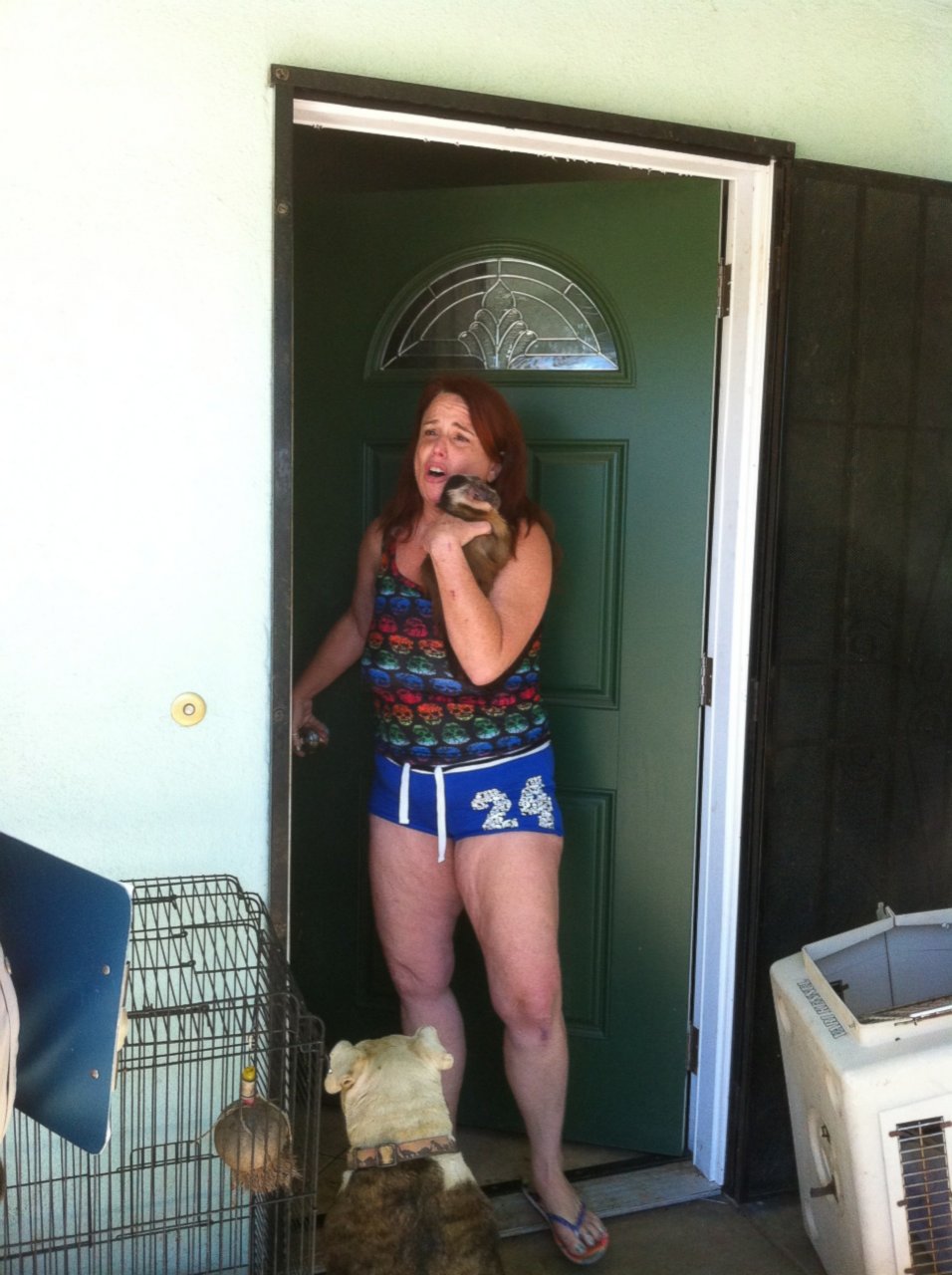 "We've known [Ringel] for years, she's a character," Welsh told ABC News. "She used to be a veterinarian."
Ringel's three monkeys are unregistered despite Animal Services' efforts to get her to register them, Welsh said.
"You can't have exotic animals just to have them without having a special permit, and it's not too hard to get," he added. "It's not a circus in Riverside County. You can't just do whatever you want. You don't just get to take your monkey to the pizza parlor."
The three monkeys were impounded Tuesday by the state Department of Fish and Wildlife, though Ringel faces no charges, Welsh said. The monkey believed to have bitten Moreno was put into a six-month quarantine, and an investigation into the bite, specifically whether or not the monkey had rabies, was underway.
If Ringel can file the proper permits and pay the impounding costs, she will be able be able to reclaim the monkeys, Welsh added.