Montana restaurant pays 109-year-old to eat there for her birthday
The Montana Club in Missoula takes a percentage off the bill based on age.
A 109-year-old took full advantage of a Montana restaurant's birthday discount -- and then some -- when she was paid to eat there last month.
The Montana Club in Missoula, which offers a percentage off customers' bills based on their age, actually paid birthday regular Helen Self $1.25 for dining there on Aug. 17, Self's granddaughter, 57-year-old Diane Gunter, told ABC News. The amount was a 109 percent discount on Self's bill, Gunter said.
Self, who is Montana's oldest living person, has been going to The Montana Club on her birthday for a decade. The day she turned 99 years old, Aug. 17, 2008, was the only time she paid for a meal there.
"Once she turned 101 she informed me that I had to come in and pay her for her meal," the restaurant's owner, Nick Alonzo, told ABC affiliate KTMF in Missoula.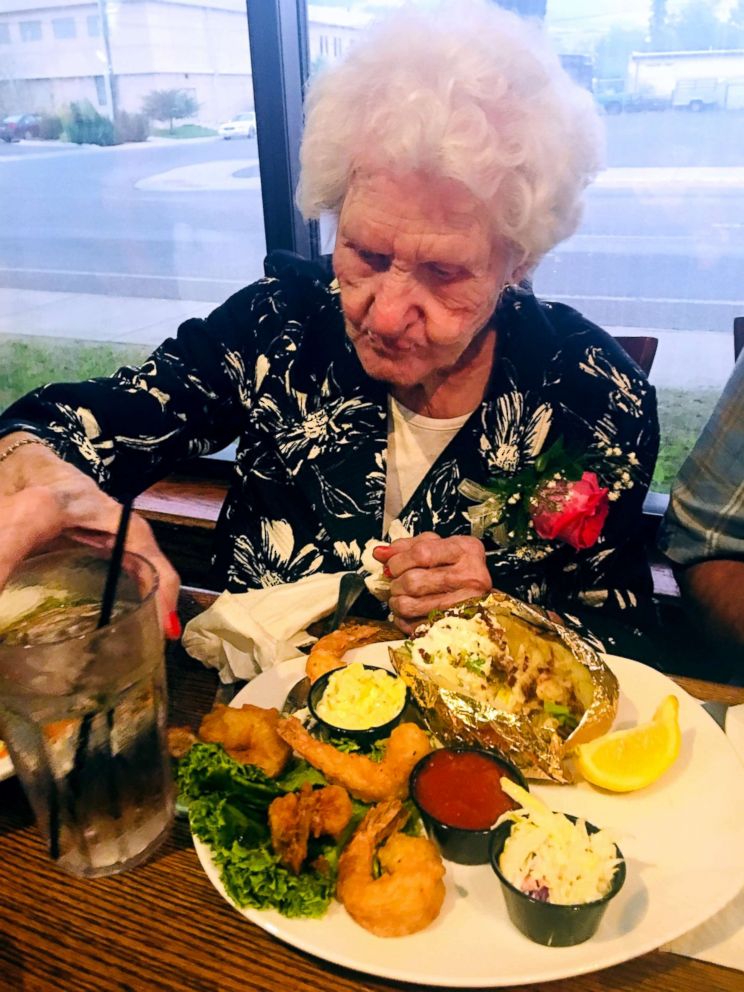 Every year, Self orders a salad, prawns and a "baked potato with everything on it, and she always eats the whole thing," Gunter said.
"I don't know how," she added.
Self, who was born in 1909 in Hamilton, Montana, shared her simple secret to living a long life.
"Just hard work and keep yourself busy ... Just don't hurt people," she said.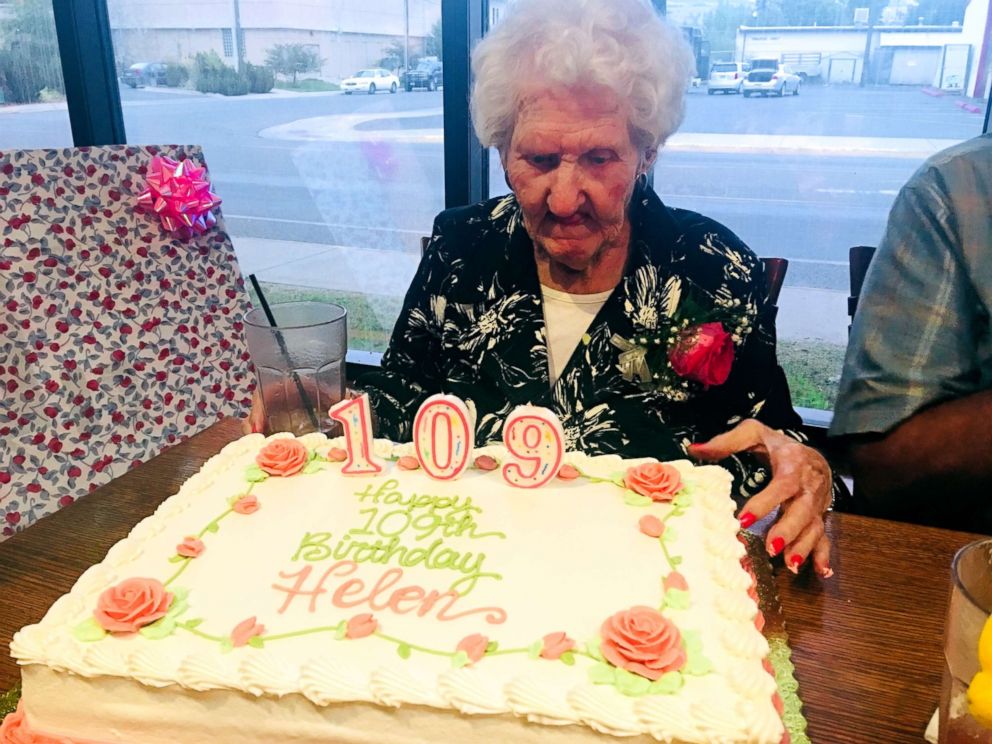 And she hasn't lost her sense of adventure as she's gotten older. On her 100th birthday, Self went on her first ride on a Harley-Davidson motorcycle, and about four summers ago, she rode on an inner tube on Montana's Clark Fork River, Gunter said.
"I'd never even been myself, but I said, 'I'd go if she goes,'" Gunter said, describing the experience as a "great day."
Most recently, Self went camping with Gunter on Lake Como in Montana's Bitterroot Valley -- one of her favorite spots, KTMF reported.
"We're thinking if someone asked her to jump out of a plane, she'd probably say, 'yes,'" Gunter said.
When she isn't chasing an adrenaline rush, Self enjoys visiting with relatives and going to the Southgate Mall in Missoula, Gunter said. Other than her eyesight and hearing, Self is "in really great health," and has much of her mobility, Gunter said.
Self has been living with Gunter in her Missoula home since 2000, cooking all of the dinners for Gunter and her 10 adopted children up until two years ago. The children's favorite meals were Self's homemade chicken, hamburger dishes and spaghetti, Gunter said.
"She's just a real sweet lady and just thinks of other people, and I think that's what kept her motivated," she said. "You know, these kids that are here, it feels like she has a purpose."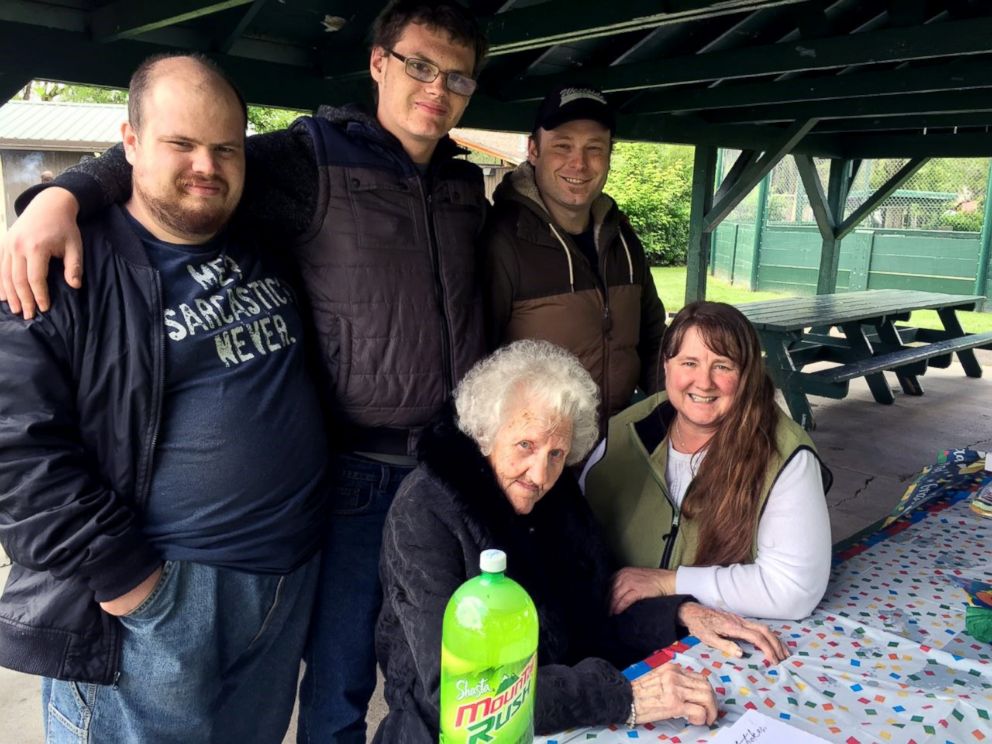 Now, the matriarch boasts a large family of two children, six grandchildren, 18 great-grandchildren and two great great-grandchildren, with another on the way, Gunter said.
Gunter believes being surrounded by all the children contributed to her grandmother's long life.
Last year, the Montana Department of Public Heath and Human Services honored Self at the 49th annual Governor's Conference on Aging, where she was the oldest of nine centenarians in the state to be recognized.
This year, Self rounded out her birthday with 21 family members and her favorite birthday cake: white cake with lemon filling, Gunter said.
Self is "surprised" by "each year that goes by" and is now looking forward to her 110th birthday, Gunter said.
"She takes it really well and just says, 'well, good Lord's not done with her yet,'" Gunter said.
Next year, The Montana Club will have to pay her even more to dine there.
The world's oldest living person is a Japanese woman named Kane Tanaka, who is 115 years and 204 days old, according to the Gerontology Research Group, a group devoted to reversing age-related decline, according to its website.