NFL owners stand with players in Trump kneeling rebuke
Across the country and in the U.K., NFL owners backed their players.
September 24, 2017, 5:07 PM
— -- When New England Patriots owner Robert Kraft came out publicly against President Trump over the ongoing spat over NFL players kneeling during the "Star-Spangled Banner" ahead of games, the man who previously called the president a "very good friend" was not alone, as multiple owners are beginning to speak out on the issue.
"There is no greater unifier in this country than sports, and unfortunately, nothing more divisive than politics," Kraft said in a statement tweeted by the Patriots.
The champion team's CEO came out against Trump after the president made comments during a rally in Huntsville, Alabama on Friday, saying, "Wouldn't you love to see one of the NFL owners, when somebody disrespects our flag, to say 'Get that son of a b---- off the field right now?'"
"You know, some owner ... is going to say, 'That guy who disrespects our flag, he's fired,'" the president said to thunderous applause and cheers.
Kraft made it clear on Sunday he disagrees with the 45th president. Rather, he supports players' rights "to peacefully [effect] social change."
"I think our political leaders could learn a lot from the lessons of teamwork and the importance of working together toward a common goal," the statement said. "Our players are intelligent, thoughtful, and care deeply about our community, and I support their right to peacefully affect social change and raise awareness in a manner that they feel is impactful."
The billionaires' beef comes only months after the Patriots made a formal visit to the White House in April, during which Kraft called Trump a "very good friend" and paralleled his presidential run with the team's historic comeback win in this year's Super Bowl over the Atlanta Falcons. Trump, he said, "preserved" over 16 career politicians, and faced incredible odds.
Kraft's comments came shortly after Trump on Sunday morning had turned his attention to NFL fans in his feud with the league over players who kneel in protest during the national anthem, saying many people should "stay away" from the games "because they love our country."
The president, who already disinvited NBA superstar Stephen Curry and the champion Golden State Warriors team from being feted at the White House, also suggested on Twitter that if NFL fans refuse to go to games because of these protests, "you will see change fast."
Trump's tweets came just a couple of hours before a series of NFL games scheduled for the day kicked off.
Across the country and in the U.K., many NFL owners like Kraft backed their players -- including owners of the Atlanta Falcons, Detroit Lions, and Miami Dolphins.
Some were locked in arms with their team players and coaches as the "Star-Spangled Banner" performed, later expressing support to fight racial injustice and push back against the president's fiery rhetoric from Friday.
Jeffrey Lurie was one owner who on Sunday stood shoulder to shoulder with his Philadelphia Eagles players as they raised fists raised into the air as the "Star-Spangled Banner" played.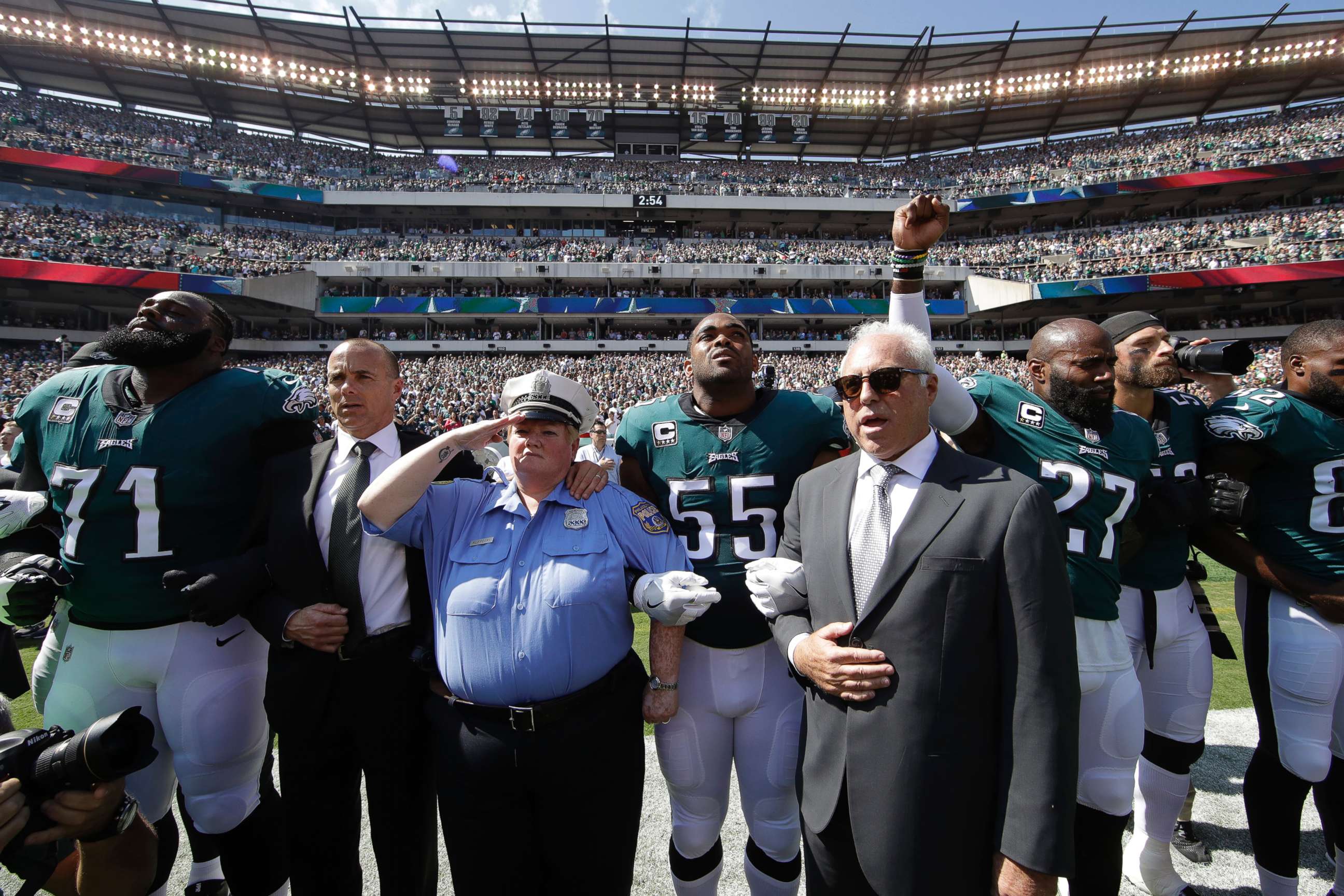 In a statement, the owner backed his players for their "courage, character, and commitment" into bettering communities and "to call attention to injustice."
"Having spoken with our players, I can attest to the great respect they have for our national anthem and all it represents," he said in the statement. "We at the Philadelphia Eagles firmly believe that in this difficult time of division and conflict, it is more important than ever for football to be a great unifier."
Although it appeared no team member kneeled today, Jets owner Christopher Johnson, brother of Woody Johnson, who is on hiatus from the team since Trump tapped him to be the country's ambassador to the U.K., was spotted locking arms with his players during the national anthem.
In a statement tweeted on the team's official Twitter page, Johnson wrote, "It was an honor and a privilege to stand arm-in-arm unified with our players during today's National Anthem."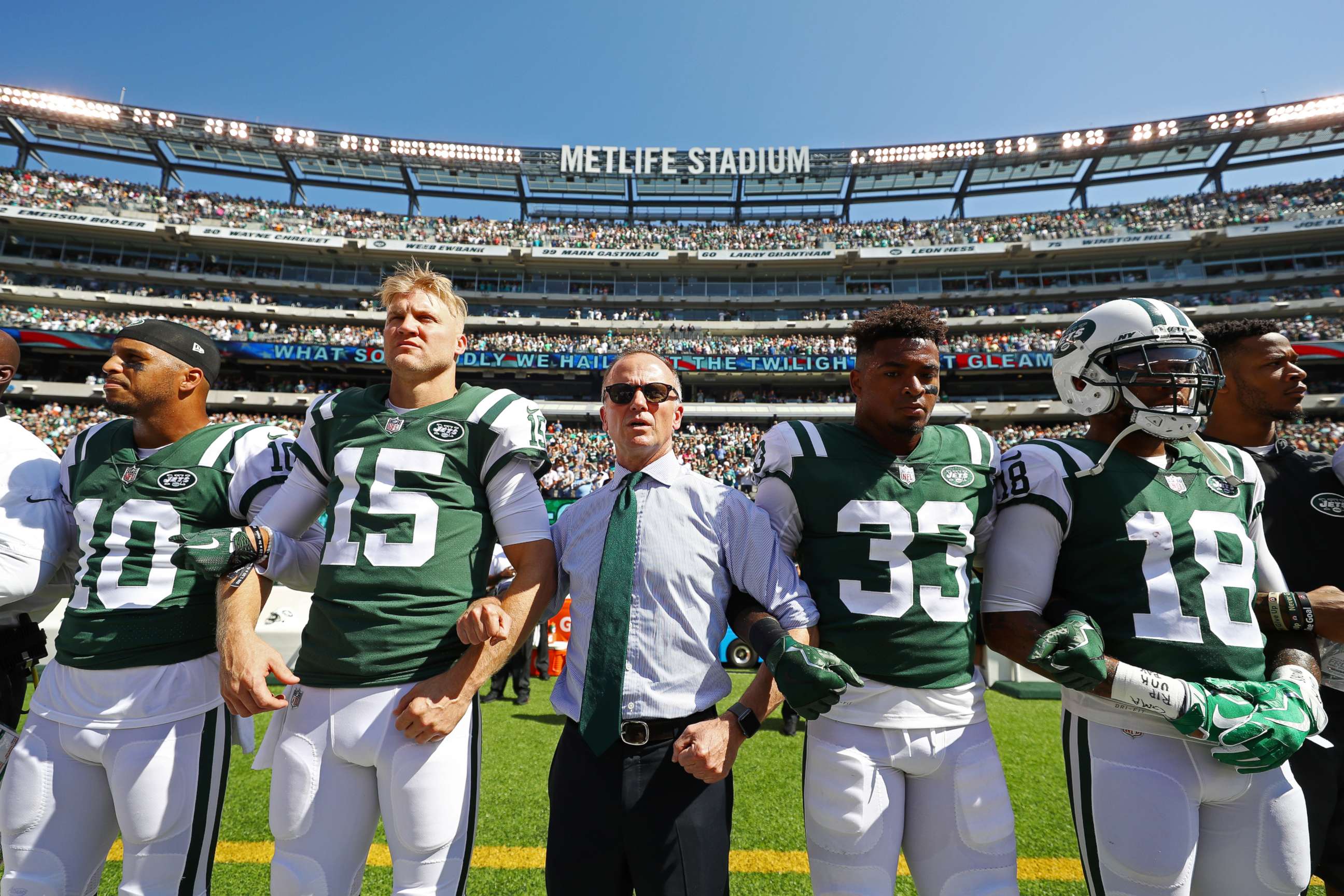 In Detroit, Lions owner Martha Ford stood with her three daughters on the sideline next to her coach Jim Caldwell. Fans created an orchestra of boos as eight Lions players including Ameer Abdullah, Tahir Whitehead and other members of the defensive line kneeled and locked arms.
Across the field, Atlanta Falcons owner Arthur Blank locked arms with receiver Julio Jones and running back Devonta Freeman as the national anthem was sung by Rico Lavelle, who at the end of it bent right knee and raised his right fist, clutching the microphone.
Near the 50-yard line, Miami Dolphins owner Stephen Ross locked arms with safety Reshad Jones and center Mike Pouncey before they battled the Jets.
The day before, Miami Dolphins owner Stephen Ross also on Saturday did not refer to the president directly, but said in a statement the country "needs unifying leadership right now, not more divisiveness."
Also locking arms with players during the protest over the U.S. national anthem was Jacksonville Jaguars owner Shahid Khan.
Khan, in a statement, called Trump's remarks "divisive and contentious," and declared his support for his players after meeting with some of the captains before the game.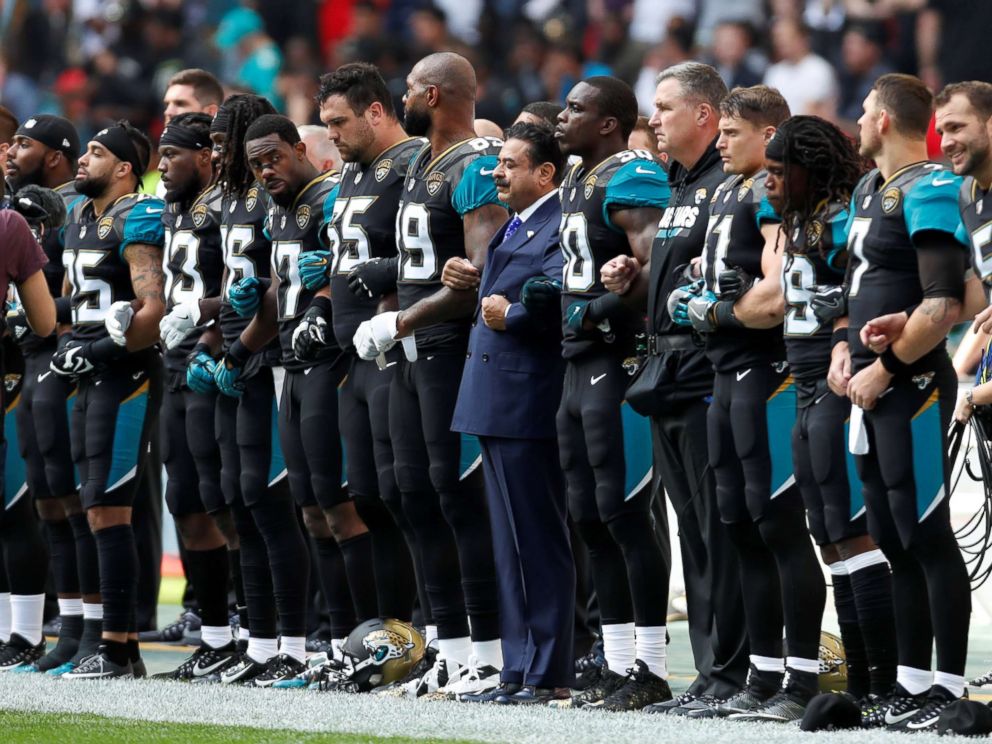 Khan said he was "honored to be arm in arm with them, their teammates and our coaches during our anthem."
The owner added that the team and the NFL "reflects our nation," and said that it was personally important "to show the world that even if we may differ at times, we can and should be united in the effort to become better as people and a nation."
The Pittsburgh Steelers' coach Mike Tomlin decided to skip the anthem altogether today.
"We're not participating in the anthem today," Tomlin said, adding that the action was "not to be disrespectful to the anthem" but to remove the team "from this circumstance."
"People shouldn't have to choose" whether to kneel or stand during the anthem, he said. "If a guy feels a need to do something he should not be separated from his teammate who chooses not to."
"So we're not participating today," he said. "That's our decision."
At Soldier Field, Coach Tomlin was spotted with other coaches on the sideline, but most of the players remained in the locker room as expected.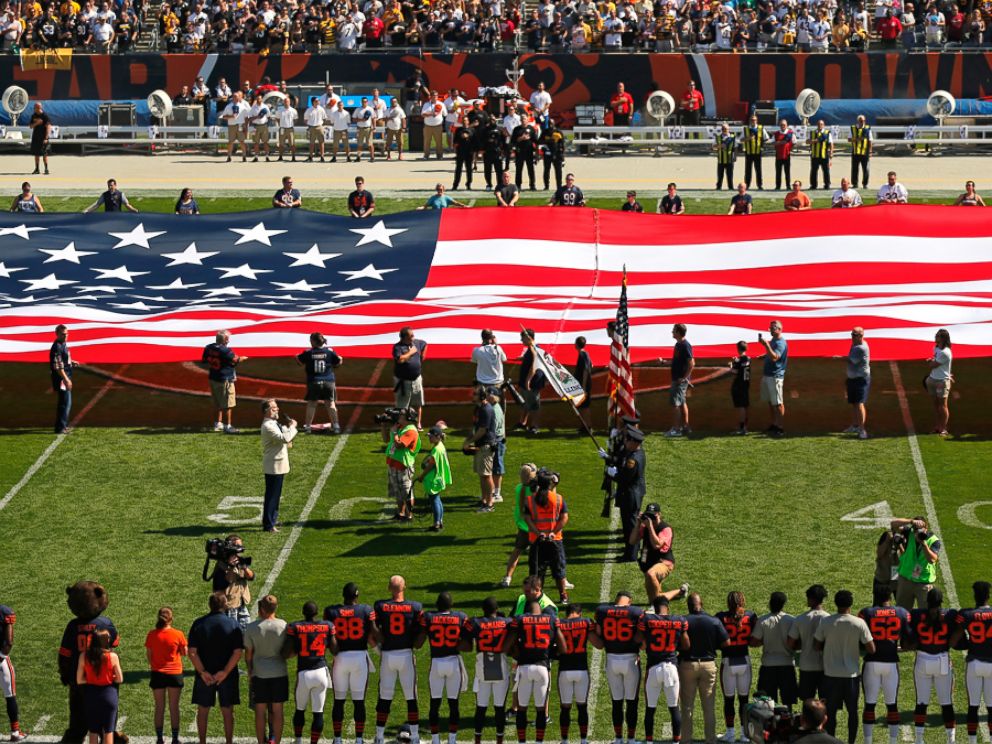 Once the national anthem commenced, quarterback Ben Roethlisberger walked out of the tunnel, as did left tackle Alejandro Villanueva, who served as an Army ranger in Afghanistan. He held a hand over his heart as he marched onto the field.
Pittsburgh is a team whose ownership switched generations after the late Dan Rooney -- who was appointed by President Obama to serve as ambassador to Ireland from 2009, before resigning in 2012 -- passed away in April.
His son, Art, has since taken over as the team's top executive.
San Francisco 49ers CEO Jed York weighed in Saturday afternoon calling the president's comments "callous and offensive" and "contradictory to this great country stands for."
Meanwhile, NFL Commissioner Roger Goodell was also in Trump's crosshairs for speaking out against the president's condemnation of kneeling players and statement that team owners should fire those players.
Goodell is "trying to justify the total disrespect certain players show to our country," Trump tweeted.
Goodell did not mention the president by name in his statement earlier today.
"Divisive comments like these demonstrate an unfortunate lack of respect for the NFL, our great game and all of our players, and a failure to understand the overwhelming force for good our clubs and players represent in our communities."
NFL players across the league either kneeled or sat on the bench during the national anthem before Sunday's games.
The silent protest that has caught fire in the past week was started by former San Francisco 49ers quarterback Colin Kaepernick.
Kaepernick, who has yet to be signed by an NFL team, began kneeling in the preseason in 2016 as a sign of protest over the treatment of blacks in the U.S.
The president of the NFL Players Union, which represents current and former players, released a statement on Saturday: "The balance between the rights of every citizen in our great country gets crossed when someone is told to just 'shut up and play.'"
Union President DeMaurice Smith acknowledged in his statement that "the peaceful demonstrations by some of our players" haven't been universally supported, but "have generated a wide array of responses."
But, he added, "Those opinions are protected speech and a freedom that has been paid for by the sacrifice of men and women throughout history ... No man or woman should ever have to choose a job that forces them to surrender their rights."