In the aftermath of the South Napa Earthquake that hit northern California this morning, one couple is trying to pick up the pieces after losing everything when their mobile home was destroyed today.
Interested in
?
Add as an interest to stay up to date on the latest news, video, and analysis from ABC News.
Bill and Theresa, who declined to give ABC News' station KGO their last names, were sleeping when they woke up to their home engulfed in flames.
"The earth moved, the house moved," Bill said.
"It was bad," Theresa added. "We lost everything."
"Not everything," Bill responded, as he turned to hug her.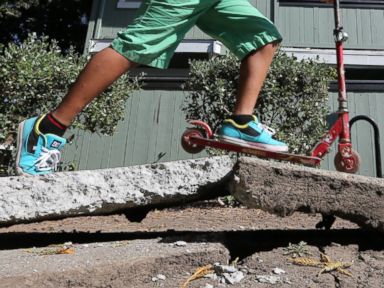 This Is What Northern California Looks like After Earthquake
Napa Valley Wineries Picking Up the Pieces After Earthquake
State of Emergency After Northern California Shaken By Biggest Earthquake In 25 Years
The couple was still looking for their kitten, Coco, who they only just got two months ago.
Fires caused by the earthquake destroyed four mobile homes and damaged two others at the Napa Valley Mobile Home Park.
The South Napa Earthquake damaged much of the Bay Area and left thousands without power. It is the largest earthquake to hit the area in the last 25 years.