Louisiana officials are investigating a facility where nursing home residents were evacuated after four residents died there ahead of Hurricane Ida.
The coroner determined three of the deaths to be storm-related, though the residents' definitive causes of death have not been confirmed.
On Aug. 27, two days before Ida made landfall, the Louisiana Department of Health learned of the four deaths at an unnamed facility in the Tangipahoa Parish.
After the hurricane hit, the Louisiana Department of Health said it was alerted to "deteriorating conditions" at this facility and officials "promptly visited" the site Tuesday -- but were "expelled from the property and prevented from conducting a full assessment."
Nola.com reports the facility was a warehouse "with overflowing toilets and piled up trash." Officials and workers at the facility told Nola.com residents were trapped in "inhumane conditions."
"We have significant concerns about conditions in this facility," the Louisiana Department of Health said in a statement.
On Friday, state Attorney General Jeff Landry announced his office would be investigating the transfer of the nursing home residents.
"Our goal will be to determine who decided to move these patients to this apparently unsafe and potentially inappropriate facility," Landry said in a video posted to the attorney general's website. "We wish to determine who authorized that these patients be moved to that facility, who oversaw the movement, who later turned away career staff members of the Louisiana Department of Health when they attempted to look into this situation and why did the police chief and the sheriff state an investigation was not needed?"
Images obtained by ABC News show crowded conditions in the warehouse, with vulnerable elders sleeping on mattresses on the floor.
"They didn't have any electricity or air conditioning for them. No generator," Renetta Derosia, whose mother was evacuated, told ABC News affiliate WGNO. "I thought they were coming to a nursing home and they would have nursing beds and they would be taken care like they were in a nursing facility."
Derosia's mother, Loretta Duet, was one of the 800 plus nursing home residents taken to the warehouse. Duet spent five days there, including her 84th birthday on Saturday.
When Derosia went to the warehouse Thursday, she said she was not allowed inside. Her mother has now been taken to another nursing home facility and is doing fine, but is extremely upset about the conditions she and the others there were in.
Duet described some of the conditions saying, "It was terrible. ... The mattresses were on the ground. It was horrible. ...The five-gallon can, that was our toilet."
Louisiana Gov. John Bel Edwards vowed to "do everything we can to make sure our most vulnerable citizens are properly taken care of. ... It appears that that most certainly was not the case here."
ABC News reached out to the owner of the nursing homes for comment but have not heard back.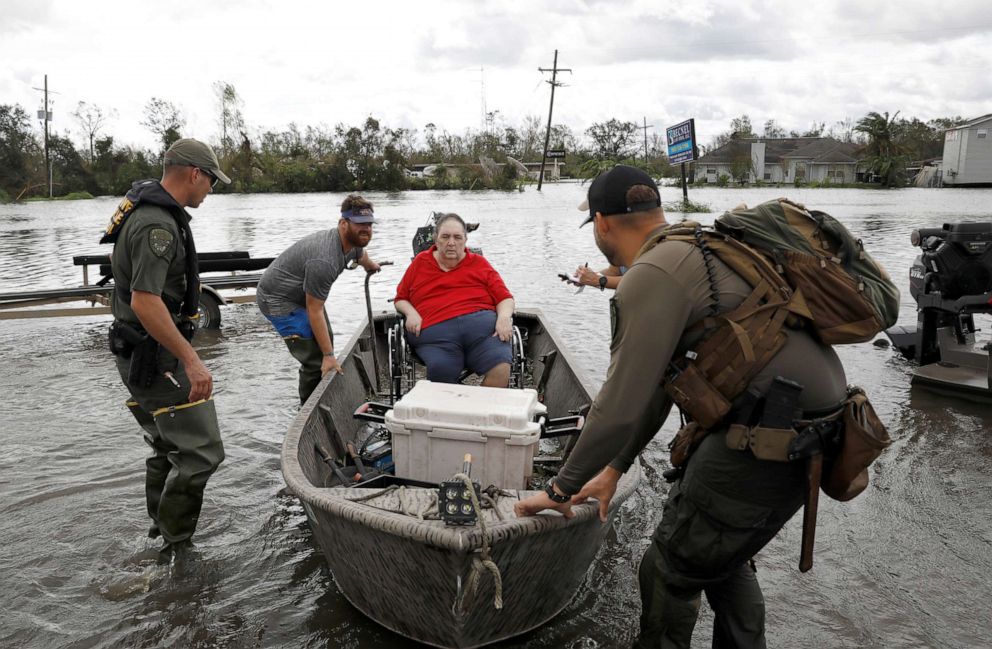 Unless under a mandatory evacuation order, nursing homes make the decision of when and where to evacuate, the Louisiana Department of Health said. These facilities are required to provide safe conditions for their residents.
The Louisiana Department of Health is removing 834 residents from seven nursing homes across four parishes. The most vulnerable residents are being moved first, the department said. As of Friday morning, the Louisiana Department of Health said it had moved 721 residents.
Twelve of the residents rescued required hospitalization, the department said.
"This is a serious and active investigation. We will be taking action against these nursing facilities, and will be making appropriate referrals to law enforcement," the department said in a statement.
Residents from the following nursing homes were evacuated to the facility under investigation: River Palms Nursing and Rehab, Orleans Parish; Maison Orleans Healthcare Center, Orleans Parish; Park Place Healthcare Nursing Home, Jefferson Parish; West Jefferson Health Care Center, Jefferson Parish; Maison DeVille Nursing Home of Harvey, Jefferson Parish; Maison DeVille Nursing Home, Terrebonne Parish; and South Lafourche Nursing and Rehab, Lafourche Parish.