— -- On the night of Sept. 13, 2007, Michael McClinton found himself walking out of a Las Vegas hotel with O.J. Simpson and four other men, still reeling from what had just happened.
"The minute I walked out… I knew that we were getting ready to have a huge problem," McClinton told ABC News "20/20."
It was supposed to be a quick meeting in a hotel room at the Palace Station Hotel and Casino. One of Simpson's friends, Charlie Ehrlich, had agreed to pose as a buyer and meet with two sports memorabilia sellers, who claimed to have some of the former NFL hero's items.
But what ended up happening in Room 1203 instead would lead to Simpson, McClinton, Ehrlich and three other accomplices that night facing various charges involving robbery, attempted burglary and kidnapping.
In 1995, Simpson was acquitted of the murders of his ex-wife Nicole Brown Simpson and Ron Goldman in what became known as the "trial of the century."
In 1997, however, Simpson lost a wrongful death civil suit that was brought against him by the Goldman and Brown families, and was ordered to pay $33.5 million in damages. Simpson has always maintained he did not kill Goldman and Brown. As a result, Simpson was evicted from his Brentwood, California, mansion after reportedly defaulting on the mortgage, and he was forced to turn over many of his personal belongings, including sports memorabilia, his 1968 Heisman trophy and golf clubs. The trophy was later sold at auction for more than $250,000 in 1999.
Simpson was in Vegas in September 2007 to be the best man in a wedding for his friend, Tom Scotto.
"He [Simpson] was more excited for me to get married than I was," Scotto told ABC News "20/20." "My wedding was a four-day event. We had parties every night."
Simpson had learned from Tom Riccio, the co-owner of the auction house Universal Rarities, that some of his lost sports memorabilia was also in Vegas.
"I got a call, it was Al Beardsley," Tom Riccio said in the ESPN Films documentary, "O.J. Made in America." "He's a six-foot-six, 300-pound, O.J. fanatic, saying, 'Tom ... I have all the stuff from O.J.'s trophy room.'"
Riccio then called Simpson and told him two memorabilia dealers, Beardsley and Bruce Fromong, were claiming to have some of his old items.
"[I] called O.J.," Riccio said. "O.J. said, 'Look Tom, this is not memorabilia. These are personal artifacts that were stolen from me. My football that I was holding in my arm when I rushed for 2,000 yards, the ring from my wife who died that I was going to give to my daughter.' He kept talking about a photo signed by J. Edgar Hoover, where J. Edgar Hoover said he was a big fan, a fine young man."
Riccio said Simpson told him, "Everyone thinks nothing bad happens to me. Here I am being robbed. Why don't we show the world that I have to go by myself to get my stuff back?"
Riccio agreed to meet Simpson at his hotel, the Palms, on Sept. 13 to talk about the memorabilia. Simpson called over his friend, Charlie Ehrlich, a Miami club promoter who was also in town for Scotto's wedding.
Ehrlich told "20/20" Simpson turned to him and said, "These two individuals who I did business with have my merchandise… that used to belong to me… I need someone that I could trust to go up there or go and see what it is."
Simpson then asked him to meet with the two men and pose as a buyer to see if Riccio was telling the truth, Ehrlich said, and "I said, 'O. J., listen, for you, I'm going to do this.'"
Walter Alexander, another friend of Simpson's, told "20/20" he had just landed in Vegas when he got a call that Simpson wanted to meet with him. Alexander was with another friend, Michael McClinton, and together they went over to the Palms. When they arrived at Simpson's hotel room, Alexander said Simpson was talking with Riccio about coming to look at memorabilia.
"Riccio left and then I sat down and we started laughing and talking about the past," Alexander said. "Then all of a sudden the conversation got serious."
"He wanted to get his stuff back… He was like, 'Hey man, will you watch my back?'" he continued. "So I said, yes, and then after I said yes, he leaned in a little closer and he said, 'By the way, can you get some heat?' … meaning a gun."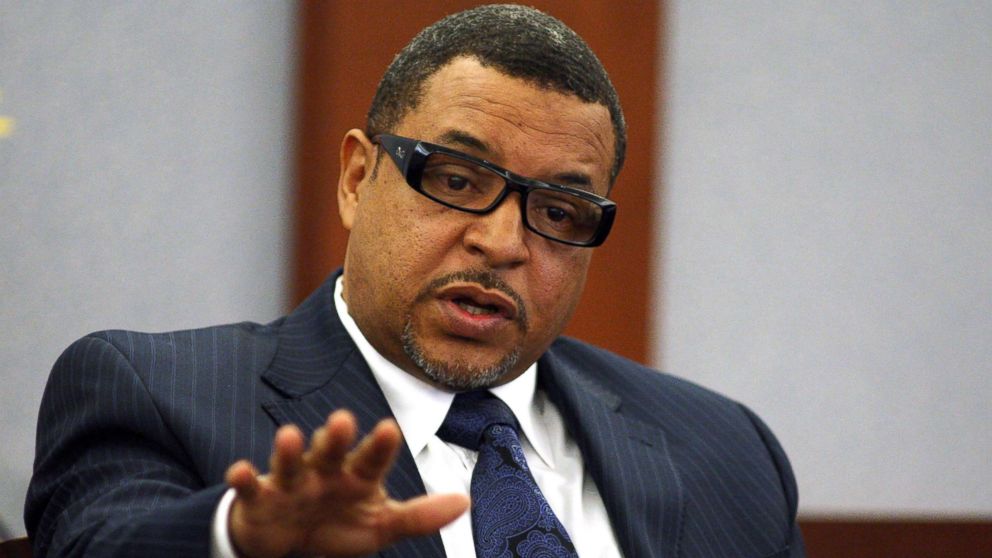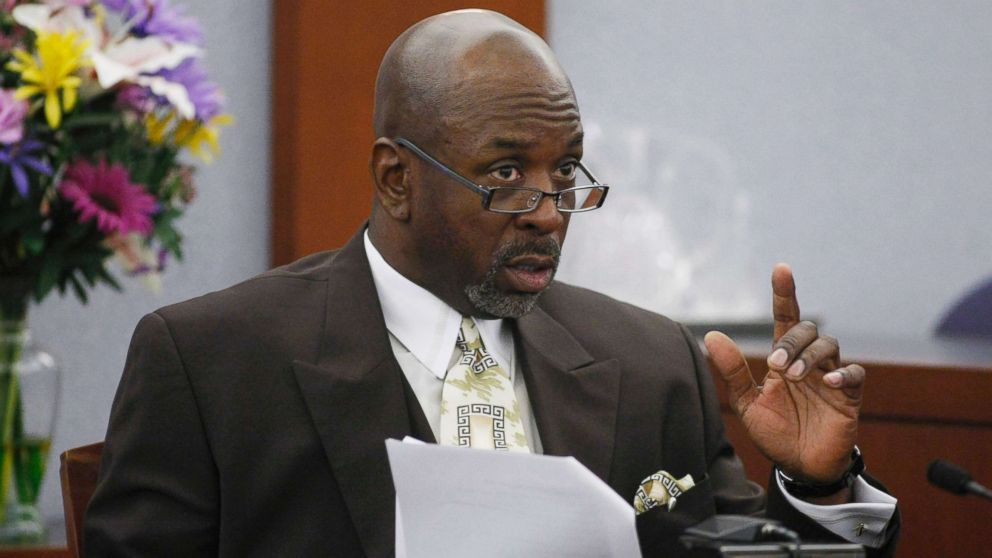 Alexander said he hesitated, but then McClinton spoke up and said he "had plenty of heat." McClinton ran a small security company and had a concealed weapons permit. He gave Alexander one of his guns.
"[Simpson] asked me, 'would you go with me to be my security?'" McClinton said. "[I said] 'Sure, I'll go with you.' Little did I know that it was going to turn into what it did."
"And I say, 'So O.J., you know, what if they call the police?'" Alexander said. "He looked at me and he used a four letter word that starts with ''f' and ends with 'k,' the police what they got to do take me to jail for taking my own stuff.'"
Walter Alexander, who pleaded guilty to conspiracy to commit the 2007 robbery, said O.J. Simpson asked if he could "get some heat."
Simpson and some of his accomplices arranged to go over to the Palace Station, where Ehrlich was supposed to meet with Riccio, who was working as a go-between, and the two memorabilia dealers, Beardsley and Fromong. Alexander and McClinton both were carrying pistols.
Fromong said in the "O.J.: Made in America" documentary that they took the memorabilia to Room 1203 to set everything out "for this supposed buyer."
Clarence "C.J." Stewart, another Simpson acquaintance, said he had just pulled up to the Palms when Simpson suddenly jumped in his car. Stewart had been at the pool earlier that day with Simpson.
"[He said] 'Man, I got 15 minutes to get there. You don't even have to get out of the vehicle, just please don't leave me there.'" Stewart said, "I said, 'Leave you where?' He said, 'We're going over to the Palace Station, and you remember that guy out by the pool? [Tom Riccio] He's meeting me over there.'"
Stewart said he drove to the Palace Station with Simpson and two additional men in his car, Charles Cashmore, who used to work for Stewart, and Ehrlich, whom he had never met before.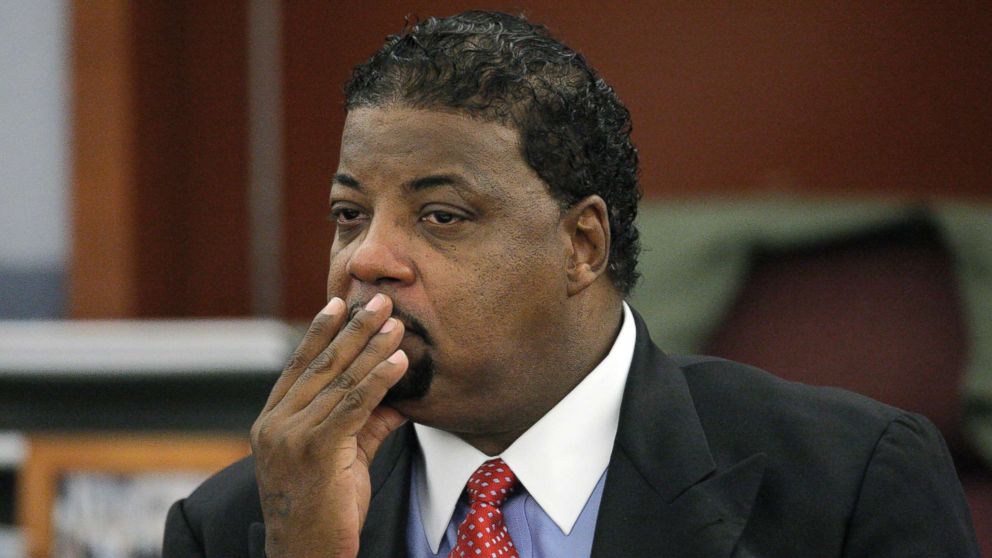 Ehrlich said when they got there, he and Cashmore got out of the car and his part of the plan was to go to the hotel room and pose as a buyer.
"My thing was to go upstairs, see Riccio, look at what it is, I'm Mr. Memorabilia Buyer," Ehrlich said. "I mean, it's no big deal."
"Two seconds later, my right hand to God, I look down the hallway," Ehrlich continued. "I see O.J., this guy Clarence Stewart… these two black guys [McClinton and Alexander] who looked like they were out of 'Miami Vice,' slicked back hair, Versace glasses, suits… I go, 'who the ---- are these guys?'… I'm like, '----, oh boy, this is a typical O.J. move."
Riccio had met the group in the lobby, and then Simpson, Riccio, Cashmore, Stewart, McClinton and Alexander all went up together to the hotel room where the memorabilia dealers were.
"No one knew anybody," Ehrlich said. "It was like going to the gunfight at the O.K. Corral."
When they got to the hotel room door, McClinton said Simpson asked him "to show my gun and look menacing."
"We all barged into the room the guys in the room were shocked to see… Mr. Simpson," he said.
Fromong said in the ESPN Films documentary when Simpson burst into the hotel room that night, he "had a face on that was just a rage."
Stewart said he then saw Fromong make a move as if he were pulling something out from under the hotel mattress.
"First thing that went to my mind [was] it was a firearm," Stewart said. "So I pinned him back against the wall and said, 'No, don't do that.'… next thing, Simpson, you could hear his voice."
"O.J. says, 'Pack up the stuff, pack up all the stuff and let's get out of here,'" Ehrlich said.
What Simpson didn't know at the time was that Riccio sometimes covertly recorded conversations and was recording the incident. On the audio recording, Simpson can be heard shouting, including, "You think you can steal my ----?"
Alexander, Ehrlich and McClinton said they grabbed everything they could including autographed game balls, plaques, Joe Montana lithographs, baseballs signed by Pete Rose, neck ties and other items, and stashed the items in boxes and even pillowcases taken from the hotel bed.
"I actually went and snatched the cord of the wall and I took Bruce's cell phone," Alexander added. "I didn't want him to call the police. I wanted to get a chance to get away and figure out how I was going to deal with this mess that I got myself into."
Prosecutors say Simpson and five others were involved in a hotel room confrontation that led to Simpson's serving prison time.
"It was stated that I pointed the gun and I can tell you, now, being as honest as possible, I never pointed that gun at anybody," McClinton said.
Alexander admits he did pull out the gun he was holding for "a split second."
"The minute I pulled the gun out I'm like, 'Man, this is a robbery,'" he said. "You know, 'this is going to be on national news, you are going to jail for this.'"
Afterwards, Ehrlich said Simpson seemed to be riding on an adrenaline high of what they had just done.
"We just did an armed robbery," Ehrlich said. "Nothing bad has happened in O.J.'s mind. Everything's good. He's happy… and he just thought it was the funniest thing."
McClinton said he secretly recorded Simpson later at dinner that night because he didn't trust him. On the recording, Simpson can be heard laughing and saying, "It was a strong arm robbery."
"O.J. was inebriated," McClinton said. "He was definitely drunk, and it was all funny to him…. He just kept saying, 'no guns. Just say there wasn't guns.'… I knew he was full of ----, and I thought something was going to go down with it."
Meanwhile, Beardsley called the police. In the 911 call, Beardsley can be heard telling the dispatcher, "We were just robbed at gunpoint by O.J. Simpson. Can you send police here, please?"
Fromong said in the ESPN Films documentary that he then went up to the hotel's front desk, "and I said, 'I need security. I was just robbed by O.J. Simpson,' and they started laughing."
When the police did arrive, Riccio said the police wouldn't take them seriously at first.
"They [the police] were really lax about it," he said "They were like, 'So you were robbed by O.J. Simpson. Who else was here, Al Cowlings?'"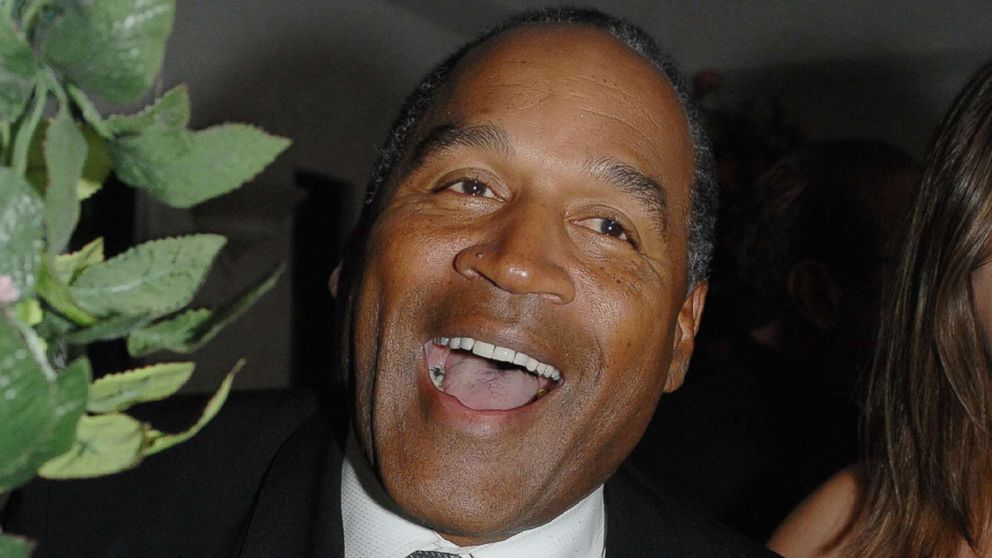 The next day, Sept. 14, 2007, Simpson was questioned by police but was not arrested. On Sept. 15, 2007, Simpson served as Tom Scotto's best man at his wedding, but Walter Alexander was busted.
"I get to the airport and… I went to check my bags," Alexander said. "The police came up behind me and said, 'Are you Walter Alexander?' And I said yes… I knew it was going down."
On Sept. 16, 2007, police arrested Simpson and took him into custody. One by one, his other accomplices were also charged.
On Oct. 3, 2008, Simpson and Stewart were convicted on 12 counts, including armed robbery with a deadly weapon, assault and kidnapping. Alexander, McClinton, Ehrlich and Cashmore all accepted plea agreements to lesser charges in exchange for their testimony against Simpson at trial and did not serve any jail time. Riccio was granted immunity.
McClinton wrote a book that was published in 2015 called, "The Truth About the O.J. Simpson Robbery." Ehrlich, Stewart and Alexander are all working on book projects.
After their convictions, both Simpson and Stewart appealed. Simpson's appeal was rejected by the Nevada Supreme Court, but Stewart's conviction was overturned and a new trial was ordered.
Stewart ultimately accepted an Alford plea, meaning he didn't admit guilt but acknowledges prosecutors had enough evidence against him to prove their case, pleading the equivalent of no contest to felony robbery and conspiracy. He was released from prison, having served 27 months of a seven-and-a-half-to 27-year prison term.
Simpson is currently serving a nine-to-33 year sentence at Lovelock Correctional Center in Nevada, where he is known as inmate No. 1027820. He is next up for parole on July 20.