OJ Simpson in protective custody at prison after being granted parole
O.J. Simpson has been removed from the general prison population.
— -- O.J. Simpson is now in protective custody at Lovelock Correctional Center in Nevada, having been moved to a separate part of the prison and removed from the general population, according to Nevada Department of Corrections spokesperson Brooke Keast.
Keast confirmed to ABC News today that the 70-year-old former football star has been moved as a precautionary measure for his safety due to Simpson's notoriety and the attention given to his parole hearing Thursday.
Keast told ABC News today Simpson is in the same size cell he was in before, just not with another person in his cell anymore.
He's now "in a quieter wing where he can come out by himself and not necessarily be surrounded by other inmates," Keast said.
"We have to keep him safe for two more months," Keast said. "Normally we monitor what is seen by the inmates on their televisions -- if it's something to do with a particular inmate, we don't want everybody else to know necessarily ... it's all about keeping order."
"The inmates inside ... they're all felons, there are those that are in there for life, that really have nothing to lose," Keast explained. "Now to make a name of themselves, they may think of doing something, acting out against inmate Simpson. We just can't have that."
"For us, it's important that he [leaves the prison] safe and healthy, and everything goes smoothly for those next two months," Keast said.
On Thursday a group of four commissioners from the Nevada parole board granted parole to Simpson after he served the minimum nine years of his 33-year sentence for a 2007 kidnapping and armed robbery incident in Las Vegas. Simpson was sentenced to prison after he allegedly led a group of men into a hotel and casino to steal sports memorabilia at gunpoint; he contended the memorabilia and other personal items belonged to him, and he denied ever holding a gun or threatening the robbery victims.
Simpson, who expressed both defiance and gratitude at the parole hearing, could be released as early as Oct. 1.
Bruce Fromong, a victim in the robbery case who spoke in Simpson's favor at the parole hearing, told ABC News' "Good Morning America" in an exclusive interview today that he believes Simpson "has served his time" and deserves parole.
"O.J. has served his time," Fromong said. "I had told the [district attorney] at the time I had felt like one to three years was a proper sentence for it."
"It wasn't O.J. who put the gun to my head," Fromong added. "He was also the one who said, 'Put the gun down, put the gun down.'"
Before the parole board Thursday, Fromong admitted that the Las Vegas hotel room that was the site of the botched robbery attempt did contain items that belonged to Simpson, but said that on the day of the robbery, "Simpson was misguided."
Fromong called Simpson his "friend."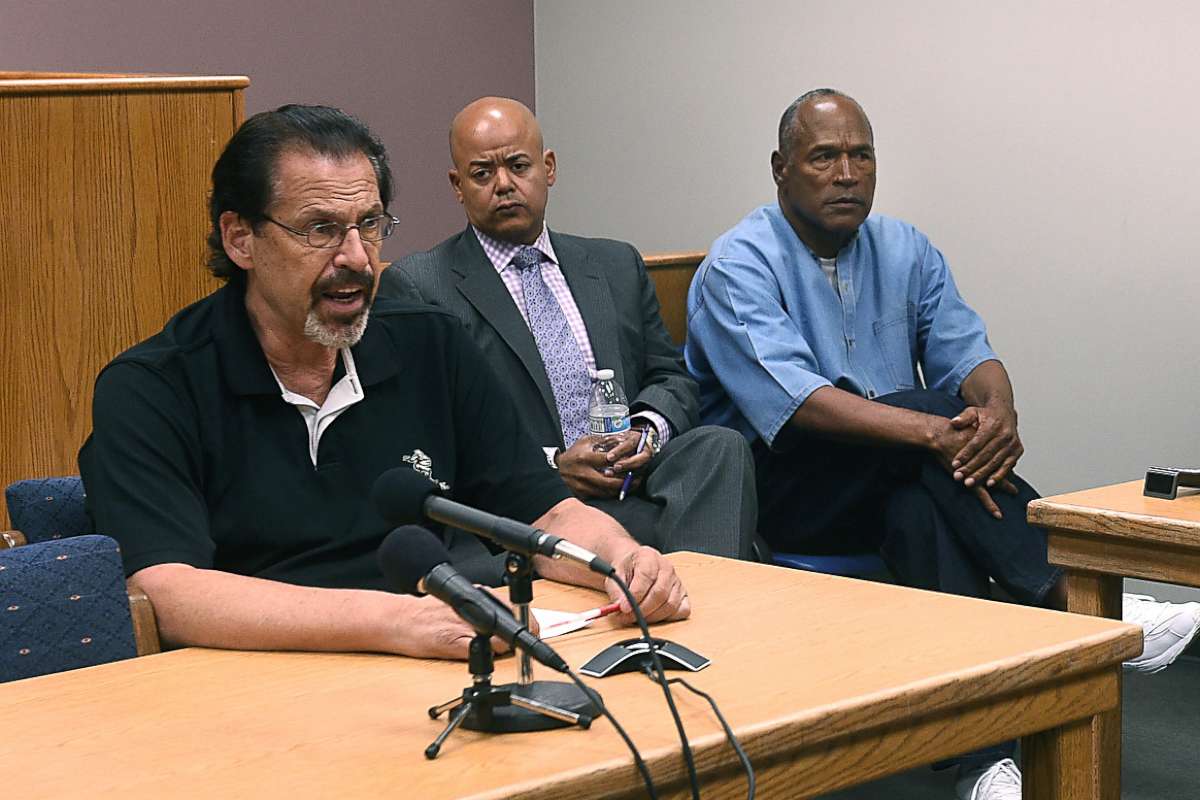 Simpson, who appeared remotely at the hearing via video conference from Lovelock Correctional Facility, delivered a rambling account of the incident to the board Thursday, maintaining that he didn't intend to steal anything that night and that he "wish[es] this would have never happened."
"I haven't made any excuses in the nine years that I've been here and I'm not trying to make an excuse now," Simpson told the board.
In an interview on "GMA" today, Dr. Henry Johnson said Simpson, his longtime friend whom he visited in prison, is a "very strong man" and was "unjustly found guilty."
Upon his release, Simpson is requesting to live in Florida, where he has family to serve as his support system, officials said Thursday.
Officials said today that while Simpson would report to a Florida probation officer, Nevada is still the authority in his case -- so if he violated his parole, he would have to answer to Nevada officials.
More than 20 years ago, Simpson went on trial for the killing of his ex-wife, Nicole Brown Simpson, and her friend Ron Goldman. The two were stabbed to death on June 12, 1994, at her Los Angeles home. On Oct. 3, 1995, at the end of a televised trial that captivated the country, Simpson was acquitted of all criminal charges. He has always maintained his innocence.
ABC News' Matt Gutman and Emily Shapiro contributed to this report.