Last week marked the first day of school for many students around the nation, but for one transgender student in Achille, Oklahoma, back to school turned into a hellish ordeal when she used the girls' restroom.
Achille Public Schools had to cancel classes last Monday and Tuesday after a slew of online threats were made against a 12 year old transgender student, Maddie, who was returning for her third year, the school's superintendent, Rick Beene, told ABC News.
The school did not have a problem with fellow students threatening Maddie, Beene said, it was parents and other adults who were allegedly making the comments online.
Maddie's mother, Brandy Rose, said Maddie had been using the staff restroom for the past two years. However, starting school in a new building last Wednesday, she had not been told where the staff restroom was located, so she used the girls' bathroom instead.
When word spread, a couple, who are parents from the community, posted an angry message on a private Facebook group, Achille ISD Parent Group, which Beene said is not affiliated with the school in any official capacity.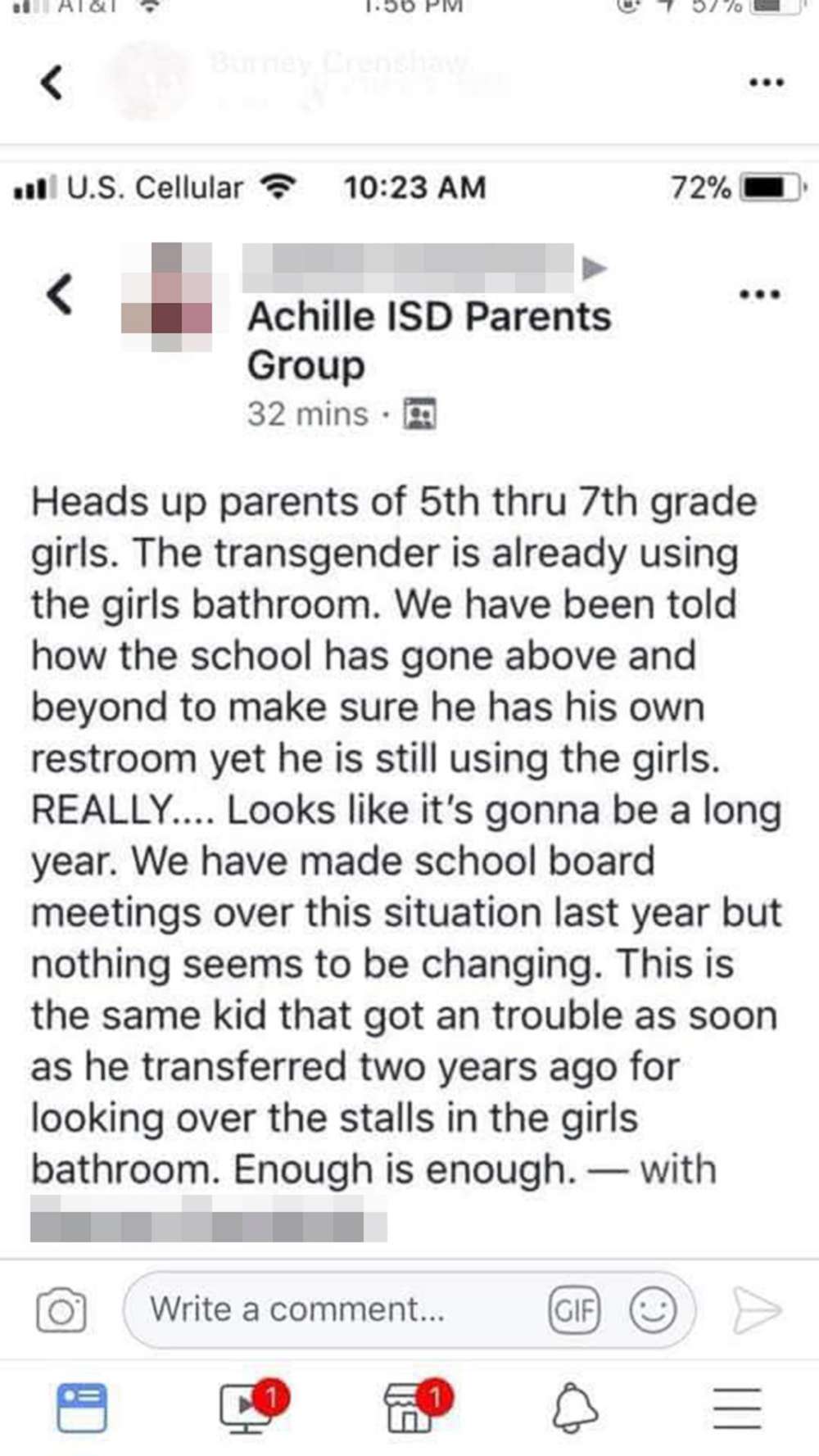 "Heads up parents of 5th thru 7th grade girls. The transgender is already using the girls' bathroom. We have been told how the school has gone above and beyond to make sure he has his own restroom yet he is still using the girls. Really... looks like it's gonna be a long year," the post read.
When the post became public it was flooded with negative comments from other adults who lived outside the district. Some referred to the student as "this thing," while others called for disturbing, violent actions.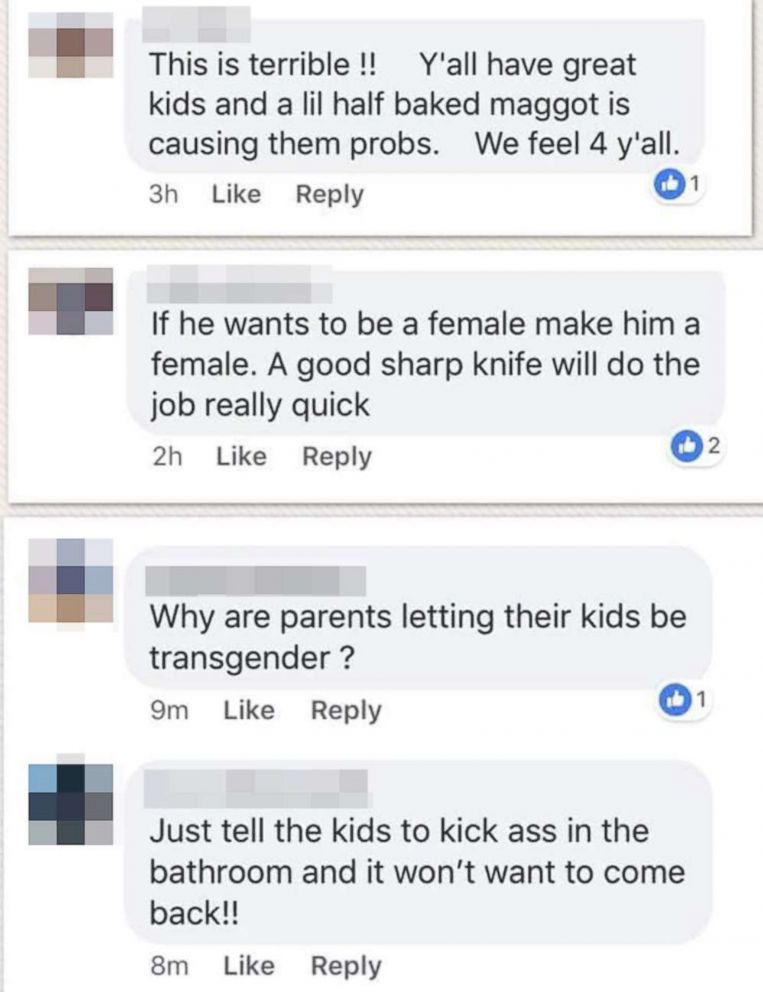 "If he wants to be a female make him a female. A good sharp knife will do the job really quick," one commented, while another encouraged kids to "kick ass in the bathroom," so "it won't want to come back."
The family moved from Texas to Oklahoma in the middle of fifth grade with hopes Maddie could get a fresh start, Rose told ABC News. Maddie started transitioning publicly when she was in the fourth grade, causing her to be bullied and physically assaulted when she was forced to use the boys' bathroom at her old school.
The bullying became so bad that other students would start telling Maddie and her siblings to commit suicide, Rose said. Maddie would also constantly get sent to the nurse's office whenever she wore feminine clothing or had nail polish on.
Her horrific treatment was a major part of the reason why they moved to a place where nobody knew her as a boy. "Obviously that backfired, now it's the adults not the kids," Rose added.
Normally this kind of behavior you'd expect from children, Rose said, but for adults to behave this way they really need to know this is not okay. She said she was mortified when she first found out about the posts, and sent her kids to sleep over at her relative's house as she was concerned people would show up at her home.
"Even when Maddie returned home she was too scared to sleep alone, she slept with us for a few nights," Rose said.
The post has since been deleted, but screen shots of the original post and follow up comments went viral online.
This wasn't the first time Maddie's family had issues with the couple who allegedly wrote the original post.
According to Rose, the father confronted Maddie a year and a half ago at a school dance, asking her to prove she's a girl. Then last Friday, there was an altercation when the same couple stopped Rose in the middle of the street and the father verbally assaulted Rose, leading Rose to get a restraining order against him, she said.
This incident was confirmed to ABC News by the Bryan County Sheriff.
ABC News has reached out to the couple, but received no response.
When asked if anything like this has happened before at Achille, Rose said only at the end of fifth grade when another student thought Maddie was peeking under the stall in the girls' restroom when in fact "she was just leaning very far forward because that's how she has to pee."
Prior to the online uproar, parents showed up at the school to confront Beene about the situation. The school was aware of some of the parents' feelings but "that anger rose a different level" during that meeting, prompting the staff to call law enforcement to deescalate the situation, Beene told ABC News.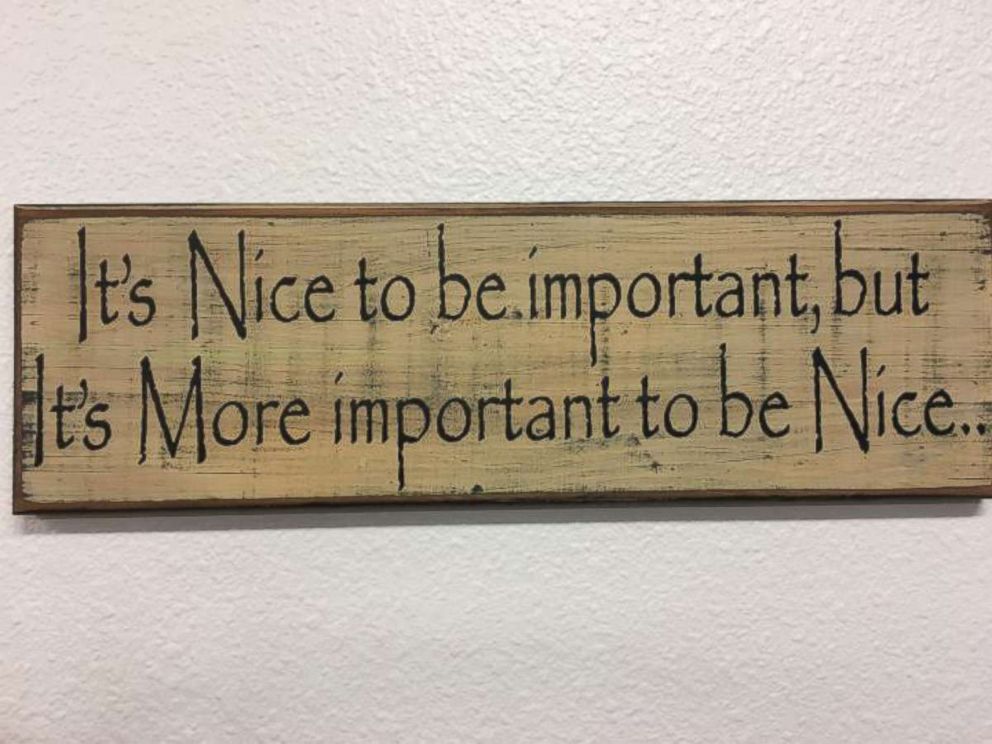 Social media became the outlet when parents became more frustrated with the school's lack of action following multiple complaints, Beene added. After they carried the original post and conversation to a more public page, it garnered enough attention that the Bryan County Sheriff suggested to cancel school as a safety precaution.
"To see her be afraid really broke my heart because Maddie's not afraid of stuff, she lets things roll off her shoulders," Rose said. She described her daughter as "an amazing kid, the most forgiving kid" she knows.
This incident comes just shortly before Vermont gubernatorial candidate, Christine Hallquist, made history by becoming the first transgender nominee for governor, demonstrating perhaps the two sides of an increasingly polarized country.
"While I was humbled and honored to receive the Democratic nomination in Vermont's gubernatorial primary, I am seriously troubled by the news of fellow parents threatening to harm a child - there's no excuse for this and I hope that my campaign for governor of Vermont will raise awareness of the justice that we must pursue in all marginalized communities. My heart goes out to this young woman and her family," Hallquist told ABC News in a statement.
Beene said the school has zero tolerance for bullying and their priority is to ensure all kids feel safe in their school environment, adding they will be having more training among their staff and try to educate the parents as well.
Wednesday, almost a week after the initial blow up, the school reopened and everything is back to normal, Bryan County Sheriff's Office said.
Police are still investigating to see if there's potential verbal assault charges that can be filed, officials said.
Rose insisted if there is a possibility they will "definitely pursue and press charges."
Maddie is doing much better now after speaking to the Sheriff's office and witnessing the love and support she's been receiving, Rose said.
There was a small gathering at the school earlier this week to show their support for Maddie, and someone from Facebook even made a GoFundMe page try to raise money to help the family move to a city where they have relatives.
"There's a lot more love than hate and that seems to help her to be less fearful now, she's excited to be back at school" Rose said.
This story is featured in Thursday's edition of the ABC News "Start Here" podcast.
"Start Here" is a daily ABC News podcast hosted by Brad Mielke featuring original reporting on stories that are driving the national conversation. Listen for FREE on the ABC News app, Apple Podcasts, TuneIn, Spotify, Stitcher, Google Play Music, or iHeartRadio. Ask Alexa: Play Start Here, or add the "Start Here" skill to your Flash Briefing.
Follow @StartHereABC on social for exclusive content, show updates and more: Twitter, Facebook, Instagram.