A newly installed bridge touted as a feat of engineering collapsed on Florida International University's campus Thursday, killing at least four people.
Aerial footage showed first responders tending to victims at the scene, searching for people in the rubble and loading others on stretchers into ambulances.
Firefighters pulled out at least four deceased people from the rubble, Miami-Dade Fire Chief Dave Downey said at an evening press conference. Recovery efforts were underway as of late Thursday, according to Miami-Dade County police.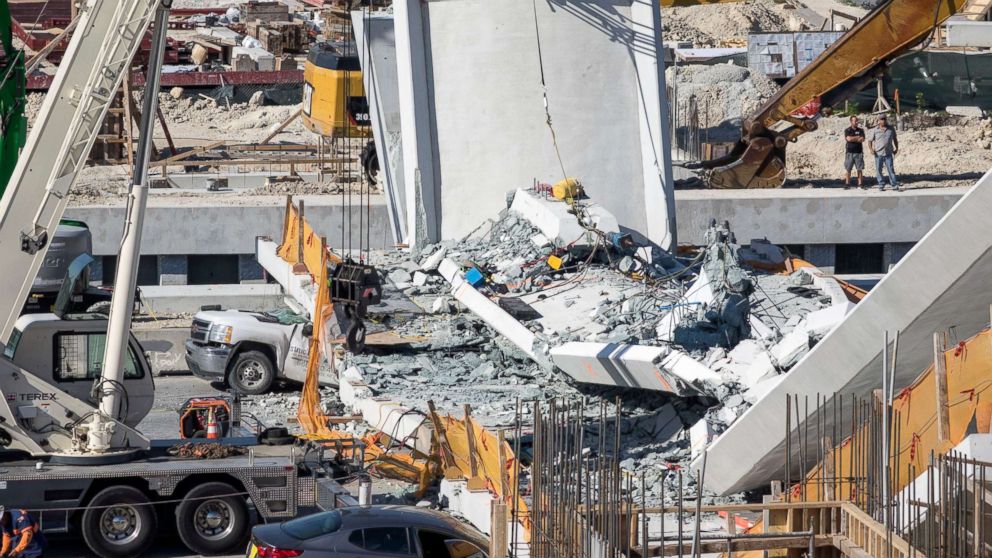 The collapse occurred at about 1:30 p.m., Miami-Dade Fire Rescue Division Chief Paul Estopinan said in a press conference Thursday afternoon.
As of 5 p.m., a minimum of eight vehicles were trapped under the rubble, Estopinan said. Some workers were on the bridge when it collapsed, but officials did not detail whether any of them were among the dead.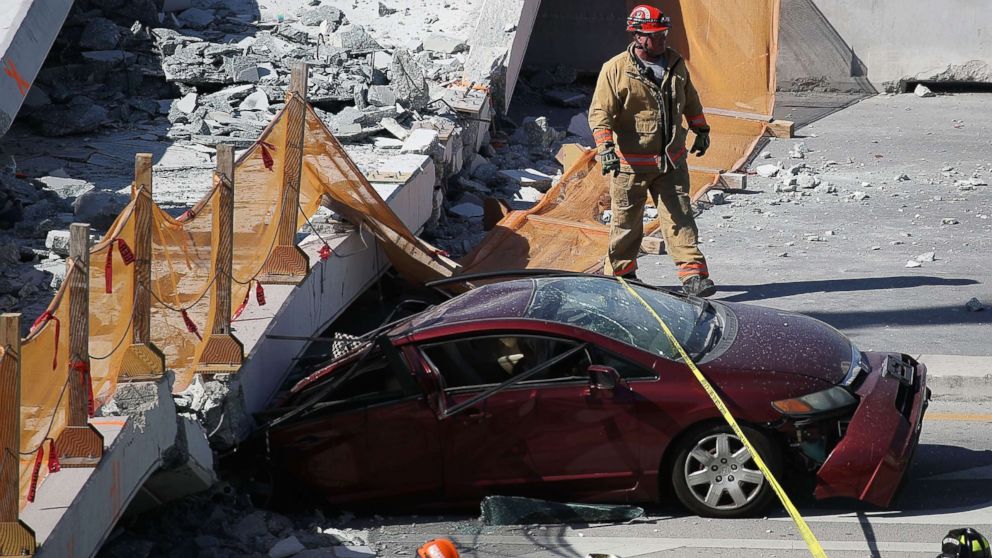 Ten injured victims, labeled as level-one trauma patients, were transported to nearby Kendall Regional Medical Center, program director Dr. Mark McKenney said in a press conference.
One of the patients was in cardiac arrest and another was in a coma with "severe extremity injuries" when they arrived, McKenney said. Those patients were in critical condition.
Eight other patients admitted to the hospital suffered from traumatic injuries such as bruises, abrasions and broken bones but were in stable condition, McKenney said.
The victims' ages ranged from 20 to 50 years old, McKenney said. Additional patients are believed to have been admitted to other area hospitals as well.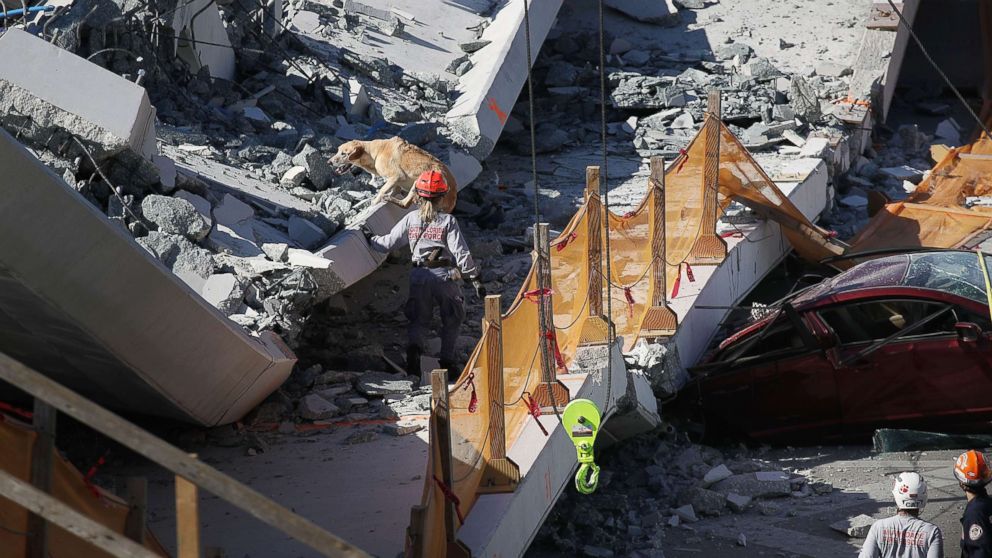 More than 100 firefighters were on the scene working to find victims with the help of cranes and search dogs, and officials were working to stabilize the bridge. Their efforts are expected to be "long and arduous last well into the night, officials said.
One first responder, who owns a business across the street from the scene, worked on a victim for 15 minutes to keep him or her alive, said Orlando Lopez, mayor of the city of Sweetwater.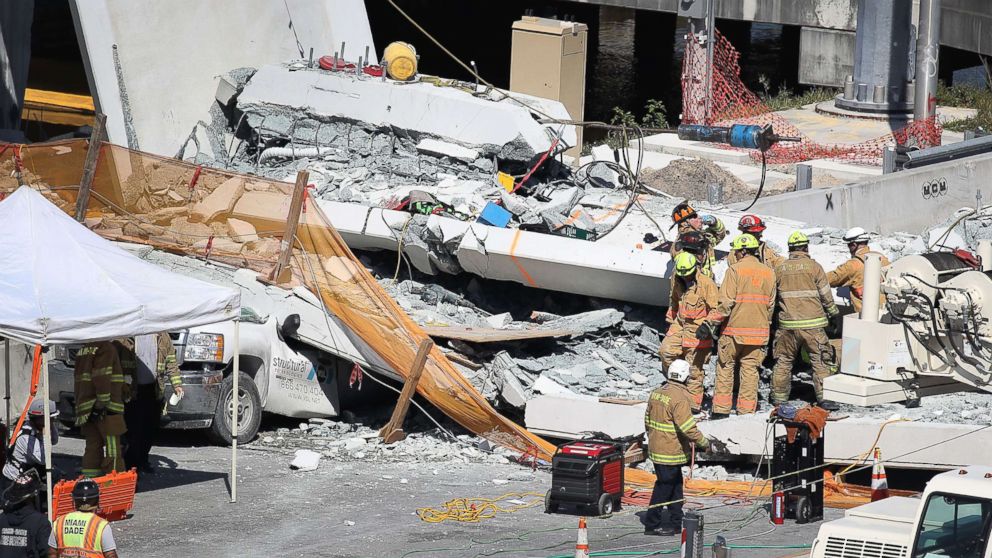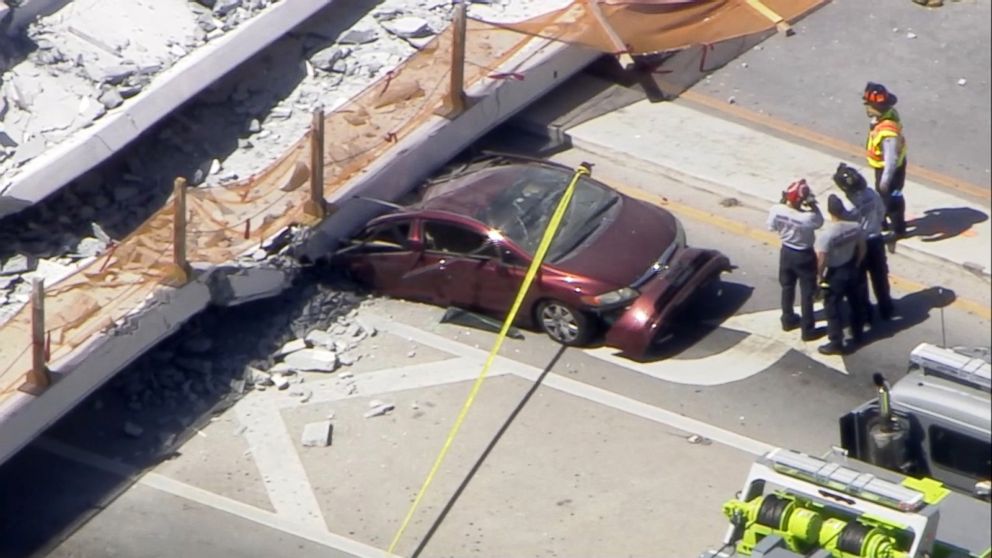 Witness Suzy Bermudez told ABC News that she was sitting in traffic when she saw the bridge collapse from the left and then toward the middle.
Bermudez then jumped out of her car to run and help before she saw car lights that were smashed so badly there were almost hitting the ground.
One woman survived because her car was smashed on the rear, so Bermudez and others were able to pull her out, she said.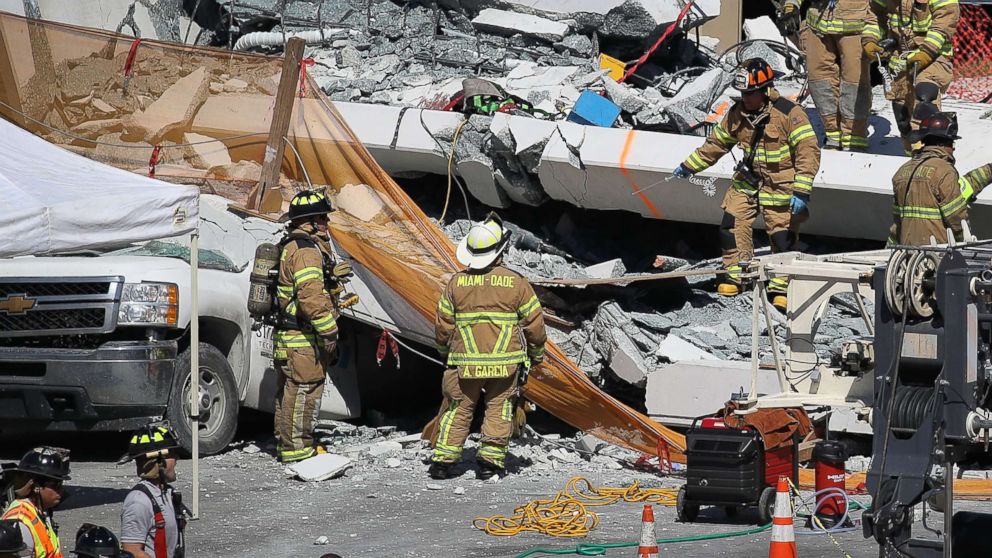 FIU student Aleia Stillwell told ABC News that she was in her car when the structure fell in front of her.
The collapse sounded like thunder as the pieces of the bridge fell, she said.
Stillwell thanked God that she was driving slower than usual, adding that it could have been her under that bridge.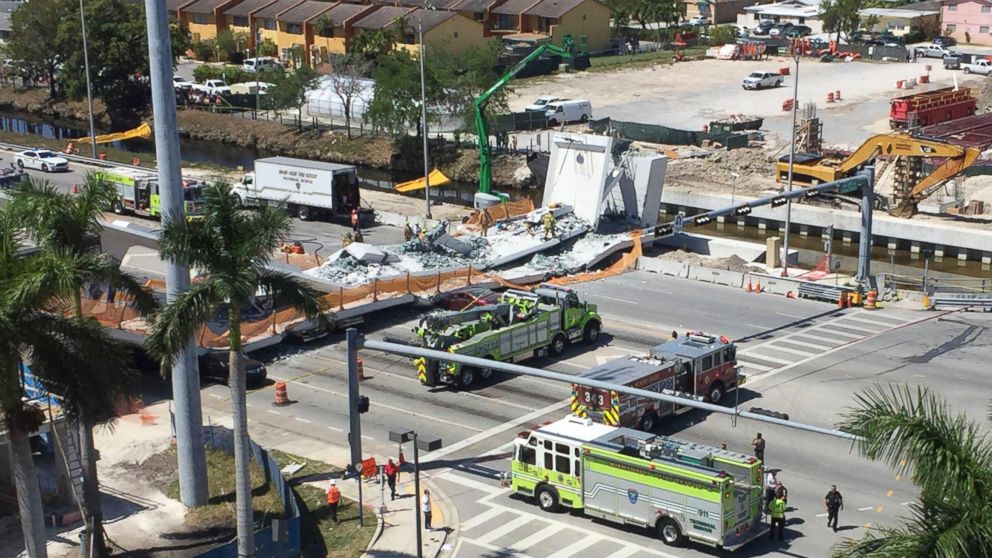 Another driver, Jonathan Munoz-Conway, described the scene to ABC News as surreal and terrifying, adding that he had just driven under the bridge about 30 seconds before it collapsed.
Munoz-Conway said that after he drove past, he turned right into a parking garage next to the bridge. He then heard a loud bang and assumed he had hit something with his car before he heard a girl scream and saw police officers rushing to the scene.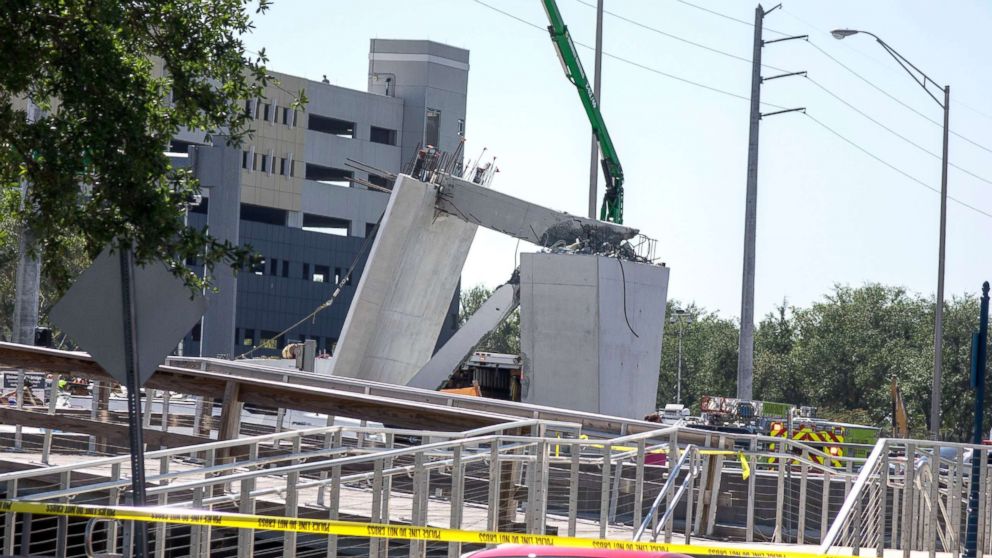 Witness Tiona Page told ABC News that the screams coming from the cars were "terrifying."
"As soon as I looked outside, I saw dust flying everywhere," she said. "I knew the bridge had collapsed." Bystanders rushed in to help those trapped, but struggled to dig through the rubble.
It was not immediately clear what led to the collapse.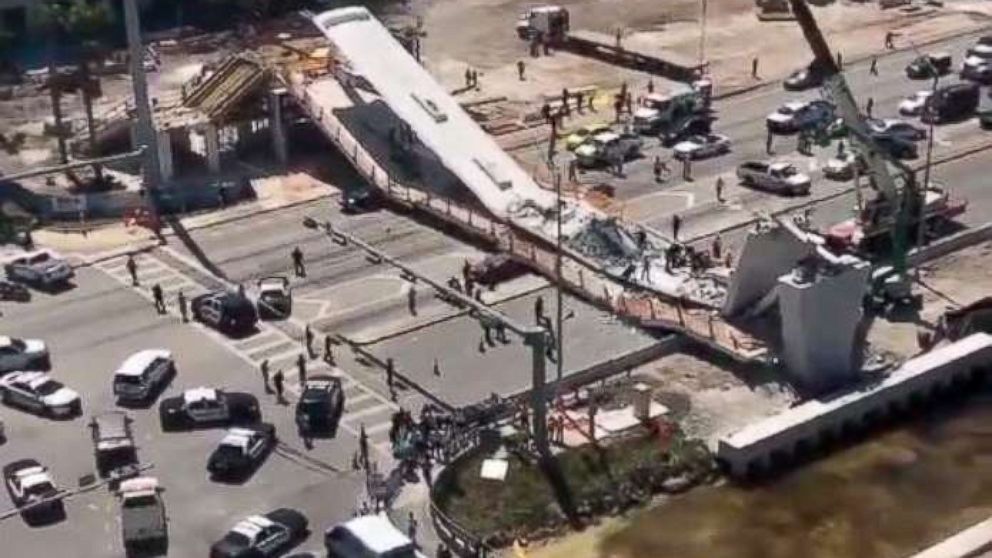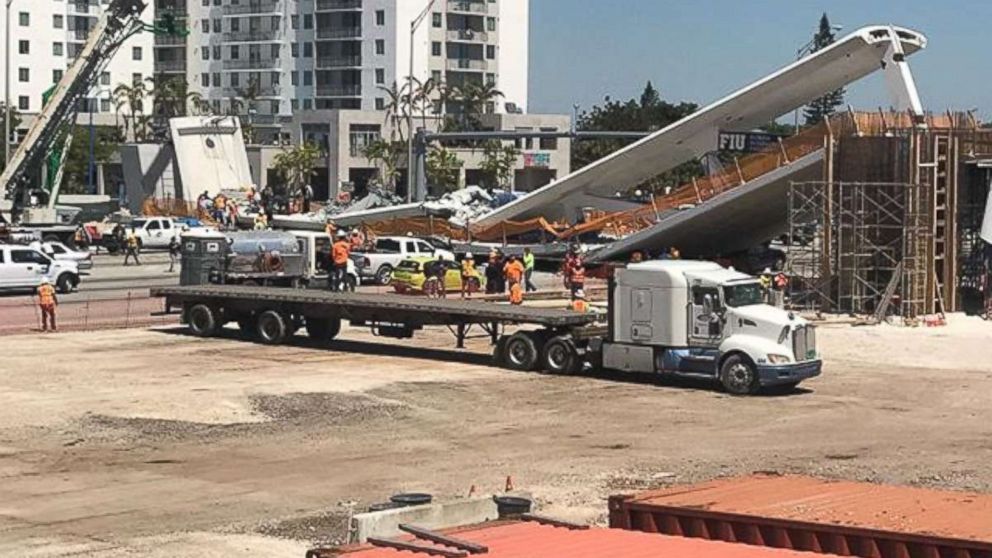 The street that the bridge stretches over, Southwest Eighth Street, is a busy seven-lane road that runs from downtown Miami all the way to the Everglades. Students and faculty had been calling for a bridge at the crossing of 8th Street and 109th Street, where pedestrians were required to cross through heavy traffic, The Miami Herald reported.
The bridge was supposed to be iconic for the city, Lopez said.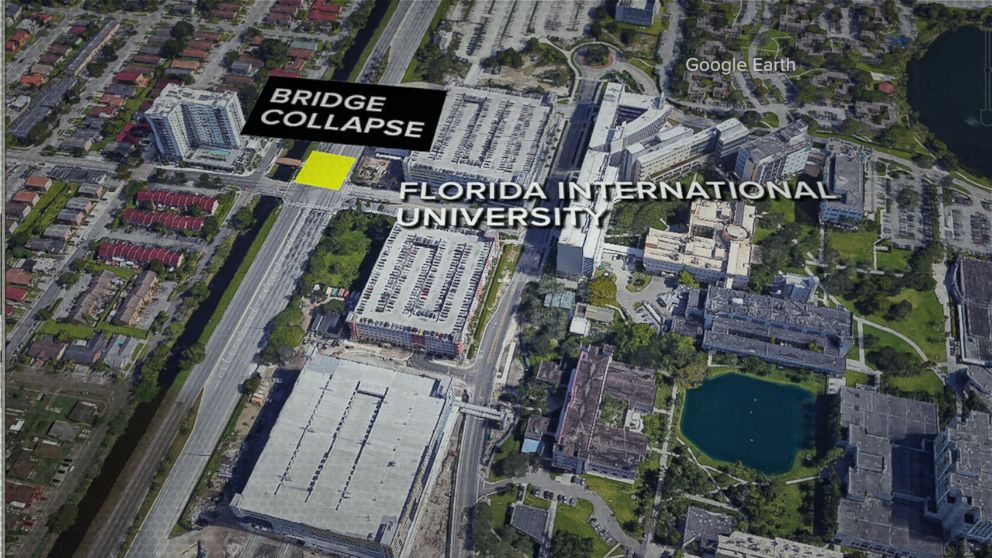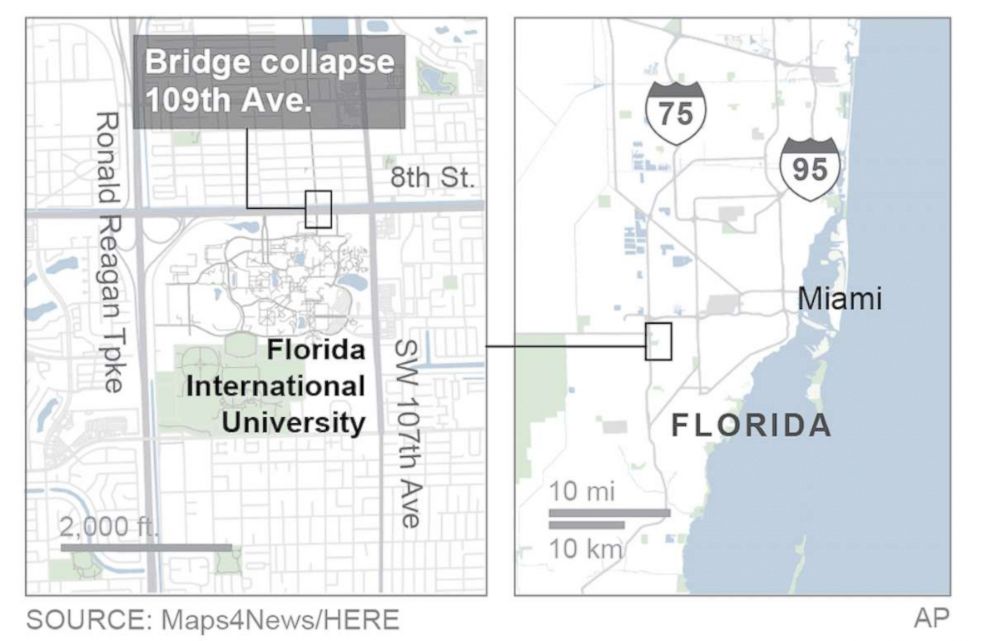 A section of 8th Street was closed over the weekend to allow workers to position the 174-foot bridge, according to PantherNOW, a university newspaper.
FIU touted the bridge to be one of the first of its kind, tweeting that it was swung into place on Saturday.
The company that moved the bridge into place, Barnhart Crane & Rigging, said in a statement that it was only contracted to move the bridge and was not involved with the design or construction of the bridge.
"Our scope of work was completed without incident and according to all technical requirements," the company said, adding that it would cooperate with investigators and offering condolences to the victims.
In a statement, the university said it was "shocked and saddened about the tragic events unfolding on campus."
FIU President Mark Rosenberg expressed his "immense sadness" toward the victims and their families and lamented over the failed project in a press conference Thursday evening.
"Five days ago we were celebrating that it was in the process of being erected," Rosenberg said of the bridge. "This bridge was about collaboration. It was about hope. It was about opportunity. It was about determination. The bridge was about strength and unity."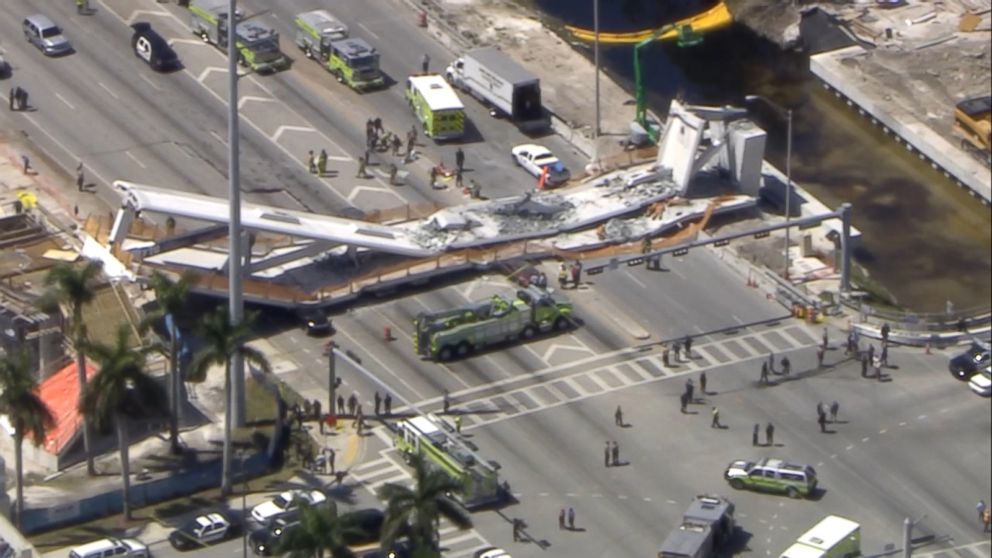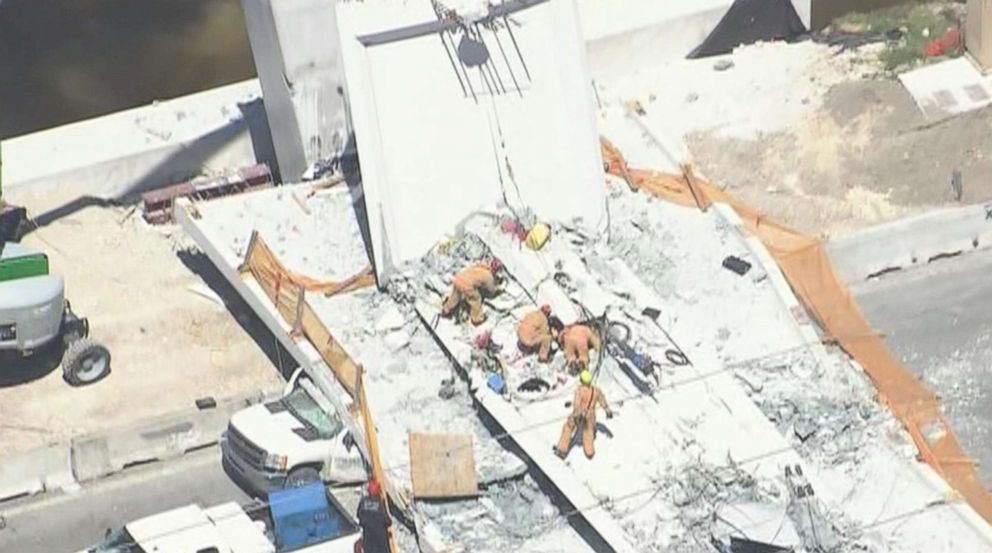 According to an FIU press release, the 174-foot, 950-ton bridge was just installed "in a few hours" using "accelerated bridge construction" methods, which the university said "reduces potential risks to workers, commuters, and pedestrians and minimizes traffic interruptions."
An engineering company performed a stress test on the bridge Thursday morning, Ralph Ventura, deputy city manager and chief of staff of Sweetwater, told ABC News. It is unclear whether the test was ongoing or had been completed before the collapse.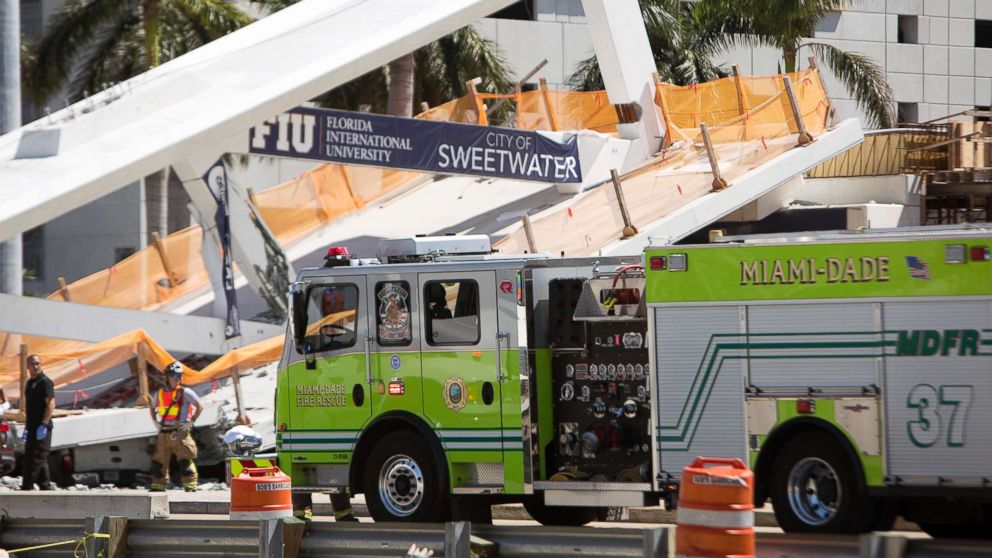 While there are "a number of reasons why a bridge might fail," that hazard is increased for any new engineering structure, Hiba Baroud, an assistant professor of civil and environmental engineering at Vanderbilt University, told ABC News.
"Any problem related to the beginning life of a structure is related to its quality, whereas the reliability of a structure is maintaining that quality over time," she said.
The NTSB is launching an investigation into the collapse. A team of 15 specialists -- including civil engineering, material science and survival factor experts -- is expected to arrive in Miami tonight and will begin their investigation in the morning, NTSB Chairman Robert Sumwalt said in a press conference.
When asked by a reporter whether he was aware of any issues with this type of bridge in the past, Sumwalt replied, "To my knowledge, no."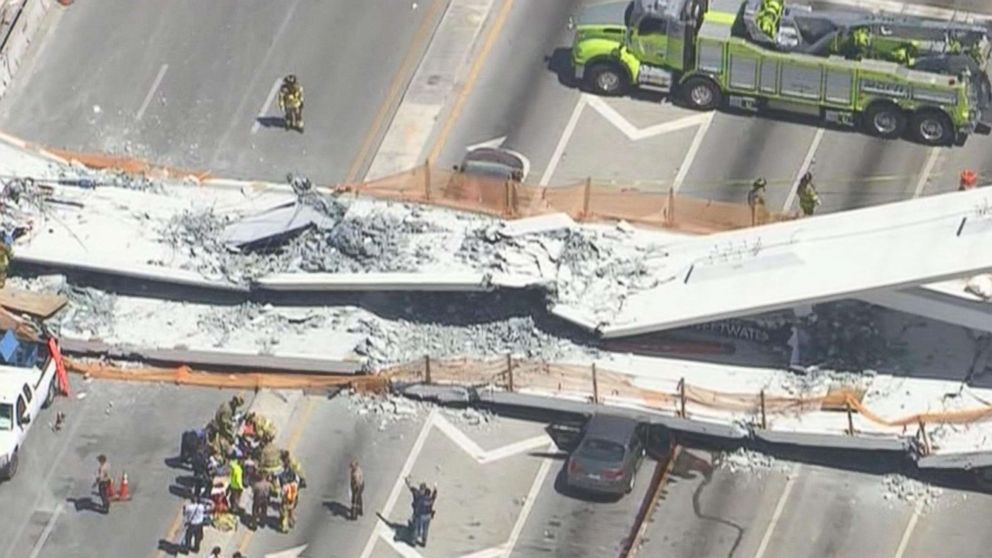 The bridge was not a Florida Department of Transportation project, and the designer, contractor and the construction engineering and inspection are all under contract with the university, the Florida DOT said.
Figg Engineering designed the project, and the Munilla Construction Management both built and installed the structure, according to the Florida DOT. Bolton Perez and Associates handled the construction engineering and inspection, the agency added.
An independent, secondary design check was required due to the unique characteristics of the design of the bridge, according to the Florida DOT. FIU was responsible for selecting the firm used to conduct the review, but the firm they chose, Louis Berger, was not pre-qualified by the Florida DOT for the service, "which is required under FIU's agreement with the state," the agency said.
ABC News has reached out to Louis Berger for comment.
Rosenberg told reporters that all of the contractors were vetted, especially since federal funds were used in the project. He added that he found the testing that was being done to be satisfactory.
Munilla Construction Management said in a statement that it will conduct a "full investigation to determine exactly what went wrong" and that it will cooperate with investigators on the scene "in every way."
"The new UniversityCity Bridge, which was under construction, experienced a catastrophic collapse causing injuries and loss of life," the company said. "MCM is a family business and we are all devastated and doing everything we can to assist."
Another company that took part in the bridge's construction, FIGG Engineering, said in a statement that it was "stunned" and that "nothing like this has ever happened before" in its 40-year history.
"Our deepest sympathies are with all those affected by this accident," the company said. "We will fully cooperate with every appropriate authority in reviewing what happened and why."
The bridge was scheduled to be fully completed in January 2019, PantherNOW reported. It cost a total of $14.2 million, largely funded by an $11.4 million grant from the U.S. Department of Transportation, a DOT spokesperson told ABC News.
Florida Senator Marco Rubio described the incident as "troubling and tragic," adding that it affects him personally because he has been an adjunct professor for the university for 10 years.
"Ironically, it's a project for safety" that was constructed after a student died last year crossing that intersection, Rubio said during an evening press conference.
Florida Gov. Rick Scott said in a press conference Thursday that he would "hold anybody accountable" culpable of wrongdoing during the conception and construction of the bridge.
Miami Mayor Carlos Gimenez released a statement saying he is "actively monitoring" the "tragic situation" from abroad. He has dispatched Deputy Mayor Maurice Kemp to the scene, he said.
"Our thoughts and prayers are with the people affected by this tragedy and with the first responders who are on the scene," Gimenez said.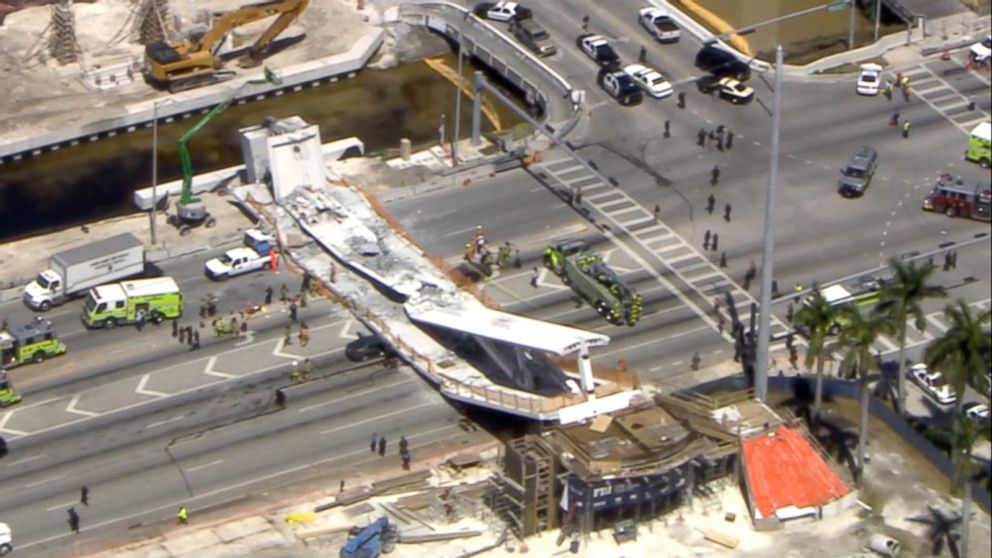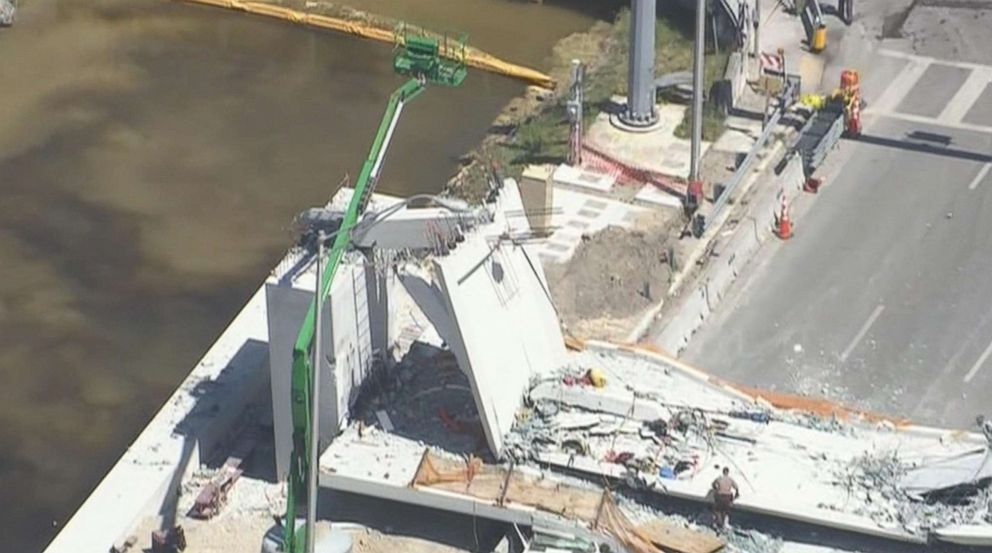 FIU is one of the 10 largest universities in the country, with nearly 54,000 students enrolled, according to its website.
ABC News' Jeff Cook, Erin Dooley, Rachel Katz, Meghan Keneally, Dominick Proto, Darren Reynolds, Emily Shapiro, Ben Stein and Daniel Steinberger contributed to this report.