Philadelphia mass shooting: What we know about the 5 victims
Two children were wounded in the shooting.
The oldest victim of Monday's mass shooting in Philadelphia was just days away from walking his daughter down the aisle at her wedding, while the youngest died shielding his best friend from the gunfire, family and friends said.
All five victims killed in Monday's mass shooting in the Kingsessing neighborhood of Philadelphia were identified by police, who said they were randomly targeted by a masked stranger wielding an AR-15 rifle and a 9mm handgun.
They were all out on a warm night enjoying the extended Fourth of July holiday when the horrific rampage unfolded without warning, police said.
The suspect was wearing a bulletproof vest and had multiple rounds of ammunition when he opened fire. In addition to those killed, two children, a 2-year-old and a 13-year-old, were wounded in the attack. The suspect was arrested following a brief chase and has been charged with five counts of murder and other crimes.
Here's what we know about the victims so far:
Joseph Wamah, Jr., 31
The grief-stricken sisters of 31-year-old Joseph Wamah, Jr., said they are struggling to make sense of why their brother -- whom they described as a "kind soul" -- was fatally shot in the attack.
"It's hard to wake up from this," Josephine Wamah said at a news conference on Wednesday. "I don't understand how someone could just do that to my brother."
She described her twin brother as artistic and someone who was "gorgeous inside and out." He loved the "Creed" films, his sisters said.
"I'm just really pissed off. Why did you have to do this to my brother?" Josephine Wamah said. "You took an angel away from us."
Lashyd Merritt, 20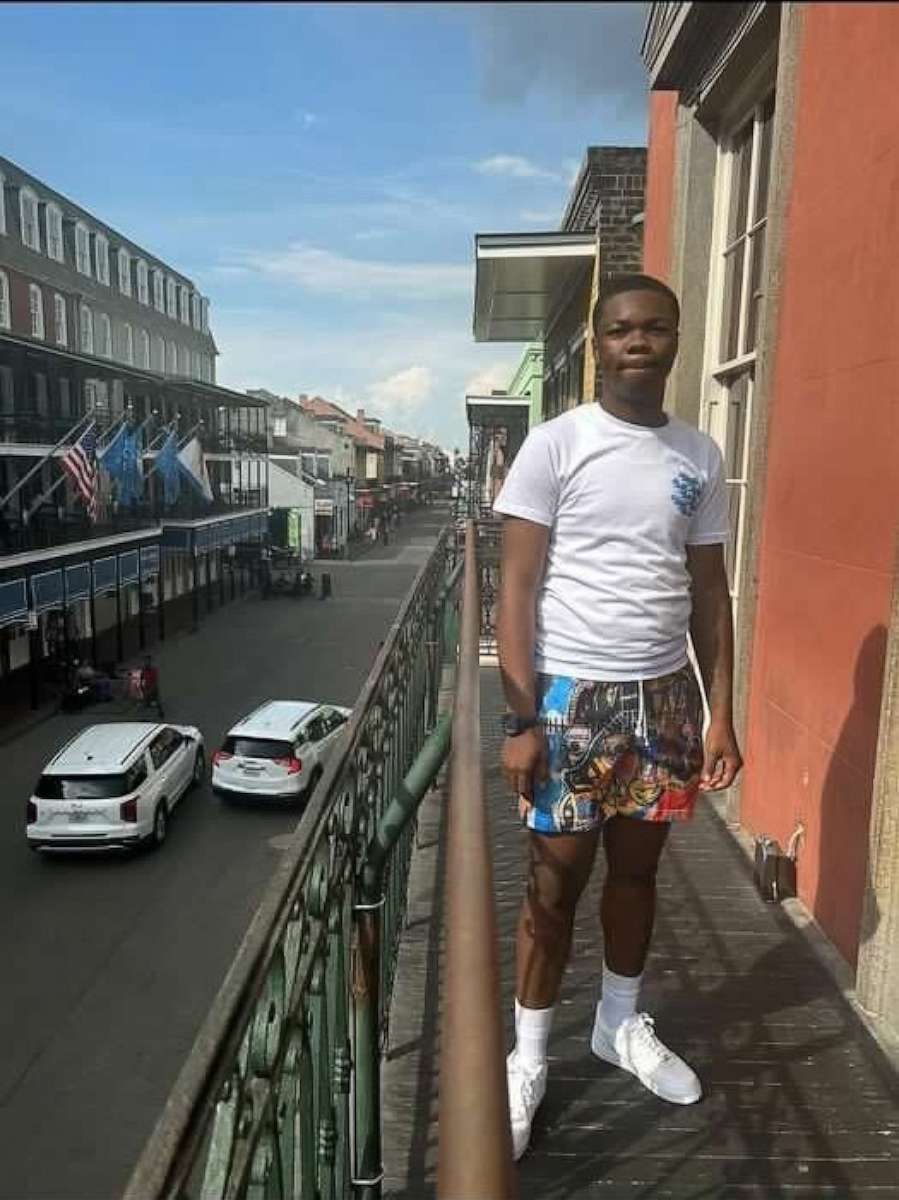 Marie Merritt said her son, 20-year-old Lashyd Merritt, was doing what he normally did on the day he was killed -- going to the store for a snack during a break from work.
Merritt told Philadelphia ABC station WPVI that her son worked from home and was headed to a store across the street from their residence when he was shot dead.
"We didn't know he left," Merritt said. "My nephew ran upstairs. We kept calling his phone. It tracked to the store."
Merritt said Lashyd was the youngest of five siblings and described him as a happy person who loved his family and that she was waiting for him to marry his girlfriend.
"All the stuff that goes on in Philadelphia, he wasn't a part of that. The violence, he wasn't part of that," Marie Merritt said. "So young and so bright."
She added, "I feel him saying, 'Why me? Why me? Why me?' I laid in the bed and I saw his face and he said, 'Mom, what happened? What about my girl? What about you? Mom, what happened?'" Merritt said.
Merritt said her son's accused killer needs "to rot in jail." She said her message for the alleged assailant is "you didn't have to do what you did."
"You took my son. You took my baby. Whatever thoughts, whatever was going on in your head, you should've gotten help. You should leave people alone and get some help," she said.
Daujan Brown, 15
Fifteen-year-old Daujan Brown died a hero during Monday's shooting, the father of a boy he died protecting told "Good Morning America."
Rafiq Fitzgerald Sr. said he will be forever grateful that Brown was there on Monday to shield his son from the barrage of bullets police said were fired indiscriminately at victims by a masked gunman wielding an AR-15 ghost gun.
Fitzgerald said his 13-year-old son, who suffered gunshot wounds to his legs in the massacre, was a constant companion to Brown, saying the two boys stuck together "like glue."
"As a parent, you don't want your child around certain people. [Brown] wasn't one of those types of kids. In my eyes, I'm glad I never kept him away from my son because he was a hero, if you asked me. He died trying to protect his best friend," Fitzgerald said. "In my eyes, Daujaun is like Superman. I'm so grateful for him."
Brown's mother, Nyshyia Thomas, released a statement, saying, "Daujan always had a big heart. He was loved by everybody. There was no way you could meet him without falling in love with him."
Tyrique Glasgow, founder of the Young Chances Foundation, a Philidelphia youth organization, told WPVI that he was a mentor to Brown and was not surprised to hear the teenager sacrificed his life to protect a friend.
"When he seen his brother in distress was shot, he went back to help," Glasgow said. "That's what we ask the community to understand, that when we see our other brothers and community members down the risk the going back to saving one. If we all had that approach, I think our community will be in a better position than it is."
Dymir Stanton, 29
Yvonne Alexander said Dymir Stanton was a close friend who did not deserve to died at the hands of a mass shooter.
Alexander said she had known Stanton since he was a little boy and will likely never understand the killer's motive.
"We're all hurt and we're just trying to find out what motivated this young man to do what he did. He damaged a lot of people," said Alexander told WPVI of the alleged killer.
Ralph Moralis, 59
At 59, Ralph Moralis was the oldest victim who died in Monday's shooting, less than a week before he was set to walk his daughter down the wedding aisle, relatives said.
"It hurts and I'm not going to sugarcoat it," Moralis' cousin, Tyrique Glasgow, founder of the Philadelphia youth organization Young Chances Foundation, told WPVI. "He was the one that regardless of any family function had that smile."
Another family member, Karen Gleason, said Moralis was just days away from walking his daughter down the aisle at other wedding.
"His daughter gets married Sunday. She's grieving, trying to plan her wedding, missing her father walking her down the aisle and having to do a funeral," Gleason said.
ABC News' Morgan Winsor, Meredith Deliso and Christopher Donato contributed to this report.