Philadelphia mass shooting: Few answers in apparently random attack as suspect charged with murder
Kimbrady Carriker was arraigned Wednesday on multiple counts of murder.
Investigators and the family members of victims are searching for answers as to why someone wearing a ski mask and body armor went on an apparently random shooting spree in Philadelphia on the eve of the Fourth of July, gunning down five people.
"This armed and armored individual wreaked havoc, firing with a rifle at their victims, seemingly at random," Philadelphia Police Commissioner Danielle Outlaw said during a press conference Tuesday.
The Philadelphia Police Department received 911 calls about a shooting near Chester Street in the city's Kingsessing neighborhood on Monday night just before 8:30 p.m. ET. Gunfire was heard in several areas near the first location during the shooting, according to police.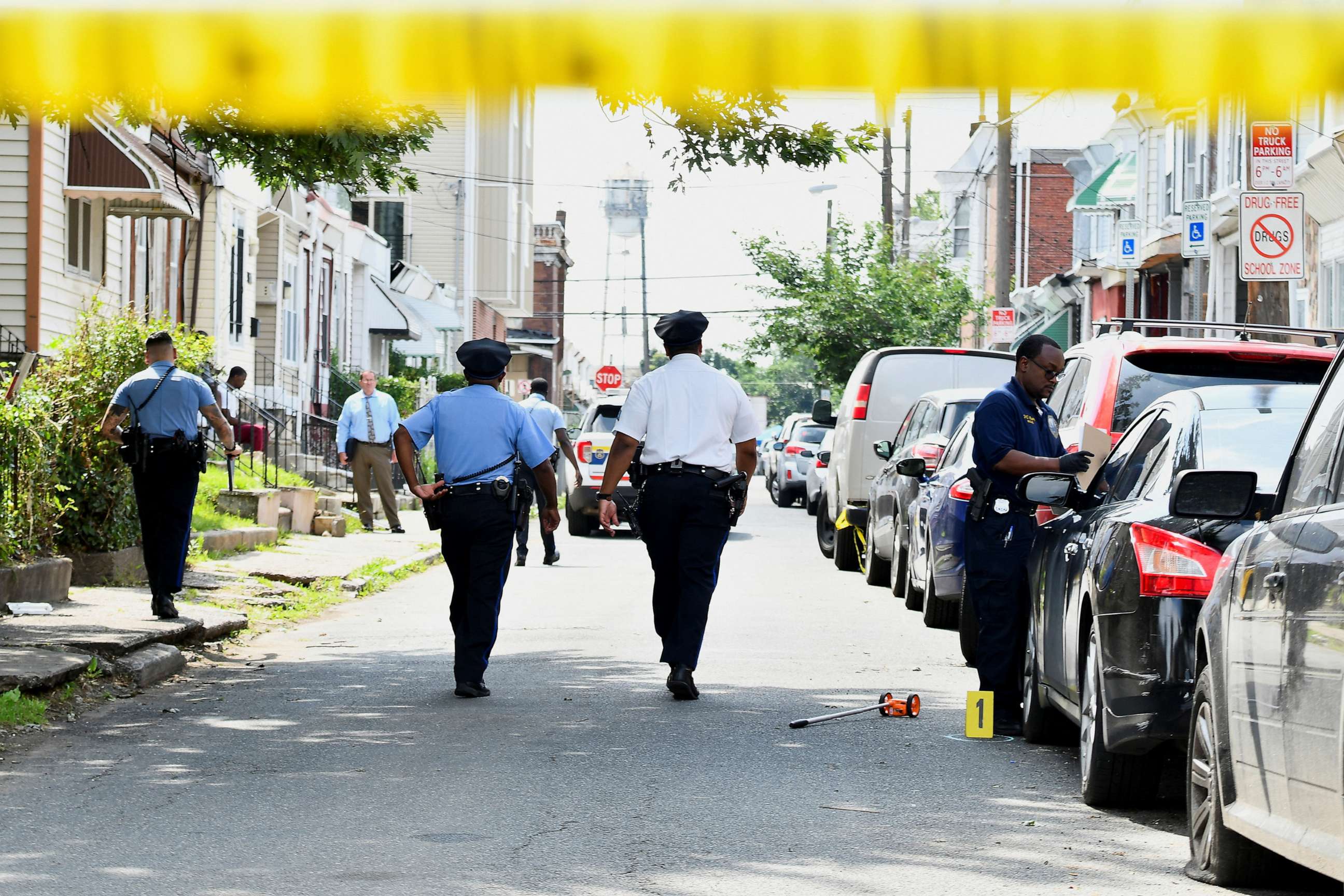 Five people died after being shot multiple times, according to police, who identified the victims as Daujan Brown, 15; Lashyd Merritt, 20; Ralph Moralis, 59; Dymir Stanton, 29; and Joseph Wamah, Jr., 31.
The suspect -- identified by police as Kimbrady Carriker, 40, of Philadelphia -- was arraigned Wednesday morning on multiple counts of murder and attempted murder, as well as aggravated assault, reckless endangerment, carrying a firearm without a license and other charges. The suspect is being held without bail and a preliminary hearing has been scheduled for July 24, court records show.
Law enforcement sources told ABC News that disturbing online messages believed to have been posted by the suspect prior to the shooting included statements expressing support for guns, animosity toward liberals and questions about evil spirits. The suspect's social media accounts have been suspended but the images are part of the ongoing investigation, according to the sources.
Philadelphia District Attorney Larry Krasner did not comment Wednesday on any potential motive in what he also described as "essentially a random shooting."
"It was a shooting of people that the defendant did not know, and it was a shooting of people who in many cases did not even know each other despite being from the same neighborhood," he said.
Kingsessing resident Theo James said he heard a young man screaming for "help" before realizing there were multiple gunshot victims.
"After I helped him out, I saw another person down the street, discovered them and helped them out. And one more person," James told WPVI.
Surveillance video obtained by Philadelphia ABC station WPVI appears to show a person shooting at a nearby intersection.
Lashyd Merritt's mother, Marie Merritt, said her son was headed to a store across the street from their home when he was shot dead, telling WPVI, "It's like I feel him saying, 'Why me, why me, why me?'"
Two unidentified children, as young as 2, were injured during the shooting while traveling in a car with their mother. One suffered an eye injury from shattered glass and the other was shot in the leg, according to police.
Police said responding officers came under fire as they pursued the suspect that night, arresting Carriker in a rear alley of Frazier Street after a brief chase on foot. The officers did not return fire and Carriker ultimately surrendered, police said.
Carriker allegedly used an AR-15-style rifle, which was recovered by police. A 9 mm handgun, magazines and a police scanner were also found on the individual, according to police.
Assistant District Attorney Robert Wainwright, who is prosecuting the case, commended the quick police action in detaining the suspect.
"The fact that they cornered this defendant before he could take more lives is absolutely remarkable and it showed incredible bravery by the police officers," he said during a press briefing on Wednesday.
Krasner called the mass shooting "nightmarish" and said that his office is "100% committed to the vigorous prosecution" of the suspect.
"We will do justice in court with this case," he said during the briefing, held at Salt & Light Church in Kingsessing.
The sisters of Wamah, one of the victims who was killed in the shooting, struggled to make sense of the massacre in emotional, grief-stricken comments during the press event.
"It's hard to wake up from this," Josephine Wamah said. "I don't understand how someone could just do that to my brother."
She described her twin brother as a "kind soul" who was artistic and "gorgeous inside and out." He loved the "Creed" films, his sisters said.
"I'm just really pissed off. Why did you have to do this to my brother?" Josephine Wamah said. "You took an angel away from us."
Joseph Wamah Jr.'s sisters express their grief for their brother who was killed in the Philadelphia mass shooting.
ABC News' Victoria Arancio, Trevor Ault, Joshua Hoyos, Aaron Katersky, Josh Margolin and Jason Volack contributed to this report.