Only in these times would a federal emergency alert test be so divisive.
At 2:18 p.m. EDT on Wednesday, almost every smartphone in the country sounded an alarm with a text: "Presidential Alert. THIS IS A TEST of the National Wireless Emergency Alert System. No action is needed."
Despite the name, President Donald Trump wasn't personally behind the alert. It was the Federal Emergency Management Agency, the same federal agency that responds to hurricanes and wildfires. FEMA was testing to see if it could reach Americans through their wireless phones in advance of major disasters, such as an impending terrorist attack.
Most people are familiar with local weather alerts or even the occasional AMBER flashes of a child who has gone missing and is in imminent danger.
But perhaps because this test was identified as a "presidential alert" and there was no way to opt out, some Americans wondered whether Trump – who likes to tweet – had set up his very own system to push messages into people's pocket phones. And predictably, it became fodder for Twitter.
"This is the beginning of something very bad," tweeted Amber Ruffin, a comedian and writer for "Late Night with Seth Meyers." Comedian Ricky Gervais joked: "Can't wait for the first ever presidential alert saying that SNL sucks."
But FEMA officials have said the alert system will only be used for serious disasters. In other words, it's highly unlikely you'll hear it again any time soon. The agency said that the alert seemed to go as planned, issuing a statement that "All wireless provider gateways acknowledged receipt of the test message."
On Twitter, FEMA assured people not to be worried if they didn't get an alert. "We test so when it matters most things will go smoothly. We'll be working with mobile providers and (the Federal Communications Commission) to determine what improvements need to be made," FEMA wrote.
A last-minute lawsuit was filed in New York wanting FEMA -- and Trump – to abandon the program because it "is tantamount to hijacking private property for the purpose of planting a government-controlled loudspeaker in the home and on the person of every American." A federal judge denied the request for an injunction Wednesday morning.
Politics aside, the test seemed to work for the most part. Some people reported that they didn't get the alert while their phone was off, but that it came through when they powered back on. Others said their alert was slightly delayed, possibly a result of connectivity issues related to their individual device.
FEMA officials say they expected the alert to reach 75 percent of wireless-enabled devices, including cell phones and smartwatches. The alert was not supposed to interrupt a phone call or an active data session, although officials said they are working to make sure the information reaches more people. Even if cell phone users have opted out of other emergency alerts for imminent weather threats or AMBER alerts they should still receive the national-level alert.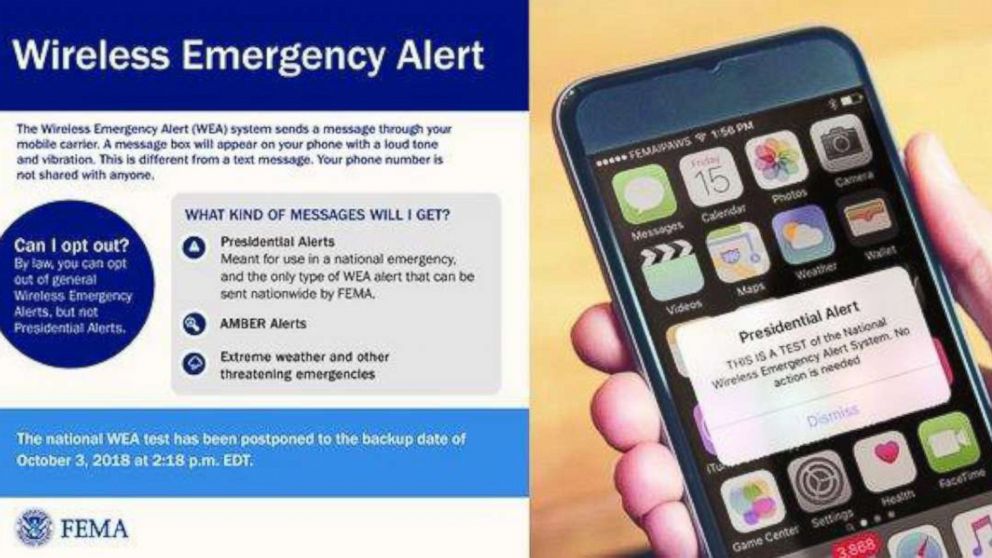 ABC News' Aaron Katersky contributed to this report.