— -- A Michigan police department said it will publicly apologize to one of Larry Nassar's victims for not believing her when she filed a 2004 complaint against the disgraced USA Gymnastics physician.
The Meridian Township Police Department invited members of the media to a public apology on Thursday over its handling of a 2004 police report filed by then-17-year-old Brianne Randall-Gay.
"Township Manager Frank Walsh and Township Chief of Police David Hall will issue a public statement and apology on the handling of the 2004 police report in reference to Ms. Brianne Randall-Gay," the department said in a news release Wednesday. "Ms. Randall-Gay will be participating and providing comments."
The township also said it would announce new initiatives and training regarding criminal sexual conduct investigations.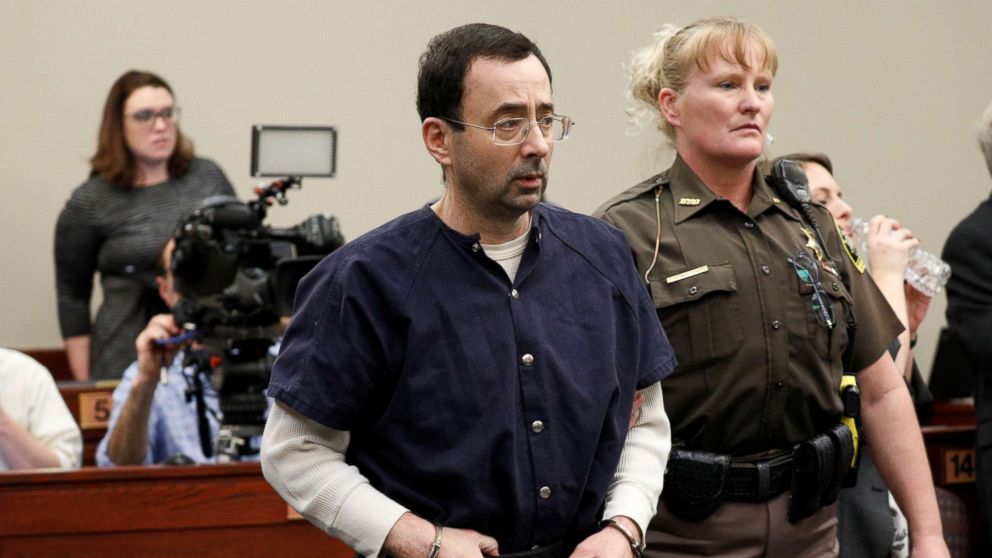 Randall-Gay claimed Nassar touched her inappropriately for several minutes during a scoliosis examination, according to the 2004 police report, which the department made public Wednesday. Randall-Gay also spoke at Nassar's sentencing hearing last week when she claimed police believed Nassar over her and dropped the case.
"You had audacity to tell [police] I misunderstood the treatment because I was not comfortable with my body," Randall-Day told Nassar at the hearing. "Sadly, they took your word instead of mine."
More than 100 women spoke at the week-long hearing alleging he sexually assaulted them under the guise of medical treatment.
Nassar, 54, was sentenced to 40 to 175 years in prison last week after he pleaded guilty to seven counts of first-degree criminal sexual conduct involving girls who were 15 years old or younger.
Victim impact statements were read in court by dozens of women who accused Nassar of sexual abuse.
In a separate case, the disgraced doctor appeared in Eaton County Circuit Court in Charlotte, Michigan, on Wednesday for a sentencing hearing after he pleaded guilty to three counts of felony sexual misconduct stemming from assaults on girls, including one under the age of 13.
Nassar was also sentenced to 60 years in federal prison in December 2017 after pleading guilty to possession of child pornography.