— -- Rep. Steve Scalise, R-La., the House majority whip, is in critical condition, hospital officials said Wednesday evening, after he and three others were shot by a gunman this morning while members of Congress were practicing for a charity baseball game in Alexandria, Virginia.
Officers returned fire at the suspect, who has since died, authorities said.
In addition to Scalise, a lobbyist, a congressional staffer and a Capitol Police officer were also shot.
And an additional two individuals — a congressman and a Capitol Police officer — sustained secondary injuries.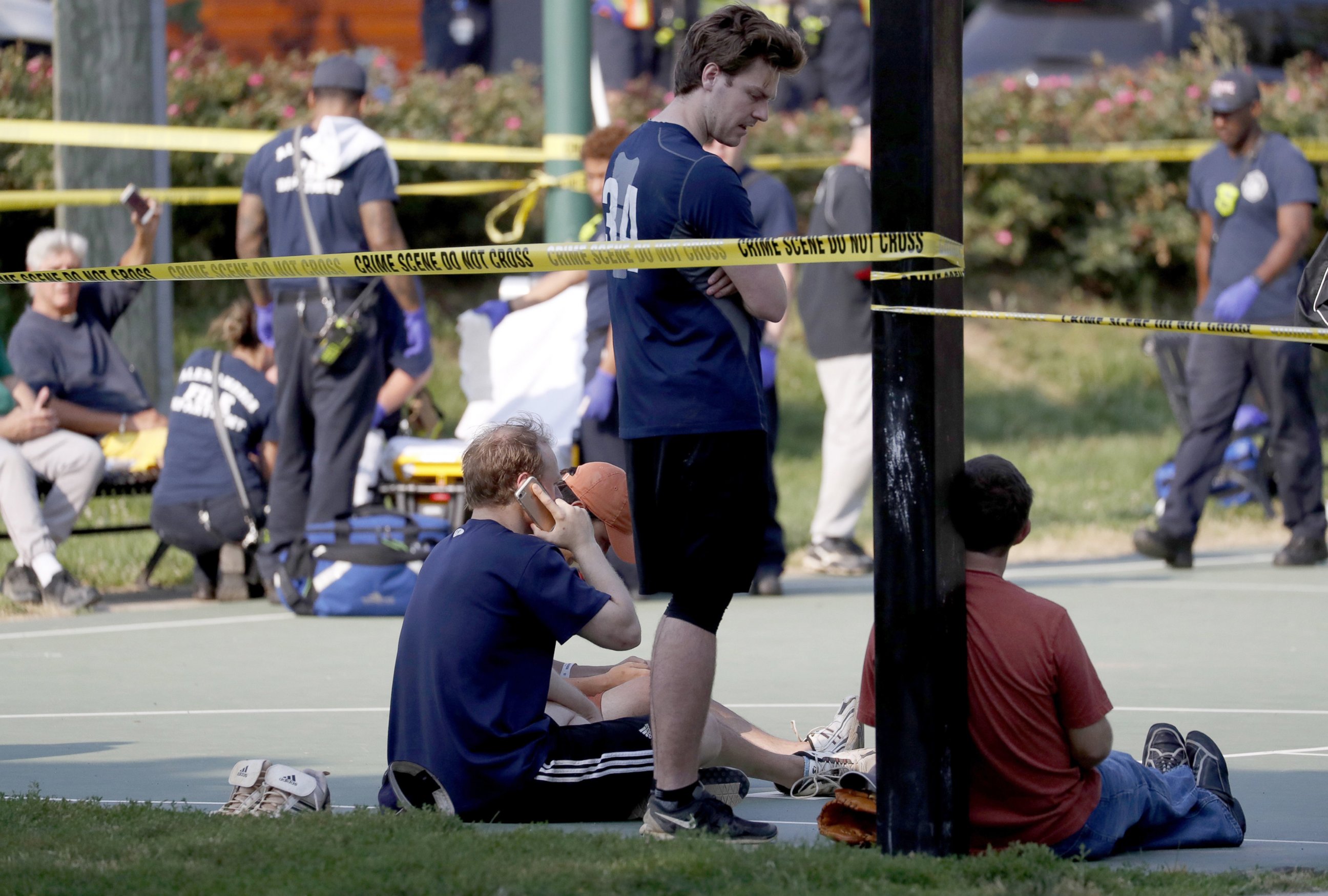 Scalise's office said he was shot in the hip and underwent surgery.
"Prior to entering surgery, the whip was in good spirits and spoke to his wife by phone," his office said in a statement. "He is grateful for the brave actions of U.S. Capitol Police, first responders and colleagues. We ask that you keep the whip and others harmed in this incident in your thoughts and prayers."
MedStar Washington Hospital Center, the facility treating Scalise, issued a statement updating the public on his condition Wednesday evening.
"Congressman Steve Scalise sustained a single rifle shot to the left hip. The bullet traveled across his pelvis, fracturing bones, injuring internal organs, and causing severe bleeding," the statement reads. "He underwent immediate surgery, and an additional procedure to stop bleeding. He has received multiple units of blood transfusion. His condition is critical, and he will require additional operations."
President Donald Trump and first lady Melania Trump arrived at the hospital with flowers Wednesday evening where Trump sat by Scalise's bedside and met with his wife Jennifer, as well as Capitol Police officer Crystal Griner, who was also wounded in the attack, and her wife.
Trump tweeted, "Just left hospital. Rep. Steve Scalise, one of the truly great people, is in very tough shape - but he is a real fighter. Pray for Steve!"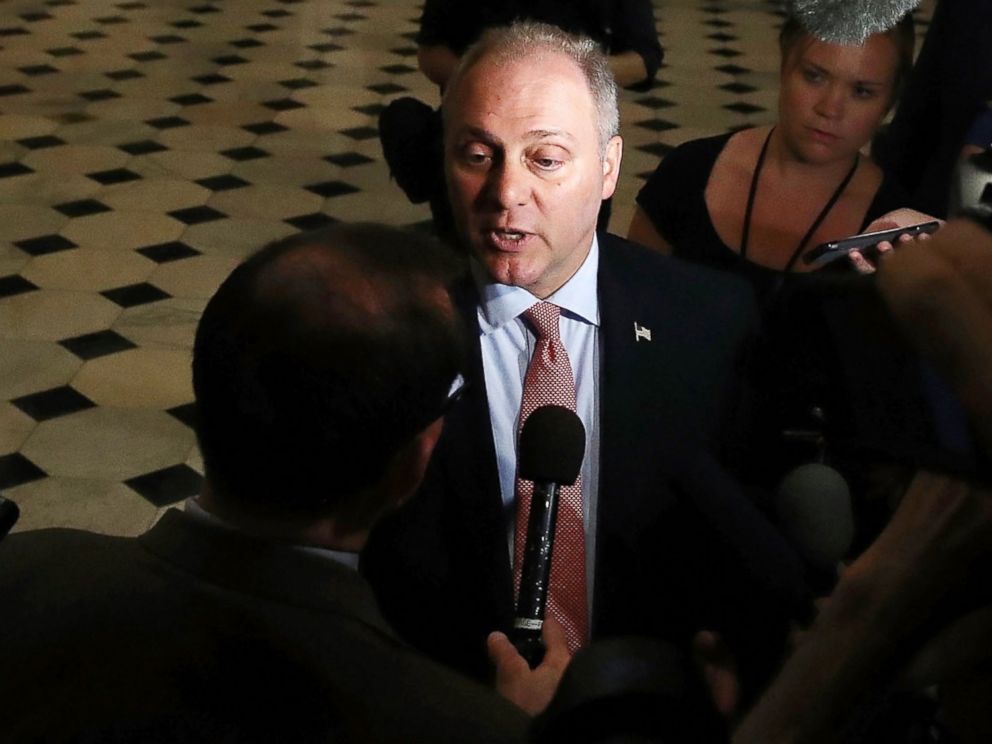 Law enforcement identified the suspected shooter as James Hodgkinson, 66, of Belleville, Illinois. His wife told ABC News, however, that he had been living in Alexandria for the past two months, but he had not been working and had been expected to return to Illinois in the coming days. FBI Special Agent in Charge Tim Slater said at a press conference this afternoon that Hodgkinson had been living out of a white cargo van in Alexandria.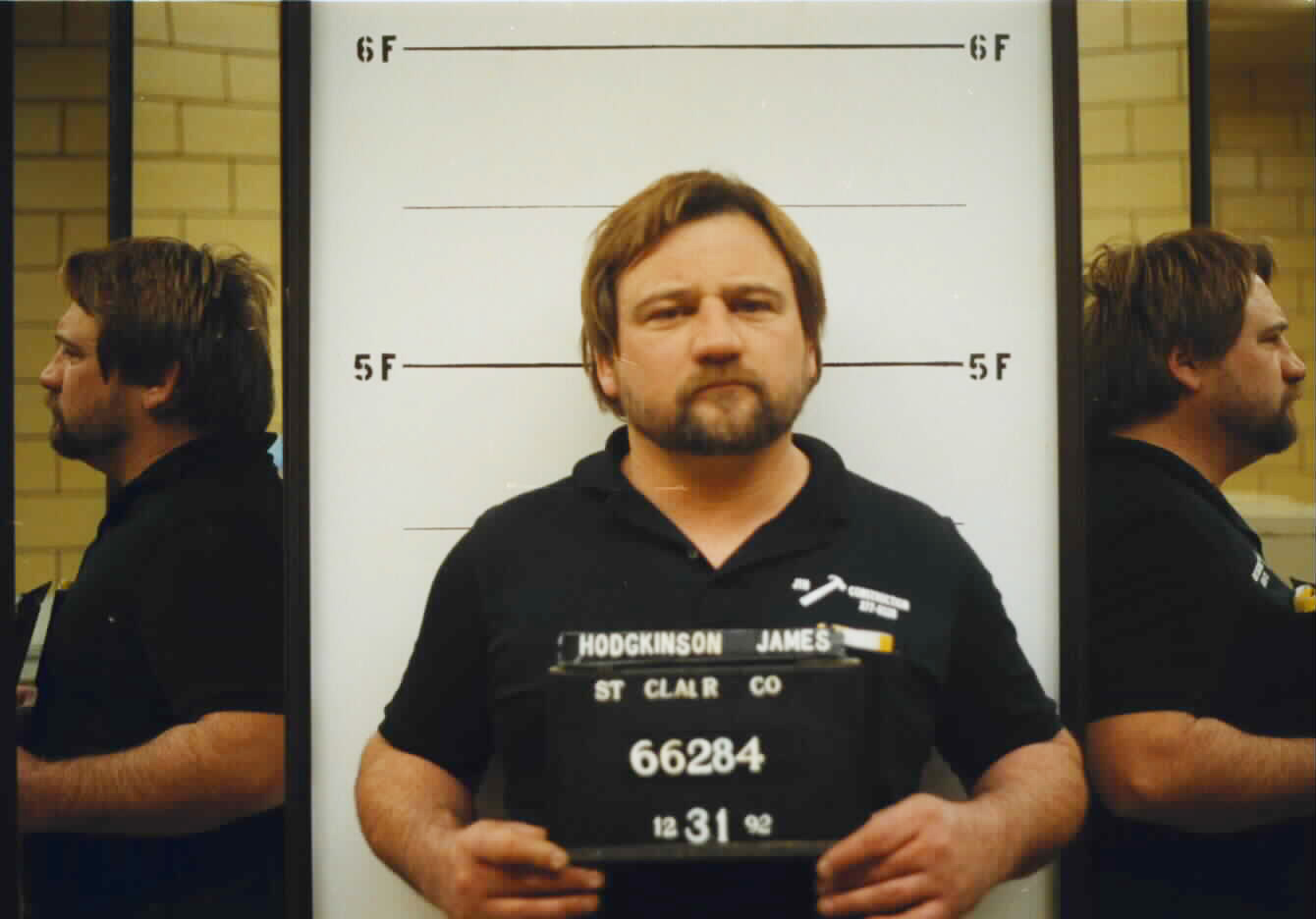 The shooting took place around 7 a.m. at Eugene Simpson Stadium Park, where a number of lawmakers were practicing for the annual charity congressional baseball game set for Thursday. Only Republicans were at this practice. The park is about 7 miles from the White House.
Matt Mika, who works as a lobbyist for Tyson Foods, suffered multiple gunshot wounds and is in the ICU in critical condition, his family said in a statement.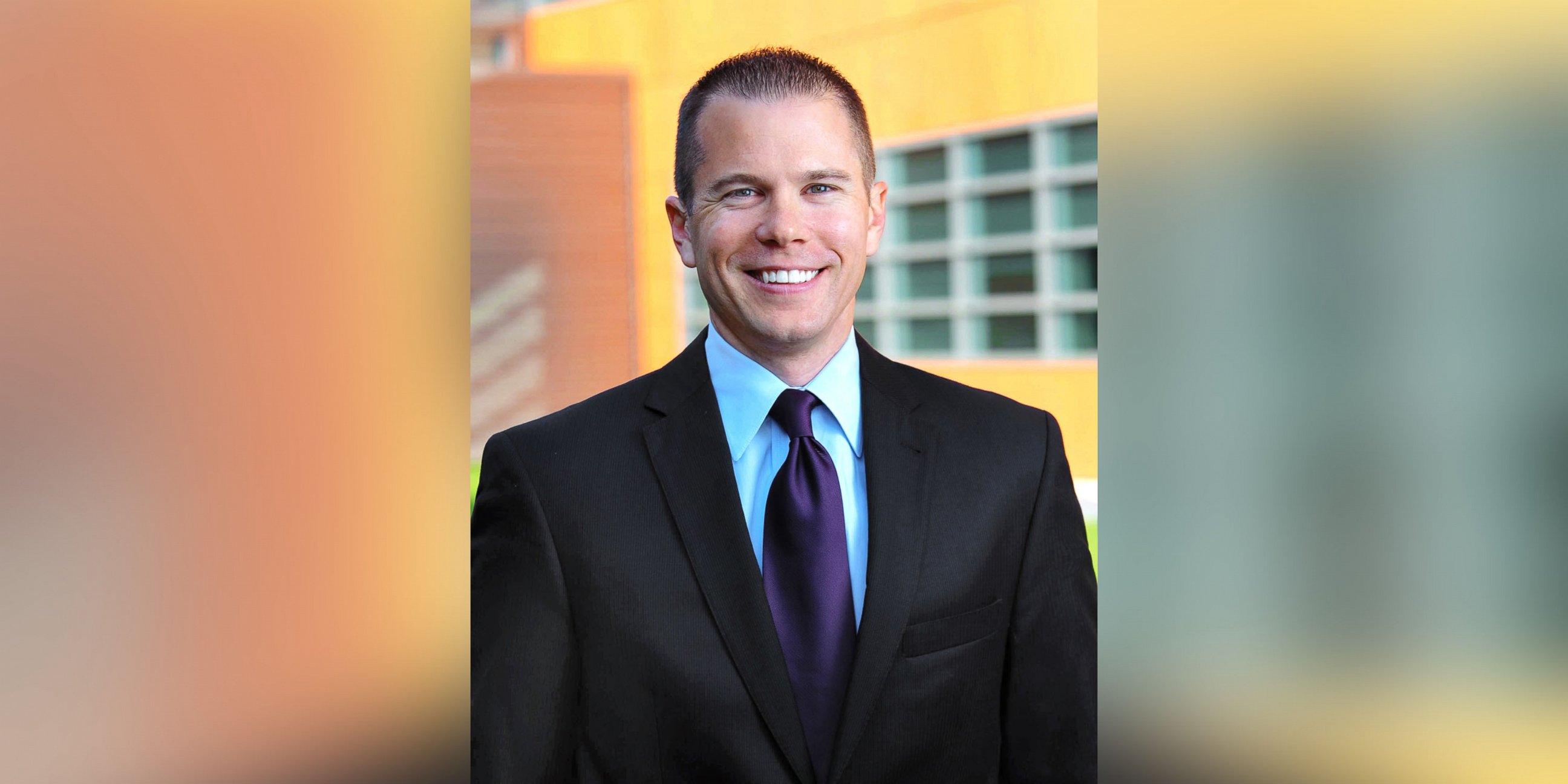 A Tyson Foods spokesperson said Mika, director of government relations for its Washington, D.C., office, has worked for Tyson Foods for more than six years.
Mika, a former college baseball and football player, was helping with practice, Tyson Foods said.
"While the attack today was a terrible surprise, Matt's presence on the ball field, helping longtime colleagues and friends was not," Mika's family said. "He is a very thoughtful, fun-loving person who is competitive and loyal; all things which contributed to his continued commitment to the Congressional Baseball Game."
Zachary Barth, a legislative correspondent working for Texas Rep. Roger Williams, was also among those shot, according to a statement from the congressman. Williams said Barth was treated and released from the hospital and is "on the road to recovery."
Barth is not on the Republican baseball team but was helping the lawmakers train for the game, a family spokesperson told ABC News.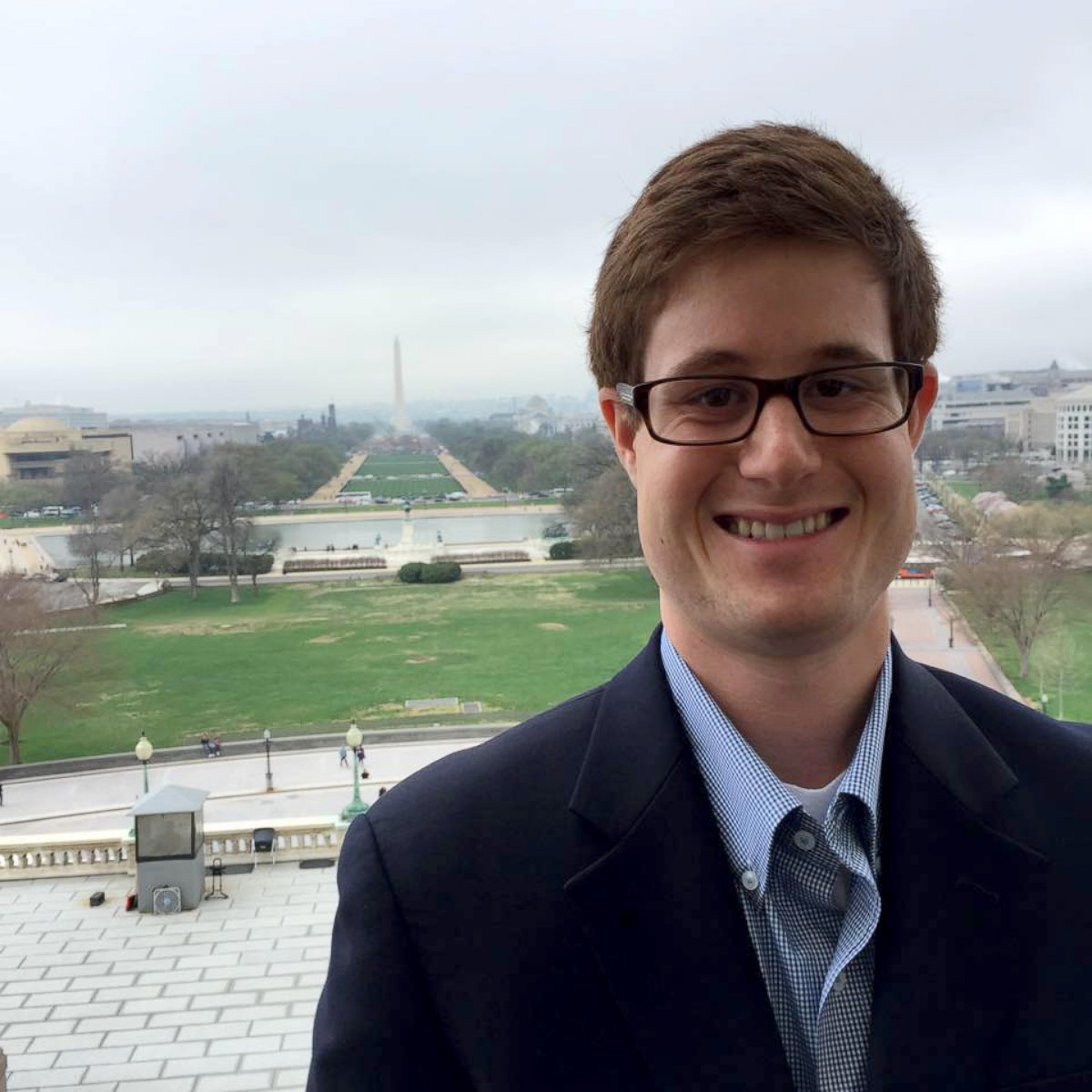 Barth's family spokesperson said a bullet went through his calf, and after he was shot, he allegedly saw the gunman aiming at him. Barth then dove for the dugout, where he grabbed a belt to wrap around his leg to stem the blood flow, the family spokesperson said. Sen. Jeff Flake, R-Ariz., also helped Barth, Williams said.
Williams, who is the team's coach and injured his leg and ankle diving to safety in the dugout, told reporters this afternoon that even though Barth was bleeding, he continued texting from the dugout, letting people know they needed help.
In addition to Griner, David Bailey was identified as the second injured Capitol Police officer, according to House Speaker Paul Ryan.
U.S. Capitol Police Chief Matthew Verderosa said Griner was shot in the ankle and is in good condition, while Bailey was treated for a minor injury and released.
Williams was emotional at a news conference this afternoon, saying Griner and Bailey prevented what "could have easily been 25 deaths or more."
Verderosa said, "I want to commend Special Agents Crystal Griner, David Bailey, and Henry Cabrera for their heroic and appropriate response. ... The United States Capitol Police is dedicated to its mission to protect the U.S. Capitol, Members of Congress, staff and the visiting public, and today we saw how our officers' extensive training and quick response saved lives."
Rep. Joe Barton, R-Texas, who was at the scene, said the gunman was shooting at people on the field and Capitol Police officers ran toward the shooter and returned fire. He said the incident lasted about 10 minutes.
Rep. Mo Brooks, R-Ala., told CNN of the shooting this morning, "I was on deck about to hit ... and I hear 'bam.' And I look around and behind third base ... I see a rifle.
"At the same time I hear Steve Scalise over near second base scream," Brooks added. "He was shot."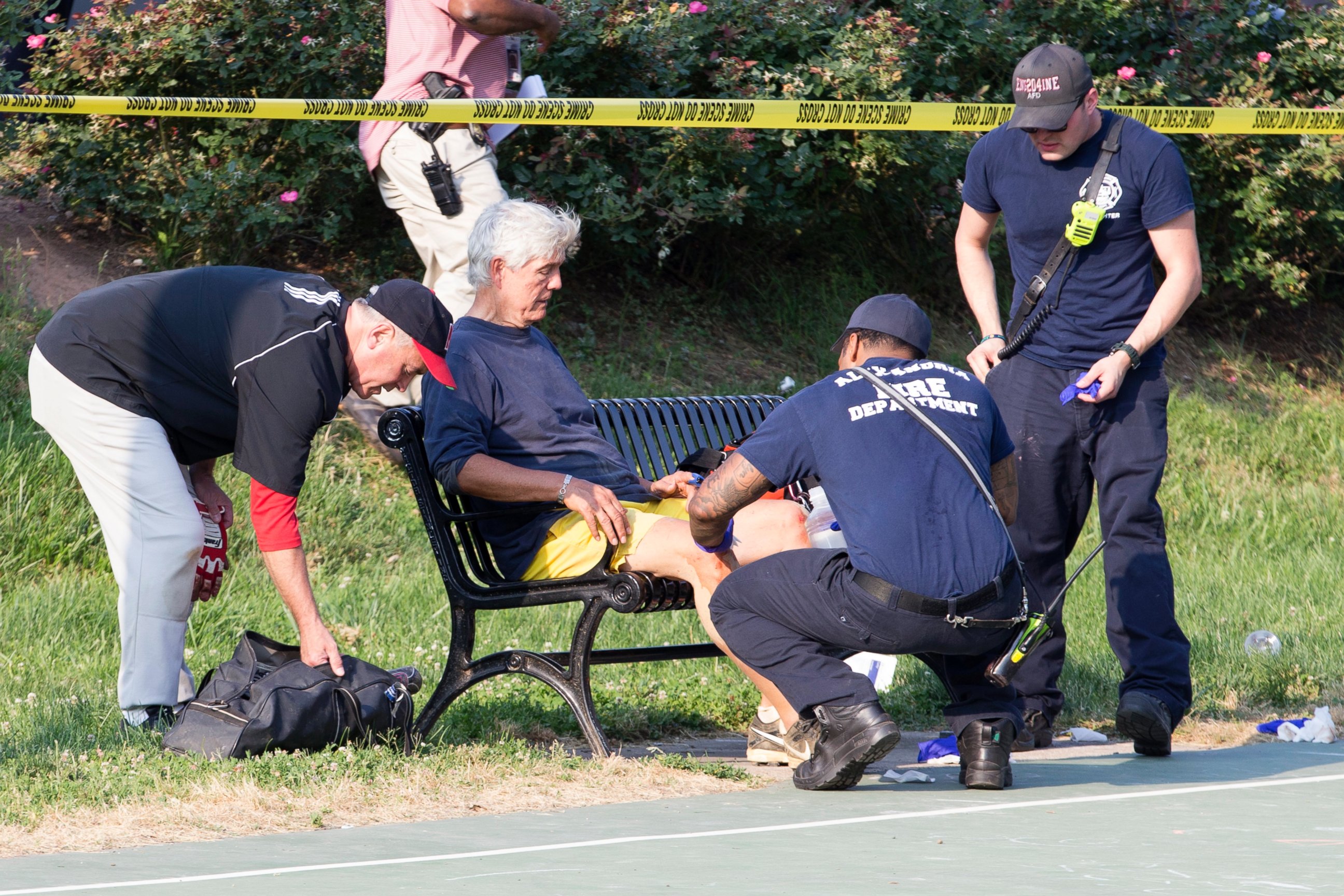 Brooks said he took off his belt and he and another congressman applied a tourniquet to try to slow the bleeding.
Brooks said a security detail returned fire at the active shooter. Brooks estimated that 50 to 100 shots were fired.
At least 21 members of Congress were at this morning's baseball practice, including Scalise and two U.S. senators. All members of the GOP baseball team have been accounted for. Staffers and family members were also there; Rep. Barton said his 10-year-old son was there when the shooting broke out. At a news conference this afternoon Barton was emotional, saying his son had "25 dads today" as everyone looked out for him when the gunfire began.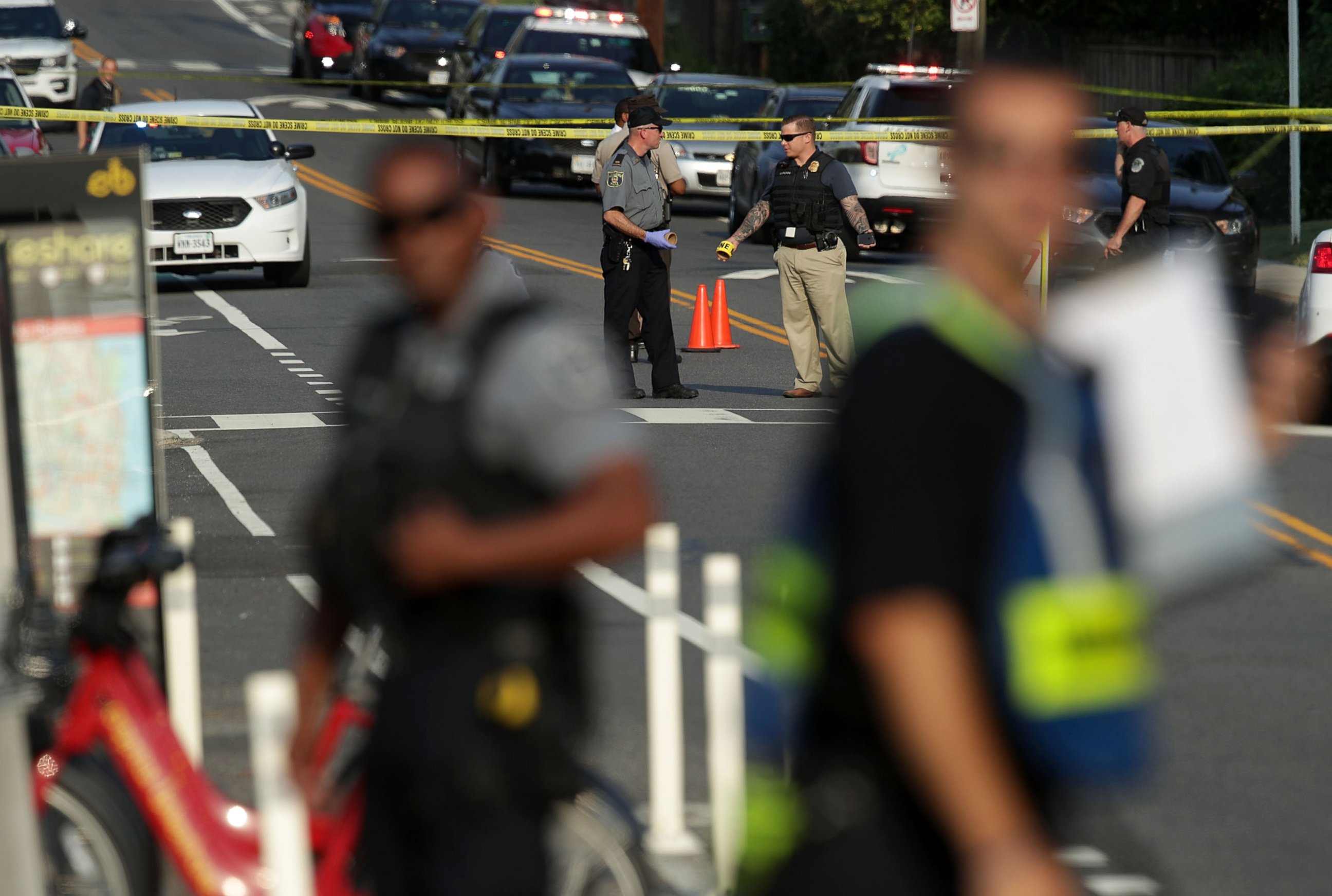 Sen. Rand Paul, R-Ky., told ABC News he was in the batting cage when he heard an isolated gunshot.
Then "a burst of gunfire" erupted, Paul said. "At that point, people were dropping. Scalise was shot around second base and he crawled a little bit into the outfield."
Paul said Scalise's security detail exchanged fire with the active shooter.
"These guys were real heroes and I think without them everybody probably would have been killed," Paul said. "Steve Scalise is in leadership and that's the only reason there was security detail there at all. I'm sad that he was shot but he actually saved everybody's life by being there."'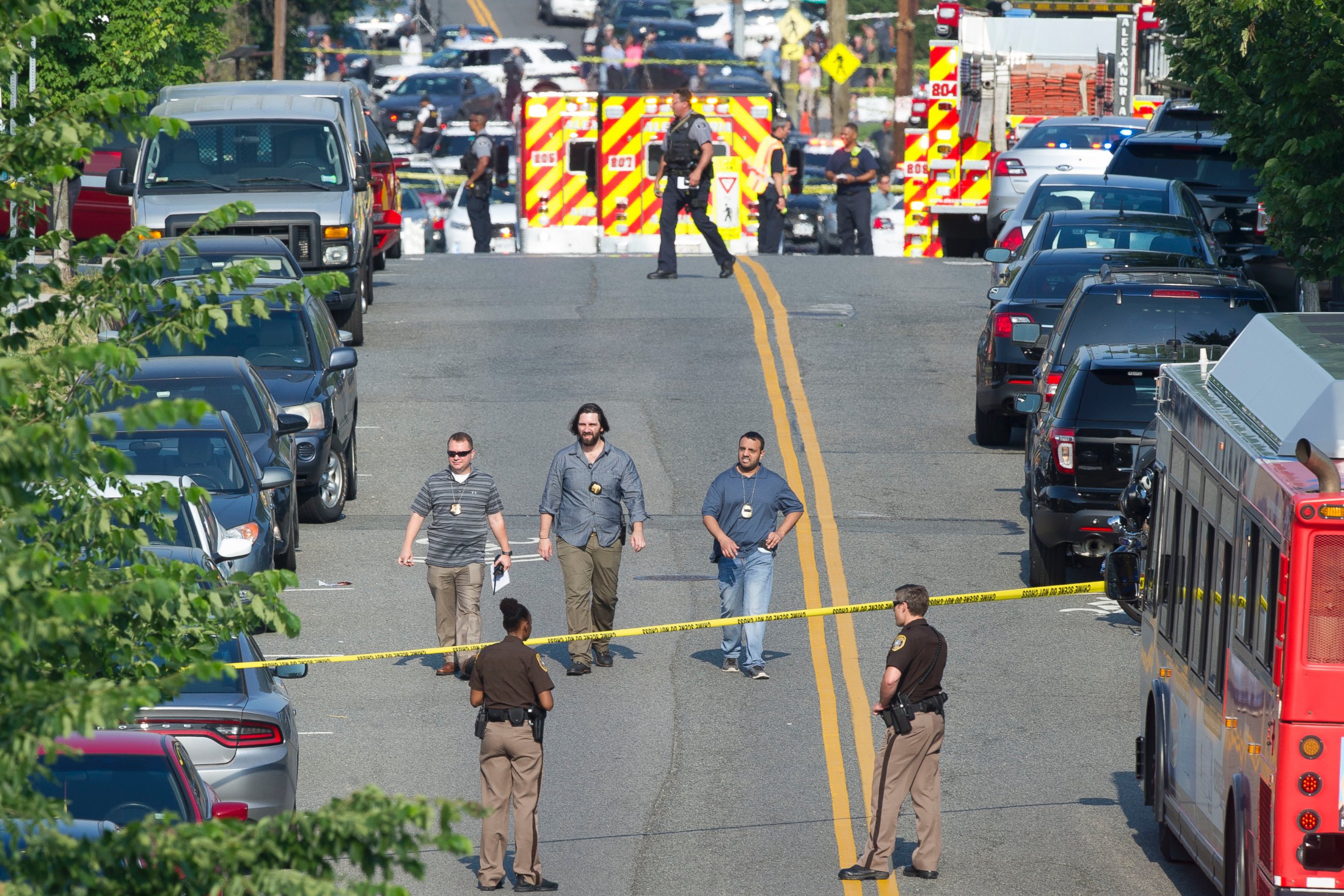 Rep. Brad Wenstrup, R-Ohio, an Iraq War veteran, told Fox News that once the shooting stopped he administered aid to Scalise, putting a compression on his wound.
"I felt I was back in Iraq but without my weapon," he told Fox News.
Wenstrup said Scalise "was as brave as he could possibly be. He said, 'I'm thirsty.' Obviously, you don't know how much fluid he may be losing internally."
Rep. Rodney Davis, R-Ill., told ABC News he saw "the bravery of the two Capitol Police officers that engaged the shooter that saved the lives of every single person there ... Without them there, this would have been a massacre."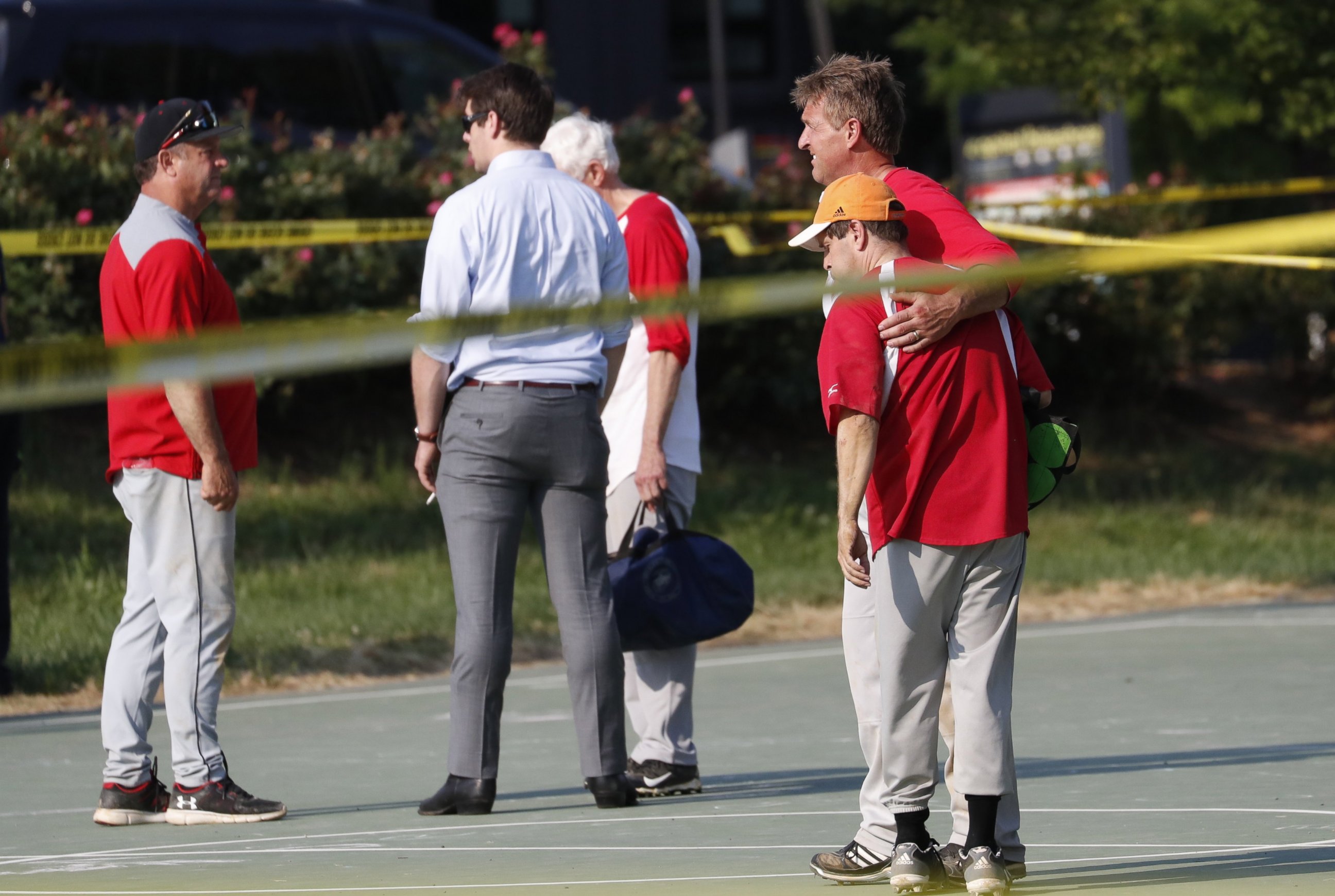 Davis said his message to the shooter is, "We are the greatest country in the history of the world. We have freedoms that many on this globe wish they would have, and you took those freedoms and tried to take lives. And you didn't succeed, and there is a warm place in hell for you too."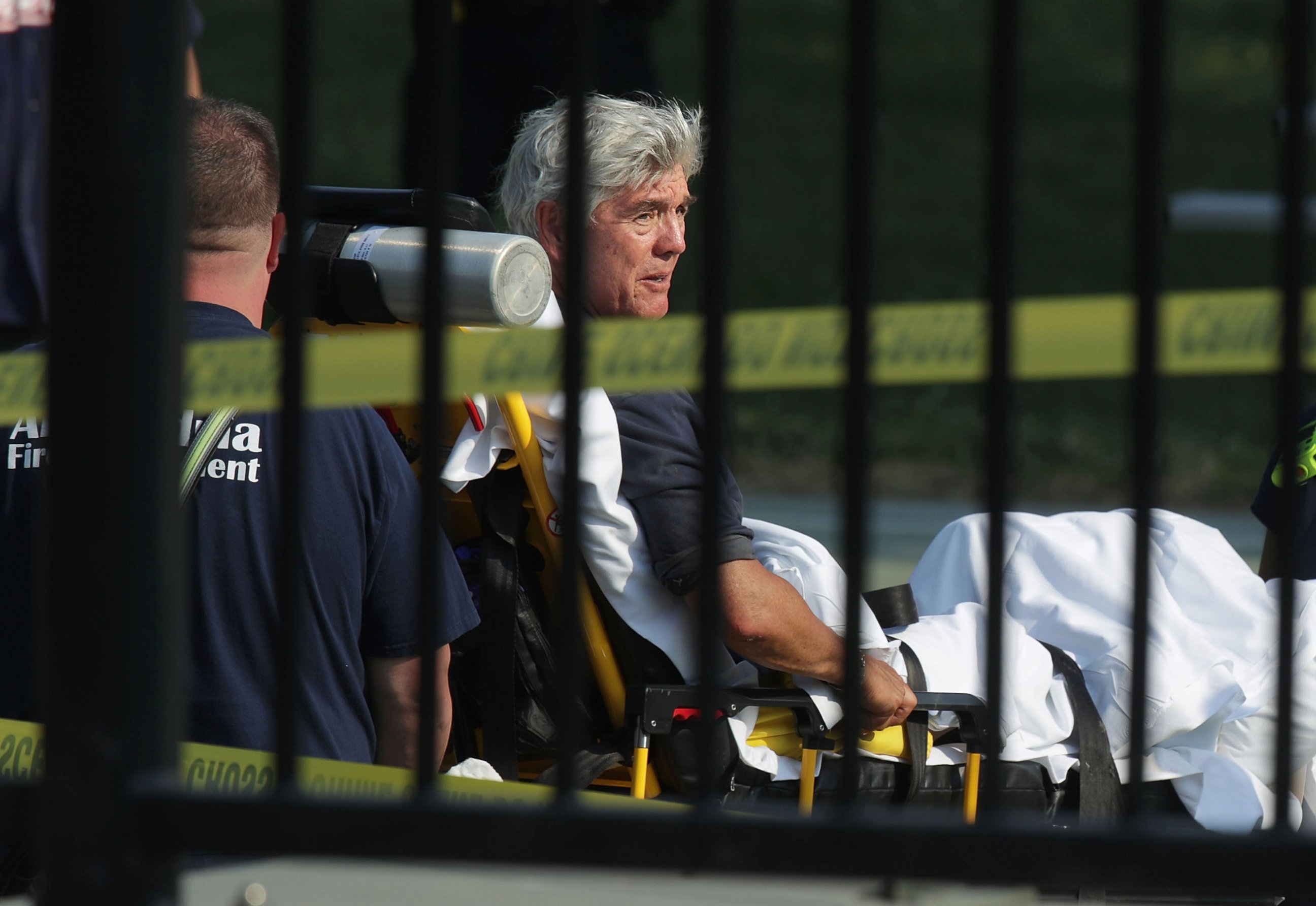 At a news conference this morning, Alexandria Police Chief Mike Brown assured residents that the community is safe.
The FBI is leading the investigation and the Bureau of Alcohol, Tobacco, Firearms and Explosives is conducting traces on one rifle and one handgun recovered from the scene.
Authorities said in a statement this afternoon that "The FBI is actively investigating Hodgkinson to include his associates, whereabouts, social media impressions and potential motivations," and anyone with information about him is asked to call the FBI.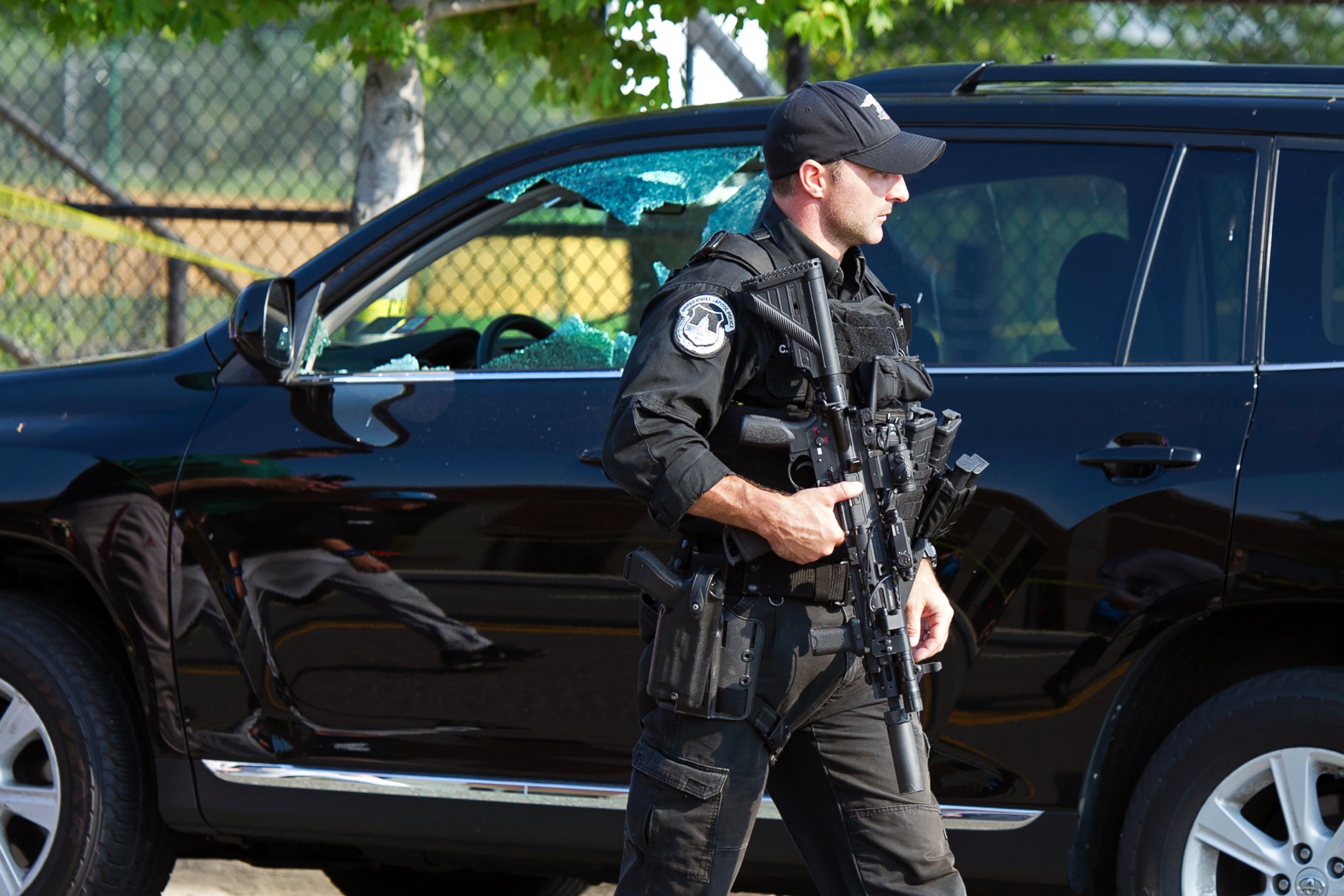 In an on-camera statement earlier Wednesday, Trump spoke directly to Scalise, saying, "Steve, I want you to know that you have the prayers, not only of the entire city behind you but of an entire nation and, frankly, the entire world."
Trump added, "We may have our differences, but we do well in times like these to remember that everyone who serves in our nation's capital is here because, above all, they love our country."
Ryan said on the House floor, "We are united in our shock. We are united in our anguish and attack on one of us is an attack on all of us."
Rep. Ruben Kihuen, D-Nev., tweeted a photo of Democrats praying for their Republican baseball colleagues.
The Democratic and Republican baseball teams are expected to have dinner together tonight at the Democratic Club.
Senate Majority Leader Mitch McConnell of Kentucky said this morning, "We're deeply saddened. We're all concerned for those injured. We'll keep them in our prayers and send them our wish for a quick and full recovery."
He added, "The Congressional Baseball Game is a bipartisan charity event. I know the Senate will embrace that today as we come together to express our concern and our gratitude."
The game will go on Thursday evening as planned at Nationals Park in Washington, D.C.
Rep. Eric Swalwell, D-Calif., tweeted, "We will play for charity, but also for the victims & the heroic officers who took down the shooter."
Trump will not attend Thursday's game because of concerns over security and last minute security requirements, a White House official told ABC News.
Former Rep. Gabrielle Giffords, who was shot in 2011, said in a statement today, "It doesn't matter if you're a Democrat or a Republican nor if you're a senator or a representative nor a staffer or a sworn officer. If you serve the institution of Congress, you're connected to your colleagues, current and former, by a shared sense of service to ideals far greater than yourself. This shooting is an attack on all who serve and on all who participate in our democracy."
She added, "I am heartbroken for the pain of Congressman Scalise, the other victims and their family, friends and colleagues who survived. I am thankful for the great courage of the Capitol Police, who were my protectors after I was shot and became my friends. I also know the courage it takes to recover from a shooting like this, and I know Steve and everyone there this morning have such courage in great supply. May all Americans come together today with prayers for the survivors, love for their friends and family and the courage to go about every day making this country its best. Our nation is resilient, and we always come back stronger."