Cheat death, give life -- all in a day's work for one Minnesota woman.
A pregnant West Saint Paul woman helped save her husband's life when he suffered a serious health scare just before she was supposed to give birth to their child.
Ashley Goette, 28, performed CPR on her husband Andrew, 28, after he went into a cardiac arrest on Oct. 16. Eventually paramedics arrived at their home and took him to the hospital.
Ashley, who was 39 weeks pregnant at the time, said at a press conference Tuesday that she was woken up by what she thought was Andrew snoring and noticed he was "gasping for air." She called 911 and a dispatcher coached her through performing CPR on her husband until paramedics arrived and took him to United Hospital in Saint Paul, Minnesota.
In a 911 call obtained by ABC News, Ashley tells the dispatcher that Andrew is not breathing and says he is turning blue. The dispatcher tells Ashley to keep Andrew on the bed and coaches her on how to give chest compressions.
Dr. Alex Teeters, a pulmonary and critical care physician at United Hospital, said at the press conference that doctors cooled Andrew's body after he arrived. They were initially concerned Andrew could have brain damage from not getting enough oxygen to his brain and were "preparing for the worst."
Ashley said she was terrified after hearing doctors' concerns.
"I didn't want to have to think for one second about having to do any of this without him," Ashley said. "I kept telling him the whole time he was asleep, or in his coma, that I was not going to have this baby until he woke up."
ICU nurse Libby Remmers said the hospital soon began to warm Andrew's body back up, and cut back on the medication keeping him in a coma.Andrew woke up on Oct. 17.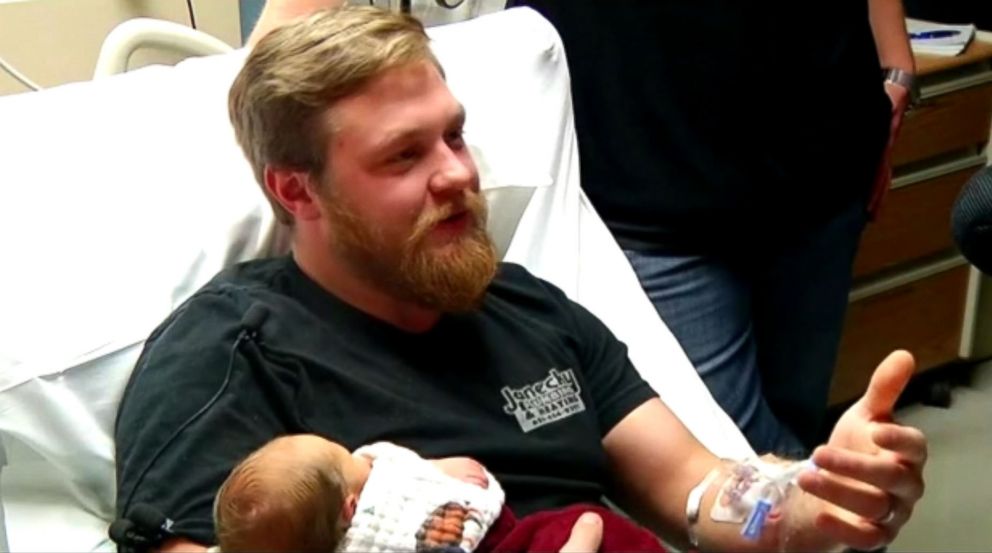 "I looked at him at one point and said 'Andrew, open your eyes' and he did," Remmers said. "And it was really just the best moment."
Ashley said that she had to deliver the baby via caesarean section, and Andrew was not allowed to be in the room. Ashley said her sister helped set up a FaceTime call so that Andrew could watch as Ashley delivered their son, Lennon Andrew.
Lennon was then taken straight to his father.
"I was just excited to be able to get to hold him right away," Andrew said. "First, actually."Teeters said doctors believe Andrew had a heart arrythmia, and found later that he had Wolff-Parkinson White syndrome, a condition that causes a rapid heartbeat. Teeters said doctors corrected the condition and Andrew's prognosis is "fantastic."
Ashley, who was originally supposed to give birth at a different hospital, was induced Thursday evening. She said doctors were able to bring Andrew to her so he could lie in a hospital bed by her side.
"He seems to be completely normal," Teeters said.
Ashley and Lennon were discharged from the hospital but were staying with Andrew until he is discharged, according to a spokesperson from the hospital's health care operator.
Teeters credited Ashley's role in quickly calling 911 and performing CPR with saving her husband's life.
"I don't think Andrew would be here today if it wasn't for the actions of Ashley," Teeters said.