President Donald Trump drops to bottom half of Forbes 400 list of richest people in America
His net worth fell to $3.1 billion from $3.7 billion, Forbes says.
— -- President Donald Trump is not as wealthy as he was last year, according to Forbes magazine, which dropped him 92 spots on its annual list of the 400 wealthiest people in America.
Trump, ranked No. 156 in 2016, is now tied with 15 others --- including casino magnate Steve Wynn and Snapchat founder Evan Spiegel -- for No. 248.
The drop comes from a decline in Trump's net worth, according to Forbes. The magazine estimated that his net worth has dropped by $600,000 to $3.1 billion from $3.7 billion since last year.
His highest net worth valuation by the magazine came in 2015 at $4.5 billion.
While the overall wealth of Trump's presidential Cabinet has been noted in the past, he is the only member of the group to be included on the Forbes list.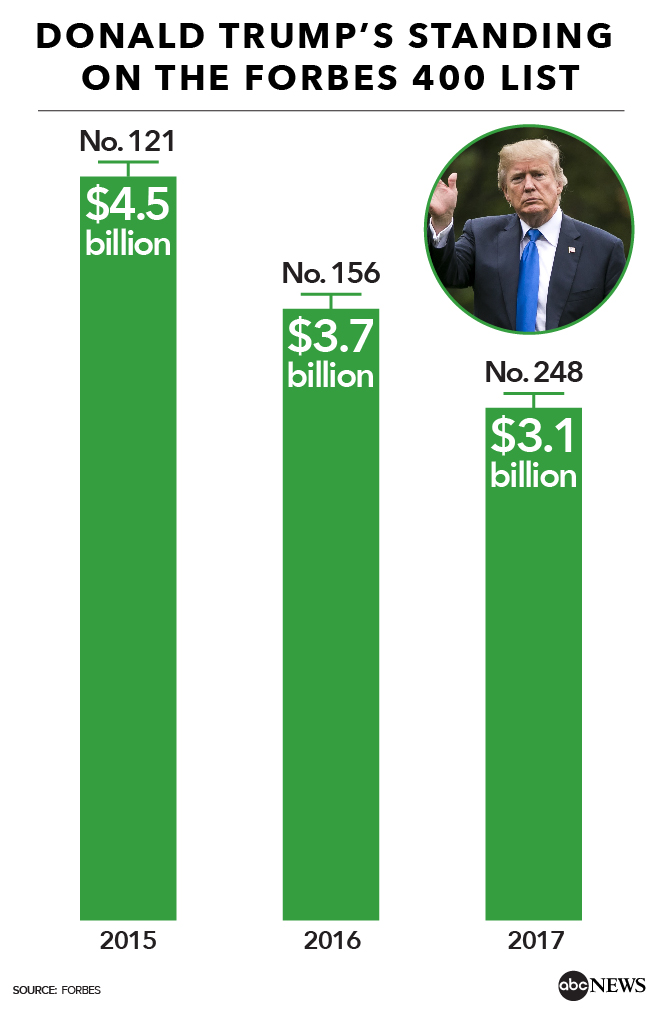 That said, Secretary of Education Betsy DeVos' father-in-law, Richard DeVos, the co-founder of marketing company Amway, is included on the list. Richard DeVos' net worth is valued at $5.1 billion and is ranked No. 107 on this year's list.
This year's Forbes 400 list was the most discerning of all, as the magazine reported that the minimum net worth required to be included hit a record high of $2 billion. In the past two years, the minimum was $1.7 billion.
Microsoft founder Bill Gates topped the list for the 24th consecutive year ($89 billion) and Amazon founder Jeff Bezos held on to the No. 2 spot ($81.5 billion) that he had taken from Warren Buffett in 2016. Buffett came in at No. 3 this year, at $78 billion.
Trump has been watching his spot on the list for years.
In an interview with Trump published in Forbes Oct. 10, the article's author alluded to the president's lengthy history and fixation with the list.
"Numbers offer Trump validation. They determine the winner or loser of any deal and establish an industry hierarchy. It's why Trump, more than any of the 1,600 or so people who've been on The Forbes 400, has spent more time lobbying and cajoling Forbes to get a higher valuation—and validation," the Oct. 10 article, written by Forbes staffer Randall Lane, reads.
Trump has tweeted about the Forbes 400 list before, including once in 2014 when he retweeted and commented on a person's tweet that claimed that Forbes underestimates Trump's actual net worth.
"That's true, and they do it knowingly - who cares!" Trump added.
In answering another Twitter user who asked why Forbes had him listed as being worth $3 billion in 2013, Trump wrote: "They know nothing about me or my numbers."